What I love about eggplant is that they are so versatile and they are sweet inside with a slightly bitter skin.  I use them in many dishes, probably because of my Sicilian origin (yes, Sicilians do eat lots of eggplant!).  This is my mom's recipe for what we call "polpette di melanzane" (eggplant patties).  They are very good as a side dish or as an entree or they can be served as finger food with a glass of white wine.
Sharing this recipe with Full Plate Thursday by Miz Helen and It's a Keeper Thursday by Christina.
Ingredients: (makes 12 patties)
350 gms eggplant (1 medium)
1/2 egg, lightly beaten
1 cup breadcrumbs (approximately, depending on the eggplant)
3/4 cup Parmigiano Reggiano, thinly grated
1/2 tbsp continental parsley, chopped
1/2 tbsp basil, chopped
1/2 tbsp mint, chopped
1 clove garlic, pressed or chopped very fine
Salt to taste
Pepper
50 gms flour
Vegetable oil for frying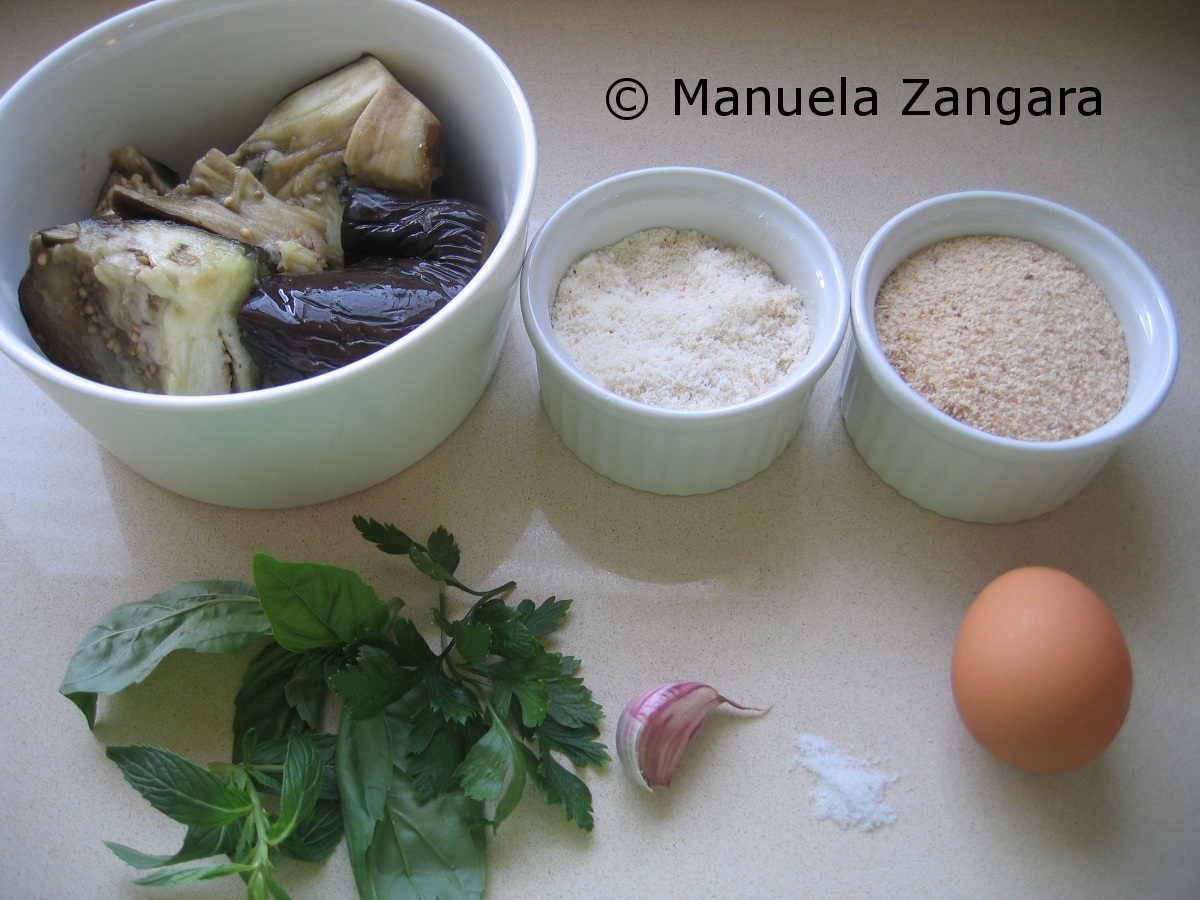 Clean the eggplant by removing the top and the bottom and washing it under cool water.  Cut it in four and cook it in salted boiling water until soft.
Drain it and keep it in a colander for at least 1 hour to make sure it dries well.
Then chop it in small pieces and put it in a large bowl together with the egg, grated cheese, breadcrumbs, chopped herbs, pressed garlic, salt and pepper.
Mix well.  You may have to add more breadcrumbs depending on how soft/wet the eggplant is.
You have to obtain a thick enough mix to be able to make round patties with your hands.  You can do that with wet hands so the mixture does not stick to your hands.  Coat the patties with a little flour and shallow fry them in hot vegetable oil.
Serve warm with some cold white wine.

Related Posts: