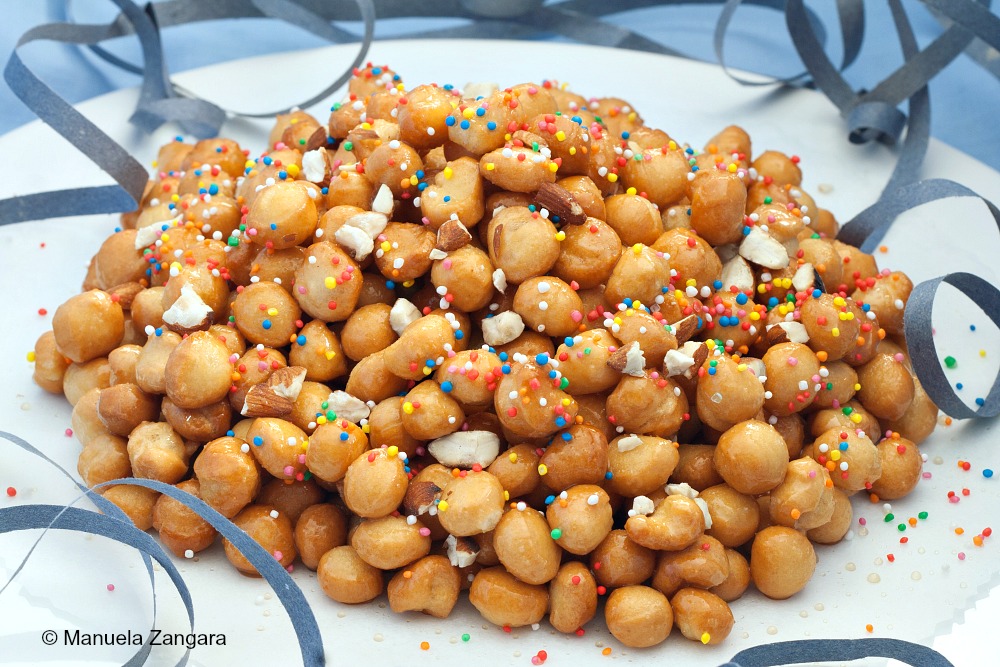 Tomorrow is Mardi Gras or, as we Italians call it, Carnevale! Carnevale is a big thing in Italy and all kids dress up for almost a week and go on parades with all kinds of floats.  It's a little bit like "our Halloween", when kids tell jokes, make pranks and throw coriandoli (coloured paper confetti) all around.  And, of course there's plenty of delicious food. During this time of the year we eat lots of sweets and fried food, because Carnevale comes right before the period of Lent during which Catholics usually fast (or eat less). I have already shared with you how to make a few Carnevale treatslike Chiacchiere, Tortelli di Carnevale, Meat filled Apulian Panzerotti, Ravioli Dolci, Bomboloni, Migliaccio, and Tagliatelle Dolci di Carnevale… and today I am back with another quintessential Carnevale recipe: Pignoccata. This is a Sicilian recipe, especially made this time of the year in Palermo. It is made up of small balls of fried dough, mixed with honey syrup and sprinkled with toasted almonds and coloured sprinkles. The name Pignoccata comes from the Italian word "pigna", which means pine-cone… doesn't it look like one? Well, that's the idea. Anyhow, it is a delicious dessert, very easy to make. Make sure your fried dough is crunchy by frying it at the right temperature. Enjoy it and have fun this Mardi Gras!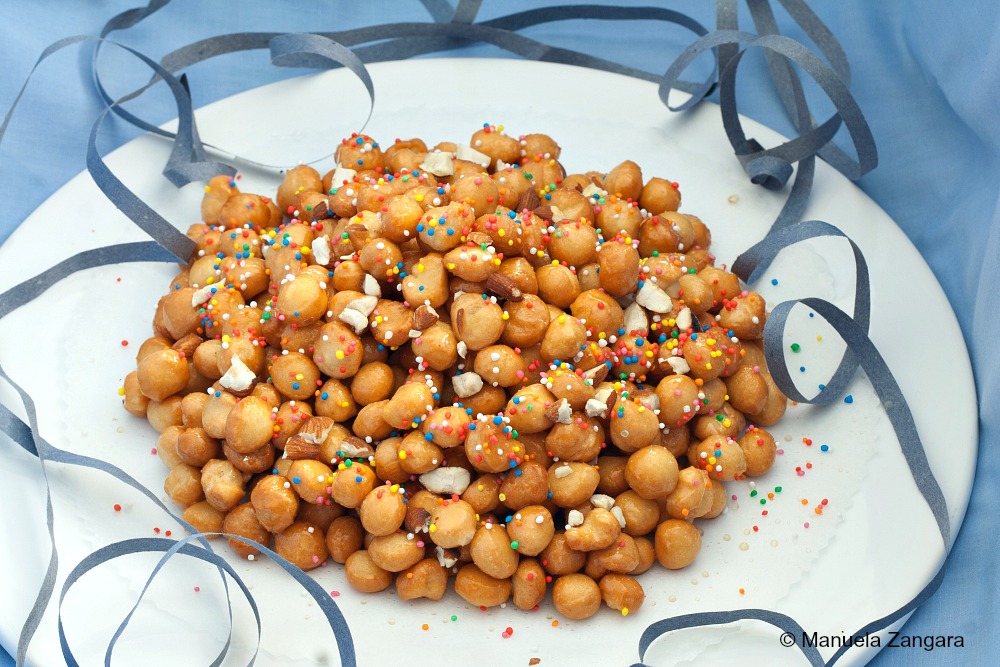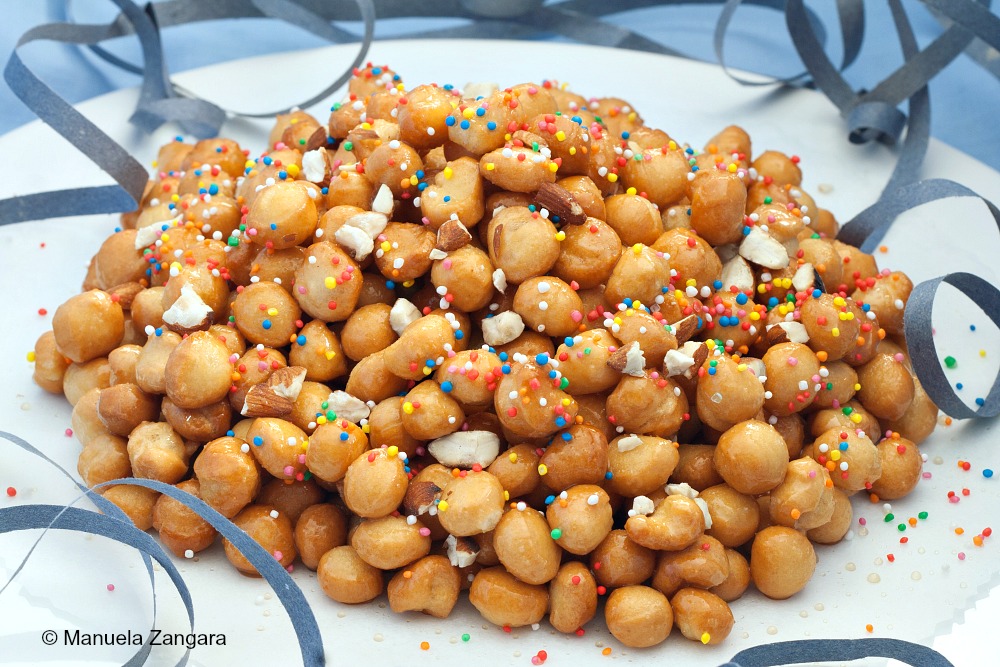 Pignoccata
Pignoccata - a delicious Sicilian dessert made up of fried dough balls in honey. It is traditionally made in Palermo for Carnevale.
Ingredients
500

gms

– 4 cups all purpose flour

200

gms

– 1 cup sugar

5

eggs

Zest of 1 orange

grated

100

gms

– 1/3 cup honey

50

ml

– ¼ cup water

100

gms

– ¾ cup almonds

toasted and crushed

Coloured sprinkles

Vegetable oil for deep frying
Instructions
In the bowl of an electric mixer fitted with the hook attachment, put the flour, eggs, orange zest and half the sugar. Knead well. Make it into a ball and let the dough rest for 20 minutes.

Divide the dough into balls. Roll each ball of dough using your fingertips into ropes about 5 mm (less than ¼ inch) thick. Then cut the ropes of dough into 5 mm (less than ¼ inch) pieces. Remember, the smaller you cut them the crunchier they will be at the end!

Deep fry the little pieces of dough in hot vegetable oil (at 180°C – 355°F for the best result).

When golden on all sides, remove them with a slotted spoon and put them on a plate covered with kitchen paper to drain the excess oil.

In the meantime, prepare the syrup. Put the remaining sugar, honey and water in a saucepan and melt it over the fire. Keep aside.

When all the dough has been fried, add it to the syrup and mix well.

Pour it on a plate and give it the shape of a pine-cone (you can make a big one, or many smaller/individual ones). Sprinkle with the toasted almonds and sprinkles.

Let it cool down and serve.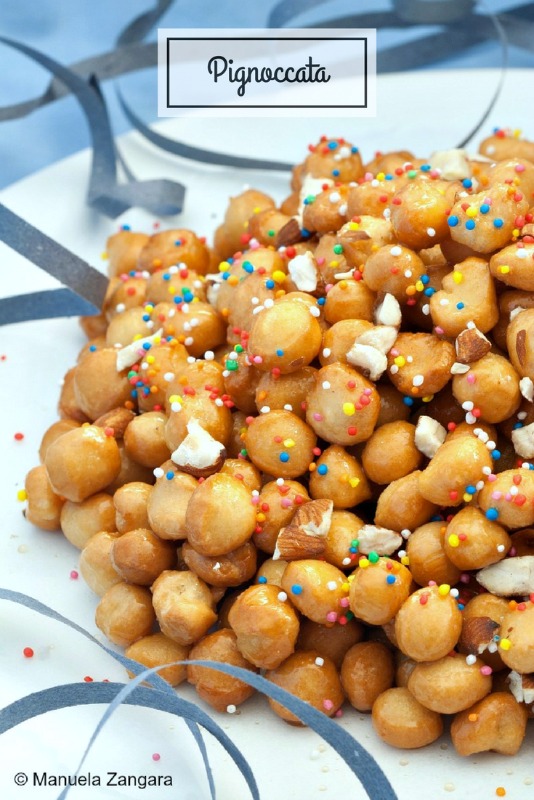 Related Posts: