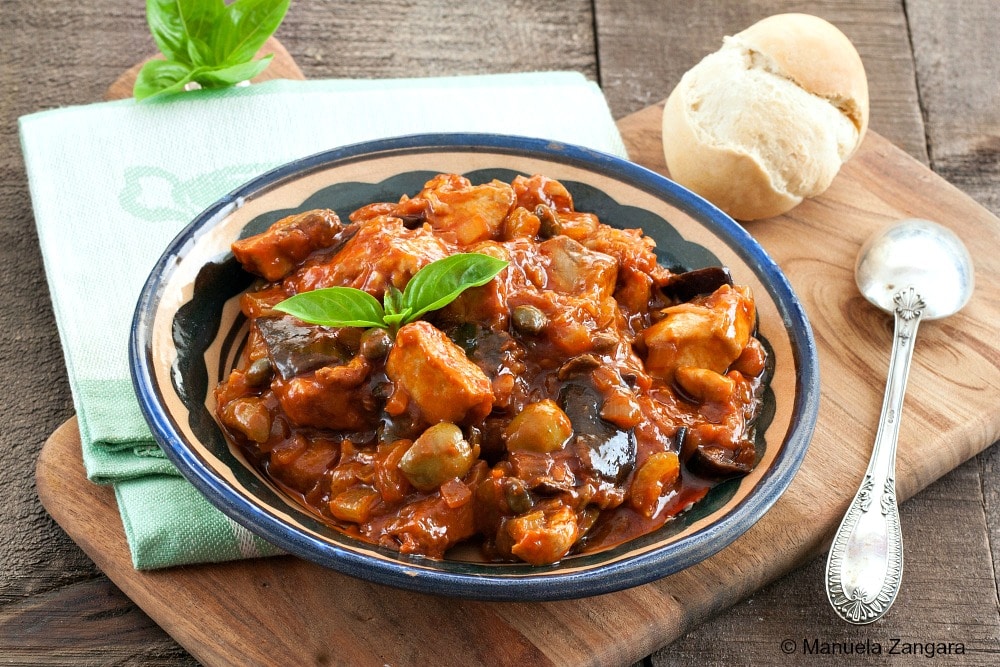 Today's recipe is a variation of one of the most popular Sicilian dishes: Caponata (click here for the recipe I shared a while ago). This Swordfish Caponata has all the ingredients of the original dish – including eggplant, olives and capers, plus swordfish. Caponata could be described as a cooked salad made up of fried eggplant and other ingredients. Today's version is as well a sweet and sour dish and it is the perfect appetiser or main dish idea. We usually eat it in summer and it is best served at room temperature or even cold. Make sure to serve it with some warm bread like my Ciabatta or, even better, with traditional Sicilian bread known as Cabbuci. The combination is to die for, believe me! Enjoy!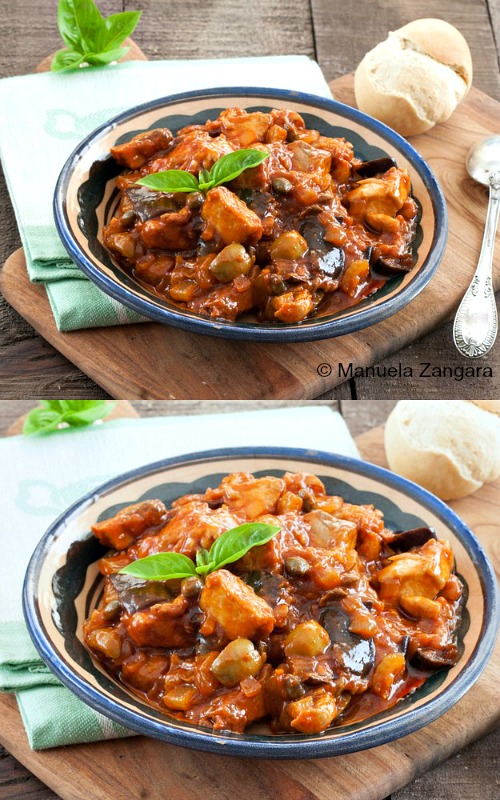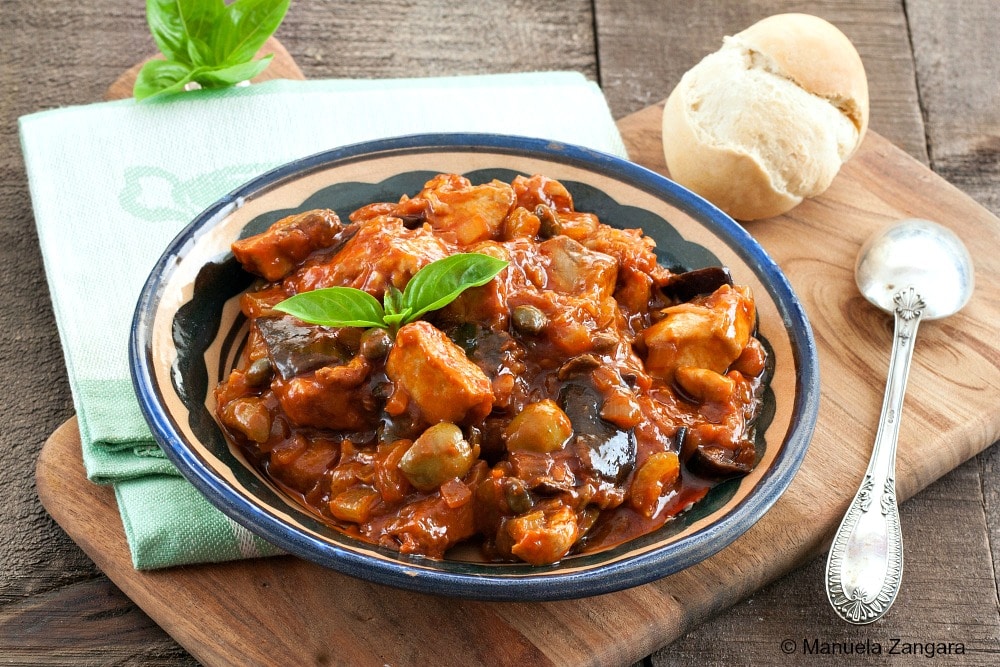 Swordfish Caponata
Swordfish Caponata - just like the traditional Sicilian Caponata, plus the swordfish. A delicious sweet and sour dish perfect for any occasion.
Ingredients
4

eggplants

400

gms

– 1 lb. swordfish

15

green olives

pitted and halved

2

tbsp

capers

rinsed

3

tbsp

extra virgin olive oil

140

gms

– 5 oz. concentrated tomato paste

2

big onions

chopped

3

celery stalks

chopped

150

ml

– 5 oz. red wine vinegar

1

tbsp

sugar

Salt to taste
Instructions
Cut the eggplant and swordfish in cubes (3×3 cm – 1.2×1.2 inches).

Put the cubed eggplant in a bowl with cold salty water for half an hour. Then, pat them dry and deep fry them in hot vegetable oil. When ready, put them in a plate lined with kitchen paper to drain the excess oil.

Chop the onion, put it in a frying pan and cover it with 1/2 glass of water and cook it until the water dries up. Then add 3 tbsp of extra virgin olive oil and sauté the onions in it for a minute or 2.

Add the cubed swordfish and brown it well.

Add the tomato concentrate, capers, olives and blanched celery with a little of its reserved cooking water and cook for 5 minutes or until the fish is cooked.

Add the fried eggplant cubes and mix gently.

Dissolve the sugar in the vinegar and add it to the caponata. Cook it for a few minutes on a medium-high flame, then put the fire off and let it cool down.

Enjoy with some warm cabbuci!
Recipe Notes
This Swordfish Caponata is best eaten at room temperature or cold, and it tastes even better the next day.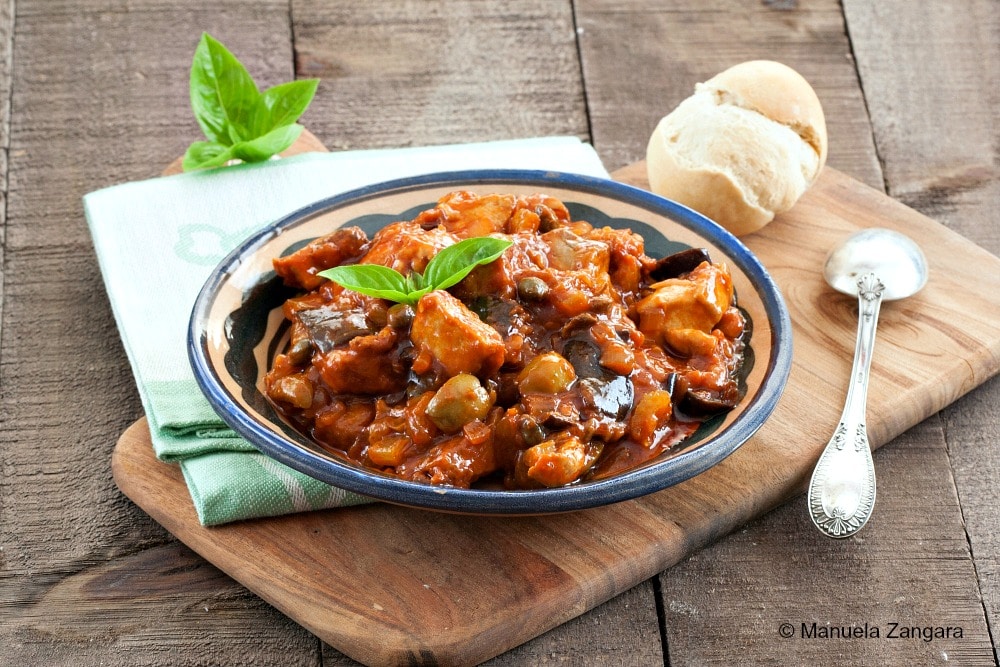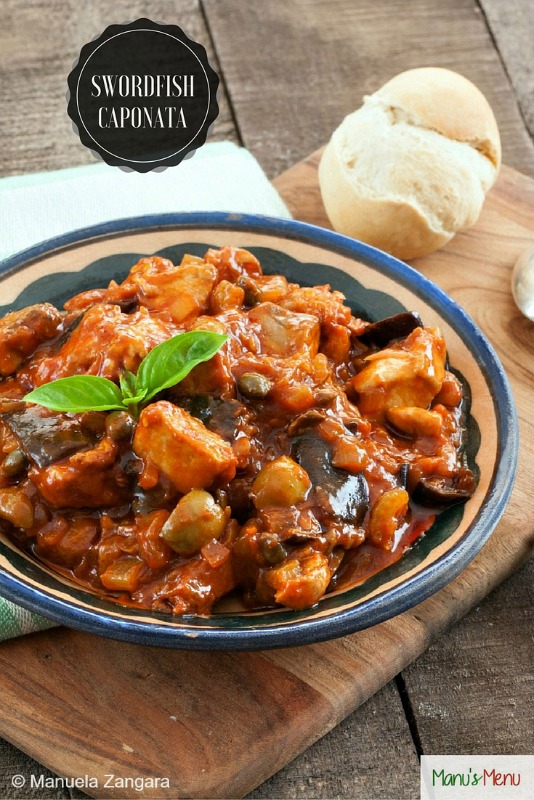 Related Posts: