This is not a recipe for the faint hearted.  It is not light and it is fried… but it is the most delicious of pizza's!  It is my nonna's (grandmother) recipe and she used to make it for her children and grandchildren quite often. I actually do not remember her making a baked pizza ever… This is one of my family's oldest recipes and I am glad to share it with all of you.  It is my husband's favourite pizza and I still remember the first time he ate it: my mom had made it for all of us and he had never heard of "fried" pizza before.  I can tell you that he liked it so much that he had a second and even a third serving!  It is also very easy to make, so give it a try and you will be hooked forever!  Serve it with a cold beer and enjoy it.
Sharing this post with Hearth and Soul Hop by Kankana, Tuesdays at the Table by Cole, Tempt my Tummy Tuesdays by Lisa and Tasty Tuesdays by Alissa.
Ingredients (makes 5 medium sized pizze):
Pizza dough for 4 persons as per the instructions on How to make pizza dough.
For the topping:
400 ml diced tomatoes, tinned
1 tbsp extra virgin olive oil
1 clove of garlic
1 tbsp oregano
Salt
Bocconcini or mozzarella, sliced
Anchovies, roughly chopped
More extra virgin olive oil for frying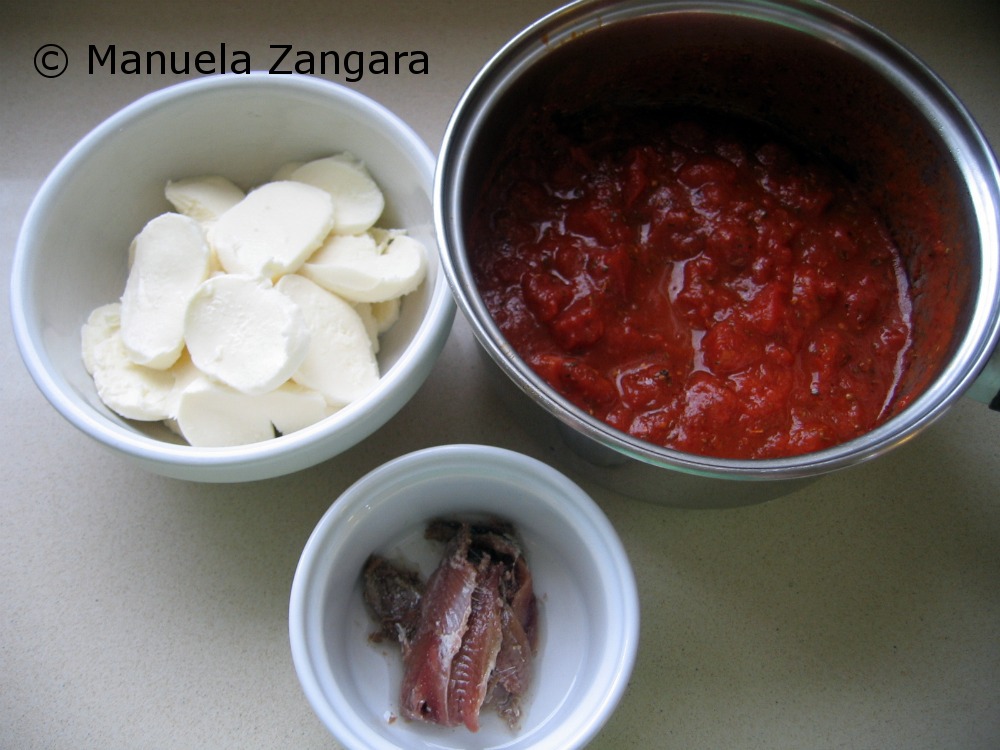 Make the pizza dough as per the recipe and instructions on How to make pizza dough.
While the dough rests, prepare the toppings.  To make the tomato sauce, sauté a clove of garlic in 1 tbsp of extra virgin olive oil, add 1 tin of diced tomatoes and 1 pinch of salt.  Cover it and let it cook until the sauce thickens.  Add the oregano, mix it with the sauce and keep aside.
Slice the mozzarella and chop the anchovies.
Divide the pizza dough in 5 balls and roll them in circles 5 mm thick.
In a non stick frying pan, heat 8 tbsp of extra virgin olive oil and put in one of the circles of dough.  As soon as some bubbles start forming on the surface, flip it over.
Now you will have to work fast.  Lower the flame to the minimum, put the tomato sauce, mozzarella and anchovies on the top.
With a spoon, pour some of the hot extra virgin olive oil on the top of the pizza.  When the cheese melts, the fried pizza is ready.
Take it out with a slotted spoon and serve warm.
On another note… this is the first time that Manu's Menu is participating to Your Best Recipe Roundup over at Spicie Foodie!  Each participant has to chose and share their best recipe of the month.  For May I chose my Macarons with White Chocolate and Mint Ganache.  Come check out all the amazing posts listed in this month's roundup!

Related Posts: