The other day I had some fresh thyme left in my kitchen and I was trying to figure out how to use it… the only thing I knew was that I wanted to make something sweet with it as I am always intrigued by the use of herbs in sweets.  I surfed the web for a while for inspiration without finding anything interesting… until one recipe finally caught my attention: thyme scented lemon cookies!  I checked that I had all the ingredients that the recipe called for and I didn't (when do I ever?), but I thought I could adapt it and still make it with what I had in my pantry.  I can tell you that the result was outstanding.  The flavour was a perfect balance between lemon and thyme and they were not overly sweet.  The lemon glaze on the top was perfect to complement the cookies as it was sweet and tangy.  These are not supposed to be crunchy cookies, they have to remain soft and chewy on the inside and only slightly crunchy on the outside.  As they go terribly well with a cup of hot tea (preferably lemon), I thought they would be the perfect treat to submit to the contest held by Jessica of La ciliegina sulla torta: E' sempre l'ora del te' (It's always tea time).  Enjoy them!
(Per la ricetta in italiano, guardare a fondo pagina).
Adapted from Healthy Schools Campaign's recipe
Ingredients (makes 25 cookies):
For the cookies
60 gms butter
200 gms sugar
Zest of 1 lemon, grated
1 tsp vanilla extract
2 eggs
2 ½ cups plain flour
1 pinch salt
1 tsp baking powder
1 tbsp fresh thyme
For the glaze
Juice of 1/2 lemon
1 cup icing sugar
Mix the flour, salt, baking powder and thyme in a bowl and keep aside.
Put the butter and sugar in an electric mixer fitted with a paddle attachment and whisk for a few minutes until pale.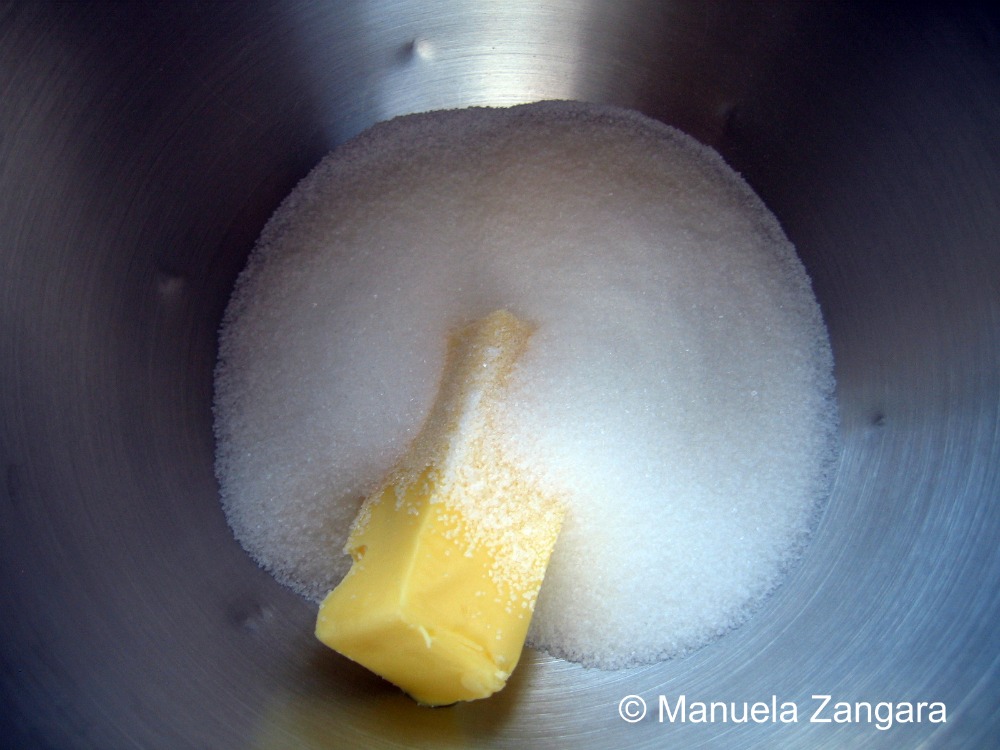 Add the eggs one by one and keep mixing until well incorporated.
Add the lemon zest and vanilla extract and mix until combined.  NOTE: you can grate the lemon zest with a box grater and cover it with a piece of baking paper so the zest doesn't stick to the grater.  This makes it much easier to collect all the grated zest, without wasting a big part of it in the grater.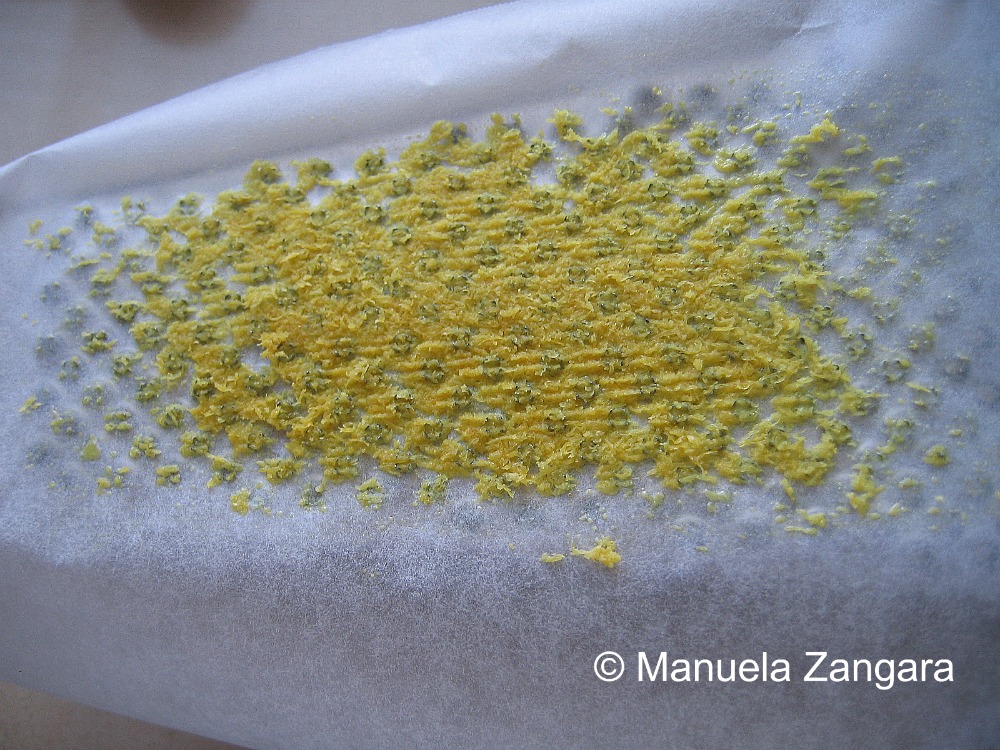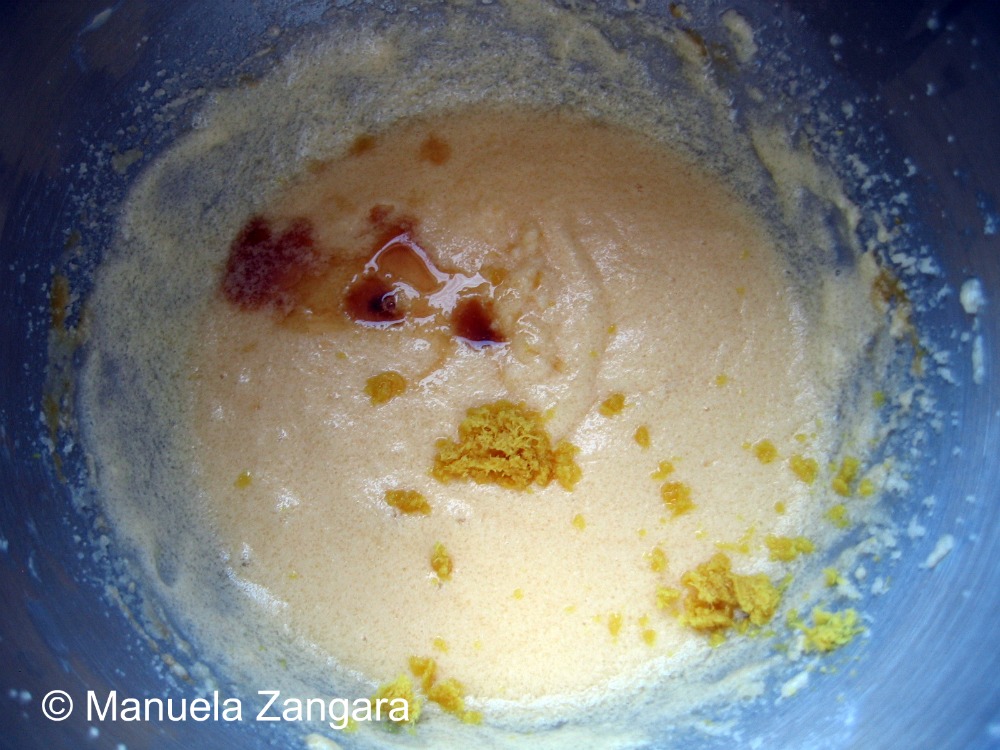 Now gradually add the dry ingredients and mix until just combined.
Line cookie sheets with baking paper and put rounded tablespoonfuls of dough on them.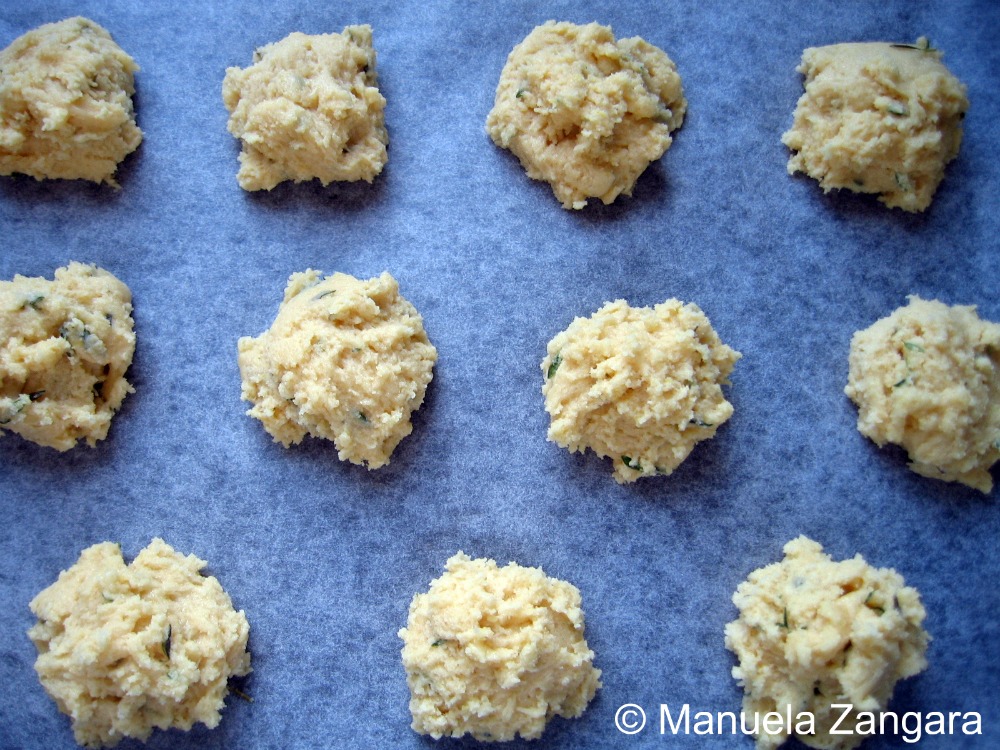 Bake in a preheated fan forced oven at 180°C for 10 minutes or until lighly browned.
When ready, remove from the oven and let them cool down for about 10 minutes before putting them on a cooling rack to cool down completely.
In the meantime, add the lemon juice to the icing sugar.  Add it little by little while stirring continuously, as you may require less lemon juice than you think to obtain a thick but fluid glaze.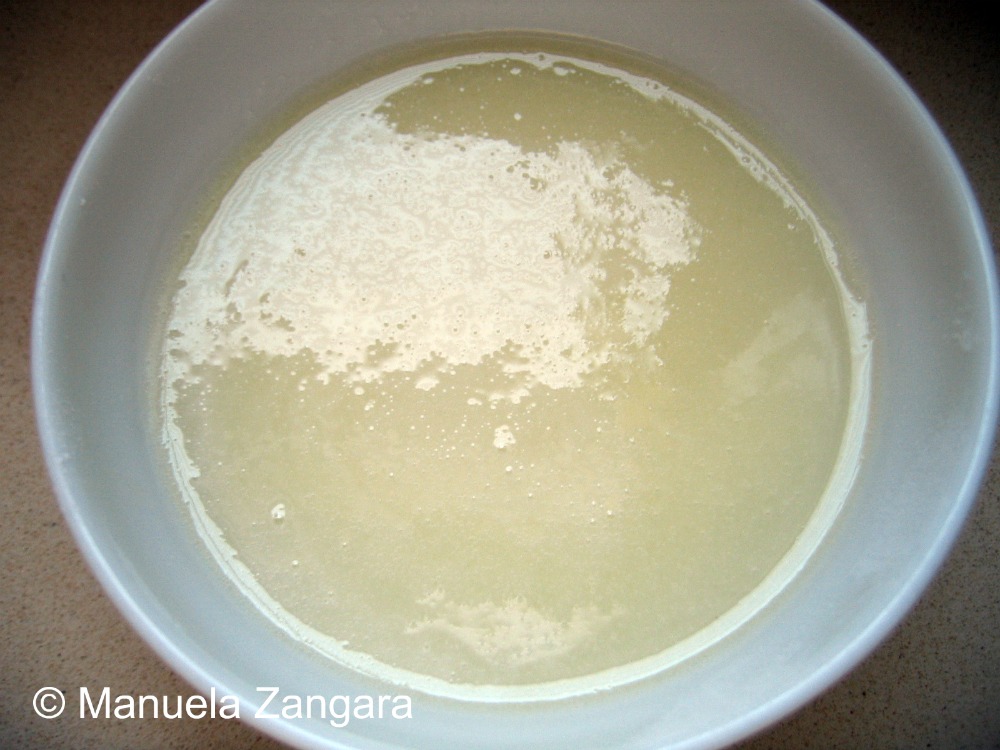 Ice the cookies by dipping the tines of a fork into the glaze and dripping it over the cookies.  Allow icing to dry before serving the cookies with a hot cup of lemon tea.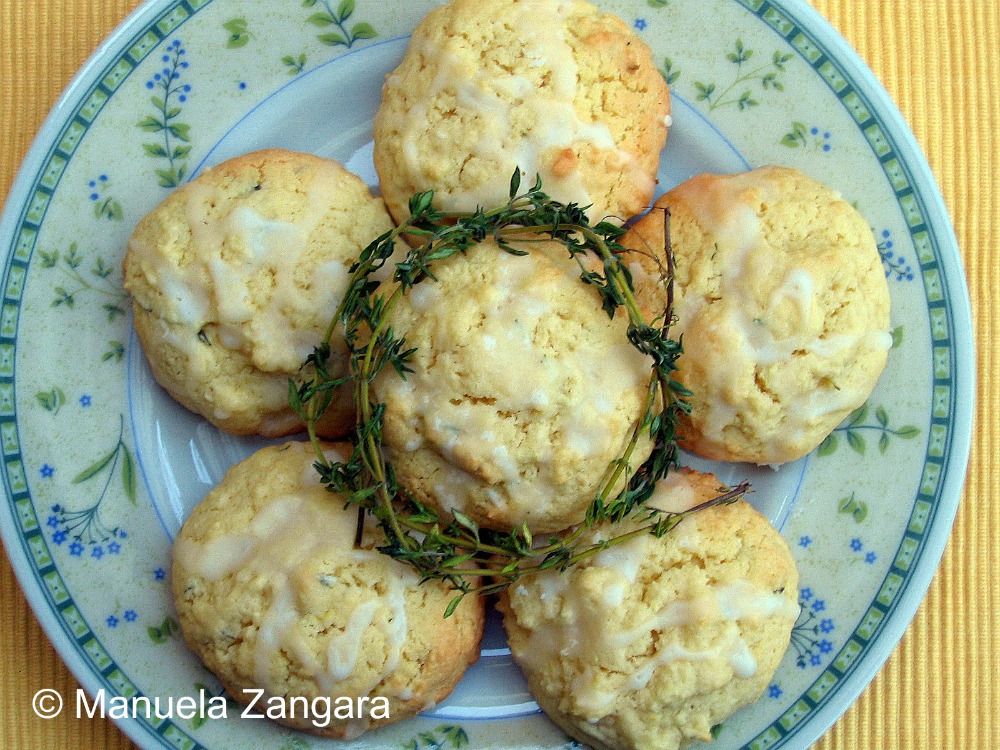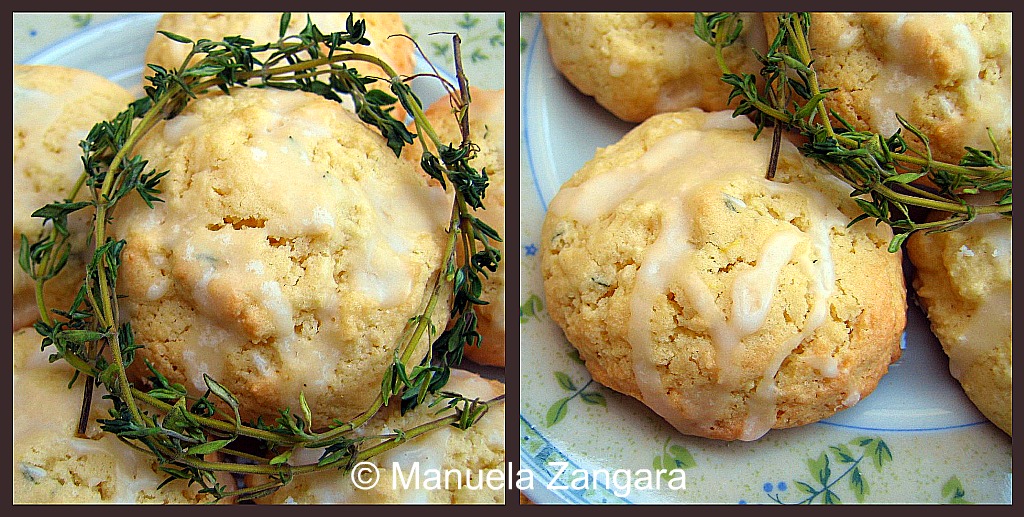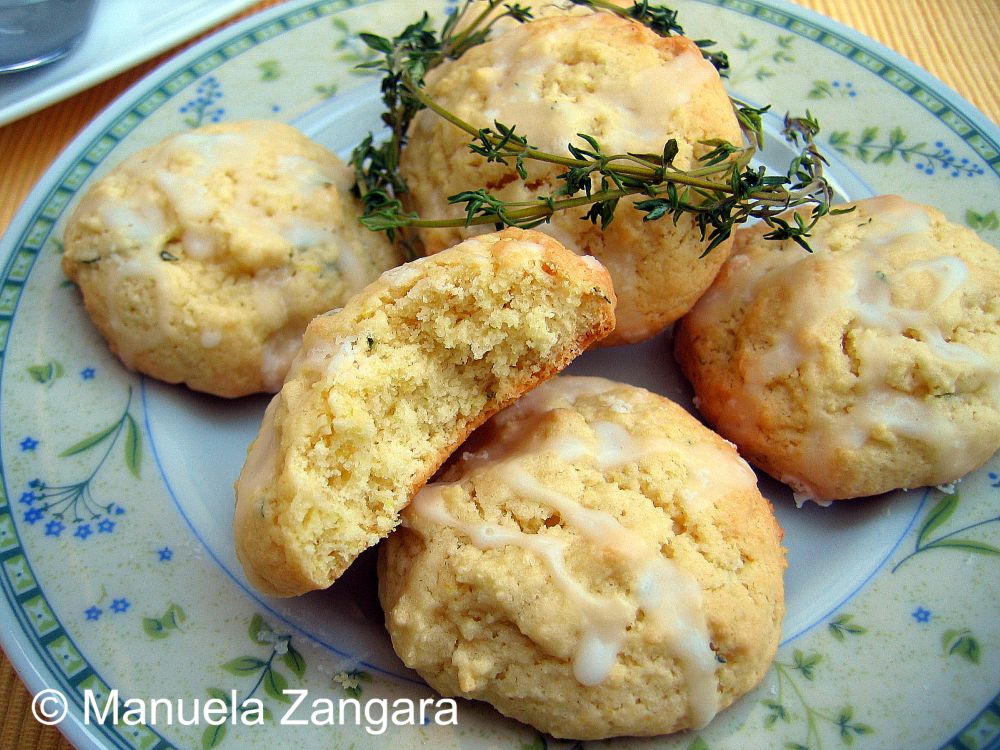 This recipe has been submitted to the contest held by Jessica of La ciliegina sulla torta: E' sempre l'ora del te' (It's always tea time).
RICETTA IN ITALIANO
BISCOTTI AL LIMONE AL PROFUMO DI TIMO
Ingredienti (per 25 biscotti):
Per i biscotti
60 gm burro
200 gm zucchero
Buccia grattuggiata di 1 limone
1 cucchiaino di estratto di vaniglia (o 1 bustina di vanillina)
2 uova
300 gm farina 00
1 pizzico di sale
½ bustina di lievito chimico per dolci
1 cucchiaio di timo fresco
Per la glassa
Succo di 1/2 limone
125 gm di zucchero a velo
Mescolare la farina, il sale, il lievito e le foglie di timo in una ciotola e tenere da parte.
Montare il burro con lo zucchero con un robot da cucina fino ad ottenere una crema bianca.
Aggiungere le uova una ad una, continuando a mescolare finche' ben incorporate.
Aggiungere la buccia di limone grattuggiata, l'estratto di vaniglia (o la vanillina) e mescolare.
Aggiungere poi, gradualmente, gli ingredienti secchi e amalgamare il tutto.
Foderare delle teglie con carta da forno e metterci l'impasto a cucchiaiate.
Cuocere in forno caldo e ventilato a 180°C for 10 minuti o finche' i biscotti saranno dorati.
Una volta cotti, togliere dal forno e lasciarli raffreddare per 10 minuti prima di spostarli su una grglia per farli raffreddare completamente.
Nel frattempo preparare la glassa aggiungendo il succo di limone allo zucchero a velo.  Fatelo a poco a poco perche' potreste aver bisogno di meno limone del previsto per ottenere una glassa densa ma fluida.
Glassare i biscotti intingendo una forchetta nella glassa e lasciandola cadere sui biscotti freddi.  Lasciare asciugare la glassa prima di servire con una tazza di te' caldo al limone.

Related Posts: