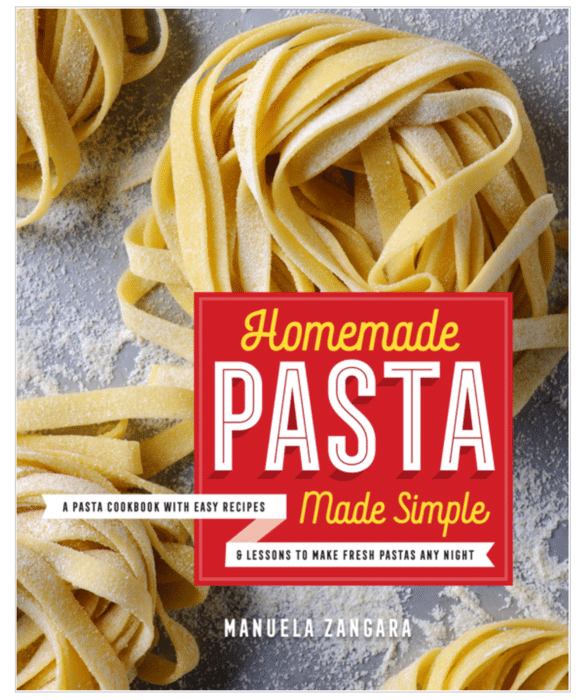 As you probably already know, in the past few months, I have been working really hard on a very exciting project. I know I have been keeping you on your toes, but the time has finally come to introduce my latest work of love: Homemade Pasta Made Simple.
Yes, I finally wrote a "real" book. And the great news is, that the book, edited by Rockridge Press, is already available on Amazon for pre-ordering.
If you follow Manu's Menu, you will know that I have always loved making fresh pasta and that it is something I learned while growing up in Italy. I personally believe that making pasta at home is not difficult and it is indeed a very relaxing way to spend time with family and friends.
I wanted people to discover how easy and fun it is to make pasta from scratch. And that is precisely why I wrote this book. As I say in the book's introduction:
"People who have little or no experience in making pasta at home often ask me how to do it. What are the techniques they should learn? The task seems so overwhelming that they don't know how to begin. This book makes the process less intimidating through introductory lessons and tutorials that help you truly understand how pasta is made. It's been designed for beginners, with the attention to detail and clarity you need to master the basic skills of pasta making and start whipping up your own fresh pasta every night of the week.
In this step-by-step guide to the craft of home-made pasta, I will gradually lead through all pasta-making techniques, from the easier ones to those that will require you to put into practice the skills you have developed. I will also go through the equipment and ingredients needed, and you will be surprised to learn that you don't require anything fancy to start creating your pasta shapes. I am also ready to bet that you already have all the ingredients you require in your pantry! No need to go out and buy expensive stuff from the store. You will also be provided with foolproof basic pasta dough recipes that are so easy to make, you will be able to memorize and master them in no time!
The recipe chapters are divided by type of pasta – hand-shaped pasta, ribbon-cut pasta, stuffed pasta, and gnocchi and gnudi – with a final chapter offering fabulous sauce recipes that will give you the freedom to mix and match as you please. By the end of the book, you will be making pasta like a pro!"
A few numbers
3 easy pasta dough recipes – durum wheat dough, egg dough, gluten-free dough
15 hand-shaped pasta tutorials – from cavatelli and orecchiette to fusilli avellinesi and garganelli
15 ribbon-cut pasta tutorials – from tagliatelle and fettuccine to mafalde and spaghetti alla chitarra
15 stuffed pasta tutorials, stuffing included – from ravioli and tortellini to culurgiones
11 gnocchi and gnudi tutorials – from potato gnocchi and pumpkin gnocchi to gnocchi alla romana and canederli
32 sauce recipes to mix and match – with all the Italian classics like ragu' alla Bolognese, pesto alla Genovese, Aglio Olio e Peperoncino, Arrabbiata, and Cacio e Pepe and some modern sauces too.
Do you want to know more? Here is a full list
Here is a video recipe from the book: Orecchiette with Crudaiola Sauce
Pre-order it on Amazon now
Homemade Pasta Made Simple is your complete guide to creating the pasta you love any night of the week and having fun while doing it!
With Homemade Pasta Made Simple, you too can discover how easy and enjoyable it can be to make fresh pasta for your own family at home.
Homemade Pasta Made Simple will be available in both paperback and digital formats and it will release on August 8th.
Click on the button below to pre-order it from Amazon now!

Related Posts: