It is time again for the "Secret recipe club" reveal!  I am sure you all know what the club is about, but for the few of you who still don't know about it, here goes a brief explanation.  It is a great concept… each month you are assigned a participating food blogger to make a recipe from and in turn someone else will be assigned your blog.  All you have to do is choose a recipe, make it and blog about it on the specified date.  The only rule is to keep it a secret!  If you are interested in learning more, or want to join the club, please visit the Secret recipe club website.
I was really excited when I got this month's assignment: Canela Kitchen written by my very talented friend Gloria.  I have known Gloria for a couple of years now, as I had been assigned her blog back then.  At that time I made her Sopaipillas con Pebre y Pasadas (yum!) and had fallen in love with her blog.  Gloria lives near Santiago, in Chile, a country I have always wanted to visit.  So, once again, I chose to make something from her area of the world and picked these scrumptious Molten Dulce de Leche Cakes!  I don't have easy access to store bought Dulce de Leche, so I made my own.  You can find my tutorial on how make your Dulce de Leche here.  These cakes were yummy and very quick to make.  Highly recommended, especially if you like Dulce de Leche like me!  Thank you so much for another amazing recipe Gloria!  Please, make sure you drop by Gloria at Canela Kitchen and check out her beautiful site!
Molten Dulce de Leche Cakes
Molten Dulce de Leche Cakes - a scrumptious dessert made with just 3 ingredients!
Ingredients
590

gms

– 1 2/3 cups dulce de leche

home-made or store bought

2 ½

tbsp

flour plus more for the ramekins/moulds

2

large egg yolks

1

large egg

Butter

Whipped cream or Vanilla Ice cream to serve
Instructions
Grease the ramekins/moulds and coat them with a little flour.  Keep aside.

Beat the egg yolks and egg with an electric mixer until fluffy and doubled in volume (this will take about 2 or 3 minutes).

Add Dulce de Leche and beat well to combine.

Gradually add the flour and combine.

Bake in a pre-heated oven at 180°C – 355°F until the outside is golden brown in colour but the centre still jiggles.  This will take about 12 to 15 minutes, depending on the oven and ramekins.

Remove from the oven and let them cool down for a couple of minutes.

Run a knife around the ramekin edges to loosen the cakes and invert them onto serving plates.

Serve immediately with some whipped cream or Vanilla Ice cream.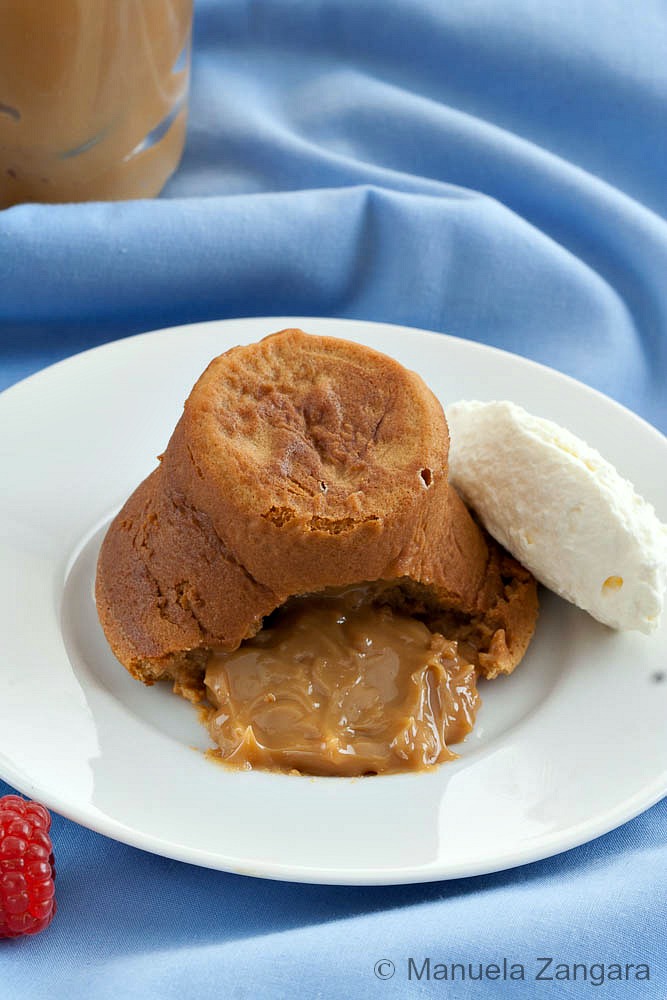 Related Posts: