My husband doesn't like chocolate.  Or so he claims.  No, wait.  That's not correct, he doesn't like milk and dark chocolate… but he ADORES white chocolate.  So, when I saw these little molten puddings, I knew I had found a recipe that would really please him.  My kids and I have no problems with any kind of chocolate, so we all loved them!  They taste as good as they look (or they look as good as they taste… you pick)!  And the best thing is that they are really quick and easy to make.  The only recommendation is to make sure you get the right temperature/cooking time for your oven as that is paramount to getting the molten centre: if you overcook them, you will end up with a normal (yet delicious) cake, but if you undercook them, you won't even be able to unmould them!  Make sure to serve them warm!  Enjoy and scroll down to check out who won a copy of Manu's Christmas Menus thanks to my giveaway!
Molten White Chocolate Pudding
How to make a sinful Molten White Chocolate Pudding!
Ingredients
200

gms

– 7 oz. white chocolate

250

ml

– 1 cup condensed milk

80

gms

– 2/3 cup flour

100

gms

– 7 tbsp butter

chopped

1

egg

Icing sugar
Instructions
Melt the white chocolate in the microwave.

Add the chopped butter and microwave it for 10 seconds. When the butter is completely melted, mix well and keep the mixture aside to cool down.

Beat the egg with an electric mixer and mix in the condensed milk.

Add the white chocolate and butter mixture and mix.

Grease the moulds and coat them with a little flour. Pour in the batter, making sure to leave 1 cm – ½ inch from the top.

Bake in a pre-heated oven at 180°C – 355°F (fan forced) for 18 minutes.

Dust with some icing sugar and serve immediately (warm), or they will dry out.
Recipe Notes
This recipe worked perfectly fine for my oven, but I recommend you bake only 1 pudding to test the correct cooking time for your own oven. If you overcook the puddings, you will not get the molten effect!
And now to the giveaway winner… The lucky reader who wins a copy of my eBook Manu's Christmas Menus is……..
…….. #8 muppy!  Congratulations!  I will be in touch soon via email!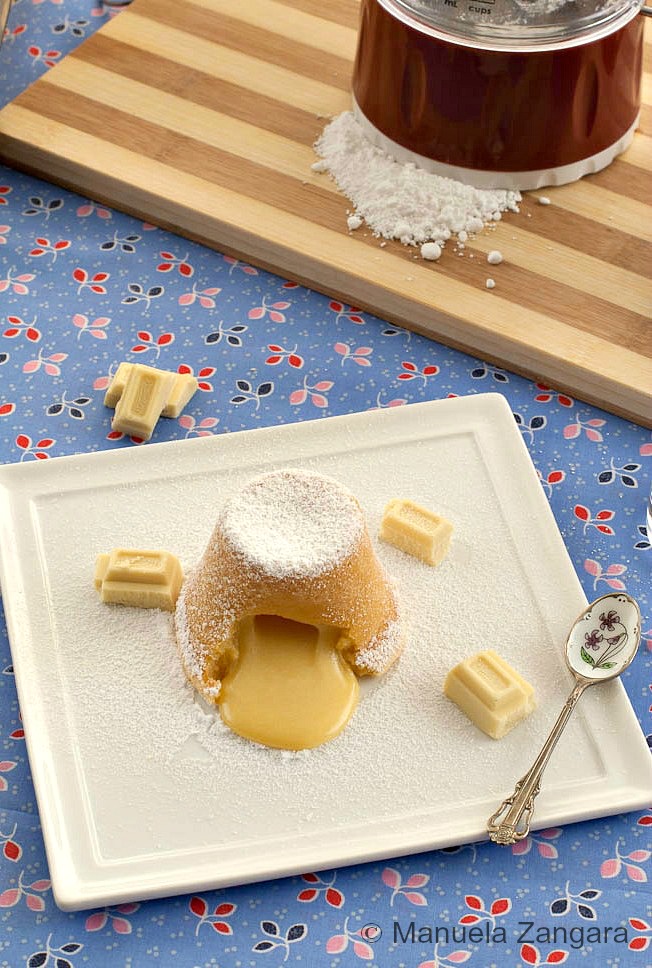 Related Posts: