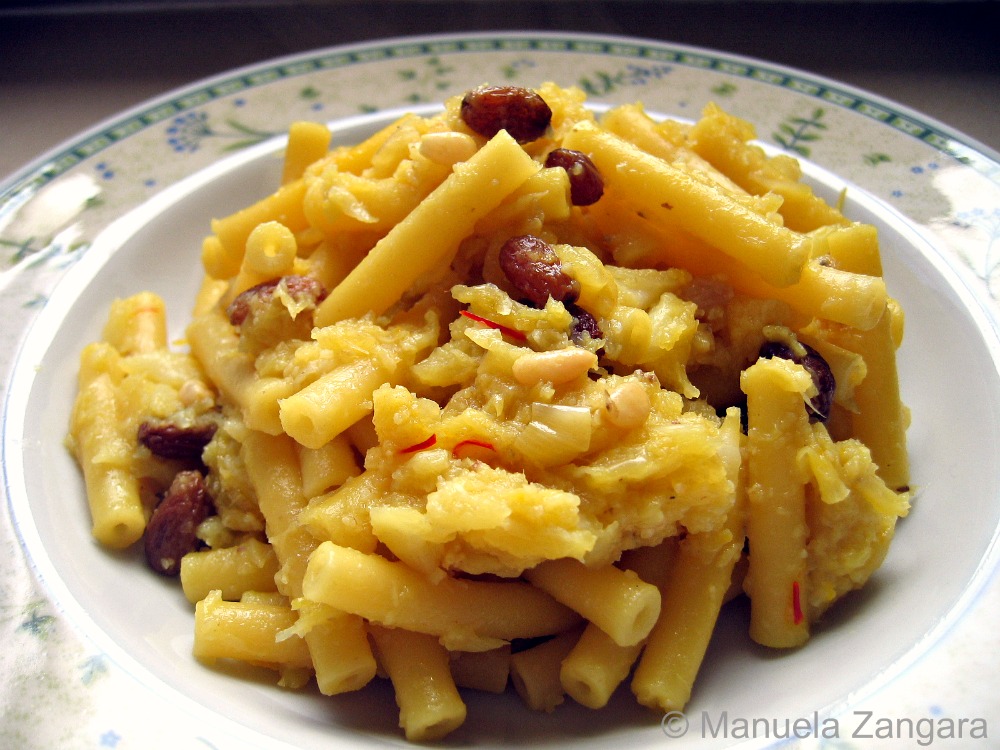 As I have announced in my Vitello Tonnato post, I have decided to dedicate one post a week to Italian cooking, focussing each time on a different region.  There are so many fantastic traditional recipes in Italy that it can be a daunting job to choose from them, but I am having lots of fun and I love to help spread "real" Italian cooking out to the world!  This week's region is Sicily.  I know I have already published a few Sicilian recipes in the past (for a list of those and all the other regional recipes already published, click here), but here goes another one!  I have decided to make pasta with cauliflower, pine nuts, raisins and saffron.  This pasta in Sicilian is called "pasta chi vruocculi arriminati" which literally means pasta with stirred cauliflower, because you need to mix the pasta with the sauce in the pan before serving it.  The addition of saffron, pine nuts and raisins in savoury dishes is a classic of Sicilian cooking and it can be attributed to the Arab influence that is so evident in Sicily due to centuries of Arab (and then Spanish) domination.  This is a typical dish from Palermo and it is my dad's family recipe.  It is best eaten with short pasta and served with "muddica" (toasted breadcrumbs), instead of cheese.
Ingredients (for 4 persons):
600 gms – 1.3 lbs white cauliflower, chopped in big chunks
1 ½ tbsp pine nuts
5 anchovies
2 tbsp raisins
2 tbsp extra virgin olive oil
1 pinch saffron
1 small onion, chopped
Salt
6-8 tbsp breadcrumbs, toasted
400 gms short pasta (I used Garofalo's sigarette, but penne, tortiglioni or rigatoni are perfect for this too)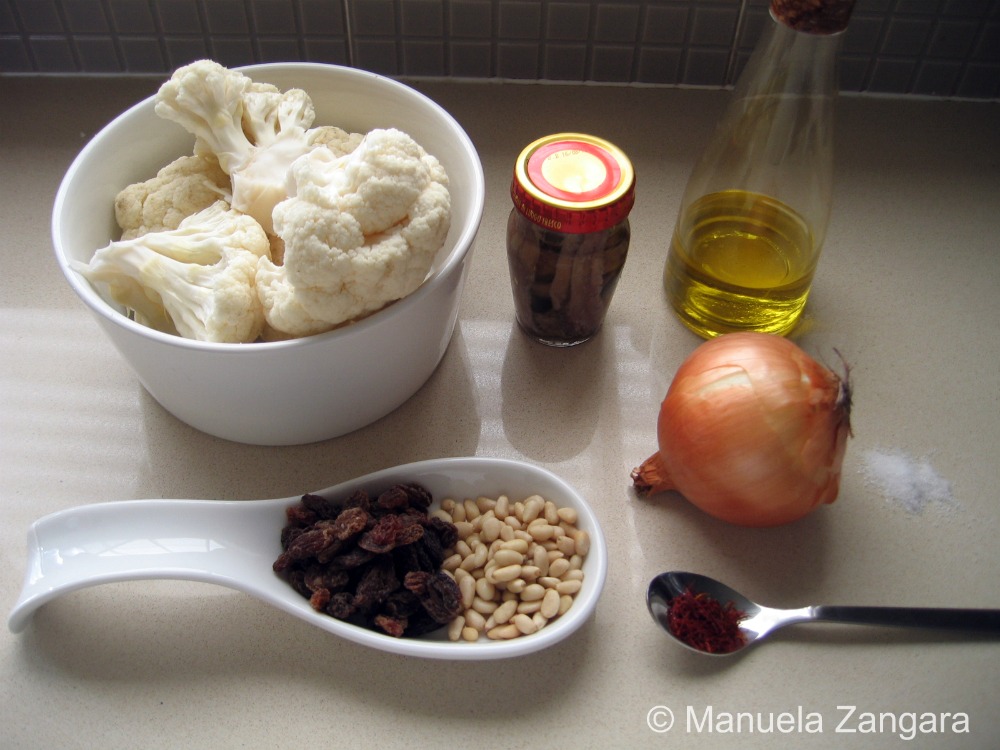 Bring a pot of salty water to a boil and add the chopped cauliflower.  Let it cook for a few minutes, until soft.  Remove it with a slotted spoon and keep aside.  Retain the cooking liquid as you can use it to cook your pasta in it.  This way the flavour of the cauliflower will transfer to the pasta and the final dish will be tastier.
Put the chopped onion, pine nuts, raisins and extra virgin olive oil in a frying pan and cook on medium heat until the onion is translucent.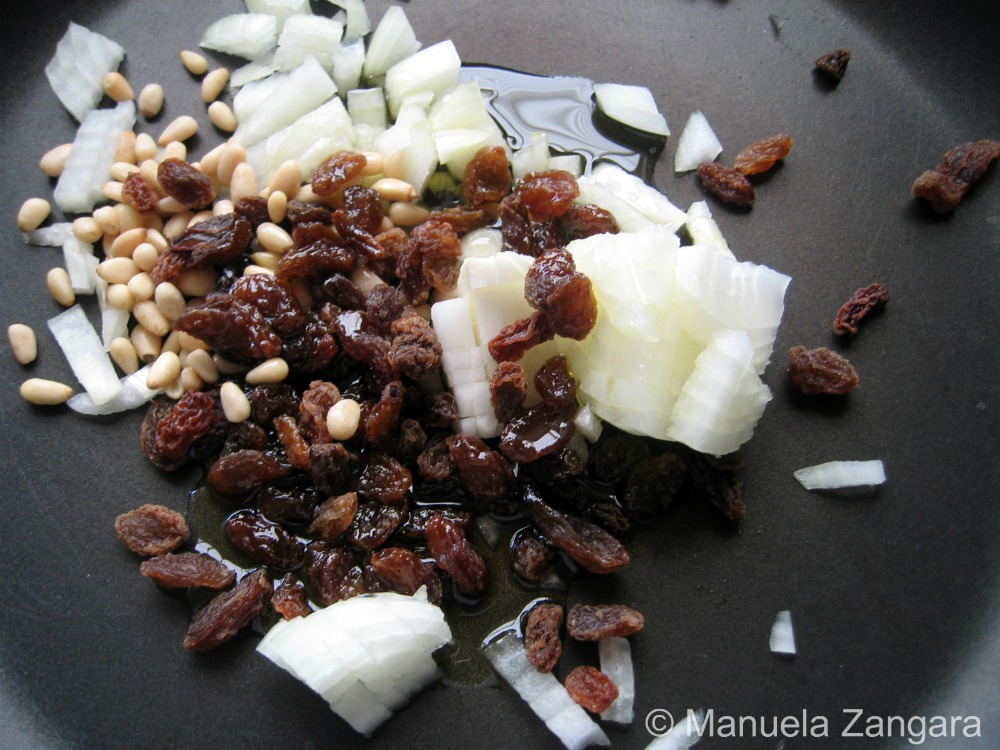 Now add the anchovies, remove the pan from the fire and break the anchovies with a wooden spoon.  Stir well until they melt in the sauce.  Make sure to do this away from the fire to prevent the anchovies from burning (burnt anchovies are really bitter).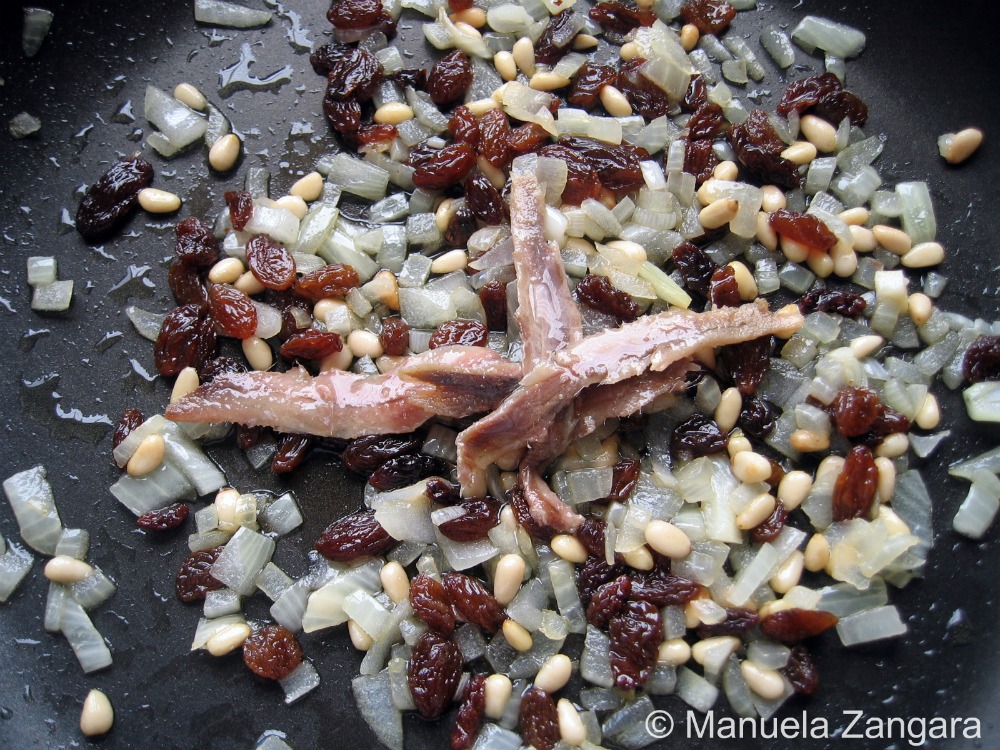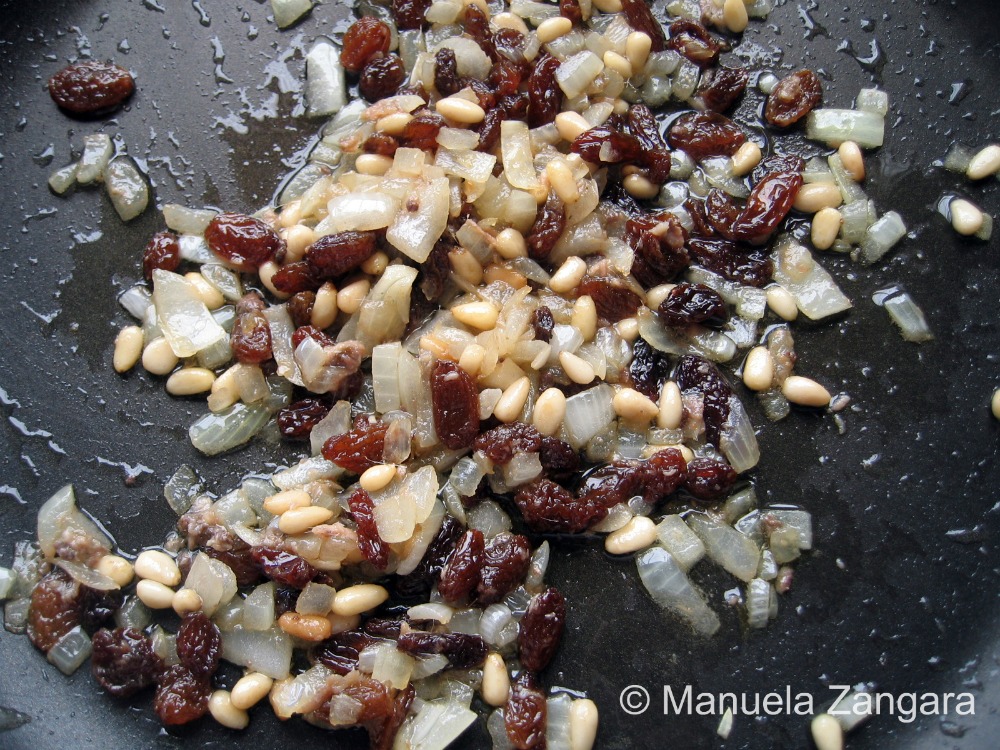 Now add the cooked cauliflower and mash it with the wooden spoon.
Add a pinch of saffron and some of the cauliflower cooking liquid.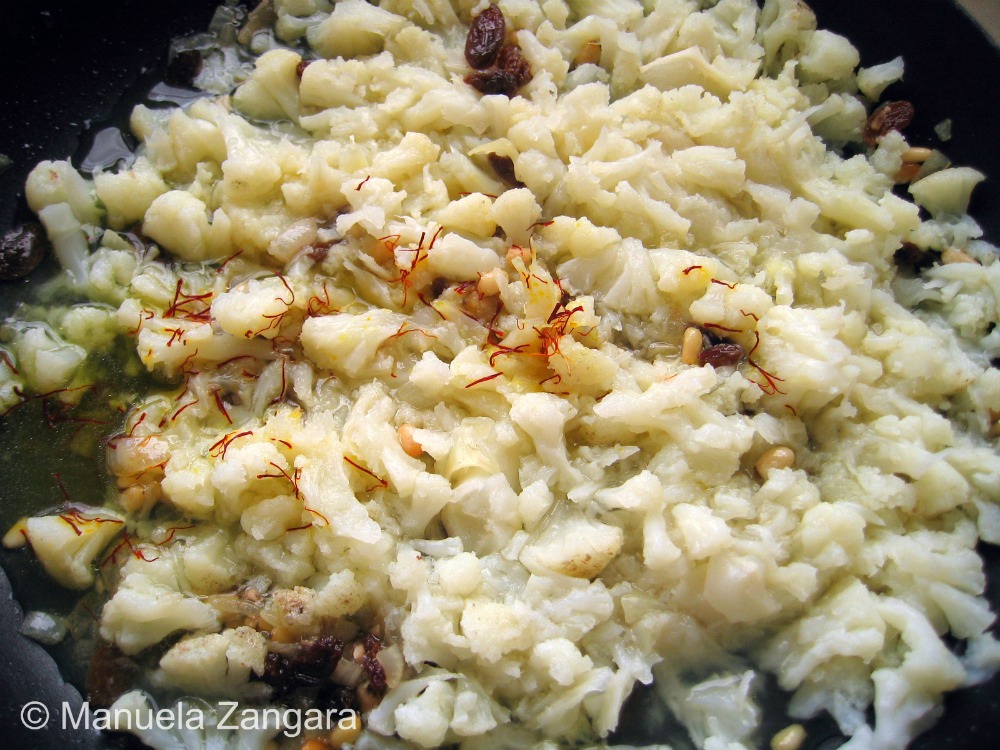 Mix well to make sure the saffron is well combined.  Add salt if required.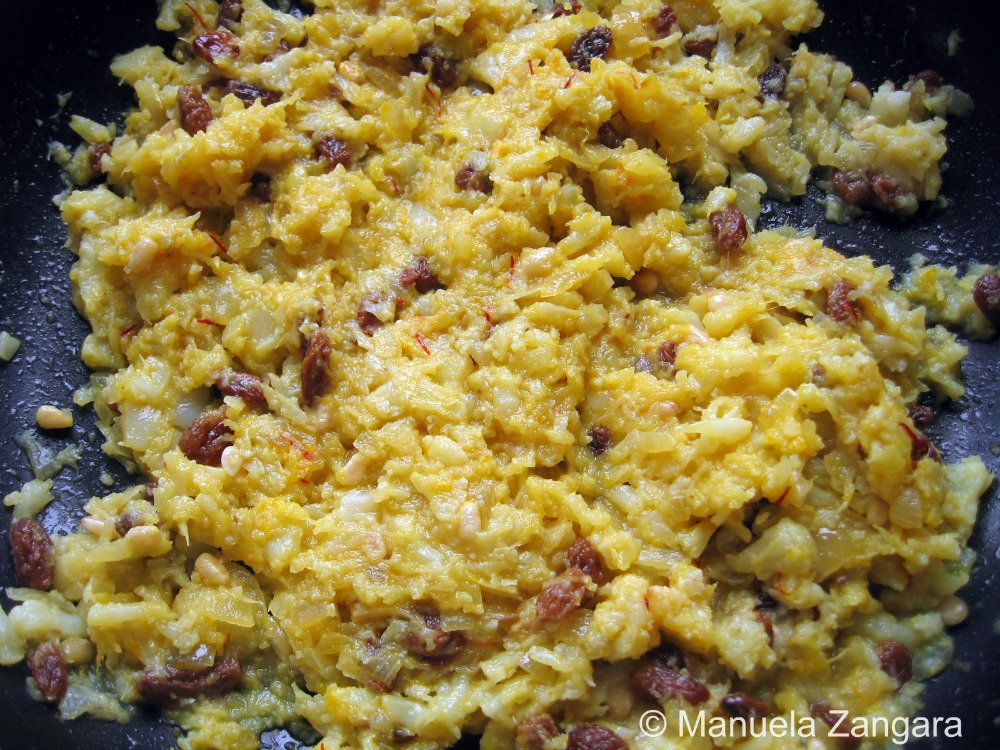 To toast the breadcrumbs, simply put them in a non stick frying pan and cook them on the stove on a low fire, stirring constantly, until brown.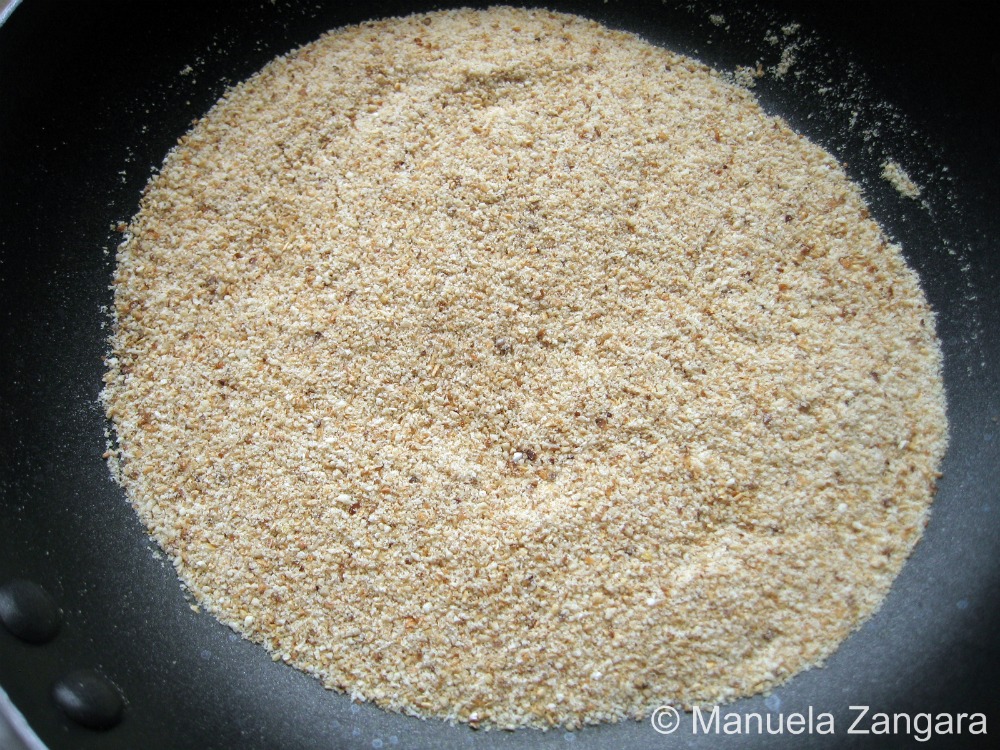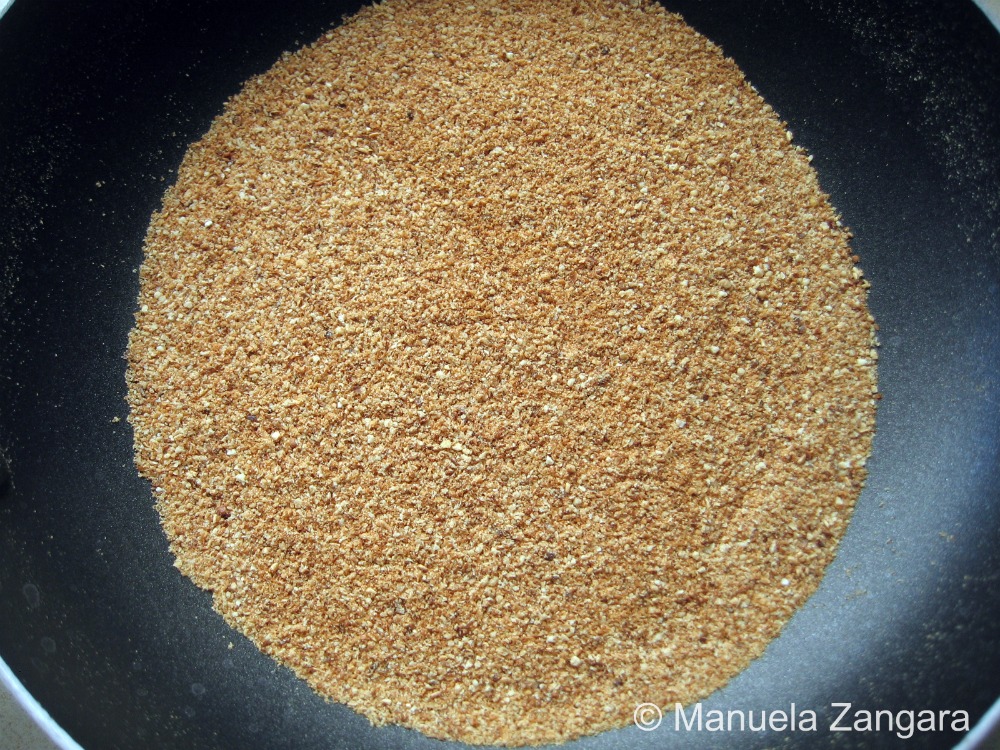 Put the pot with the broccoli water back on the fire (you might have to add some more water and hence adjust the salt) and use it to cook your pasta.
Cook the pasta following the steps on How to cook pasta "al dente" in the Techniques page of this site, but drain it 1 minute before it is cooked as it will finish cooking together with the sauce.  Put the drained pasta in the frying pan with the cauliflower sauce and mix well while cooking it on a slow flame for 1 or 2 minutes.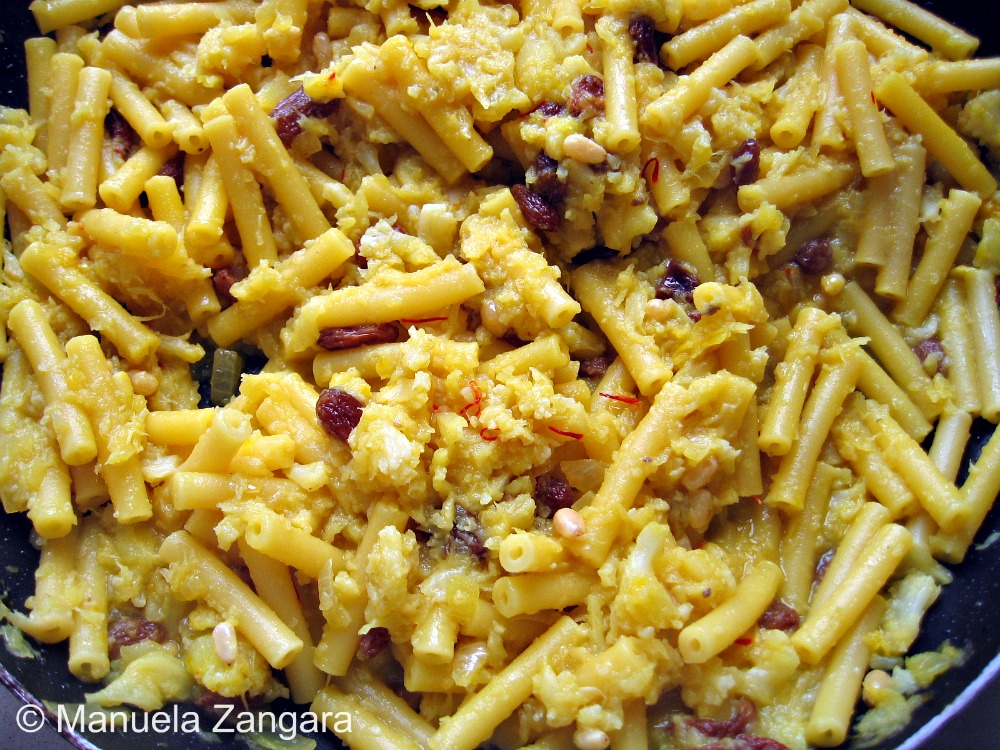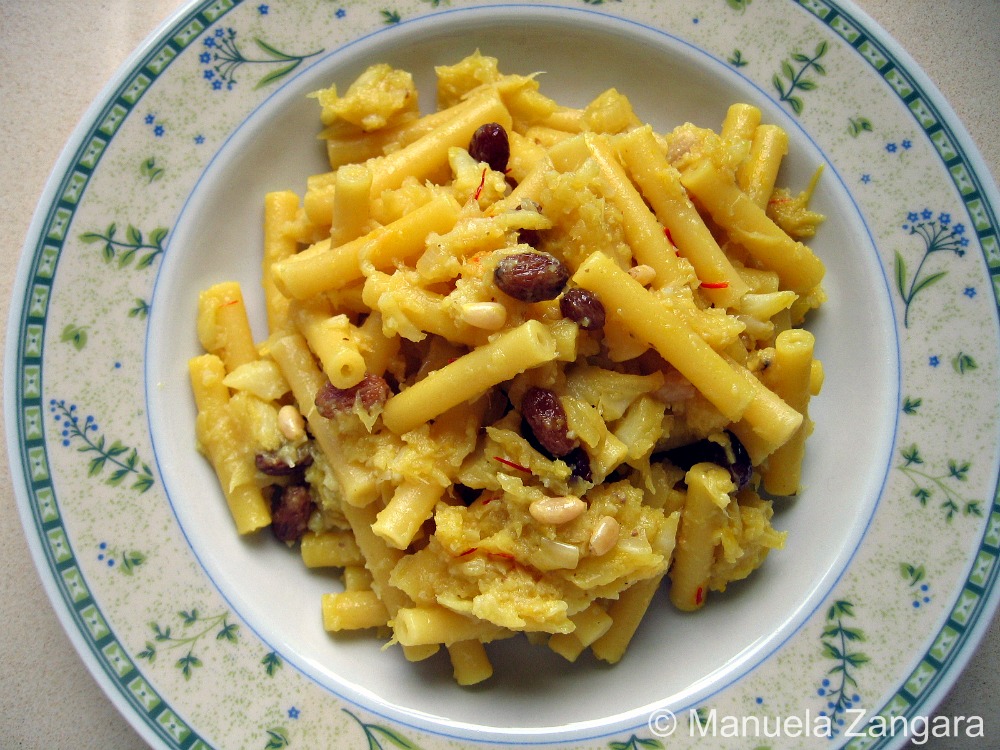 Serve with the toasted breadcrumbs on the top.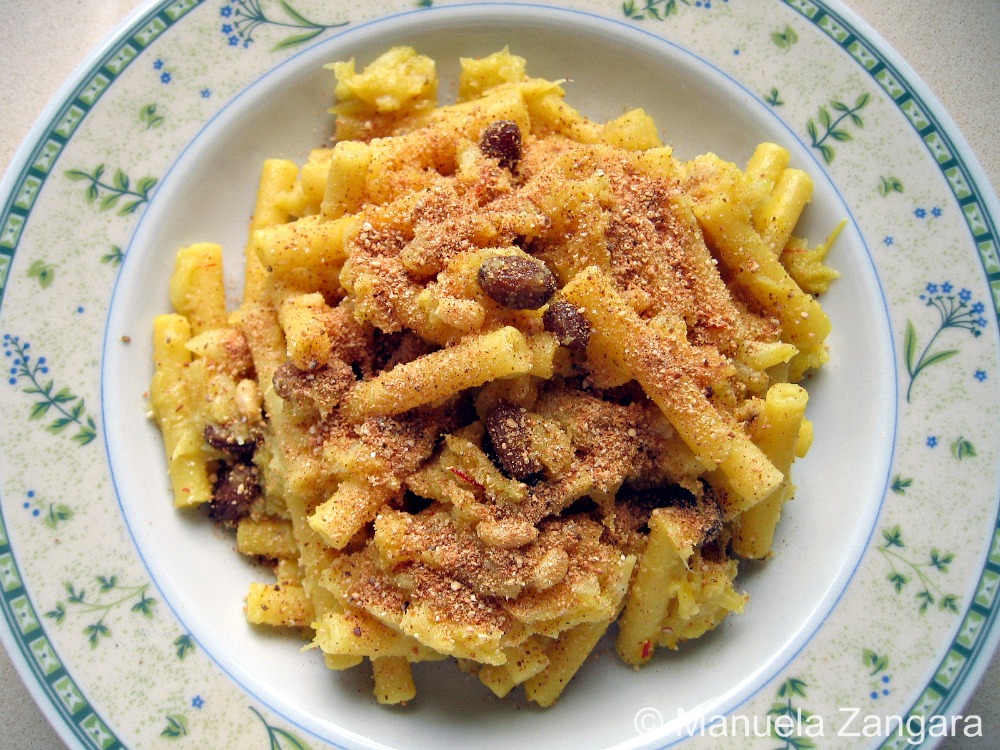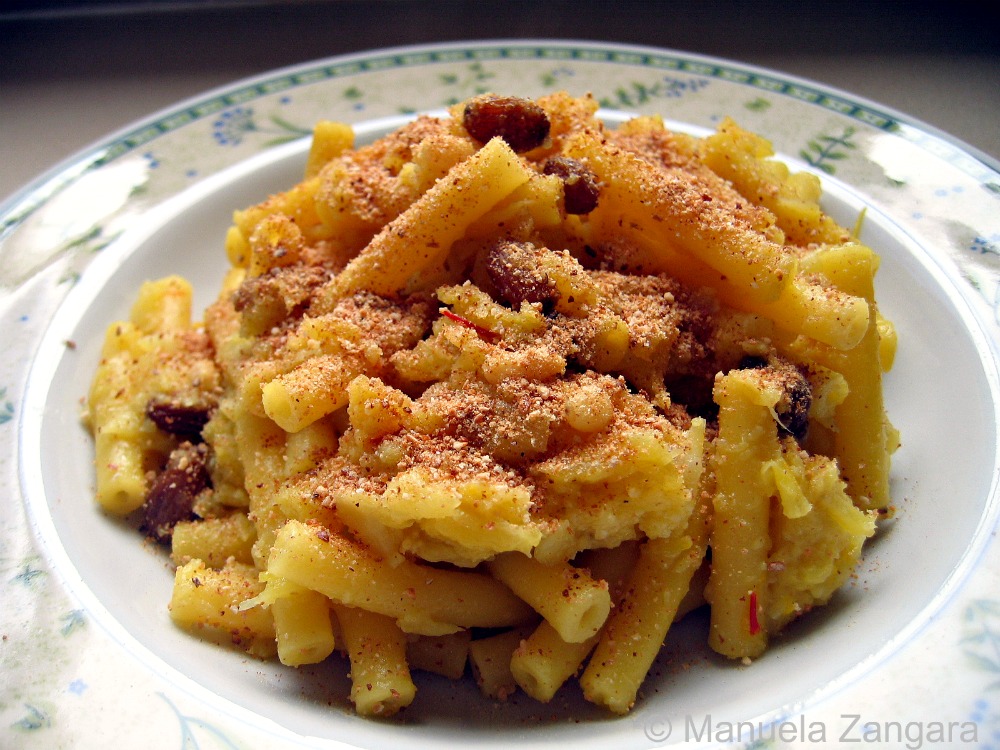 Also, I wanted to thank everyone who has buzzed my recipes on Foodbuzz!  Manu's Menu has been in the Top 9 three time in the last few weeks with Frittatine alla Parmigiana, Moo Shu with Chinese Steamed Pancakes and Home-made Hoisin Sauce and Vichyssoise!  THANK YOU ALL SO MUCH!  🙂
And last, but not least… HAPPY DIWALI to all my Indian readers! 🙂

Related Posts: