I am quite sure I have said this already, but just in case you have missed that specific post, I will repeat myself… 😉 I like fish, but I am not a HUGE fish lover. If I had to choose only one thing to have off a menu, fish would always be at the bottom of my list. I do however make a few exceptions for certain kinds of fish. Swordfish, tuna, anchovies, mackerel and sardines are among these. The problem is, strangely enough, I rarely find them fresh around here. So when I saw they had sardines at the market this week, I jumped at them and bought some immediately. Luckily enough, at the market itself, I ran into some fresh fennel tops (something I had never seen around here before!) AND my parents are still here (remember, they are Sicilian!)… so I considered all this a sign: I had to make pasta with sardines "Palermo style", aka with fennel tops, saffron, raisins and pine nuts. This is a delicious traditional Sicilian dish (and it is this week's post for my Regional Italian dish series), whose fame is well known all over Italy. Apparently it is quite an ancient recipe and it was invented during a siege. The army cook only had pasta and not very fresh sardines on hand, so he added some wild fennel tops that were growing nearby and were strong enough in flavour to cover up for the "old" sardines. He also added pine nuts which were thought to be good to fight food poisoning… you know, just to be safer! Anyhow, no matter what the origin, through the centuries, this amazing recipe was slightly modified to reach us in all its splendour. Make it (with fresh sardines though! ;-P) and I am sure you will enjoy it!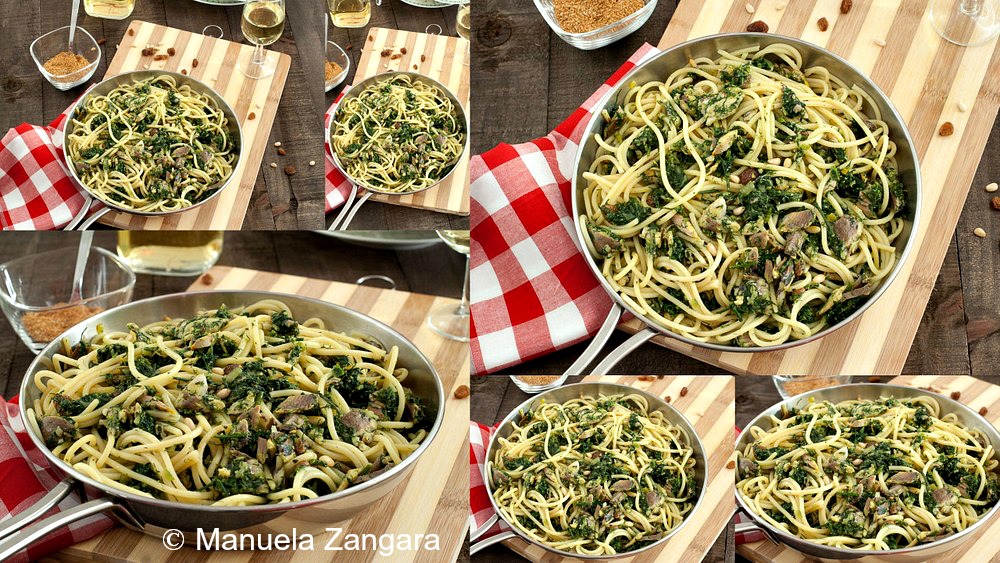 Pasta con le Sarde alla Palermitana
How to make a classic of Sicilian cooking: Pasta con le sarde alla palermitana, aka pasta with sardines and fennel tops "Palermo style".
Ingredients
500

gms

– 1.1 lbs. sardine fillets

cleaned, deboned and halved

½

onion

chopped

5

tbsp

extra virgin olive oil

2

anchovies

500

gms

– 1.1 lbs. fennel tops

boiled and chopped

1

tbsp

pine nuts

1

tbsp

raisins

1

pinch

saffron

melted in 2 tbsp hot water

Salt & pepper

8

tbsp

breadcrumbs

350

gms

– 12 oz. Bucatini pasta

or Spaghetti
Instructions
Start by boiling the fennel tops in hot salty water. When soft, take them out of the water with a slotted spoon and keep them aside. Keep the cooking liquid as you will need it to cook your pasta in. This will enhance the flavour of fennel in the final dish. When the fennel tops have cooled down, chop them up.

Toast the breadcrumbs by putting them in a pan over low fire. Stir constantly so it doesn't burn. When the breadcrumbs become golden brown, put the fire off and keep aside.

Put the saffron in a little cup with 2 tablespoons of hot water and keep it aside.

Sauté the onion in a pan with the extra virgin olive oil.

When the onion is translucent, add the anchovy fillets, and cut them up with a wooden spoon. Cook on low fire, until the anchovies melt.

Now add the chopped fennel tops and mix well.

Add the sardines, pine nuts, saffron and drained raisins and mix.

Cook on a low fire for 5 minutes, adding a little cooking liquid from the fennel tops if required, then put the fire off and keep the sauce aside.

Cook the Bucatini in the reserved liquid of the fennel leaves (top it up with some more water if needed) following the steps on

How to cook pasta "al dente"

in the Techniques page of this site, but drain it 1 minute before it is cooked as it will finish cooking together with the sauce.

Put the drained pasta in the frying pan with the sardine and fennel sauce and mix well while cooking it on a slow flame for 1 or 2 minutes, so that the pasta picks up all the flavour of the sauce.

Serve immediately with some toasted breadcrumbs on the top.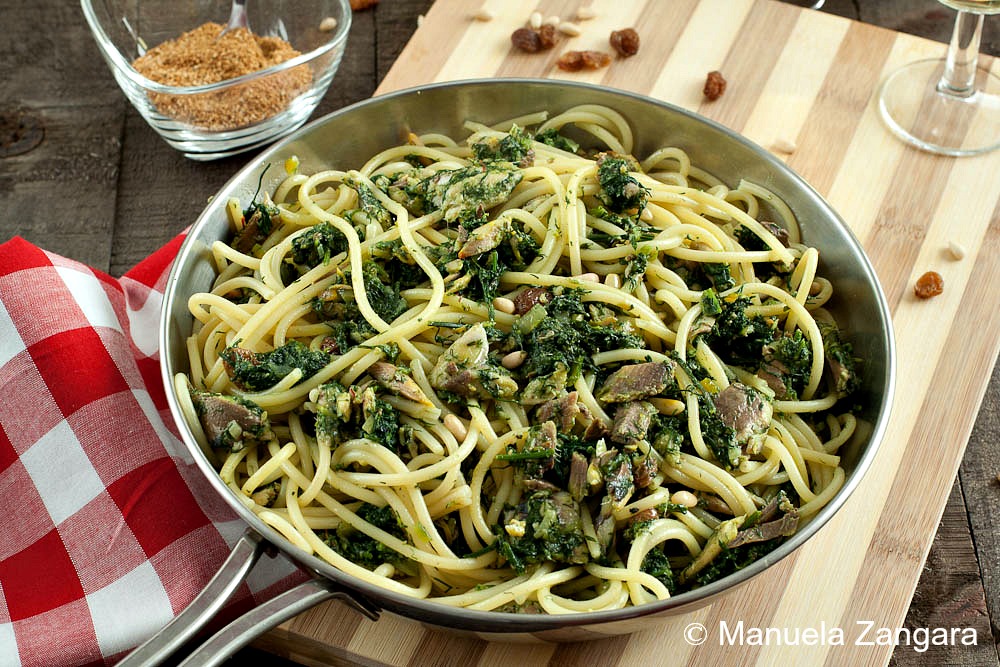 Related Posts: