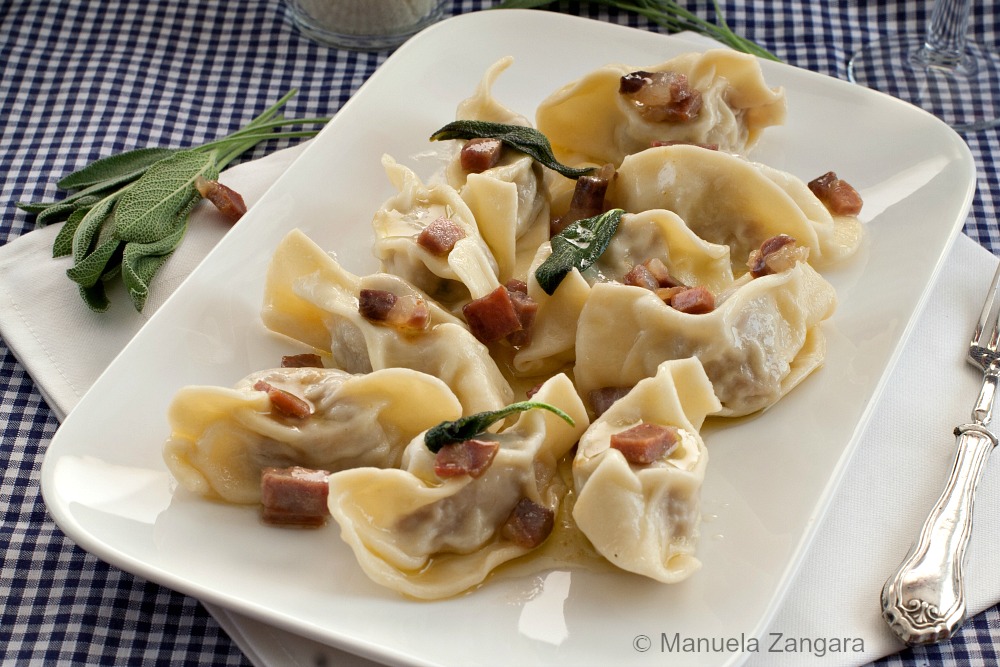 Today's post is all about tradition.  I often say that talking about Italian cuisine is not very accurate… every region (and sometimes even city!) has its own cuisine, so it would be more correct to say Italian cuisines.  Every area of Italy has its own traditional stuffed pasta which can differ in shape, size and/or filling.  Tortellini for example, are the traditional stuffed pasta from Bologna, Tortelli are found in Mantova etc.  Today I will take you to the beautiful city of Bergamo, in Lombardy, just 30 minutes from Milan where I was born.  Bergamo is a very ancient city as it dates back to the Celtic times and is divided between the modern area (Citta' Bassa) and the historic area (Citta' Alta).  The latter area is full of beautiful monuments.  Today's recipe is a typical dish from Bergamo: Casoncelli (or casonsèi as they are called in the local dialect).  I have already shared a recipe for Cabbage, Speck and Scamorza Casoncelli in my ebook, which you can find here: Manu's Christmas Menus.  It is a kind of stuffed pasta with a very particular shape, filled with local/poor ingredients such as sausage, breadcrumbs, parsley, eggs and garlic.  In modern times, cheese and a few other more "noble" ingredients were added too, and the dish that I will share with you today is simply to die for.  Casoncelli alla Bergamasca (aka Bergamo style) are served with a butter and sage sauce and sautéed Italian Speck (or Pancetta).  Enjoy and don't forget to check out my other Regional Italian recipes!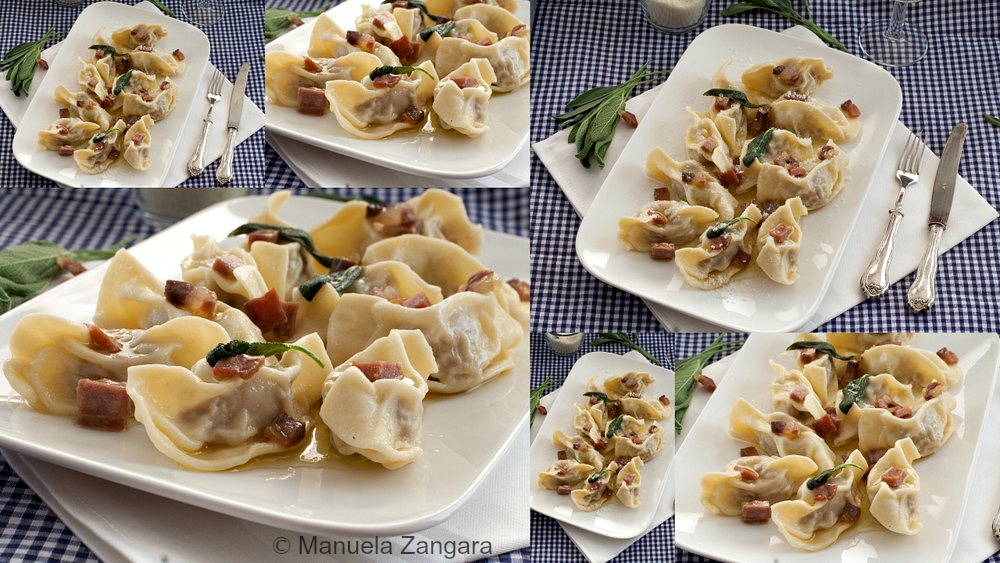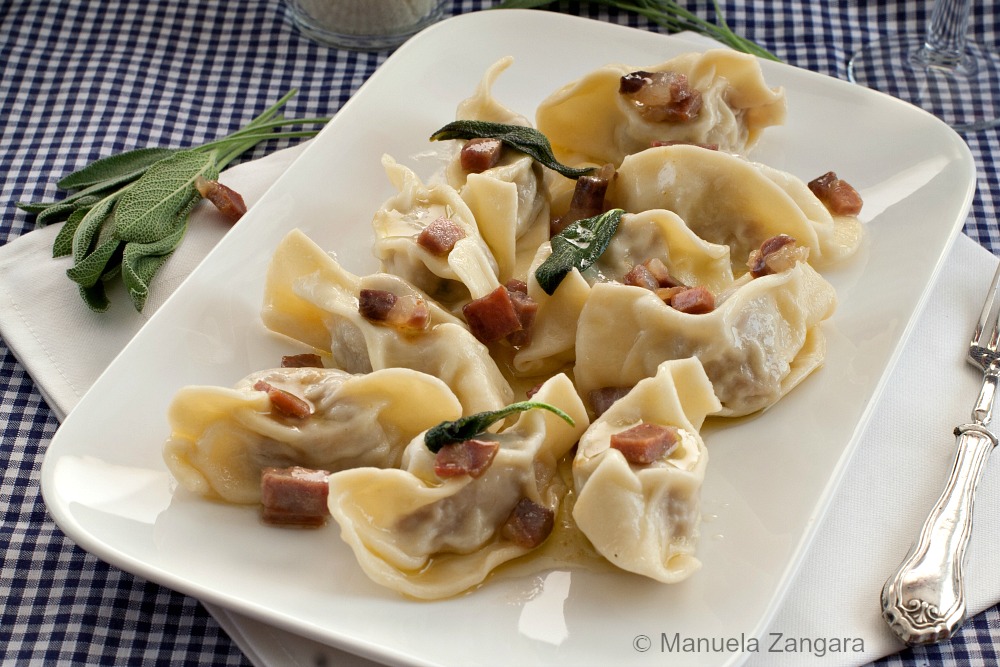 Casoncelli alla Bergamasca
How to make Casoncelli alla Bergamasca, traditional stuffed pasta from the Northern Italian town of Bergamo!
Total Time
1
hour
20
minutes
Ingredients
Pasta
2

eggs

200

gms

– 7 oz. all purpose flour
Filling
200

gms

– 7 oz. Italian sausage

100

gms

– 3.5 oz. mortadella

80

gms

– ¾ cup breadcrumbs

20

gms

– 3 ½ tbsp Parmigiano Reggiano

finely grated

1

egg

2

tbsp

milk

1

garlic clove

2

tbsp

parsley

chopped

Salt to taste
Sauce
80

gms

– 5 ½ tbsp butter

6

sage leaves

4

x 1 cm – ½ inch thick slices of Italian Speck or Pancetta

cubed

Parmigiano Reggiano

finely grated, to serve
Instructions
Recipe Notes
If some pasta sheets remain, wrap them individually in cling wrap, then place them in a ziploc bag and freeze them for later use.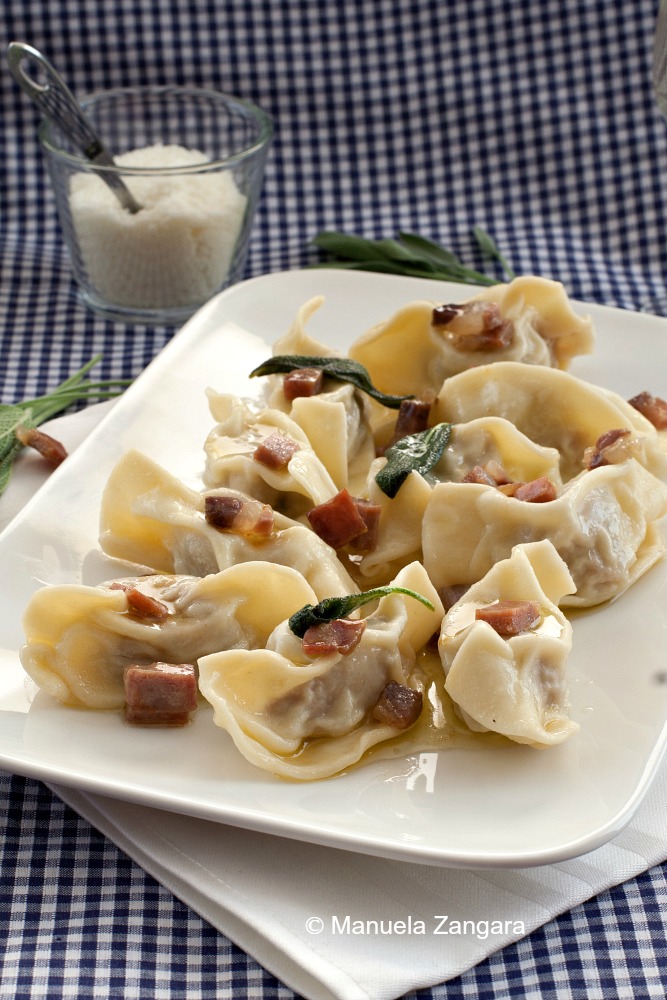 Related Posts: