This is another one of the dishes I have learnt from my mom.  She used to make it often on Sundays and it is a fantastic and juicy roast.  I guess apples and pork are a classic combination, but it is one that I never get tired of.  The sweetness of the apples goes very well with the tanginess of the white wine and it helps make a great sauce.  The addition of prunes gives the sauce a hint of caramelisation which to me is always a plus.  You can serve it with mash, a green salad or my baked potatoes with garlic and rosemary.  Buon appetito!
Ingredients (serves about 6):
1 kg – 2.2 lbs pork scotch fillet roast
¾ tbsp salt
1tbs rosemary leaves, chopped
½ to 1 tbsp ground pepper (depending on how spicy you like it)
2 cloves garlic, halved
1 tbsp extra virgin olive oil
½ glass white wine
½ glass water
Butchers' string (optional)
3 small apples, peeled and sliced (2 cm thick)
20 dried prunes, pitted
Start by making four small cuts in the meat.  Insert half a clove of garlic, a pinch of salt and pepper in each cut.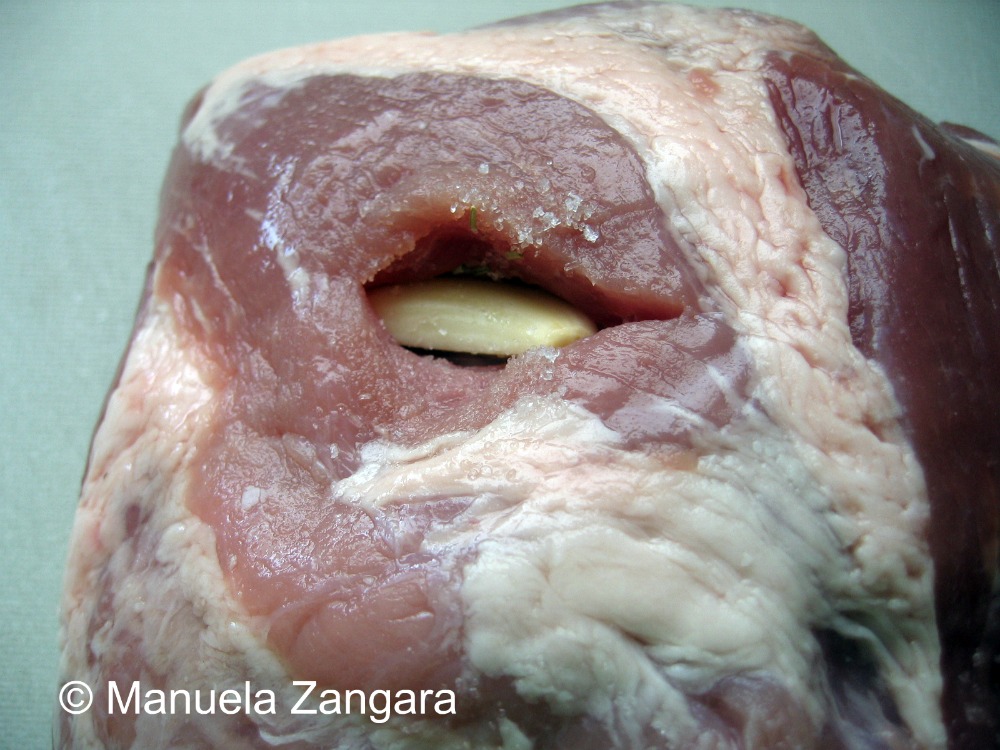 Now you can give the roast a more uniform shape.  This is an optional step, the roast will taste just as good without doing this, but it won't look as "nice".  Using some butchers' string, tie the roast by knotting the string tightly at one end of the roast and wrapping it tightly all around the meat.  Make a knot at the end to secure the string.
Season the roast with the salt, pepper and rosemary leaves.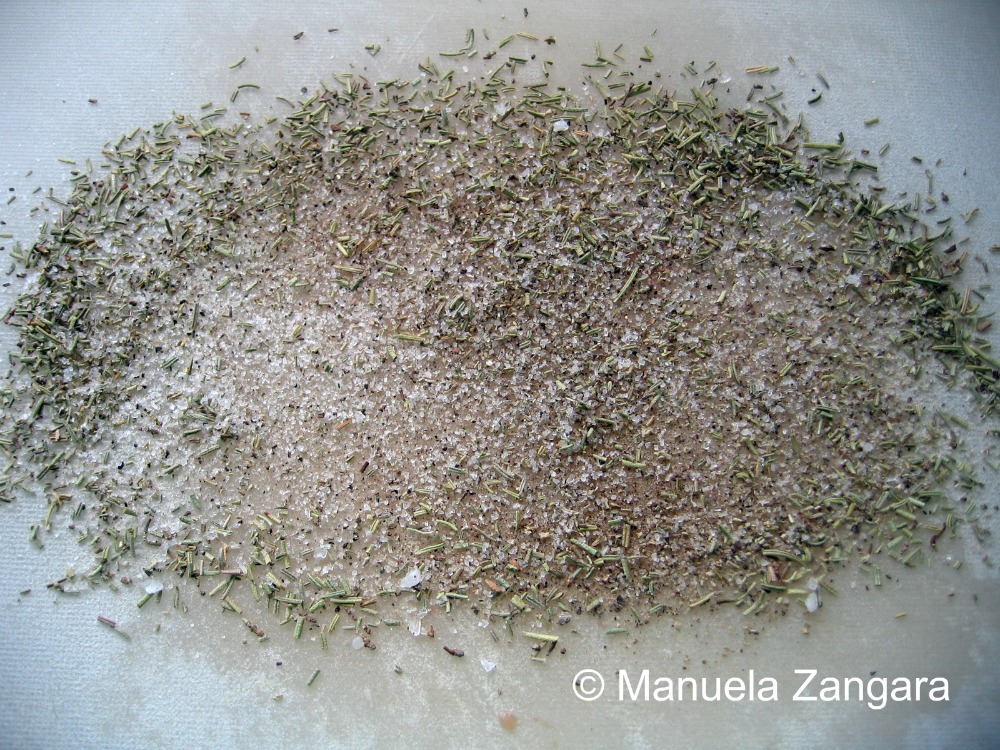 Place the roast in an oven tray layered with a drizzle of extra virgin olive oil.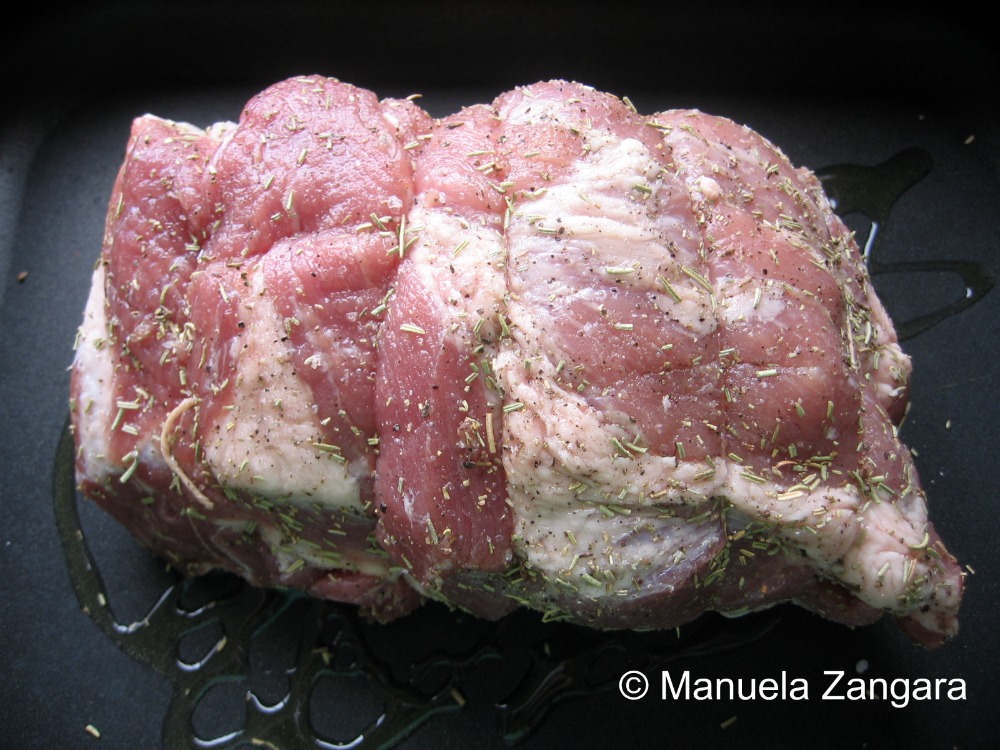 Add the white wine and water.  Bake the roast in a preheated fan forced oven at 220°C for the first 10 minutes, then reduce the heat to 180°C and cook for another 25 minutes.
At this point, put in the sliced apples and prunes and cook for another 15 – 20 minutes or until the meat has cooked through and the apples are soft.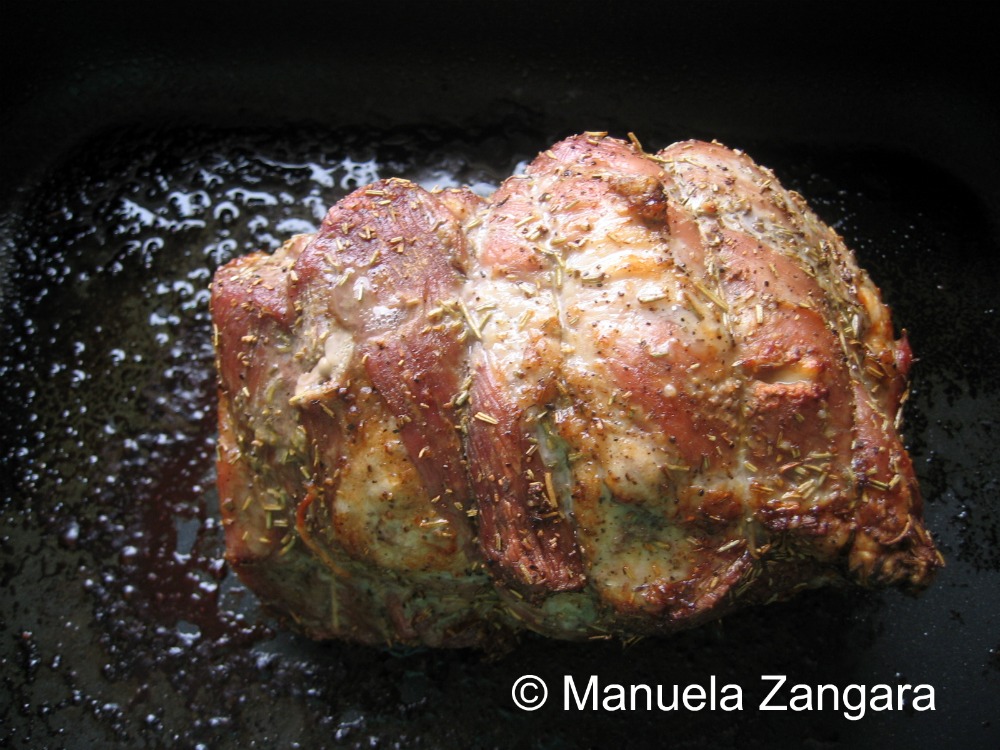 When cooked, let it cool down.  Then remove the string and slice.  Serve warm with its sauce and the apples & prunes.

Related Posts: