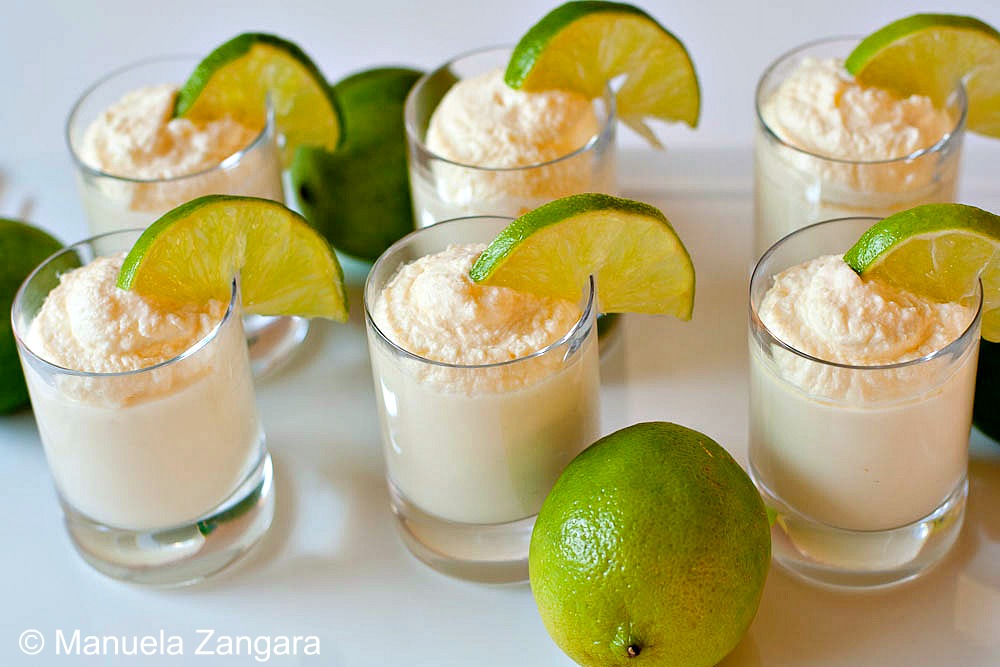 This is the second month I am participating in the "Secret recipe club" and I LOVE it!  It is a great concept… each month you are assigned a participating food blogger to make a recipe from and in turn someone else will be assigned your blog.  All you have to do is choose a recipe, make it and blog about it on the specified date.  The only rule is to keep it a secret!  If you are interested in learning more, or want to join the club, please visit the Secret recipe club website.
The blog I got assigned this month is Teri's The Freshman Cook.  She is actually a professional chef and is writing this blog for a beginner cook, which is great.  Her passion for cooking and for teaching what she has learnt through the years permeates her blog and I really love that.  There are many great posts, recipes and tips, so please make sure you check out The Freshman Cook!
While browsing through Teri's site I got immediately hooked to one particular recipe: Key Lime Mousse Shooters.  I thought that the idea of serving the mousse as a shooter was great.  So, after making The Yummy Life's Make-ahead frozen Margaritas for last month's reveal, this month I chose to use limes again.  I could not find any Key limes in Sydney, but I found some Tahitian limes, which I thought sounded pretty exotic and I must say they worked perfectly for this recipe.  The result is a chic and tasty treat, served in guilt free small portions, perfect for a summer dinner party!  I think the idea of serving them as shooters is a real winner and this recipe is definitely a keeper!
I also want to thank Angie from Big Bear's Wife who is my group's hostess for all her help!!!
Recipe adapted from Teri at The Freshman Cook
Ingredients (makes about 12, or more if your glasses are smaller):
115 gms – 4 oz. cream cheese, very soft (I used a reduced fat version which is more spreadable in consistency)
2/3 cup sweetened condensed milk
¼ cup juice of Tahitian limes (3 limes approximately)
1 ¼ cup whipping cream (divided in ½ cup and ¾ cup)
2 ¼ tbsp icing sugar (not in the picture)
Put the soft cream cheese, sweetened condensed and lime juice in a bowl and whip it with an electric whisker until smooth.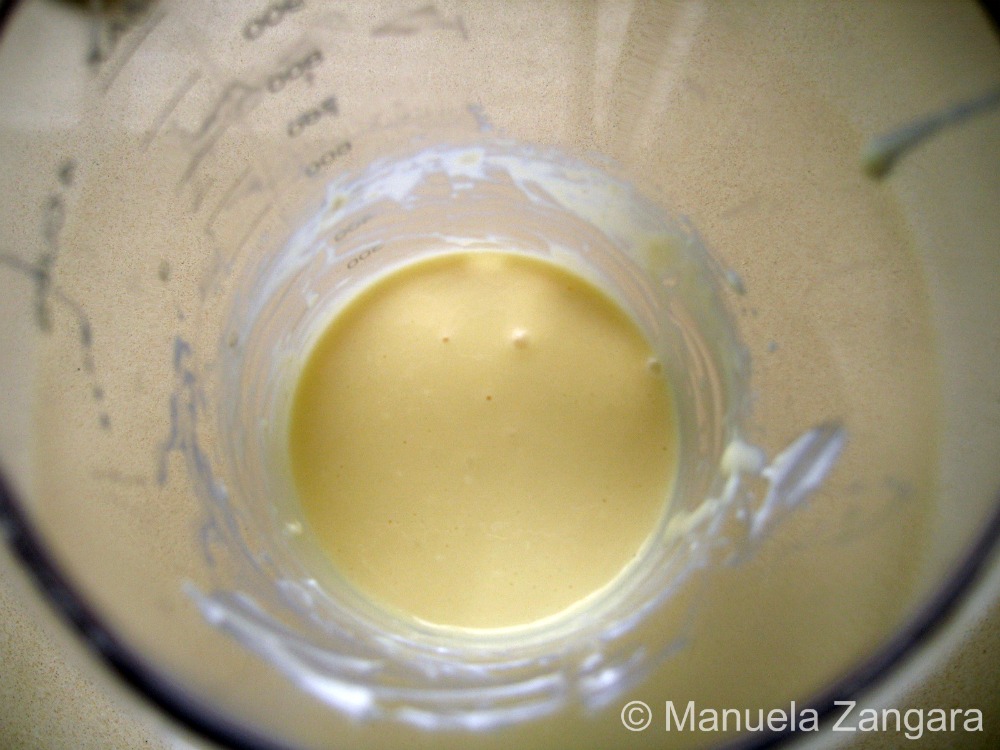 Then whip ½ cup of the cream until stiff peaks appear.
Gently combine it to the above lime mixture.  Set aside.
Now whip the remaining ¾ cup of cream with the icing sugar and set aside.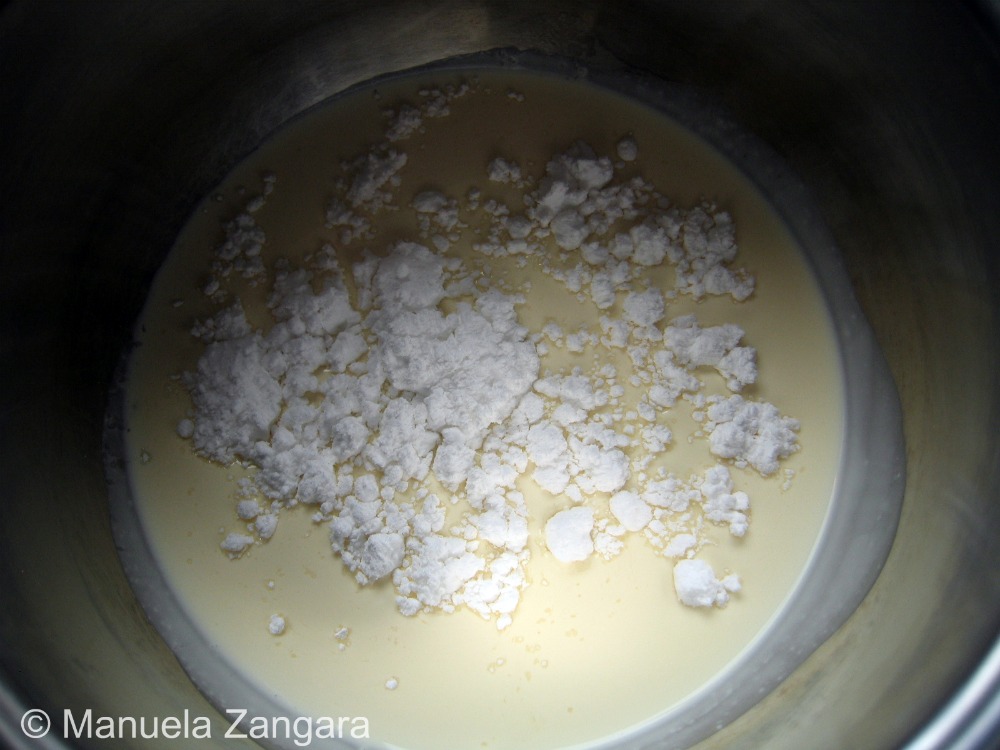 Now you are ready to assemble your shooters.  Put the lime mixture in a piping bag and pipe it into the shot glasses.   Teri did not use a decorating tip, she only used the coupler that she inserted in the bag.  My mixture however was a bit thinner than a mousse so I did not want to risk making a mess and I fitted the piping bag with the largest tip I had, which was a star tip.  This did not really matter because the mixture flattened out nicely and there were no star like marks.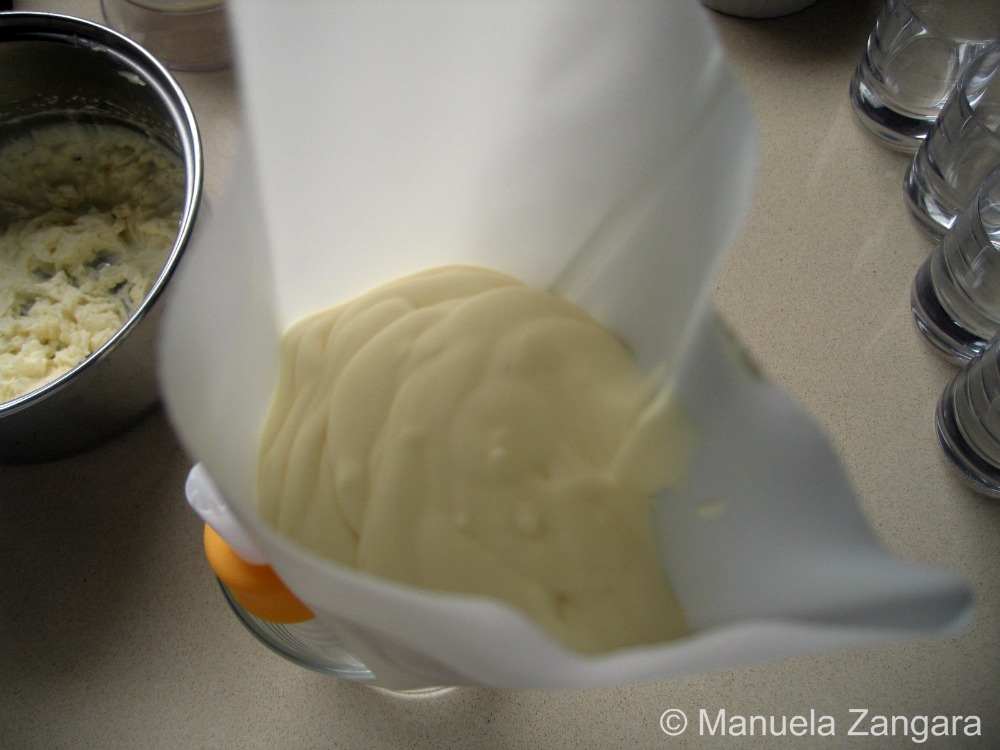 Fill the shot glasses to 2/3 with the lime mixture.
Then pipe the sweetend whipped cream on the top.  Use the coupler with no tip to do this.
Garnish each glass with the half Tahitian lime slice and serve.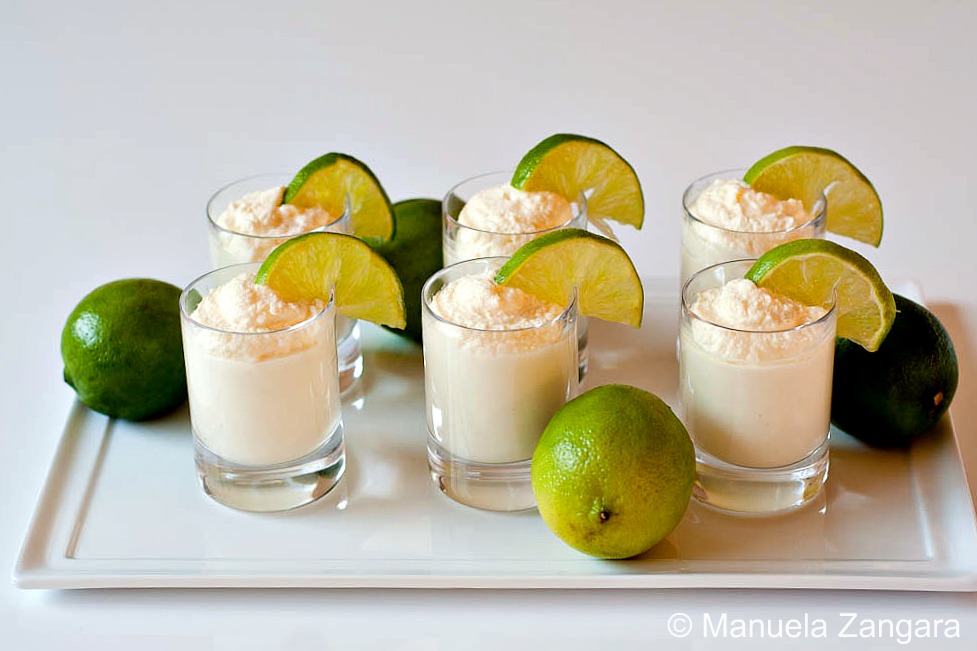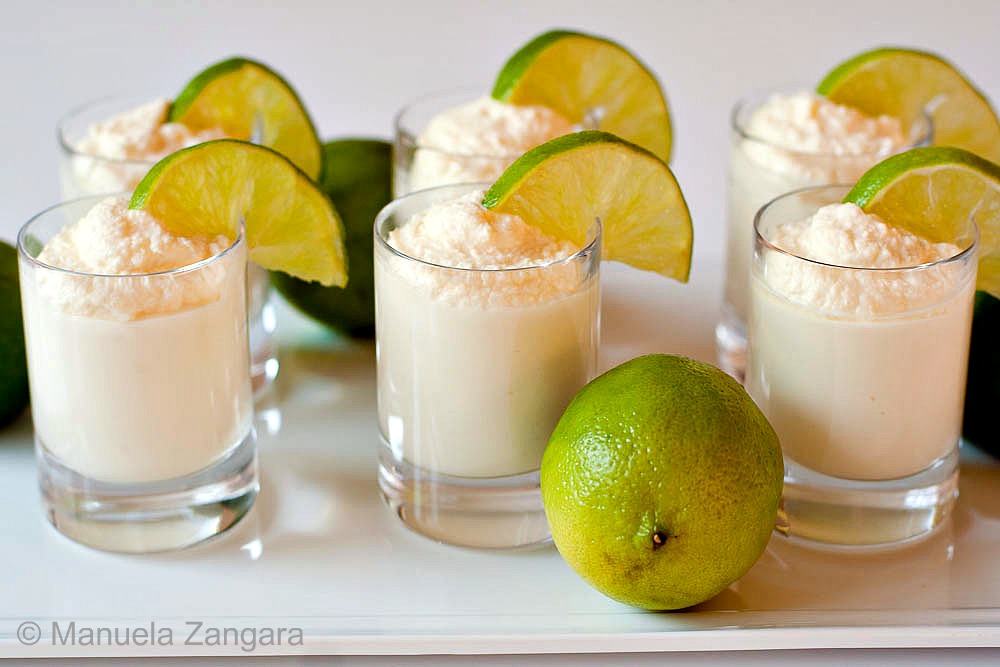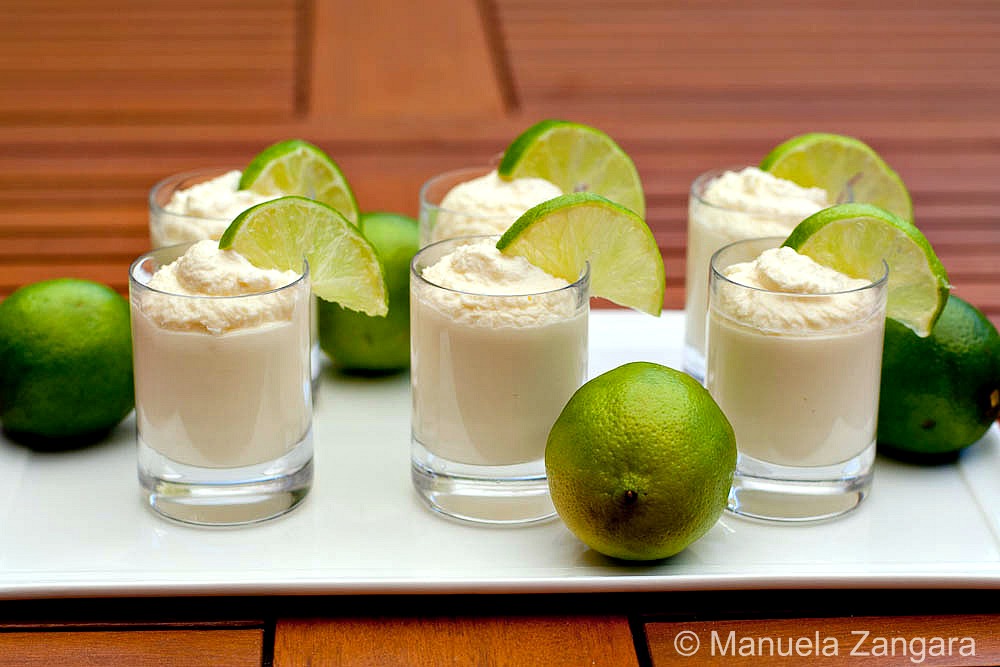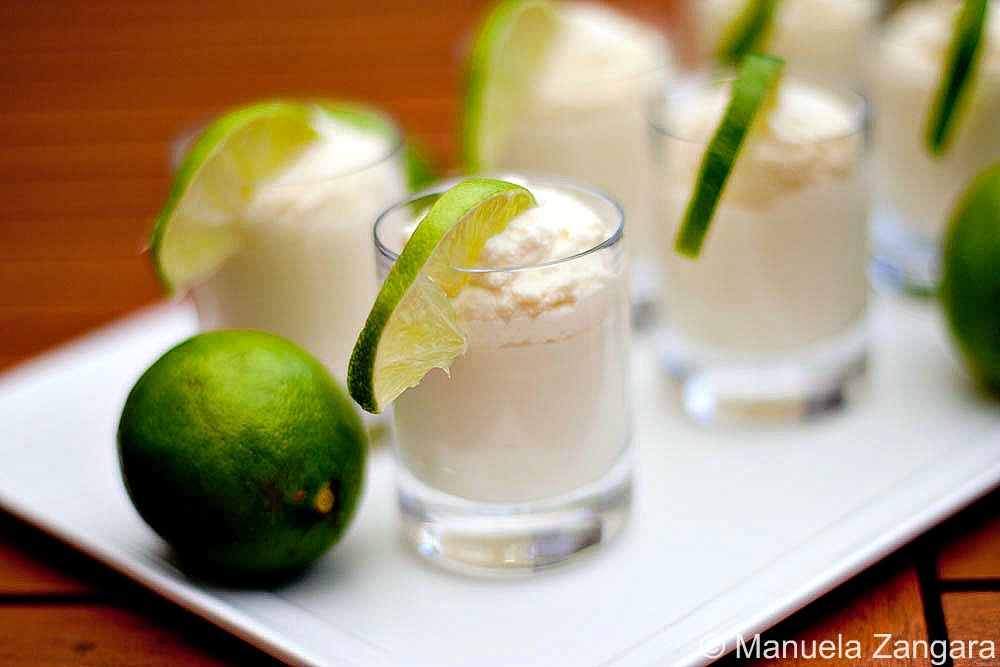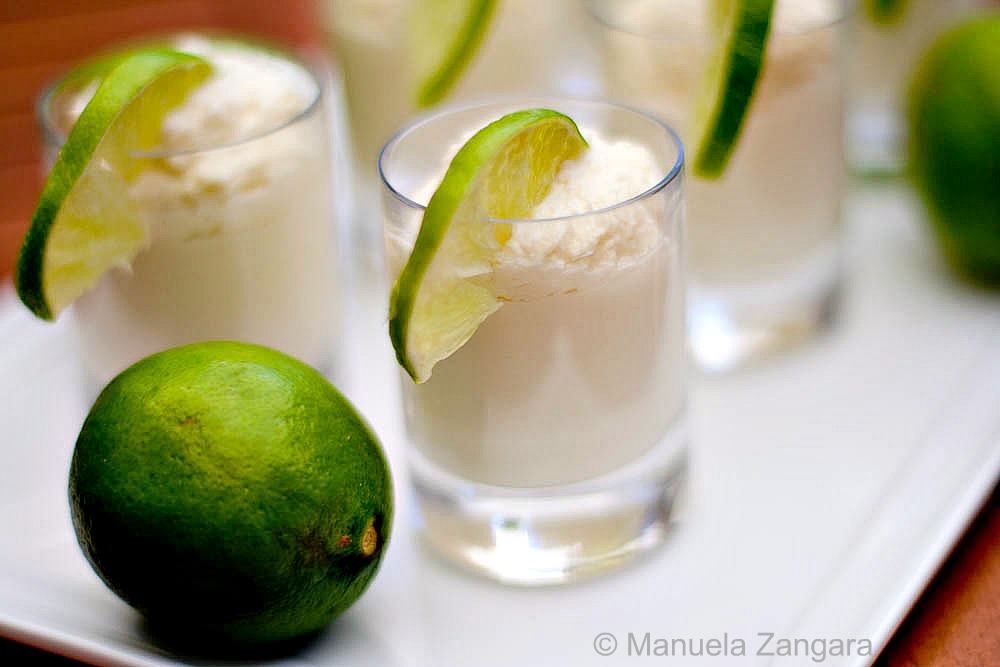 Related Posts: