Do you like chicken wings?  I love them.  It is not something I grew up eating.  In fact I never used to eat them back in Italy, but since moving to Australia I have begun to appreciate them.  I had some wings in my freezer and some raspberry jam left over from another recipe, so I thought they woud somehow go well together and I came up with this recipe.  The method is similar to the one for the Sweet and Spicy Chicken wings that I have shared a while ago, in the sense that you first marinate the wings then you bake them and then you finish them off with a glaze, but the flavours are quite different.  They are infused with South East Asia flavours, but they do have a touch of Italy as well, thanks to the balsamic vinegar.  These wings are more on the sweet and sourish side (a little more sweet than sour) and are definitely sticky.  In fact, make sure you have plenty of paper towels on the table as you will need them (unless you lick your fingers… and yes, that can happen too! ;-P).  Enjoy!
Ingredients:
1.5 kg – 3.3 lbs. chicken wings
125 gms – 1 cup flour
Extra virgin olive oil
For the marinade
6 garlic cloves, finely minced
4 tbsp soy sauce
3 tbsp Kecap manis
2 tsp chilli powder
3 tsp salt
2 tsp pepper
For the glaze
300 ml – 1 ¼ cup raspberry jam
50 ml – ¼ cup balsamic vinegar
2 tbsp soy sauce
2 ½ tbsp brown sugar
½ to 1 tsp chilli powder
1 tsp red chilli flakes
Put all the marinade ingredients in a big bowl and mix well.  Add the chicken wings, mix and coat them well with the marinade. Marinate in the fridge for at least 2-3 hours.
Now coat the chicken wings in the flour and shake off the excess flour.
Put them on a baking tray lined with baking paper and spray them with a little extra virgin olive oil.
Bake in a pre heated oven at 200°C – 400°F for 25 minutes. Then turn the chicken wings and bake them on the other side for another 25 minutes. This cooking time also depends on the size of the wings you are using.
While the chicken is baking, combine all the glaze ingredients in a sauce pan and bring to a boil.
Let it cook for another 5-6 minutes stirring constantly. Remove the glaze from the fire and keep it aside.
Once the chicken is cooked, dip the wings in the glaze and coat them well.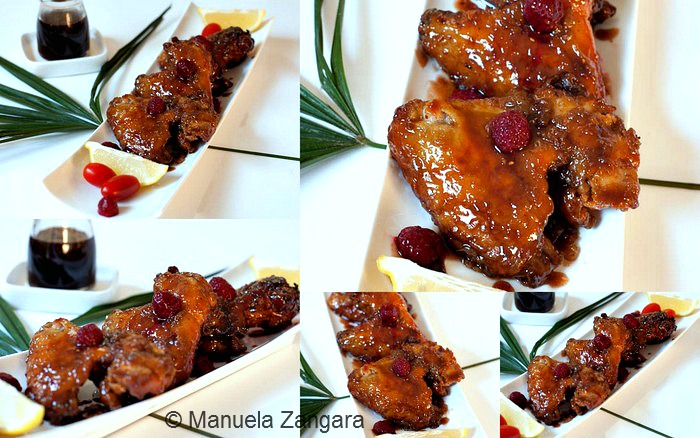 Serve hot.
On a completely different note, Manu's Menu has been nominated for a few awards lately.  You know, nothing makes me happier than being awarded by my fallow bloggers.  I think it is because we all know how much work, love and dedication we put into our blogs!
I really want to thank Allen from Cook! Bake! Share! for passing MsM the Very Inspiring Blogger Award!
And Maria Giovanna from Sharing my Italy for sharing with MsM the Sunshine Award, the Beautiful Blogger Award and the One Lovely Blog Award!  Wow!
Thank you Allen and Grazie Maria Giovanna for thinking of me!  I feel very honoured!!! 🙂  Please everyone, take a moment to visit these 2 wonderful blogs!
The rule for accepting the awards is to share something about yourself.  This time, I have decided to answer some questions from Maria Giovanna's awards.  So, here they go!
What is a real fear you have? I am somewhat claustrophobic!
As a kid, what did you want to be when you grew up? I've always wanted to be an anthropologist.
What are some of your hobbies? Cooking, blogging, reading and travelling.
What hobby would you like to start?  Drawing and photography.
If you could tell people anything, what would be the most important thing to say? Live every day to the fullest and don't waste your time getting angry for silly things!
Name one item from your "bucket list"? To see the Northern Lights!
What's the best prank you've pulled off? I have never played a prank on anyone.
What book are you panning on reading next? The House of Blue Mangoes by David Davidar.
Coffee or Tea? Espresso, better if macchiato. Though I also like tea.
Lemon Torte or Chocolate Cheesecake? Neither.  I always go for chocolate, but I am not a big fan of cakes.  I prefer creamier desserts… how about a dark chocolate mousse?
If you are one of my nominees, you too will have the option to answer the above questions or simply share 7 facts about yourself.
Now, time to pass along the awards to 8 of my favourite bloggers.  Have fun browsing!
Have fun and thank you again Allen and Maria Giovanna!
Pin It

Related Posts: