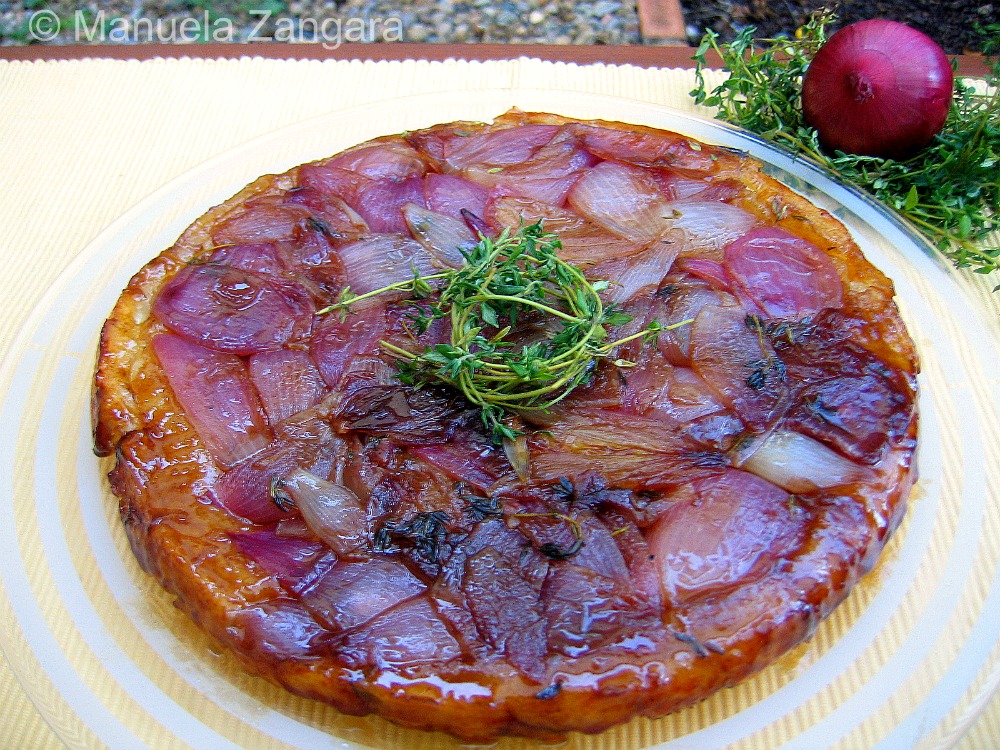 This recipe was one of the first recipes that I had decided to try out when I bought the recipe book in which it was published.  And then, for one reason or another, I never got around to making it.  The other day I was looking for another recipe and I saw this one.  I remembered that I had a few red onions and fresh thyme sitting in the pantry and immediately changed my plans… no more quiche for dinner… we were going to have a red onion tarte Tatin!  The recipe is really simple but looks and tastes great!  The onions are sweet and caramelised but still a bit tart thanks to the vinegar: a very pleasant combination of flavours especially for people who like sweet and sour dishes like me.  The pastry is a very simple pâte brisée that comes together in a few minutes and it is deliciously flaky and it can be used both for sweet and savoury pies/tarts as it does not contain sugar.  I served it as a main dish together with a green salad on the side, but it would be great for an appetiser served as mini tarts.
Recipe adapted from "Cuocere al forno", Gribaudo – Parragon 2003"
Ingredients (for a 24 cm – 9.5 inches springform pan):
1 dose of pâte brisée as shown in the Techniques page
60 gms – 4 tbsp butter
6 tsp sugar
500 gms – 1 pound red onions, cut in wedges
3 tbsp red wine vinegar
2 tbsp fresh thyme leaves
Salt
Pepper
Put the butter and sugar in a frying pan and let them melt until well combined.
Add the red onion wedges and cook them on a slow fire for 10 to 15 minutes, stirring until caramelised.  Add the vinegar and thyme, salt and pepper and let the onions cook till the liquid is fully absorbed.
Roll out your pâte brisée in a round shape and keep it aside.
Cover the base of the springform pan with baking paper and put onions on it.
Cover them with the pâte brisée circle and tuck the pastry well on the sides.
Bake in a preheated fan forced oven at 180°C – 350°F for 20-25 minutes (or until golden).
When ready take it out of the oven and let it rest for 10 minutes so that the juices dry and caramelise.  Then flip over and serve.

I also want to take the time to thank Elies from Give Thanks for awarding Manu's Menu with The Versitile Blogger Award!
Elies is a fantastic person and she is a very supportive fellow blogger!  Make sure you check out her wonderful site as it is full of yummy treats!
The rule is that I need to share 7 facts about me and then pass on the award to 15 other bloggers.  So here go my 7 facts:
I have only discovered twitter after I started blogging.  I have always been more of a "facebook person", but I must admit that I am now becoming a twitter addict!
I love spicy food.  Now.  But I only started liking it in the last few years.  I still remember the first Indian meal I had with my husband.  I ordered tandoori chicken and found it out-of-this-world spicy!  Hehehehe  Now, I eat my food spicier than my husband's. 😉
I have grown up watching Japanese cartoons/anime on TV (like ALL Italian children)…my favourite was Captain Tsubasa (known in Italy as "Holly & Benji") as it was about soccer and I have always liked soccer.
My favourite flowers are tulips.
Both my girls have 2 names: Victoria Celeste and Georgia Maya, while I only have one: Manuela.
I always have my espresso "macchiato"… "macchiato caldo" to be precise, which means I like it with a dash (and only a DASH) of hot milk.
I love to draw but I seldom do it as I do not have a lot of free time.  I did however make some paintings to decorate my daughters' rooms.
And now time to pass on the Versatile Blogger Award to all these amazing bloggers and friends… Enjoy!
Beth from Beth Michelle
Giulia from Alter Kitchen
Katherine from Katherine Martinelli
Lindsey from Lindselicious!
Lyn from My little Messy n Cheeky
MJ from MJ's Kitchen
Paola from An Italian Cooking in the Midwest
Paolo from Quatro Fromaggio
Parsley Sage from The Deep Dish
Ray from Wok with Ray
Reem from Simply Reem
Sandra from Sandra's Easy Cooking
Sawsan from Chef in Disguise
Tiffany from Como Water
Tina from Pinay Cooking Corner
I am adding an extra blogger.  She is not a food blogger, but she is a very talented photographer and a very good friend of mine!  This Versatile Blogger Award goes to you too Nat from Nat Bottacin Photography! <3
Thank you again Elies from Give Thanks!!! <3
~ * ~ * ~ * ~ * ~ * ~ * ~ * ~ * ~ * ~ * ~ * ~ * ~ * ~ * ~ * ~ * ~ * ~ * ~ * ~ * ~ * ~ * ~ * ~ * ~ * ~ * ~ *
On a completely different note, I want to share with you a place I have literally bumped into on the weekend.  It is a café in Surrey Hills, Sydney… an Italian café to be precise.  Everything in it reminded me of Italy.  Even the people who work there are all Italian and speak Italian and I have had the best coffee in town right there!  It is called Caffe Sicilia and they also sell food and pastries (even though I have not tried them).  If you are ever in the area, I recommend you stop for a real Italian espresso or cappuccino.

Related Posts: