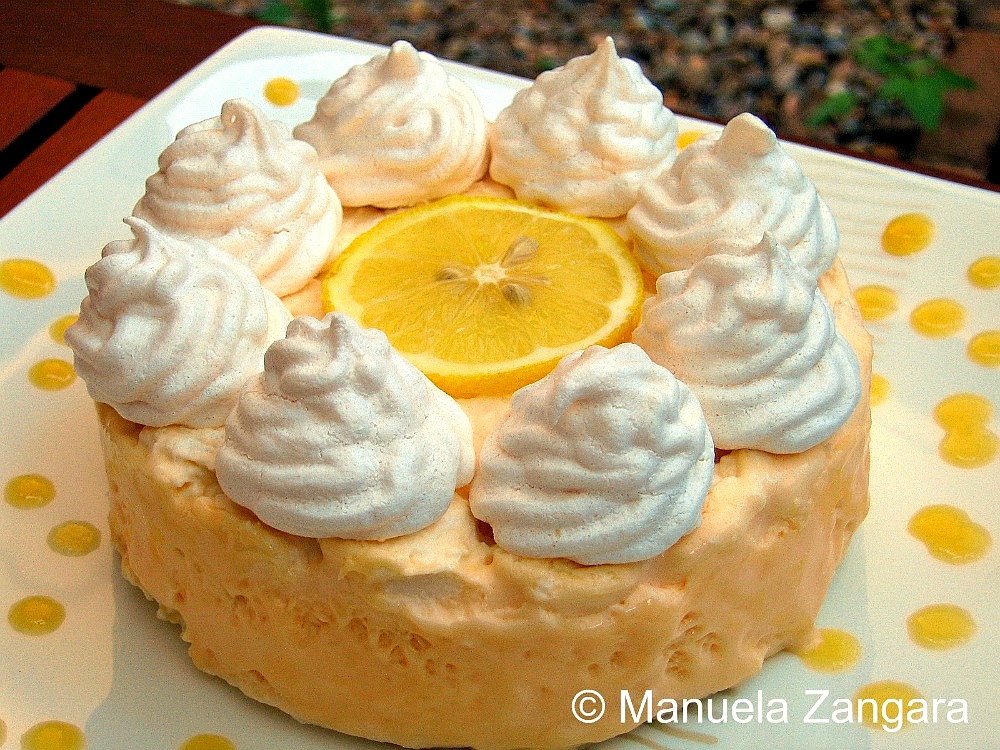 This is a more fruity version of the classic meringue pie, which I will surely make later on.  Being that it is summer for most people in the world, I thought of sharing my recipe for a lemon meringue pie, which is definitely more refreshing in taste.  This pie also brings back very happy memories for me and my family, as my parents made it for my eldest daughter's baptism.  We had a small party at home and this pie was a huge hit!  I got people asking me for the recipe and I had to get it from my parents… my daughter was only 3 weeks old at the time and I was understandably not able to cook much for the event!  I made it other times since then and everyone I serve it to falls in love with it… it must be the contrast between the tanginess of the lemon (I love it), the sweetness of the meringue, and the freshness of the peach sauce.  Just by writing about it my mouth starts watering.  It is also a very easy cake to make and it looks like a million bucks!  So you'll be able to impress your guests without having to spend hours in the kitchen!  It is also a "non-bake" and "semi-freddo" like pie, which means you keep it in the freezer… so it is the perfect pie to make and eat in summer!
Ingredients: (for a 25 cm – 9.5 inches round springform pan)
NOTE: I have made a smaller one (half dose) as it was only for 4 people.  That is what you see in the pictures.
For the pie
6 eggs
250 gms – 1 cup of sugar
500 ml – 2 cups fresh cream to whip
4 or 5 lemons, juiced (you will need 1 glass)
200 gms – 7 oz.  meringues
2 tbsp of brandy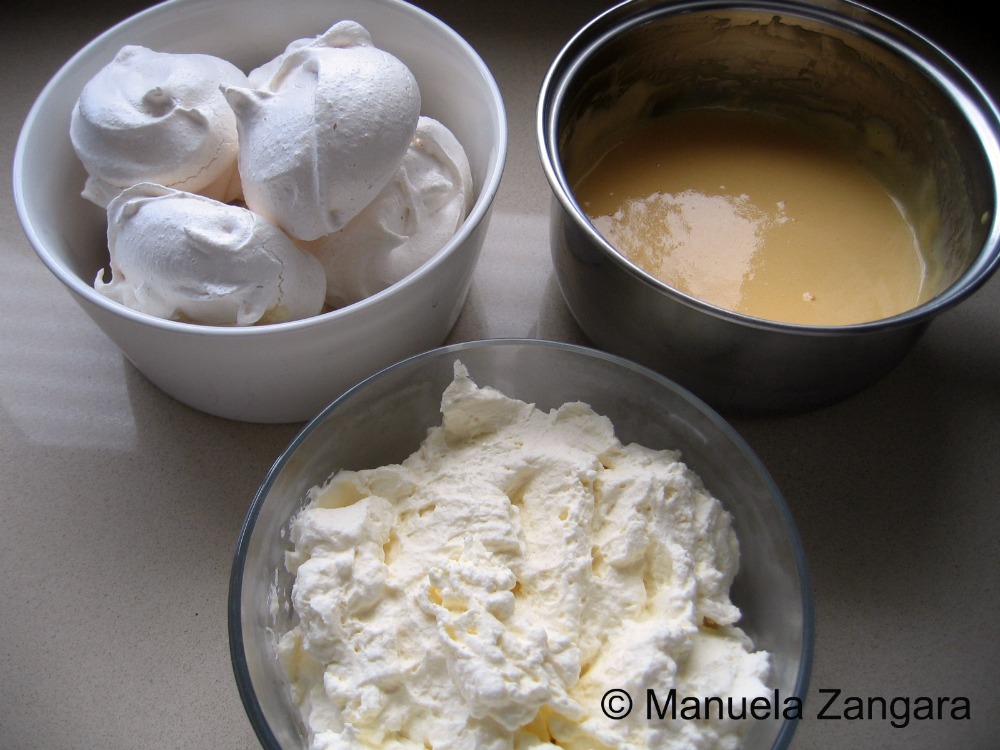 For the peach sauce
4 halved peaches preserved in syrup (tinned)
2 tbsp of the syrup
Put the egg yolks and 200 gms – 7 oz. of sugar in a bowl and mix them with an electric mixer till they become creamy and almost white.
In the meantime, squeeze the lemons and filter the juice (you have to obtain 1 glass of filtered lemon juice).  Add it to the yolk mixture together with the brandy and stir until combined.
Put the egg yolk and lemon mixture in a sauce pan and cook it in a double boiler until it thickens and it lighly coates the back of a spoon.  Set aside and let it cool down.
In the meantime, whip the cream with the remaining 50 gms – 1.75 oz. of sugar.
When the lemon cream has cooled down, add half of the whipped cream to it and mix.
Crumble the meringue in the remaining half whipped cream and mix.
Take a round springform pan and line the bottom with baking paper.
Put a layer of meringue cream at the bottom and press it well.  Now add a layer of lemon cream and so on.  Finish with a layer of meringue cream.
For the peach sauce, just blend the peaches with their syrup and filter the sauce.  Set aside and refrigerate.
Put the cake in the freezer to set for a few hours.  I usually keep it overnight just to be safe (this makes it easier to remove from the springform pan without breaking).  Take the pie out a few minutes before serving it.
You can decorate it with lemon slices and extra meringues.  Serve it with the peach sauce.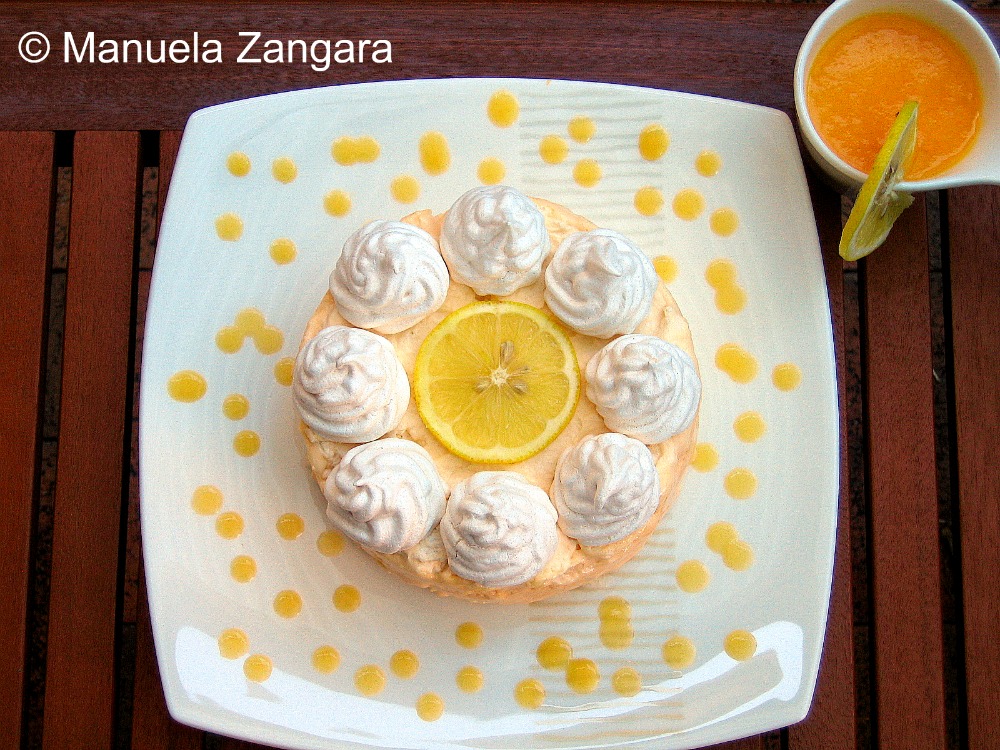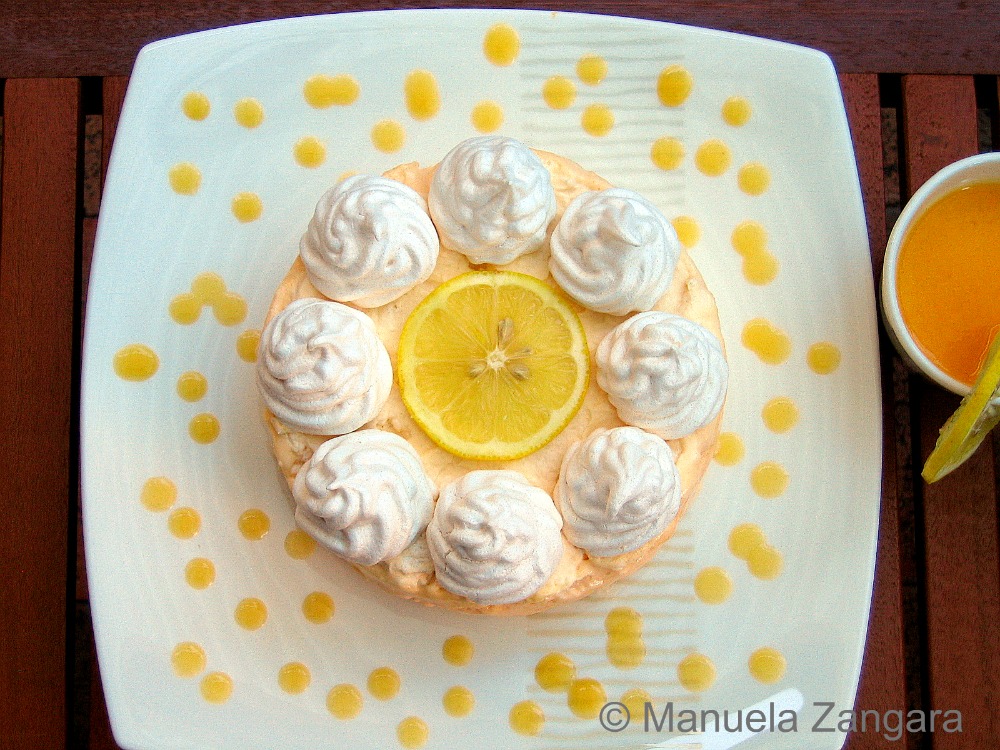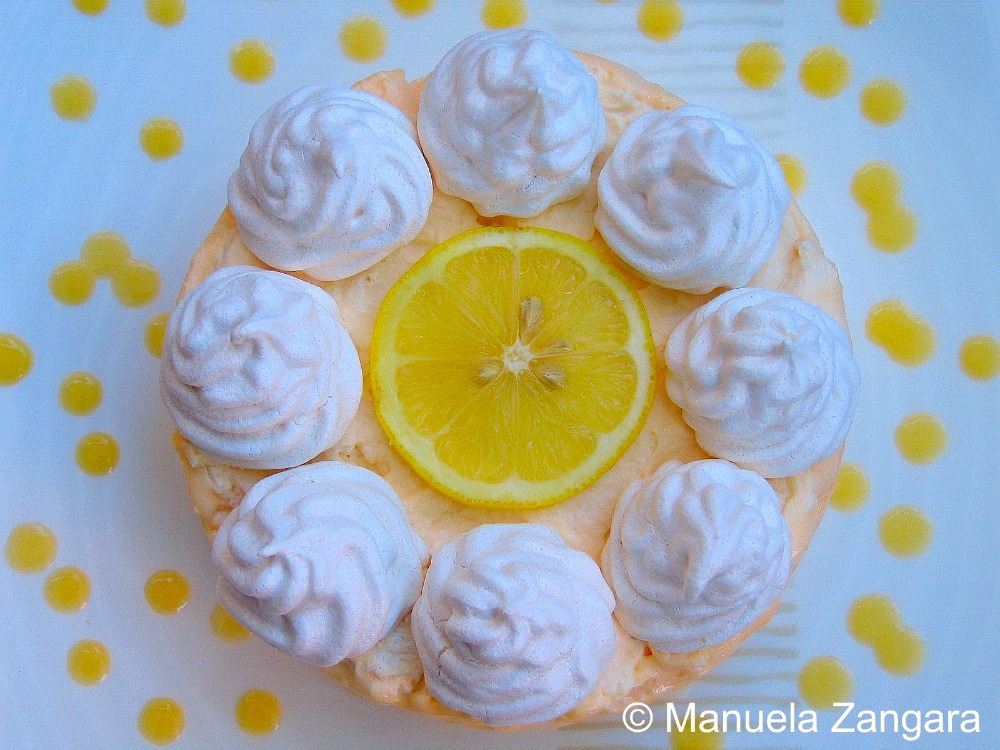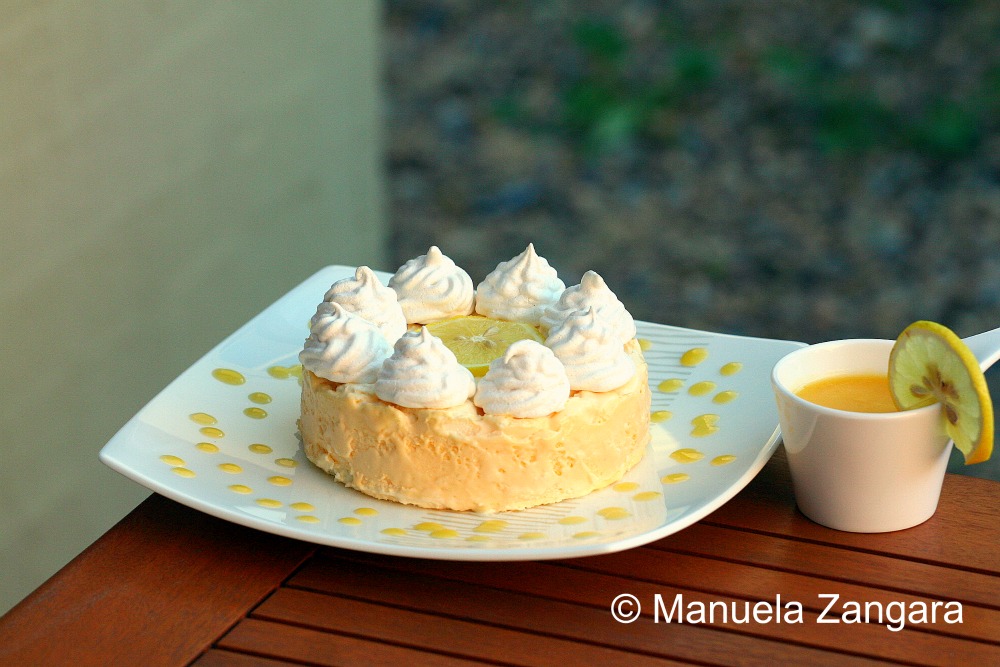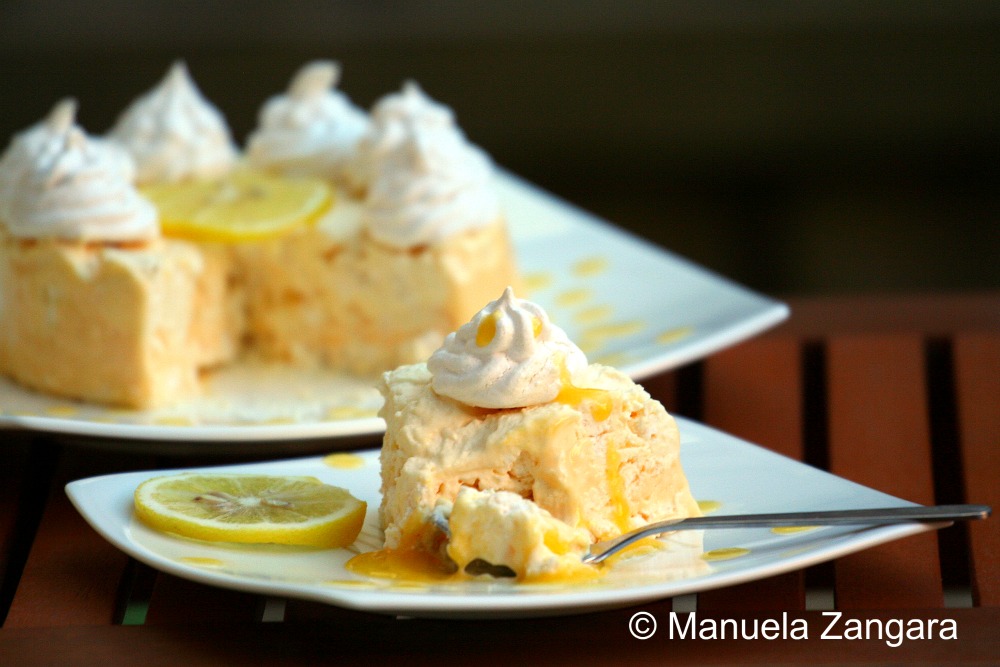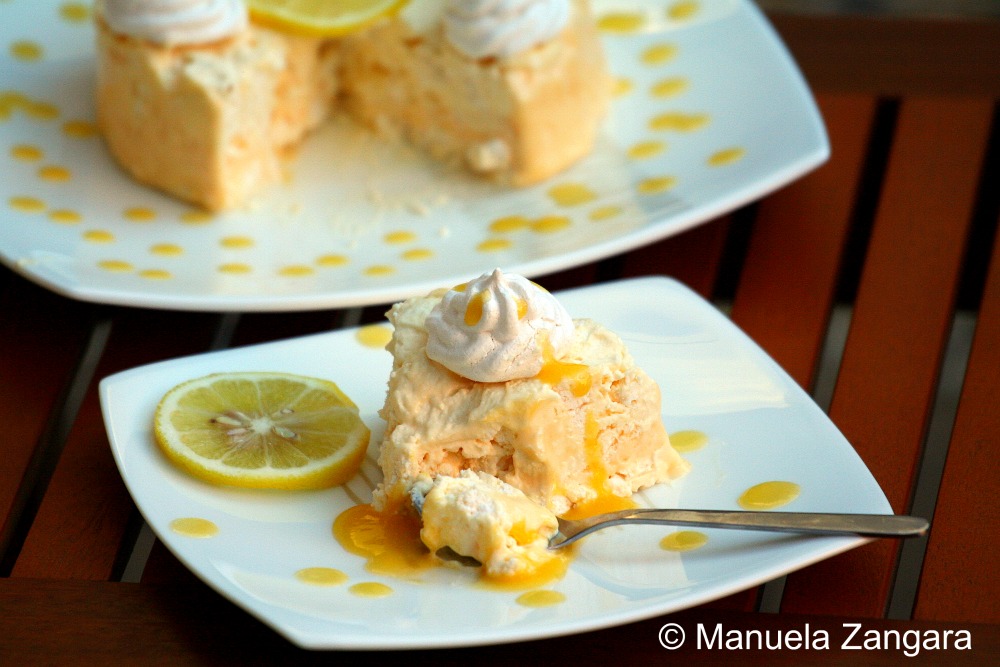 Related Posts: