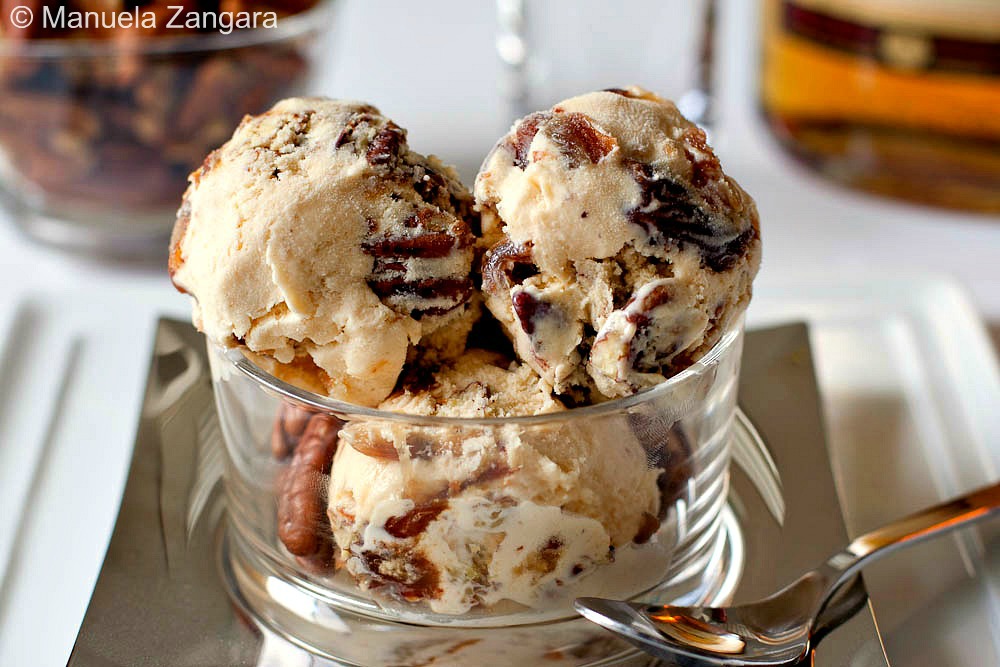 And it is time again for the "Secret recipe club" reveal! I am sure you all know what the club is about, but for the few of you who still don't know about it, here goes a brief explanation.  Each month you are assigned a participating food blogger to make a recipe from and in turn someone else will be assigned your blog.  All you have to do is choose a recipe, make it and blog about it on the specified date.  The only rule is to keep it a secret!  If you are interested in learning more, or want to join the club, please visit the Secret recipe club website.
This month's assignment introduced me to a fantastic blog: A Spoonful of Thyme.  I immediately started browsing through all the posts that California blogger Kate has written and I was blown away.  There are beautiful pictures and very elegant recipes.  I must admit I had a hard time to choose only one recipe and I will definitely be be back to try her Stilton, Apple and Leek Tart; Crab, Mango and Avocado Towers and Mango-Chile Ice!  Need I say more??  In the end I chose to make some ice cream as it is finally getting warmer down here and we love ice cream!  This Date, Rum and Pecan Ice Cream is AMAZING.  Rum and Raisin is my husband's favourite flavour and this was even better, thanks to the crunch given by the toasted pecans!  It is a sinful pleasure, believe me.  It is a MUST TRY!  Thank you so much for sharing such a fantastic recipe Kate!  I have made a couple of minor changes (in red), but the recipe itself is phenomenal and I will be making it again and again this coming summer.  Please, make sure you drop by Kate at A Spoonful of Thyme and check out her beautiful site!
I also want to thank Angie from Big Bear's Wife who is my group's hostess for all her help!!
Recipe adapted from A Spoonful of Thyme
NOTE: The pictures are for half a dose.
Ingredients (for about 1 lt – 1 ¼ quarts):
12 dates (4 ounces, 115 gms) pitted
1/4 cup (60 ml) dark rum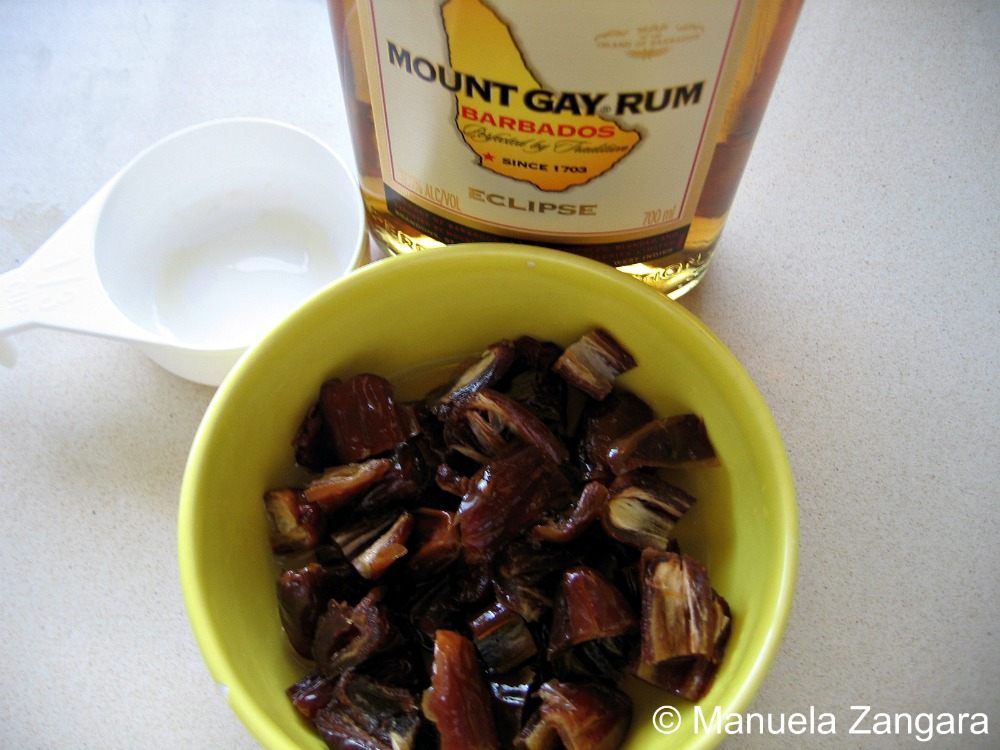 1 cup (250 ml) whole milk
2/3 cup (130 gms) sugar
Big pinch of salt
1 ¼ cups (310 ml) heavy cream
6 large egg yolks
½ teaspoon vanilla extract
2 tablespoons dark rum (I used 3)
1 cup Pecans, toasted and halved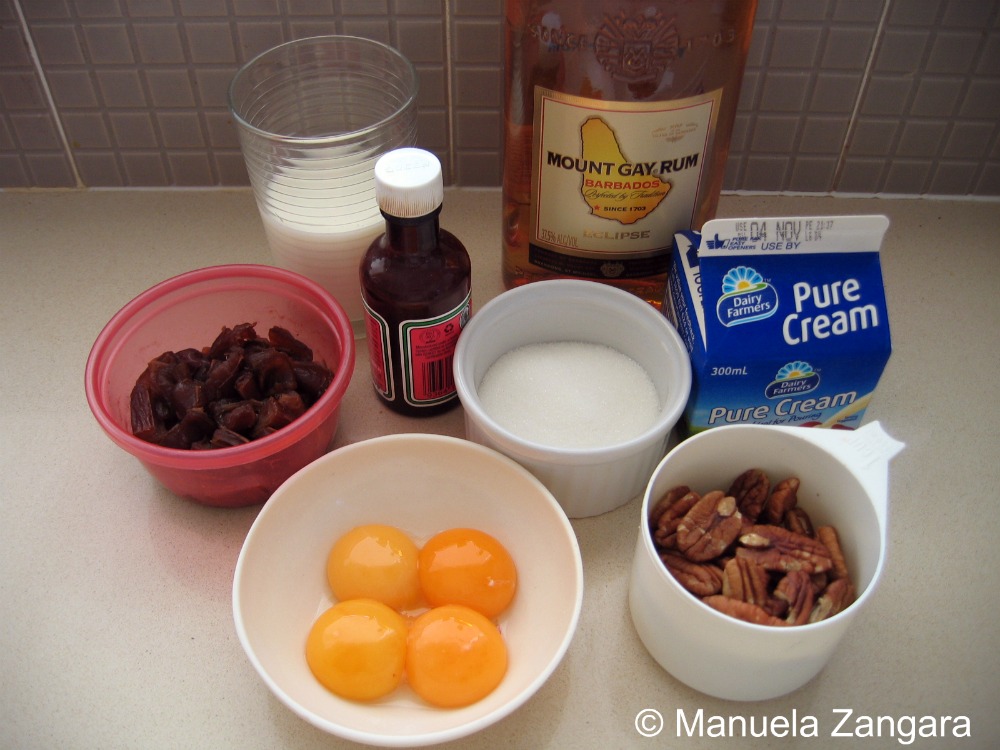 To prepare the dates, chop them into 1/2 inch pieces. Combine the date pieces with the rum in a small saucepan and bring to a boil. Remove from the heat and stir. [I have done this all in the microwave] Cover and let macerate at room temperature for at least 4 hours (this can be done up to 1 day ahead, like I did).
To make the ice cream, warm the milk, sugar, and salt in a medium saucepan.
Pour the cream into a large bowl, mix in the vanilla and rum and stir.  Set a mesh strainer on top.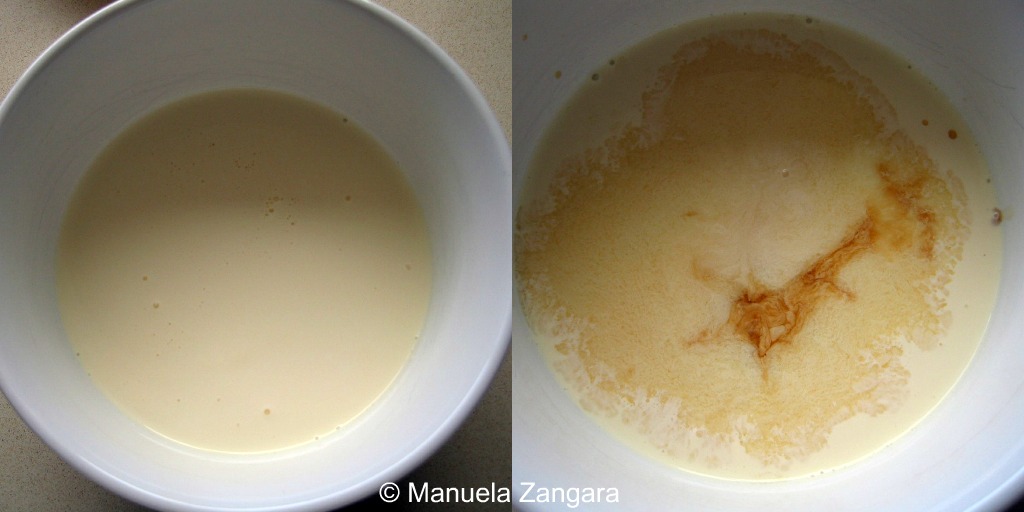 In a separate medium bowl, whisk together the egg yolks (1). Slowly pour the warm mixture (2) into the egg yolks (3), whisking constantly, then scrape the warm egg yolks back into the saucepan (4).
Stir the mixture constantly over medium heat, scraping the bottom as you stir, until the mixture thickens and coats the back of your spoon.
Pour the custard through the strainer and stir it into the cream and rum mixture.  Stir well and let it cool down in the fridge.
Churn in an ice cream maker, according to the manufacturer's instructions.  During the last few minutes of churning, add the nuts and date pieces.
Transfer into a container and freeze for a few hours before serving.
Enjoy!

Related Posts: