Sweet and sour pork has always been my favourite Chinese take-out food.  I am sure I have already said this, but I am a big fan of anything sweet and sour.  It must be my Sicilian genes (it is a common cooking style over there) or my love for vinegar… whatever the case I never fail to order this whenever we order Chinese food.  Since I started blogging I have been trying to recreate all my favourite dishes at home and I have been much more adventurous when it comes to what I would attempt to cook.  Until a year ago I would have been scared of trying to cook Chinese food!!  Way out of my comfort zone!  But l can tell you… I have found the perfect recipe for sweet and sour pork.  I am not saying it is "real Chinese food", but it definitely tastes better than the take-out stuff and my family LOVES it!  I haven't ordered any more sweet and sour pork since I first made this!
Recipe adapted from Rasa Malaysia
Ingredients (for 4 people)
500 gms – 1 lb. pork tenderloin (cut into bite size pieces)
FOR THE MARINADE
3 teaspoon soy sauce
1 teaspoon corn flour
FOR THE BATTER
1/2 cup water (to be added little by little)
60 gms – 4 tbsp all-purpose flour
30 gms – 2 tbsp corn starch
1 tsp baking soda
1 egg
2 tsp vegetable oil
1 small pinch of salt
FOR THE STIR FRY & FRITTERS
1/2 green capsicum (cut into pieces)
1/2 red capsicum (cut into pieces)
2 green onions (only the white part is needed, sliced)
200 gms – 7 oz. canned pineapple pieces
1 clove garlic (finely chopped)
Vegetable Oil for frying
FOR THE SWEET AND SOUR SAUCE:
Recipe adapted from here
1/2 cup water
5 tbsp rice vinegar
5 tbsp sugar
2 tbsp ketchup
2 tbsp soy sauce
1/4 tsp salt
2 tsp cornstarch dissolved in 2 tbsp cold water
Mix together all the ingredients for the marinade.  Cut the pork tenderloin into pieces and marinate them for 15-20 minutes.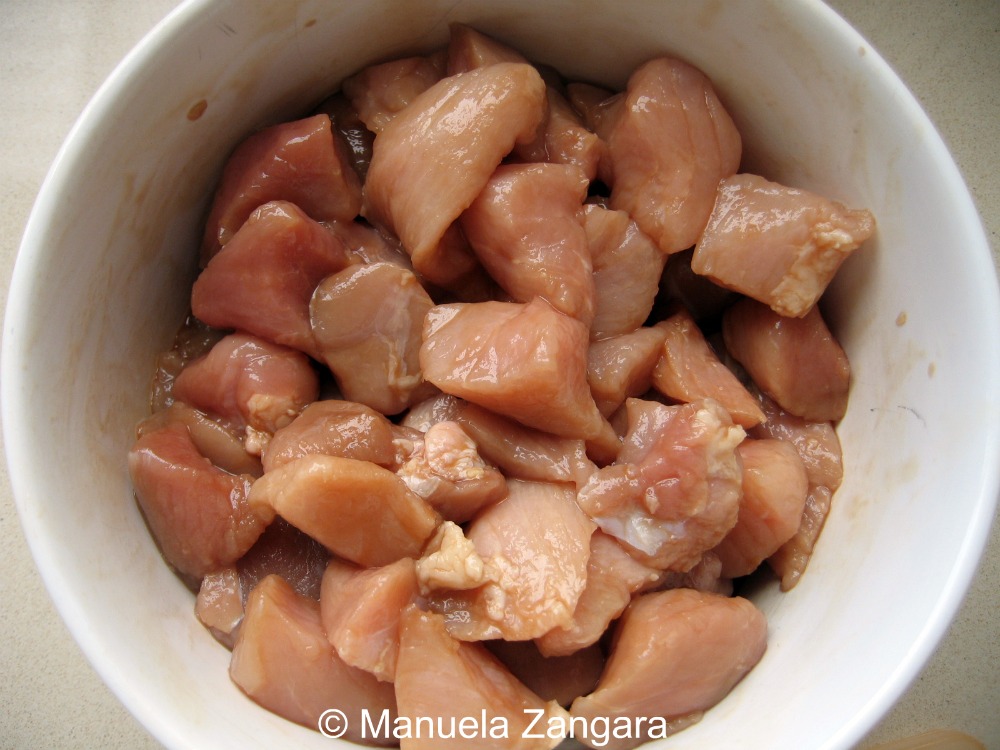 Mix the sweet and sour sauce ingredients and set aside.
To make the batter, mix the dry ingredients together and then add the egg, vegetable oil and water to form a thick batter.  NOTE: add the water little by little, as you may require a little less than ½ cup.
When the pork is well marinated, transfer it into the batter and coat each piece well. Deep fry the pork pieces until they turn golden brown over a medium heat. When cooked, drain on paper towels.  Keep it warm in the oven.
Heat up a wok and add some vegetable oil. Add in the chopped garlic and stir fry until light brown, then put in the capsicum and pineapple pieces.
Stir fry for a couple of minutes and then add the sweet and sour sauce (without the corn starch mixture) (1).  Let the mixture come to a boil. Reduce the heat and simmer for about 1 minute, stirring, to allow the flavors to blend. Stir in the cornstarch mixture (2) and heat until the sauce is glossy and tastes cooked through (3). Turn off the heat and cover to keep warm.
Put the pork fritters in a serving plate and pour the sweet and sour sauce on the top.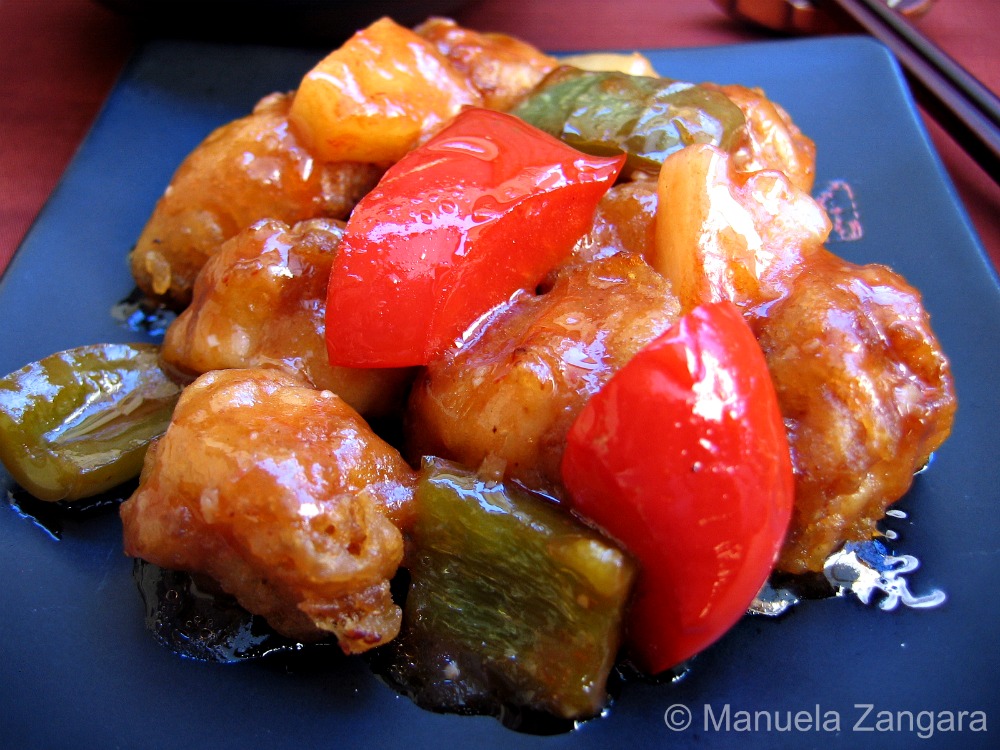 Serve hot with some sliced green onions on top and steamed white rice or fried rice on the side.

Related Posts: