My mom used to make this dish quite often and I have always liked it.  It is quick to make and it tastes delicious.  It is also somewhat refreshing thanks to the lemon sauce.  It is a classic of Italian cuisine and it is quite popular outside of Italy… so if you are interested in finding out how it is made in Italy, here goes the original recipe for lemon scaloppine (pronounced skah-luh-pee-nay and not skah-luh-pee-nee ;-))!  Enjoy!
Recipe adapted from Giallo Zafferano
Ingredients: (for 4 people)
400 ml – 1 ¾ cup water
500 gms – 1 lb. veal schnitzel
Flour
1 lemon (juice)
1 tbsp corn starch
3 tbsp extra virgin olive oil
Salt
Start by flattening the veal schnitzels till they become approximately 0.5 cm – 0.2 inches thick.
Now coat the schnitzles with flour.
Sauté them in a frying pan with the warm extra virgin olive oil.  Brown them well on both sides, then remove from the pan and keep aside.
Melt the corn starch in the 400 ml – 1 ¾ cup of water and pour this mixture into the pan.  Add the lemon juice and stir well over the fire until the sauce starts thickening.  Season the sauce with salt to taste and add the schinitzels.  Coat them well with the lemon sauce and cook for a few minutes.
Serve warm.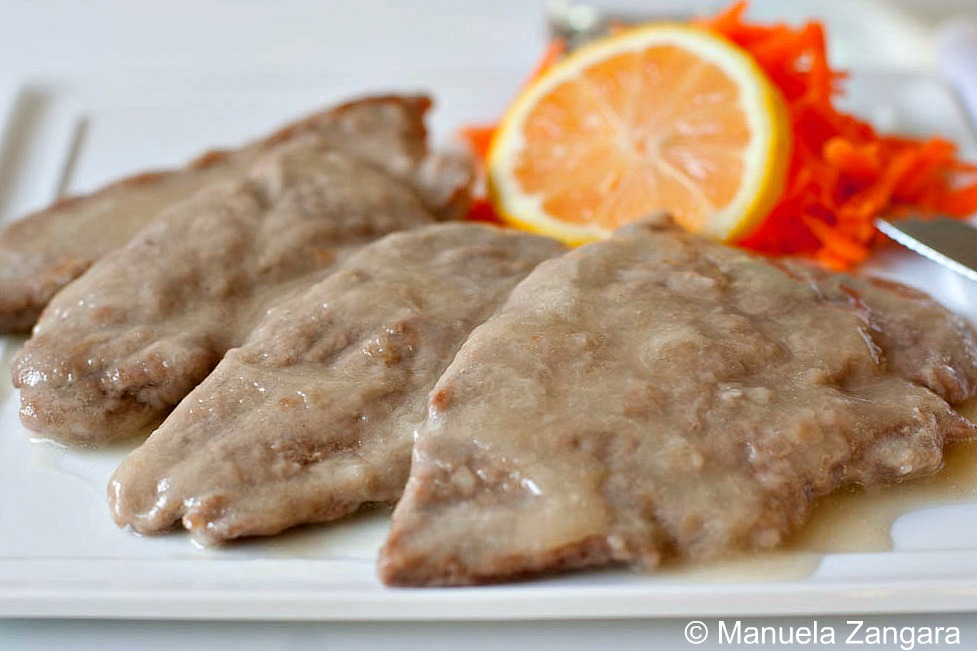 Related Posts: