As Divya from Flavour Fiesta reminded us with her beautiful guest post about Rosewater, Cardamom and Pistachio Cake, October has been Breast Cancer Awareness month.  So, I thought there couldn't be a better way to conclude this month than by posting my Strawberry Risotto: pink risotto for the cause!  Strawberry risotto is a savoury dish.  Yes, you read that right.  I know it may sound a bit strange, but strawberries do not taste sweet when cooked in a risotto.  This dish is delicious, delicate and really elegant.  Doesn't it look pretty?  If you are looking for that "wow" factor at your next dinner party… look no more.  This will impress everyone!  Enjoy!
Ingredients (for 4 persons):
350 gms rice (Arborio, Carnaroli or Vialone nano)
3 green onions or 1/2 onion, finely chopped
350 gms strawberries, 2/3 pureed and 1/3 chopped (+ 4 for garnishing)
4 tbsp butter
1/2 glass white wine
1 lt salty water or vegetable stock (I used water as I did not want the stock to overpower the delicate flavour of the strawberries)
4 tbsp Parmigiano Reggiano, finely grated
Salt to taste
Start by putting the water with a pinch of salt in a pot and heat it on the fire.  The water has to be hot all the time while you are cooking risotto, so that the rice temperature does not drop when you add the water to it.
Put the finely chopped green onion/onion and half the butter in a pot and let it cook on a slow fire, until the onion becomes soft and transparent.
Add the rice, mix well and let it cook for 1 or 2 minutes, until it becomes translucent.
Now pour in the white wine and let the alcohol burn off by cooking on a high flame.
Then add enough hot water to cover the rice and turn the fire to medium-low.
Keep cooking, occasionally stirring the rice and adding hot water little by little, until the rice is cooked.  It is going to take approximately 18 to 20 minutes depending on the rice you are using.
While the rice is cooking, puree 2/3 of the strawberries and chop the remaining 1/3.
Half way through the cooking time, add the pureed strawberries and mix well.  Then continue cooking normally.
A couple of minutes before the rice is cooked add the chopped strawberries and mix well.
When the rice is ready, put the fire off and add the remaining butter and Parmigiano Reggiano to it.
Mix very well, until the rice becomes creamy.  Make sure that your risotto is moist (or, as we say, all'onda – which literally means wavy) and not sticky.  You can do that by adding 1 or 2 extra tbsp of hot water if needed.  Check for salt and season to your liking.
Garnish with a strawberry.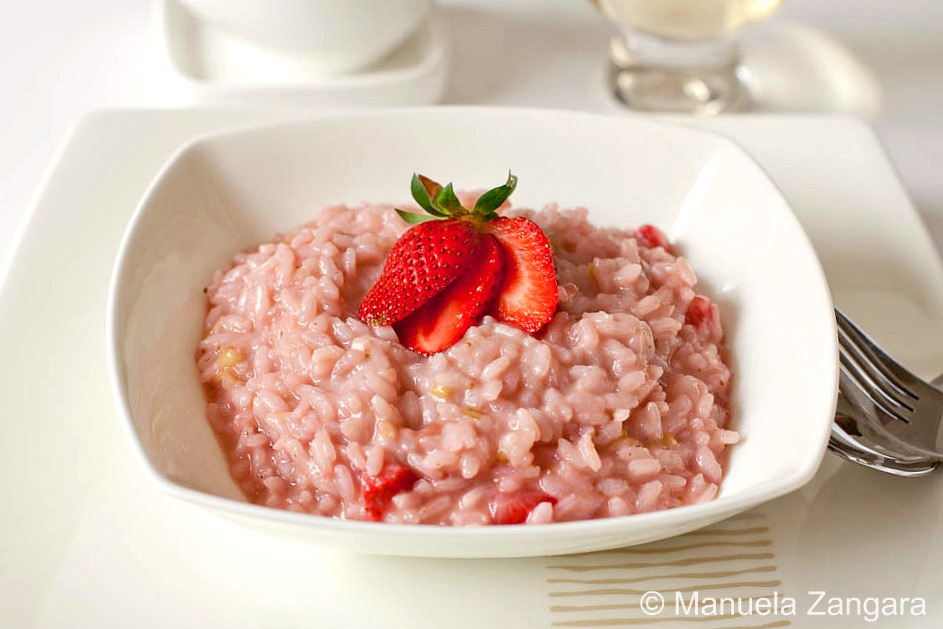 NOTE:  Whenever you cook risotto, do not wash the rice before cooking.  The starch is needed for the risotto to become creamy.

Related Posts: