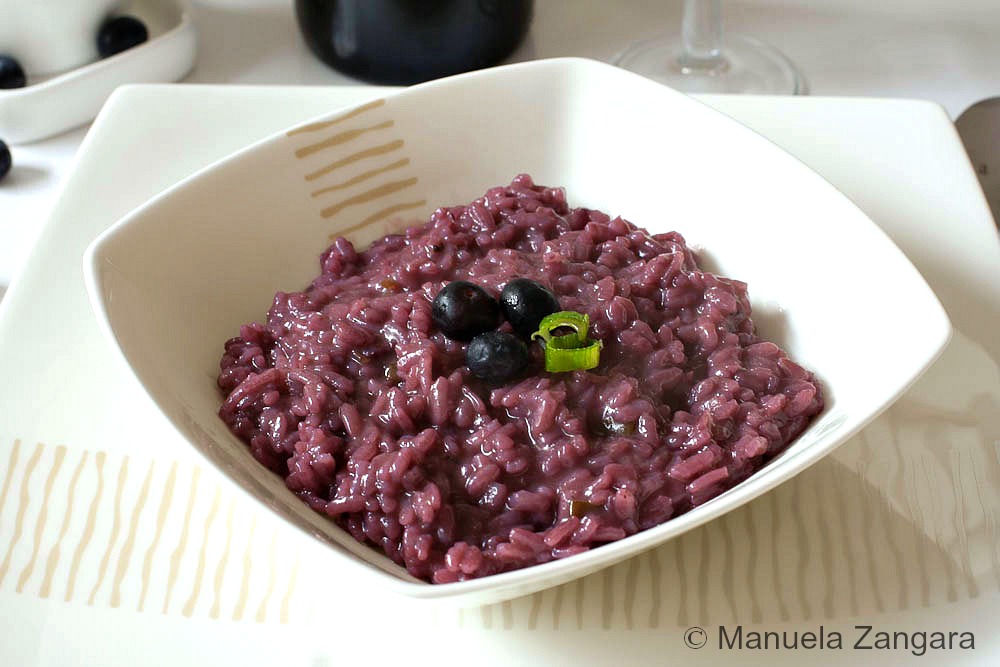 I know that this may sound like quite an unusual dish, but after making a delicious Strawberry risotto last year, I have been on the look out for some other fruit based risotto recipes.  So, when I saw this beautiful Blueberry risotto, I knew I had to try it.  I love the colour, so intense and pretty!  The taste instead is very delicate and sightly tart… it's not sweet as you might think!  You can serve it with or without Parmigiano Reggiano… I tried it both ways and I liked mine more without cheese, but this is really up to you.  It is another simple dish (it's made exactly like any other risotto) with the "wow" factor, perfect for any special occasion or to impress your guests (or simply your loved one/s)!  Enjoy!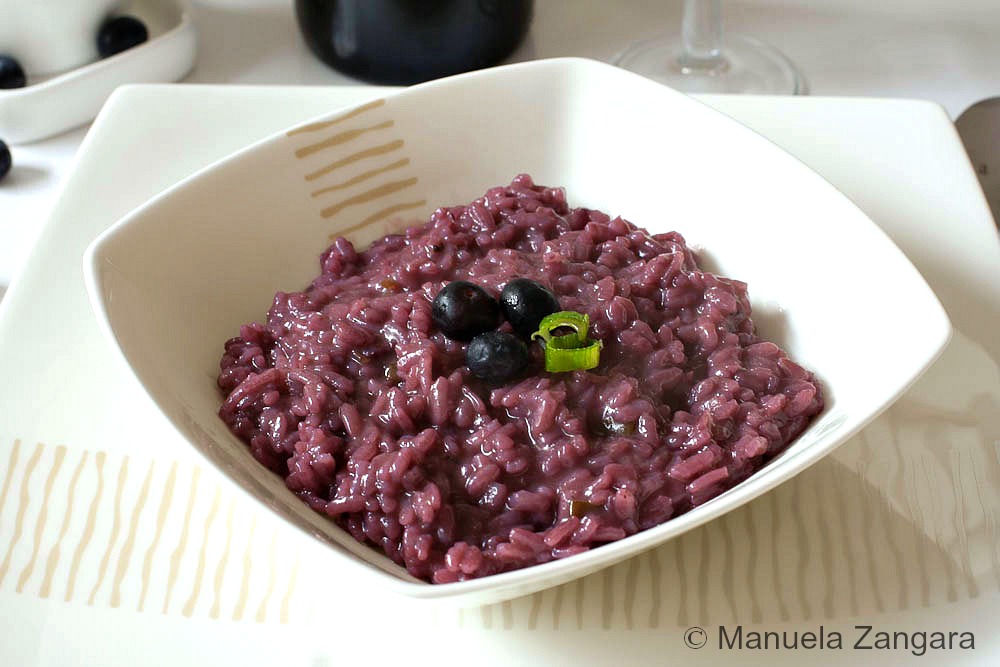 Blueberry Risotto
Blueberry Risotto - the recipe for an unusual, yet delicate and elegant risotto made with blueberries.
Ingredients
320

gms

– 11.3 oz. rice

Arborio, Carnaroli or Vialone nano

½

green onion stalk

only the green part, sliced

75

gms

– 5 tbsp butter

250

gms

– 8.8 oz. blueberries

50

ml

– 1.7 oz. red wine

1

lt – 33.8 oz. salty water or vegetable stock

I used water as I did not want the stock to overpower the delicate flavour of the ingredients

Salt to taste
Instructions
Wash the blueberries and keep 2 or 3 aside per person to use as decoration.

Put the rest of the blueberries in a saucepan with 15 gms – 1 tbsp of butter. Let them cook on a low fire for 10 minutes or until the blueberries come apart.

Blend them into a smooth paste and sieve them. Keep this purée aside.

To make the broth, put the water and a pinch of salt in the same saucepan where you cooked the blueberries. Heat it on the fire. The water has to be hot all the time while you are cooking risotto, so that the rice temperature does not drop when you add the water to it.

Put 30 gms – 2 tbsp of butter in a pot and let it melt on a slow fire.

Add the rice and the sliced green onion (reserve some for decoration), mix well and let it cook for 1 or 2 minutes, until it becomes translucent.

Now pour in the red wine and let the alcohol burn off by cooking on a high flame.

Then add enough hot water or stock to cover the rice and turn the fire to medium-low. Keep cooking, occasionally stirring the rice and adding hot water little by little, until the rice is cooked. It is going to take approximately 18 to 20 minutes depending on the rice you are using.

After 15 minutes, add the blueberry purée to the rice and finish cooking. When the rice is ready, put the fire off and add the remaining 30 gms – 2 tbsp of butter to it. Mix well. Cover the pot and let the risotto rest for 1 minute.

Distribute it in the bowls and decorate with the remaining blueberries and green onion.

Serve hot. You can also serve it with some thinly grated Parmigiano Reggiano, but this is optional.
I have some big news to share with all of you!  Manu's Menu has been featured on an Italian food magazine called Sale&Pepe ("Salt&Pepper")! The feature is about "Home-made pasta" and you know you can find my tutorials here.
The article says: "Manu's Menu – Her online tutorials with precise explanations on how to make busiati, strascinati, trofie, gnocchi, orecchiette and so on is a real gold mine. There are also videos that take you through each and every step of the process. Manuela was born in Milan to Sicilian parents and in 2006 she moved to Australia, where she lives with her husband and 2 daughters. With her blog (www.manusmenu.com) she is teaching Australian women how to prepare the best recipes of our cuisine."Wow! How cool is that?? I am so excited by this article! Sale&Pepe is quite a famous food magazine in Italy, "the printed kind" of magazine! It feels so good to actually see my pictures, logo and name on a printed magazine!I wanted to share this with all of you as you are a huge part of this success!  Thank you all for being there and for being so supportive!!! ♥

Related Posts: