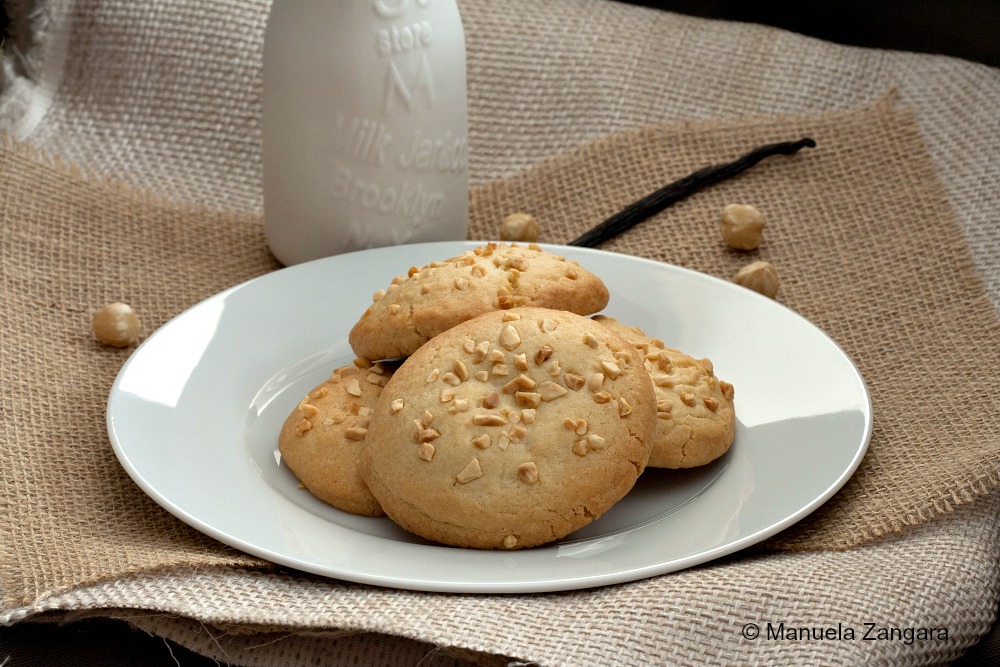 My husband and kids love white chocolate, so the other day, I made these White Chocolate Hazelnut Cookies.  They were a big hit and got over in no time! In fact, I have already been requested another batch as soon as possible! Like many of my recipes, this recipe was originally created as a way to utilise left-overs. I had some dough remaining from making Apple filled Cookies, and I decided to make these cookies filled with white chocolate and topped with crushed hazelnuts. I hope you like them just as much as my family did! Let me know in the comments! Enjoy!

White Chocolate Hazelnut Cookies
Instructions
Put the cold butter and sugar in a mixer and blend for a few seconds until you get coarse crumbs.
Add the egg and blend for a few seconds.
Add the flour, baking powder and lemon zest and blend until incorporated.
Knead into a ball, flatten it, wrap it in cling wrap and refrigerate for 1 hour.
Roll the dough into a 3 mm - ⅛ ″ thick sheet.
Cut out 40 discs. Put some white chocolate on half of the discs and cover them with the remaining discs. Top with the crushed hazelnuts.
Bake in a pre-heated oven at 180°C – 355°F for 20 minutes or until golden.
Let them cool down on a wire rack and enjoy.
Pin It

Related Posts: