And it is time again for the "Secret recipe club" reveal! I am sure you all know what the club is about, but for the few of you who still don't know about it, here goes a brief explanation.  Each month you are assigned a participating food blogger to make a recipe from and in turn someone else will be assigned your blog.  All you have to do is choose a recipe, make it and blog about it on the specified date.  The only rule is to keep it a secret!  If you are interested in learning more, or want to join the club, please visit the Secret recipe club website.
This month I was assigned another beautiful blog: Julie's Eats & Treats.  Julie, the author, has published lots of delicious recipes, but this time the choice for me was easy.  The moment I saw she had a recipe for White Chocolate Macadamia Cookies, I knew that was the one.  They are my husband's favourite cookies and I had both macadamia nuts and white chocolate chips in my pantry, so I had to make them.  Besides, my husband had been asking me to make them for him for AGES.  And I am so happy I made these… these cookies are so chewy and buttery that they literally melt in your mouth.  They are amazing with a glass of warm milk!  They were delicious and they were gone in a day… and I was asked to make another batch ASAP!
Thank you so much for sharing such a fantastic recipe Julie!  Please, make sure you drop by Julie at Julie's Eats & Treats and check out her beautiful site!
Recipe adapted from Julie's Eats & Treats
Ingredients: (makes about 45 cookies)
375 gms – 3 cups flour
1 tsp baking soda
1 tsp salt
225 gms – 1 cup butter, softened
170 gms – ¾ cups sugar
150 gms – ¾ cups brown sugar
1 ¼ tsp vanilla extract
2 eggs
270 gms – 1 ½ cups white chocolate chips
115 gms – 1 cup macadamia nuts, chopped
NOTE: the picture shows the ingredients for 1/2 dose only.
Mix the flour, baking soda and salt in a medium bowl and keep it aside.  In the meantime, cream the butter and sugars together in the bowl of an electric mixer with a paddle attachment until light and fluffy.  Add the egg and vanilla extract and beat until smooth.  Add in the flour, baking soda and salt mixture.  Stir in the chocolate chips and chopped macadamia nuts.  Drop spoonfuls of dough onto a cookie sheet covered with some baking paper.
Bake the cookies in a preheated oven at 175ºC – 350ºF for 10-12 minutes, or until the bottoms are golden brown.  As Julie says, the tops might still look doughy but they will cook as they sit on the cookie sheet.  Let them sit on the cookie sheets for 5 minutes, then put them on a wire rack to cool down completely.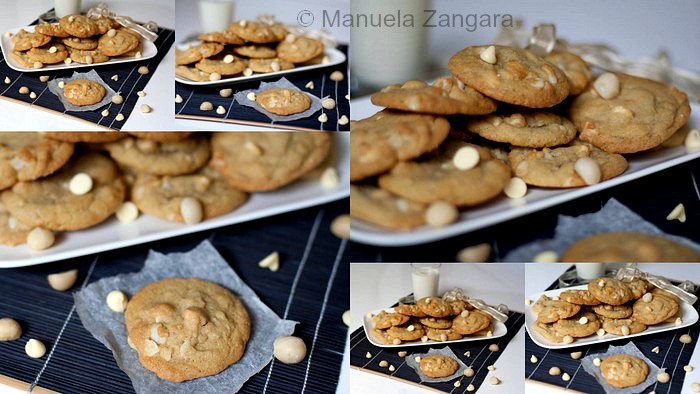 Enjoy!
Pin It

Related Posts: