I told you I would not forget about you!!  So here I am with a sweet tropical recipe: White Chocolate Passion Fruit Truffles!  I love passion fruit and I think it goes very well with chocolate, especially the white kind, as its slightly tart flavour combines perfectly with the sweetness of white chocolate!  These truffles are very easy to make and they are also très chic, mes chéris!  The only thing to keep in mind is that the ganache must be kept cold at all times or it will be impossible to work with it, as it  gets soft quite quickly!  I think they would be perfect for any classy tea party (or bookmark them for the Holiday season)!  I like to keep the seeds whenever I cook with passion fruit as I like the crunch when I bite into them, but feel free to use seedless pulp if you prefer.  Enjoy and don't forget to come back for more yummy posts!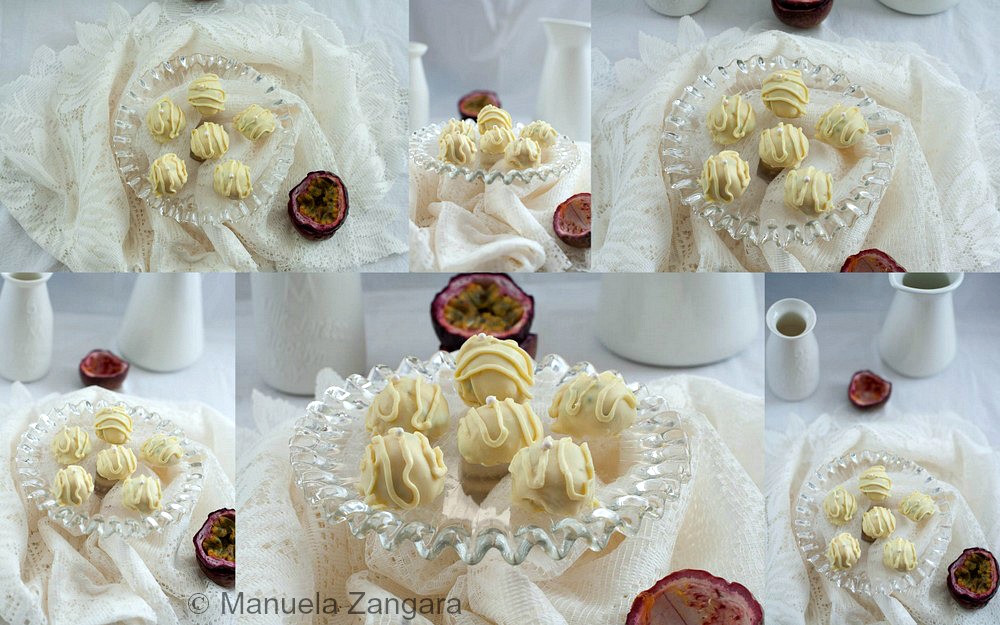 White Chocolate Passion fruit Truffles
How to make easy and elegant White Chocolate Passion fruit Truffles!
Total Time
2
hours
15
minutes
Ingredients
560

gms

– 20 oz. white chocolate

chopped

120

ml

– ½ cup heavy cream

180

ml

– ¾ cup passion fruit pulp

I kept the seeds

More white chocolate to coat

Sugar pearls
Instructions
Scold the cream and passion fruit pulp separately in small pots (it is important to heat them separately, as the acid in the fruit may curdle the cream).

Put the chopped white chocolate in a bowl.

Pour the hot cream and half of the hot passion fruit pulp over the chopped chocolate. Let it sit for 1 minute and then gently stir it until creamy and combined. Then add the remaining passion fruit pulp and stir again until smooth.

Refrigerate for a few hours until firm.

Using a small spoon, make 2.5 cm – 1 inch balls of the firm white chocolate mixture and put them onto a tray lined with baking paper. If the truffle mixture gets too soft, put it back in the fridge to harden.

Refrigerate the balls until they are firm again.

In the meantime, melt some white chocolate in the microwave or over a double boiler.

When the balls have hardened, quickly dip them into the melted chocolate with 2 forks and put them back in the fridge until solid.

Decorate them with a drizzle of white chocolate and sugar pearls.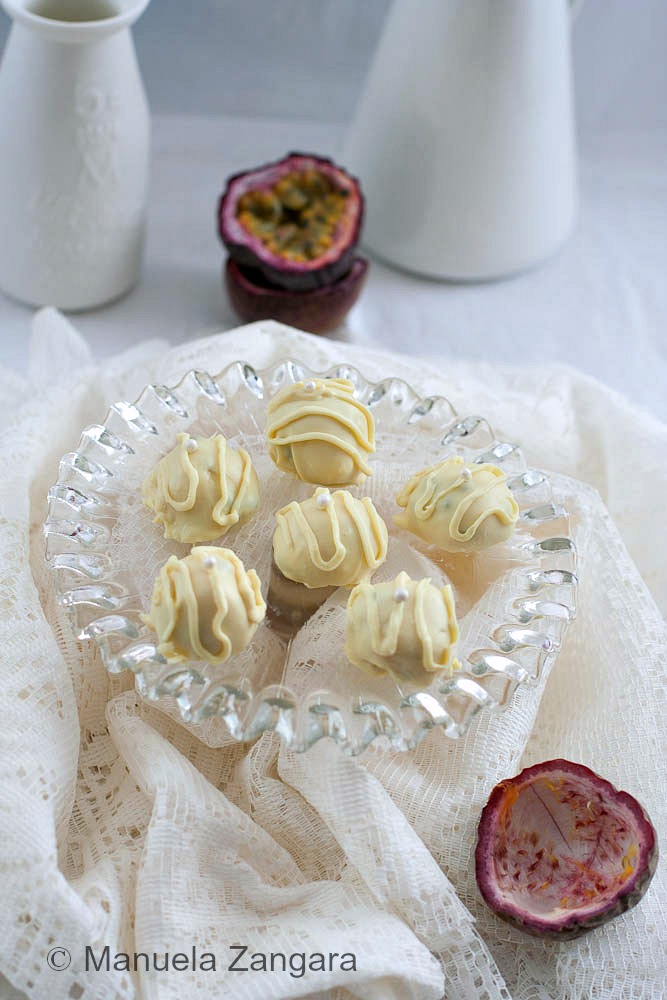 Related Posts: