This stuffed pasta dish is the second of my series of posts dedicated to my Foodbuzz 24×24 Christmas in July event.  Italians always have some sort of stuffed pasta at Christmas, especially at their Christmas Eve dinner (at this meal we traditionally do not eat meat).  This does not mean the meal is light though!  It is traditionally fish based and still very rich.  So the stuffed pasta we have is not a meat based one, but either a fish or a vegetable pasta.  For this event, I decided to stuff our mezzelune with my favourite winter veggie: artichoke.  Mezzelune is like ravioli, but it is shaped like a "half-moon", hence the name (mezzelune in Italian means "half-moons")… basically, the only difference is that the pasta sheet is folded to contain the stuffing and has 1 side which is not cut, while ravioli are overlayed sheets of pasta cut on all 4 sides to give it a square shape.  The artichoke filling is very light and the Parmigiano Reggiano fondue goes very well with it, making a creamy, delicate and tasty sauce.
Ingredients (for 4 persons):
For the filling and pasta
6 artichokes
½ small onion
2 tbsp extra virgin olive oil
Salt
Pepper
1 egg
300 gms ricotta
1 pinch nutmeg, grated
4 tbsp grated Parmigiano Reggiano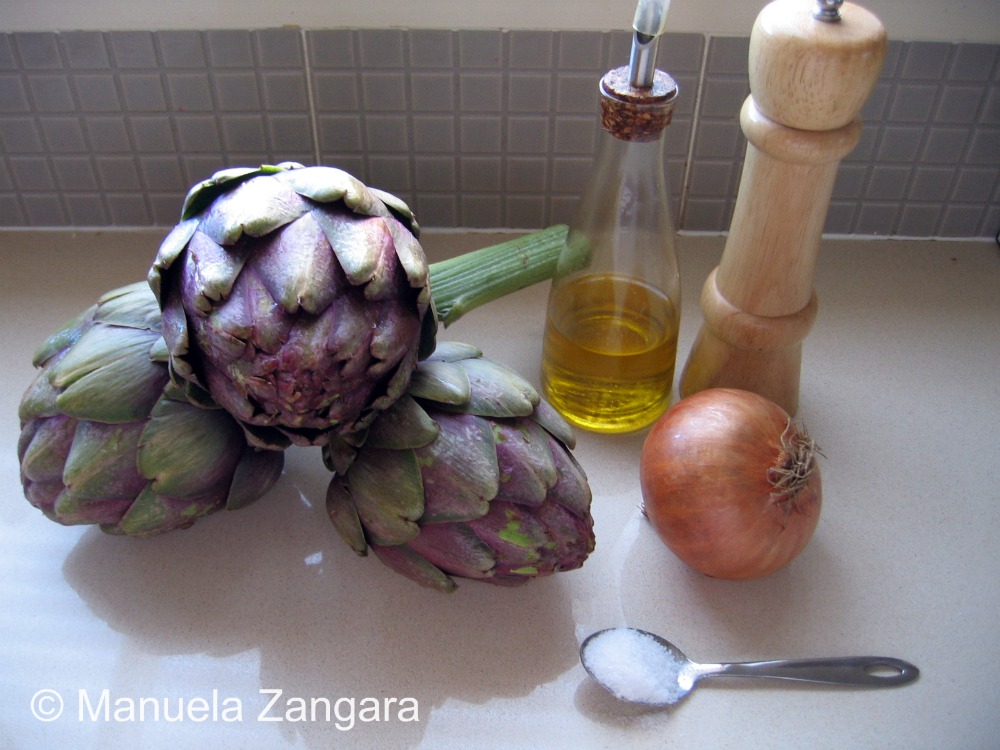 Egg pasta dough as per the instructions on How to make egg pasta dough (for 4 people make 2 eggs and 200 gms flour)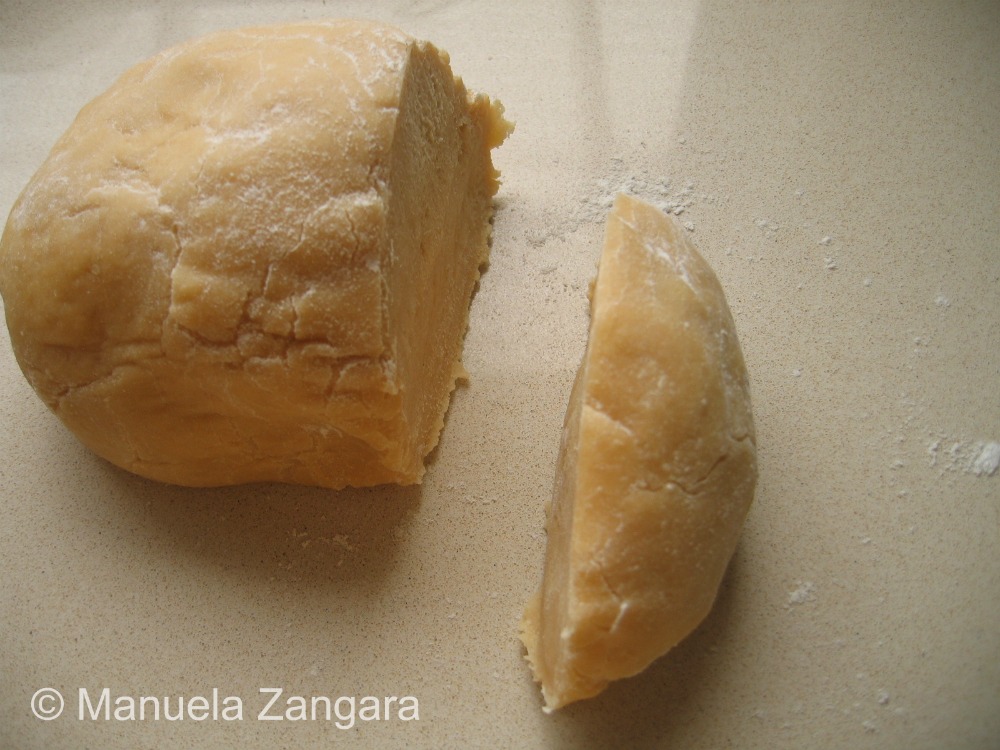 For the sauce
200 ml cream
8 tbsp grated Parmigiano Reggiano
Salt
Pepper
Extra Parmigiano Reggiano, thinly grated to serve (optional)
Clean and slice the artichokes.  Keep them in some cold water with a squeeze of lemon to prevent them from going black, until you are ready to cook them.
Roughly chop the onion and sauté it with the extra virgin olive oil.
Add the sliced artichokes, a pinch of salt and half a glass of water.  Cover and cook until tender.
Let it cool down.
Then put the artichokes into an electric mixer and roughly blend them.  Put them in a bowl.  Add the ricotta, egg, Parmigiano Reggiano, salt, pepper and nutmeg and mix well.
Keep your filling in the fridge until you are ready to use it.
Prepare the egg pasta dough as per the instructions on How to make egg pasta dough and then proceed to make mezzelune as per the tutorial on How to make mezzelune.
While the mezzelune dry, you can prepare your sauce.
Put the cream in a small saucepan and heat it up.  Put the fire off before it boils and add the grated Parmigiano Reggiano, salt and pepper.
Mix well until smooth.  Do not worry if the sauce looks runny, it is ok as it will thicken while cooling.
Cook the mezzelune following the steps on "How to cook pasta al dente".  Only in this case you will not have a pre set cooking time.  This will vary on the thickness of your mezzelune (it should take approximately a couple of minutes to cook if you have just made the pasta.  If a number of hours have passed since you made the pasta then it would be slightly dry and could take between 8 to 10 minutes to cook).  So, the best solution is to taste it!  Remember, to check the sides, where your pasta is thicker.  It does have to remain firm to be al dente.
While the mezzelune are cooking, prepare your serving plates.  Put 2 tbsp of Parmigiano Reggiano fondue at the bottom of each plate.
When the pasta is cooked, drain it, divide it among the plates and drizzle with the remaining fondue.  Serve warm with a sprinkle of thinly grated Parmigiano Reggiano.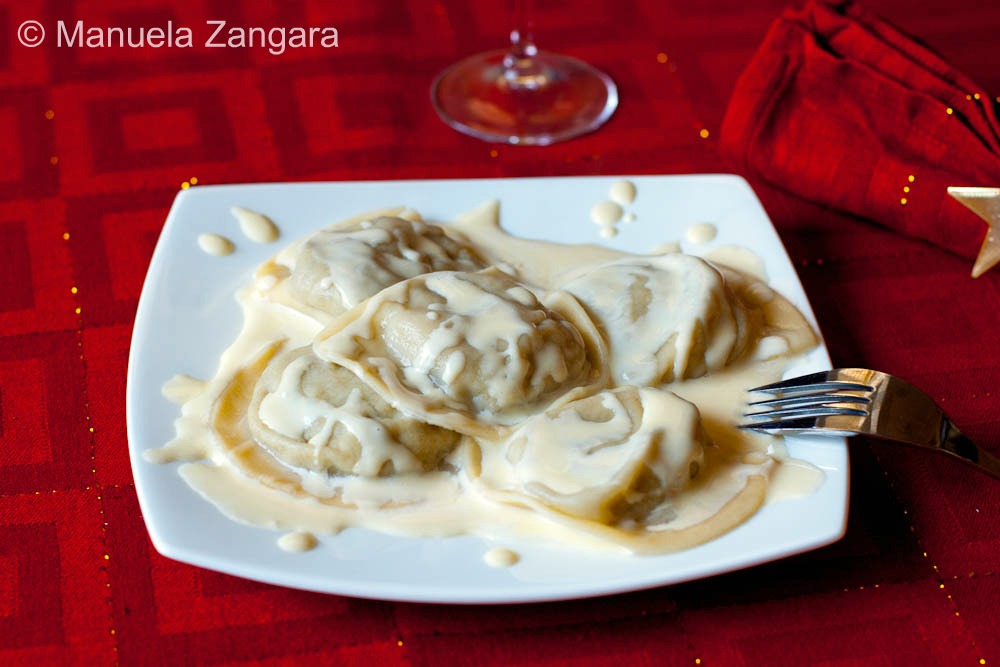 Stick around for more recipes from my Foodbuzz 24×24 Christmas in July event and If you liked my menu, please head over to this month's Foodbuzz 24×24 and send some buzz my way! 


Related Posts: