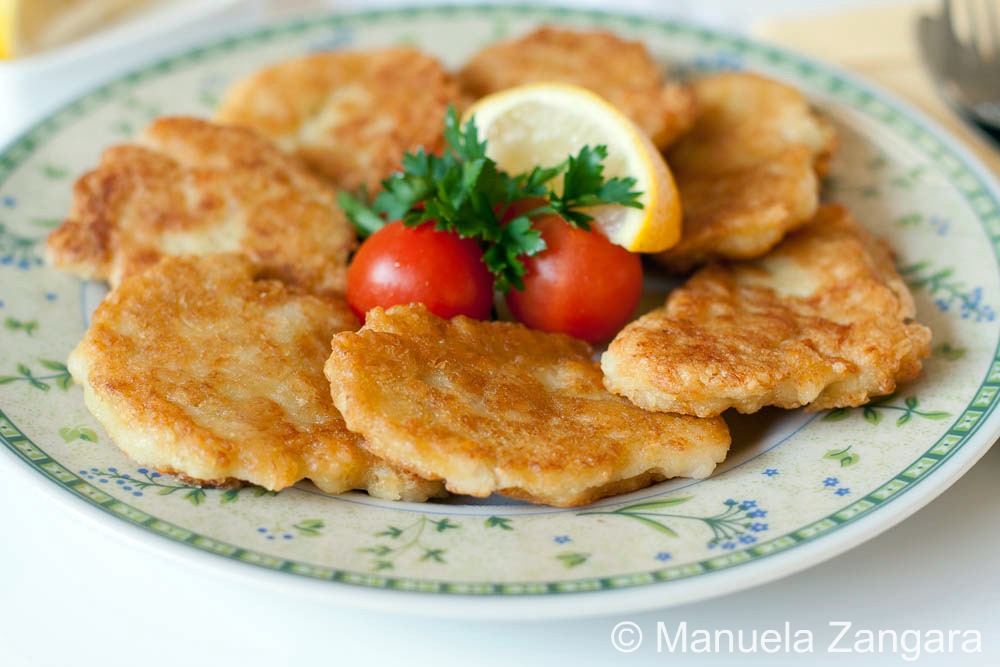 When my friend Kankana from Sunshine & Smile asked me to write a guest post for her site I almost jumped out of my seat!  Probably you guys do not know this (not even you Kankana), but she has been the first person to comment on my blog!  Since then we have exchanged lots of comments on our respective blogs.  Besides being a great cook, she also is one of the most talented food photographers I know.  She's always been good, but in the last few weeks she's gotten even better.  If you haven't visited her site yet, please do so.  You will drool looking at all the fantastic food she cooks and you will be captured by her photographic skills.  The choice of what to write for her was easy.  I know she likes fish and Italian food… so, what's better than my nonna's recipe for baccalà fritters?  Baccalà (salted cod) is widely used in Italian cooking and this specific recipe is my favourite way of cooking it.  Whenever I make it, I think of my grandmother who used to cook it for us.  It is a really easy dish to prepare and it is so flavoursome and hearty.  You can have it both as a main dish with a simple salad on the side, or as an appetizer.  So, Kankana… this is for you!  I hope you like it and THANK YOU for giving me the opportunity to be a guest over at your beautiful site!
Ingredients (for 4 persons)
500 gms baccalà fillets
300 gms flour
Water, lukewarm
1 tbsp lemon juice
1 tbsp extra virgin olive oil
1 pinch bicarbonate
½ clove garlic, finely chopped
½ tbsp parsley, finely chopped (optional)
Vegetable oil for frying
Start by washing the baccalà fillets.  Put them in a bowl and cover them with cold water.  Soak for 24 hours, changing the water as often as possible so that the fish rehydrates and it loses the excess salt.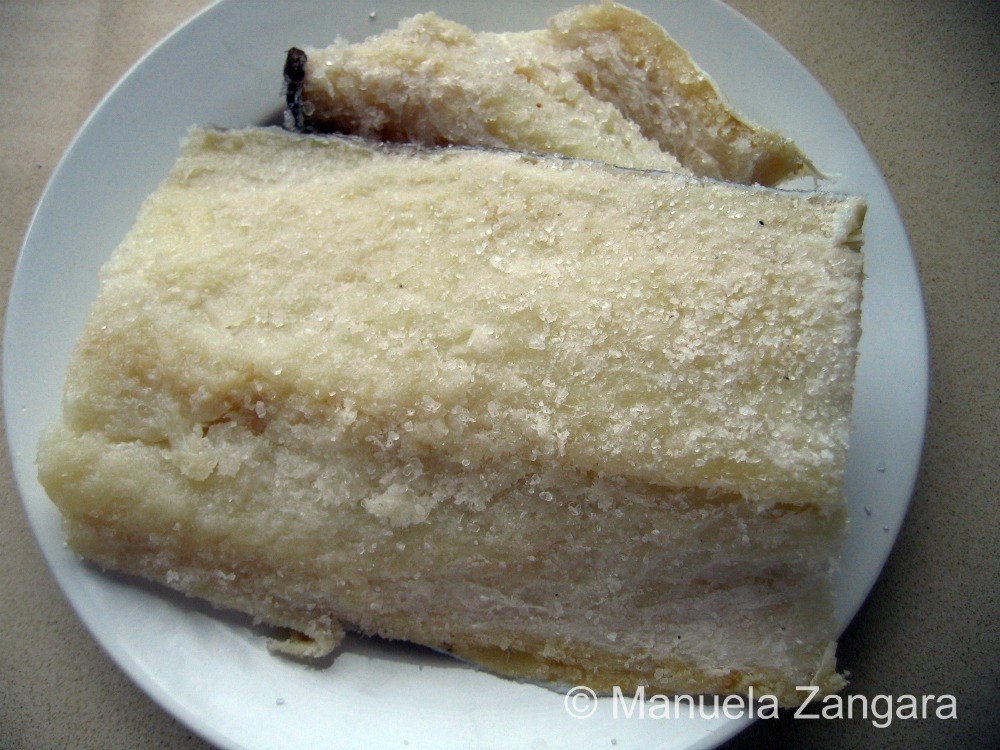 When the baccalà is ready to be cooked, take it out of the water and pat it dry with some kitchen paper.  Remove the skin and chop it finely.  Keep it aside.
Now prepare the batter.  Put the flour, chopped garlic, chopped parsley (optional), extra virgin olive oil, lemon juice and bicarbonate in a bowl.  Add the lukewarm water little by little while whisking until you get a smooth batter.  The batter has to be like a pancake batter in consistency.

Then add the chopped baccalà and mix well.
Put some vegetable oil in a frying pan.  When it is hot, ladle spoonfuls of baccalà batter into it and shallow fry them in batches.
When ready, put the fritters on a plate lined with kitchen paper to absorb the excess oil.  Serve warm with a squeeze of lemon.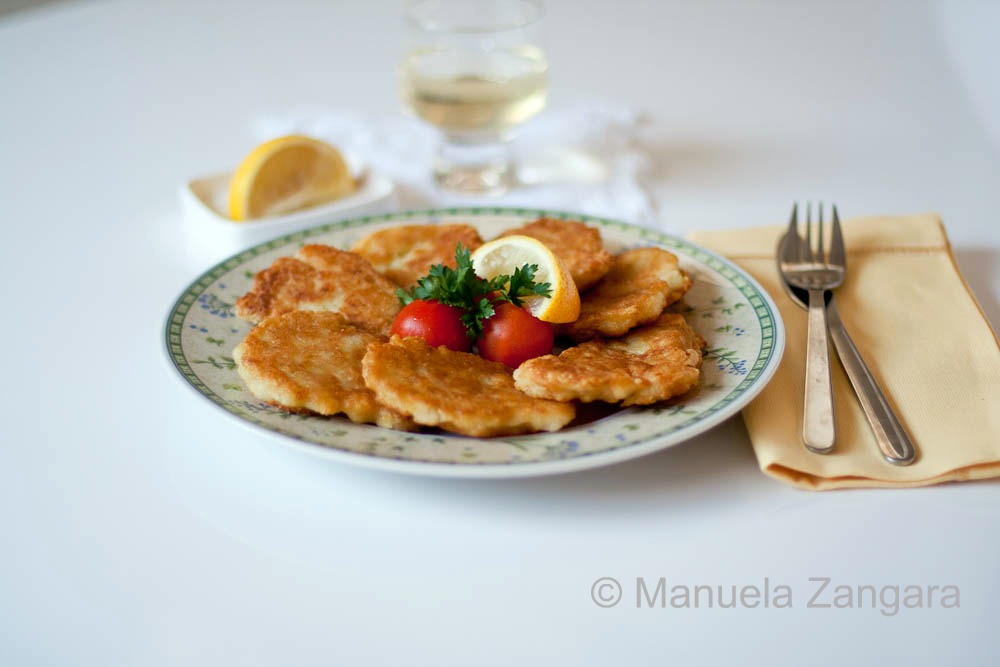 Thank you so much again Kankana!  Everyone, please pass by her beautiful blog Sunshine & Smile and check out all her delicious recipes and amazing pictures.
Also you can follow Kankana on Twitter, Facebook and Foodbuzz!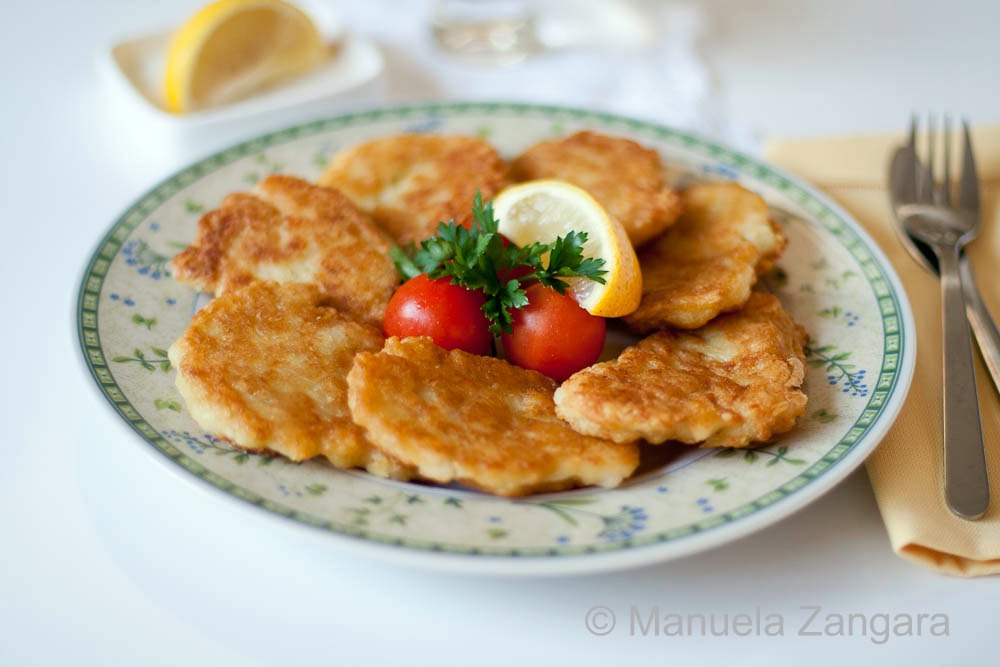 As you have already guessed, I am taking a short break from my series of posts dedicated to my Foodbuzz 24×24 Christmas in July event.  But don't worry… I will continue posting all the remaining recipes from the 8th of August onwards.

Related Posts: