Today I am guest posting over at Erin's blog: Big Fat Baker.  I am so happy and honoured to be her guest!  I love her site, don't you all?  Make sure you visit it now if you haven't yet as you will find so many delicious dessert ideas!  I always make sure to visit it with my stomach full so I don't get the urge to run into the kitchen and start trying out all her recipes at once… still it is HARD!  Click on her site now to see what I mean!
When Erin asked me to write a guest post for her, I looked into my archive and saw that I had the perfect recipe for her!  I had made these a little while ago for a tea party at my daughter's pre-school and hadn't had a chance to blog about them yet.  When I write a post for someone else, I always try to offer something that represents me and my site… you know, like a "business card" kind of thing.  So I usually write about an Italian dish and/or something I grew up with.  This dish falls under both categories: it is an Italian sweet that I grew up eating it!  I know what you are thinking: krapfen… Italian?  With that name?  So, I think I owe you a little explanation.  Krapfen is a sweet doughnut originally from Austria and Germany (where is often referred to as "Berliner"), thus the name.  It is common throughout central Europe, especially in the countries that were part of the Austro-Hungarian Empire and some parts of North-Eastern Italy are among these areas.  South Tyrol/Alto Adige is a region of Italy that borders with Austria where the majority of people speak a language that is very close to Austrian German.  This is the area from which krapfen have spread to the rest of Italy.  I love these doughnuts and I used to often buy them from our local bakery as a child.  They can be filled with a variety of sweet fillings (including a thick custard), but the most classic filling of all for Italian krapfen is apricot jam.  I hope you enjoy them!  And thanks once again Erin for giving me the opportunity to be a guest over at your beautiful site, Big Fat Baker!
Ingredients (makes about 20):
500+150 gms flour
1 pinch salt
7 gms dry yeast
100 gms melted butter
2 tbsp extra virgin olive oil
2 egg yolks + 1 full egg
5 tbsp (75 gms) sugar + 1 tbsp (15 gms)
1/2 tsp vanilla extract
1 tbsp rum
Zest of 1 lemon, grated
1 glass of lukewarm milk (250 ml)
Put the 500 gms of flour and salt in a mixer with a dough hook.  Make a well and add 1 tbsp of sugar and the yeast.  Mix together and add ½ glass of lukewarm milk (125 ml) diluted with 2 tbsp of water.  Mix and let the foam form.
Now add the 2 tbsp of extra virgin olive oil, eggs, lemon zest, rum, vanilla extract (or vanillina), sugar, melted butter and lukewarm milk to the frothy mixture.
Put the mixer on and mix with the hook attachment until you get a smooth dough (you may require to add up to 150 gms extra flour while kneading, the final dough has to be soft, but not sticky).  Let the dough rise for 2 hours in a warm place.
After the dough has risen, roll it into a ½ cm thick sheet.
Cut out circles of 8 cm in diameter (you can also make smaller ones of 6 cm each, if you want to make smaller krapfen).  Put 1 tsp of apricot jam on half of the circles and cover them with the remaining halves.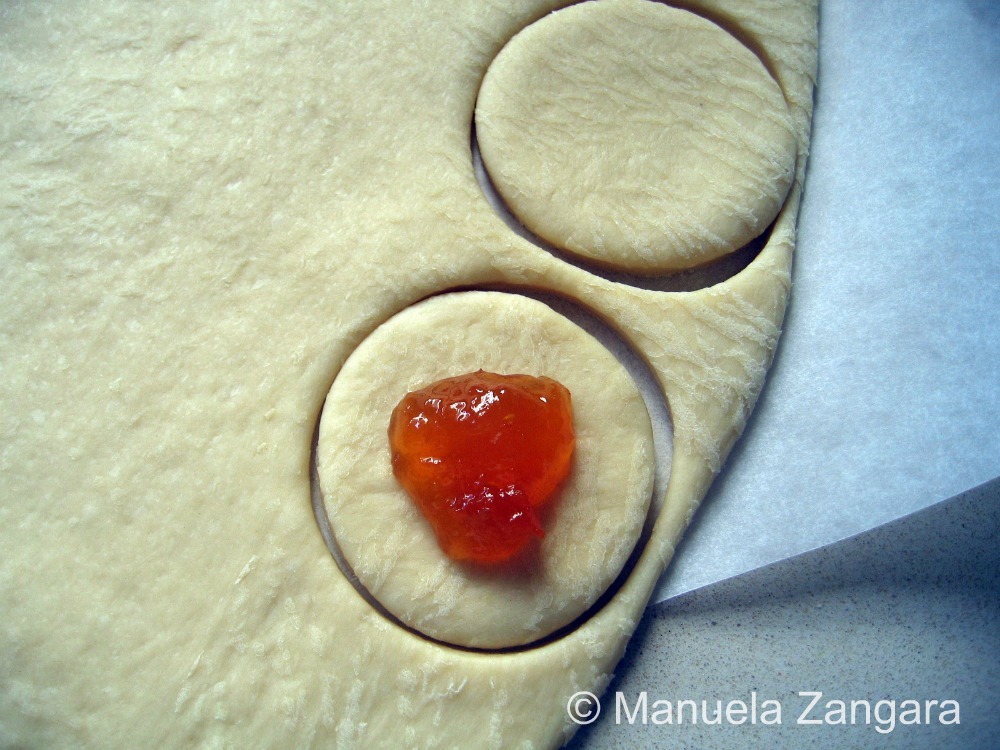 Close by using a little water and pressing well with your fingers.
Let them rest for about one hour (this step is optional, I usually prepare all the krapfen and them start frying them from the first one I made working backwards.  That is enough time for the dough to rest).
Deep fry the krapfen in warm vegetable oil (I use sunflower).  Make sure the oil is not too hot or the krapfen will get burnt and remain raw on the inside.  When golden brown, remove them with a slotted spoon and put them on a plate covered with kitchen paper to drain the excess oil.
When cooled down sprinkle with icing sugar and enjoy!
Thank you so much again Erin!  Everyone, please pass by her blog Big Fat Baker and check out all her delicious recipes.
Also you can follow Erin on Twitter, Facebook and Foodbuzz!
In a completely different note, I will be back with the series of posts from my Foodbuzz 24×24 Christmas in July event from the next post and If you liked my menu, please head over to this month's Foodbuzz 24×24 and send some buzz my way! 


Related Posts: