As you know, I love to play around with pasta's colours and shapes.  With Valentine's Day coming up in a couple of days, I thought heart shaped pasta would be in order.  And to make it even more appropriate for the occasion, I thought of making it pink.  You simply add some beetroot to your egg pasta dough and you get a beautiful dark pink pasta.  You can use any filling you like, but to me there's no better combination than beetroot and goat cheese… so I used that mixed with mascarpone and grated Parmigiano Reggiano to fill my pasta hearts.  I served this pasta with a simple butter sauce with poppy seeds to add some crunch and a touch of sophistication.  It is the perfect dish to celebrate love this Valentine's Day!  Enjoy!
Beetroot Pasta Hearts with Goat Cheese
Beetroot Pasta Hearts with Goat Cheese - perfect for Valentine's Day or any other romantic occasion!
Total Time
1
hour
10
minutes
Ingredients
Filling
150

gms

– 5 ½ oz. fresh goat cheese

200

gms

– 7 oz. mascarpone

80

gms

– ¾ cup Parmigiano Reggiano

thinly grated

Salt to taste
Beetroot Pasta Hearts
200

gms

– 1 ½ cup flour

or more as required

1

egg

75

gms

– 2 ½ oz. cooked beetroot
Poppy Seed Butter Sauce
80

gms

– 5 ½ tbsp butter

Poppy Seeds

Salt to taste

Parmigiano Reggiano

thinly grated to serve
Instructions
Beetroot Pasta Hearts

Poppy Seed Butter Sauce
Put the butter and poppy seeds in a small saucepan. Let the butter melt on a medium fire and gently fry off the poppy seeds in it. Remove from the fire as soon as it starts to bubble (you don't want to brown it). Add a pinch of salt.
Assembling
Cook the Pasta Hearts following the steps on "

How to cook pasta al dente

". Only in this case you will not have a pre set cooking time. This will vary depending on the thickness of your pasta (it should take approximately a couple of minutes to cook if you have just made the pasta. If a number of hours have passed since you made the pasta then it would be slightly dry and could take between 10 to 12 minutes to cook). So, the best solution is to taste it! Remember, to check the joint, where your pasta is thicker. It does have to remain firm to be al dente.

When the pasta is cooked, drain it and put it in the pan with the butter and poppy seed sauce. Mix well on low fire for a minute.

Serve hot with some thinly grated Parmigiano Reggiano on the top.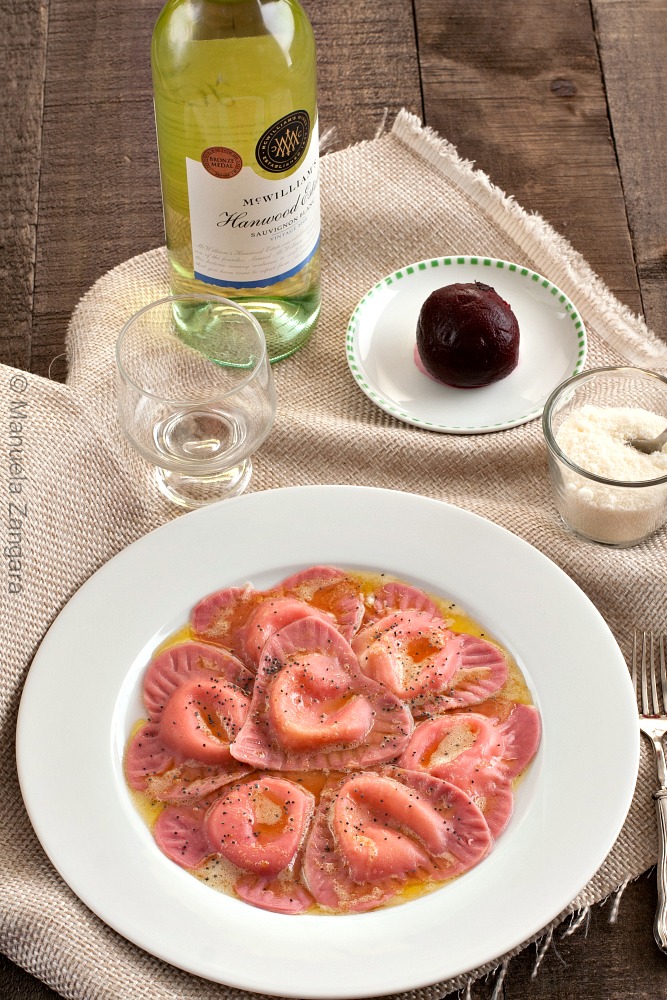 Related Posts: