I love all potato croquettes! My mum used to make them often, even though she makes them differently (I will share her recipe too as soon as possible). These, instead, are exactly like the ones you can buy on the streets of Palermo and they were on the top of my list for the Sicilian Street Food New Year's Eve Party I organised for this month's Foodbuzz 24×24 event! Even though they require a little planning, they are very easy to make. To get the best results, you need to stick to the timing below. Boiling the potatoes the day before, will ensure that all the water from the potatoes evaporates and it will prevent your cazzilli from melting away in the hot oil! They are best eaten hot! I served them in cones of baking paper, as in Palermo they are usually served in paper cones… They are a great snack, but can be eaten as an appetiser or a side dish too.  These can be addictive… so be aware!
Ingredients:
Potatoes (I made about 500 gms – 1 lb)
1 tbsp parsley, chopped
1 tbsp mint, chopped (optional)
5 to 6 gms – 0.2 oz. salt
Pepper, 1 pinch
The evening before you want to make cazzilli, boil the potatoes (WITH their skins on) in hot salty water until cooked through.
Drain well and let them cool down completely. Put in the fridge over night.
The next morning, peel the potatoes and mash them twice using a potato ricer. Add salt, pepper, parsley and mint and mix well.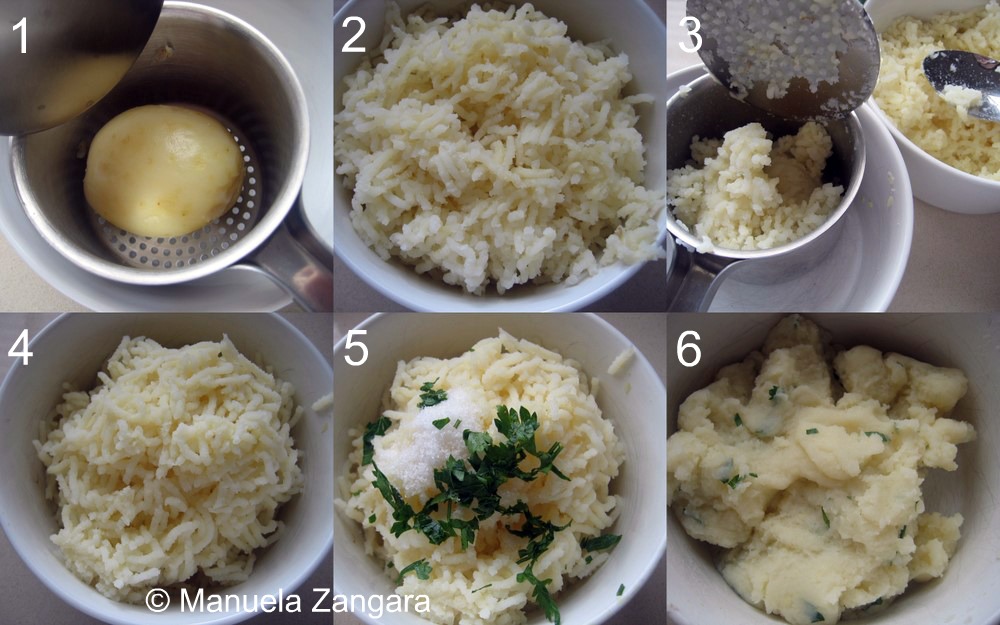 Shape the cazzilli by making elongated shapes. They have to be more or less 5 cm – 3 inches long and 2 cm – a little less than 1 inch wide. Wash your hands often and keep them slightly wet, this will help you make smooth cazzilli and it will prevent the potatoes from sticking to your hands.
Store them in the fridge for 3 to 8 hours before frying them. Deep fry in hot vegetable oil until just golden, drain the excess oil on some kitchen paper and serve hot!
TIPS: While the oil heats up, place your cazzilli in the freezer (this will harden them a little and make it easier to fry). Make sure the oil is very hot (about 200°C – 400°F) and fry them in small batches. If the oil is not hot enough, your cazzilli may break and/or absorb too much oil.

Related Posts: