After a month's break, the "Secret recipe club" is back! YAY!  I am sure everyone knows what the club is about, but for the few of you who still don't know about it, here goes a brief explanation.  Each month you are assigned a participating food blogger to make a recipe from and in turn someone else will be assigned your blog.  All you have to do is choose a recipe, make it and blog about it on the specified date.  The only rule is to keep it a secret!  If you are interested in learning more, or want to join the club, please visit the Secret recipe club website.
I must say I LOVED this month's assignment!  I discovered a beautiful blog I had never visited before and I can tell you, it is full of yummy recipes!  I am talking about Josie's Kitchen written by the very talented Josie!  Josie lives in NYC, but was born and raised in the Dominican Republic!  I have never been there, but I would love to visit it someday… So, while going through all her wonderful recipes, I immediately decided that I wanted to try something I had never ever had before, something that would take (at least) my tastebuds to the eastern part of the beautiful Caribbean island of La Hispaniola.  There were a few recipes I really liked: La Bandera (the Dominican National dish), the Dominican Chimichurri and the one I actually made: Chivo Guisado, aka braised goat Dominican style!  I have made a couple of minor changes (in red), mainly because I could not find the ingredients and the result was outstanding!  I am planning to make this dish again very soon as everyone in my family loved it, kids included!  THANK YOU Josie!!  Please, make sure you drop by Josie's Kitchen and check out her beautiful site!
I also want to thank Angie from Big Bear's Wife who is my group's hostess for all her help!!!
Recipe adapted from Josie's Kitchen
For the marinade
Ingredients:
1 kg – 2.2 lbs. of goat meat (with bones)
Juice of 1 orange (instead of 1 large (or 3 small) sour orange)
Juice of ½ a lime
2 tbsp of Worcestershire sauce
2 bay leaves
1 large white onion
1 bunch of coriander
1 bunch of spring onions
2 garlic cloves
Salt to taste (about 1 tsp)
3 tbsp of oregano
Cut the goat meat into smaller pieces (do not trim the fat as it adds lots of flavour and keeps the meat soft).
Cut the onions, coriander and spring onions.  Put the garlic cloves, oregano and salt in a mortar and grind to a paste.
Put the goat meat in a big bowl and add all the marinade ingredients to it.  Mix well, cover it and keep it in the fridge for a few hours (or overnight).
For the braise
Ingredients:
Marinated goat meat
2 tbsp of oil (I used sunflower oil)
1 tbsp of brown sugar
2 tbsp of tomato paste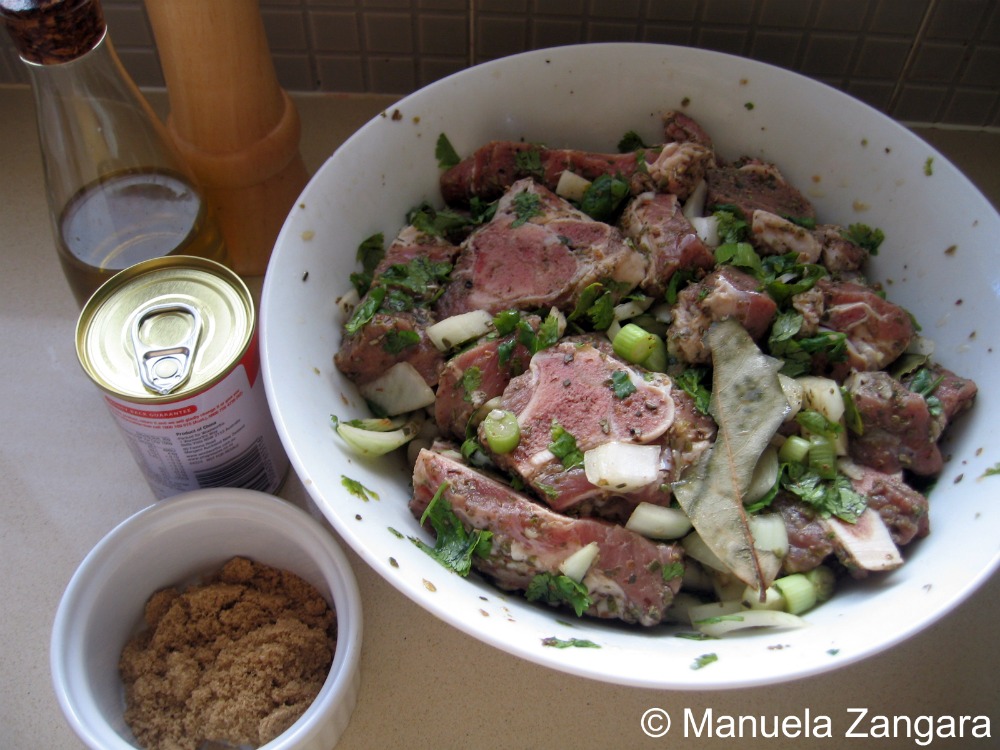 Heat up the oil and cook the sugar until it turns into a caramel colour (1-2).  Be careful not to burn it.  Add the meat (keep the marinade aside) and brown it well on all sides (3).  Add the marinade, stir and add the tomato paste (4).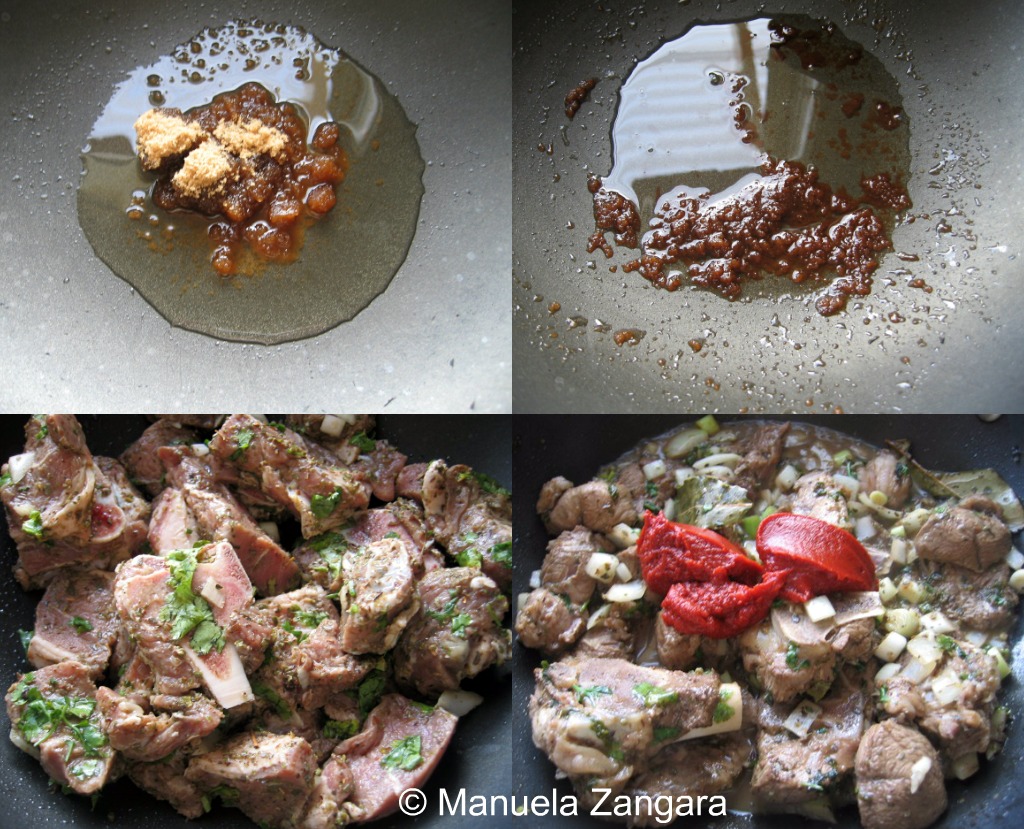 Add some water (little by little) and cook it on a medium flame, covered, until the meat is very tender.  I cooked mine for about 1.5 hours and it was so soft that it would fall of the bones.  Season to taste.
Serve with steamed rice (and fried green plantains, as suggested by Josie!).  Enjoy!  Buen provecho!

Related Posts: