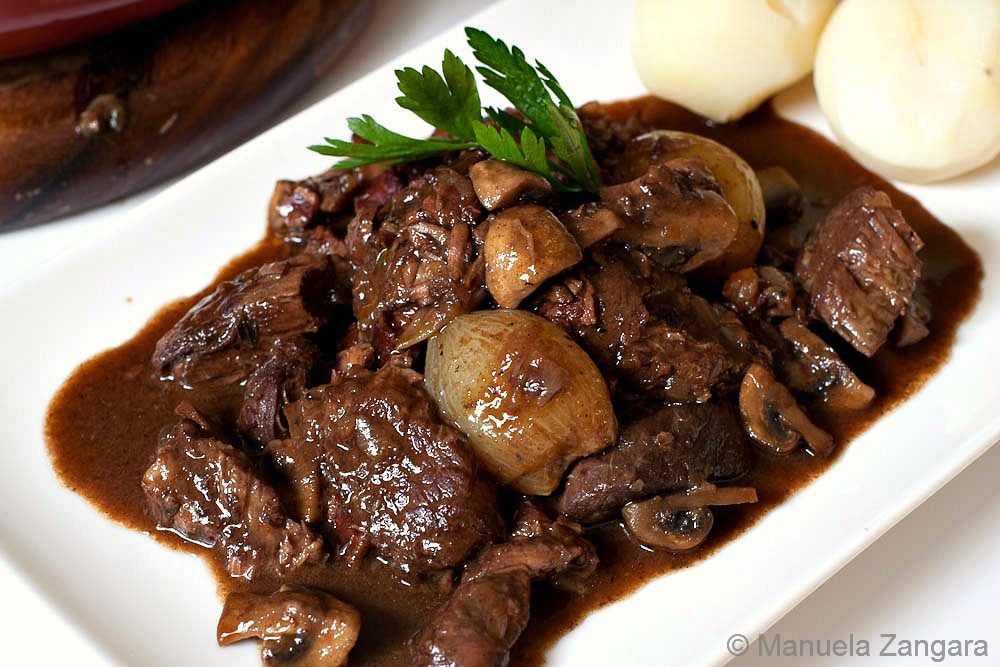 Our May 2012 Daring Cooks' hostess was Fabi of fabsfood. Fabi challenged us to make Boeuf Bourguignon, a classic French stew originating from the Burgundy region of France.
The last time I have eaten bœuf bourguignon I was in Paris… 10 years ago.  I remember it so well, it feels like yesterday.  My husband and I were visiting the ville lumière for the first (and only, for now) time together and I was trying to take him to all my favourite places (hard task as there are too many)!  We were staying in the 15th arrondissement, not too far from the Tour Eiffel, where I would always stay when in town, and we had dinner in a bistrot near the hotel.  The meat was so soft and the sauce so delicious that both Clint and I remember it up till now!  I have never had the courage to try and make it at home, so I was really happy this challenge pushed me to try it, as the result was outstanding.  I also inaugurated my very first Dutch oven and I was quite surprised about how soft and tender the meat was.  I guess, cooking it in the oven really makes a big difference!  I followed Julia Child's provided recipe to a tee, with a small twist.  I added a tiny bit of dark chocolate to the sauce. I know it sounds crazy, but I found this tip on many French sites and while you cannot taste the chocolate at all in the final dish, it helps to give the right colour to the sauce (it basically makes it more brown than purple).  Thank you so much Fabi for such a fantastic challenge!!!  I'll leave you to it… mesdames et messieurs… le bœuf bourguignon!    Enjoy!
Ingredients (for 6 people):
200 gms – 1 x 6 oz. chunk of streaky bacon
Extra virgin olive oil
1⅓ kg – 3 lbs stewing beef cut into 5 cm – 2 inches cubes (I used chuck steak)
6 gms – 1 tsp salt
2 gms – ½ tsp pepper
30 gms – 3 tbsp flour
720 ml – 3 cups of young red wine. (Suggestions: Bourgogne of course, but also Bordeaux, Cabernet Franc, Cabernet Sauvignon, Chianti, Rioja etc., depending on your country and your taste)
1 carrot, sliced
1 onion, sliced in julienne
355 to 475 ml – 1 ½ to 2 cups of beef stock or beef bouillon (plus more for the onions)
15 ml – 1 tbsp tomato paste or tomato purée
2 cloves mashed garlic
½ teaspoon thyme leaves
1 bay leaf
The blanched bacon rind
2 squares of dark chocolate
18-24 small onions, brown-braised in stock
½ kg – 1 lb. mushrooms sautéed in butter (Champignons/button mushrooms are perfect)
Fresh parsley to serve
Start by preparing the bacon.  Remove the rind. Cut the bacon into lardons (5 mm x 15 mm – ¼ inch thick x ½ inch sticks,) and simmer everything in 1 litre – 4 cups of water for 10 minutes.  Drain and dry carefully with paper towels.
Dry the meat cubes carefully with paper towels and preheat your oven to 230ºC – 450ºF.
In an oven proof casserole or a frying pan, sauté the lardons (but keep the rind aside) in a tablespoon of extra virgin olive oil for 2-3 minutes until lightly brown. Remove them with a slotted spoon and keep them aside.
In the same casserole, sauté the beef until golden brown. Remove it and keep it aside.
Still in the same casserole, sauté the carrots and the onion, until golden brown.
Return the bacon and the beef to the casserole.  Sprinkle with salt and pepper, then add the flour and mix to combine.
Place the casserole uncovered in the middle rack of the oven for 4 minutes.  This will give the meat a lovely crust.
Remove the casserole from the oven.  Stir in the wine, stock, tomato paste, mashed garlic cloves, thyme, bay leaf, blanched bacon rind and dark chocolate.  The chocolate will prevent the sauce from turning purple because of the wine and it will give it a nice and deep reddish-brown colour.
Bring it to simmering point on the stove.  Now, if you were using a frying pan, discard it and put the stew in an oven proof dish.
Cover the casserole/dish (if your dish doesn't have a lid, use aluminium foil and stretch it to the edges of the dish in order to minimize evaporation and the loss of juices) and place it on the lowest rack of the oven.  Adjust the heat so that the liquid simmers very slowly, it has to go on for 3-4 hours.  I cooked it at 150ºC – 300ºF for 3 and a half hours.
While the stew is cooking, prepare the onions and mushrooms.
For the onions, melt 1 tablespoon of butter in a frying pan and sauté the peeled onions until golden brown.  Add beef stock until they are almost covered and simmer for 20-25 minutes turning them around as they cook, or until almost all the liquid disappears and they are tender but still retain their shape.  Set them aside.
For the mushrooms, wash, quarter and sauté them in 2 tablespoons of butter.  Keep stirring until they are nicely brown.  Set them aside.
When the meat is tender, remove it from the oven.  Put the onions and mushrooms in the casserole and simmer on the stove for 5 minutes.  The sauce should be thick enough to coat the back of a spoon. If not, boil it until it thickens.  If it's too thick, stir in some stock or bouillon to make it thinner.
Serve the beef bourguignon in the casserole with some fresh parsley and boiled potatoes (or mash, rice…).
NOTES:
You can keep any leftovers in the fridge for 2-3 days.  If you want to freeze it, it will last up to 3 months.
Also, 10 minutes before serving it, some people add a couple of spoonfuls of beurre manié (a paste made of 50% flour and 50% butter) in order to thicken the sauce and make it look more brilliant. I did not add it because, just like Fabi, I liked the sauce just the way it was, but you can add it if you like.
To see all my fellow Daring Cooks posts… click here.

Related Posts: