As I already said in my Chicken Liver Parcels – Fegatini al cartoccio post, I never enjoyed eating liver while growing up, with the exception of chicken liver.  There are 2 dishes made with chicken liver that I have always LOVED: one is the Parcels and the second one is the dish I am going to share with you today.  This pasta with chicken liver used to be one of my favourite Sunday lunch dishes!  I remember my dad would often make fresh egg pasta while my mum would prepare the sauce.  It was a real treat!  And what's not to like?  It is a delicious dish… the sweetness of the carrots compensates for the slight bitterness of the liver and the grated Parmigiano Reggiano makes it even better.  Enjoy!
Ingredients (4 persons):
350 gms – ¾ lb. chicken liver, chopped
1 stalk celery, finely chopped
1 carrot, finely chopped
1 onion, finely chopped
2 tbsp extra virgin olive oil
1/3 glass red wine
1 glass water
Salt
Pepper
350 gms- ¾ lb. egg pappardelle
Parmigiano Reggiano very finely grated to serve
Finely dice the onion, carrot and celery and put them in a pot with the extra virgin olive oil.  Sauté on slow fire till soft (but not brown).
Then add the chicken liver (1) and stir well with a wooden spoon until the liver is brown (2).  Add the red wine (3) and raise the fire to burn off the alcohol (4).  Add the salt, pepper and water (5).  Cover and cook on a low fire for about an hour (6).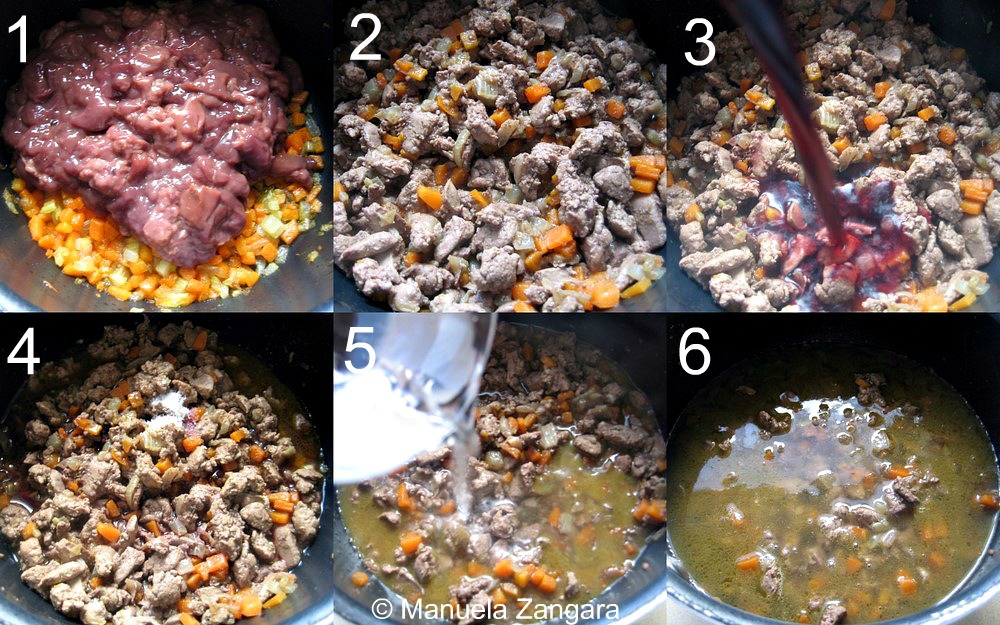 Add water (or reduce it on the fire) if needed.  The sauce doesn't have to be too thick, you have to be able to see ½ a glass of watery sauce at the bottom of the pan when you stir it.
Cook the pappardelle following the steps on How to cook pasta "al dente" in the Techniques page of this site. Drain it and serve with the chicken liver sauce and thinly grated Parmigiano Reggiano on the top.

Related Posts: