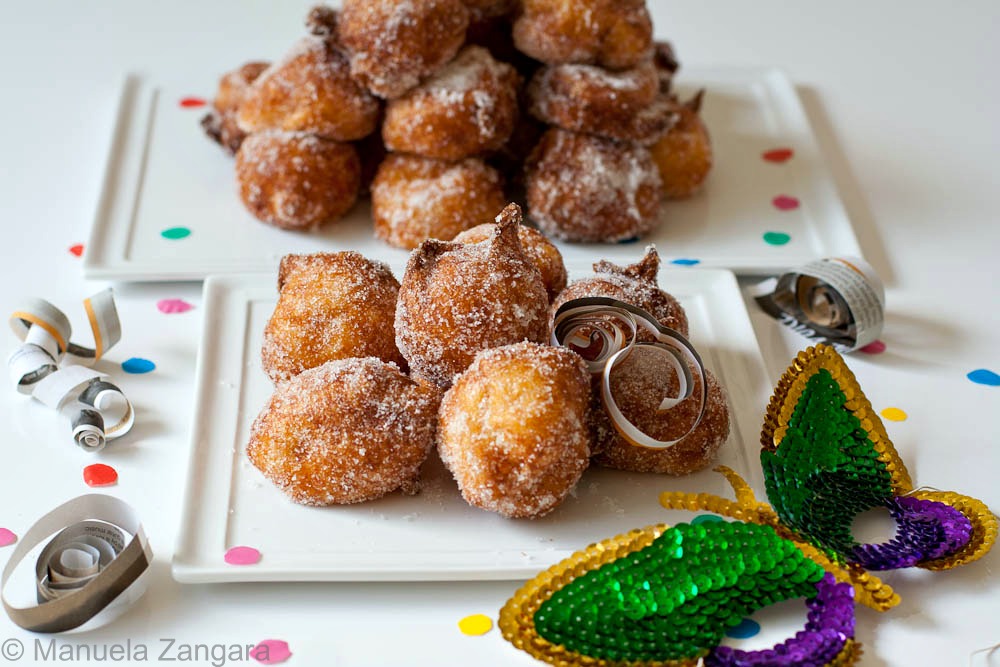 This is a very special time of the year for all Italian children: it is "Carnevale", the time to wear costumes and parade in the streets playing tricks on other kids and throwing coriandoli (round shaped paper confettis) and stelle filanti (similar to paper streamers) everywhere.  It is like Halloween but it lasts longer (about a week) and it is a crazy time of the year!  I love it and it is one of the Italian holidays that I miss the most.  As I am not there to enjoy the dress up parties and parades, I thought of at least enjoying some Carnevale food!  During this period, we tend to eat lots of sweets and fried foods, because Carnevale comes right before the period of Lent during which Catholics usually fast (or eat less).  As last year I shared with you the recipe for Chiacchiere, this time I am going to show you how to make another traditional sweet: tortelli di Carnevale, fluffy fried "puffs" coated in sugar.  This recipe is for the tortelli that you eat in Milan.  Every region has its own recipe with little differences, so I just want to be precise.  This is also going to be this week's Regional Italian dish… from my region: Lombardia (Lombardy).  Put a mask on and… enjoy!!
Recipe adapted from Il Mondo di Luvi (original recipe by Sergio Salomoni)
Ingredients (makes about 30):
250 gms – 1 cup milk
250 gms – 1 cup water
50 gms – 1.75 oz. sugar
50 gms – 1.75 oz. butter
1 pinch salt
Zest of ½ lemon
150 gms – 5.25 oz. flour
4 eggs
½ tsp vanilla extract
2 tbsp rum
Vegetable oil for deep frying (I used sunflower oil)
Sugar to coat the tortelli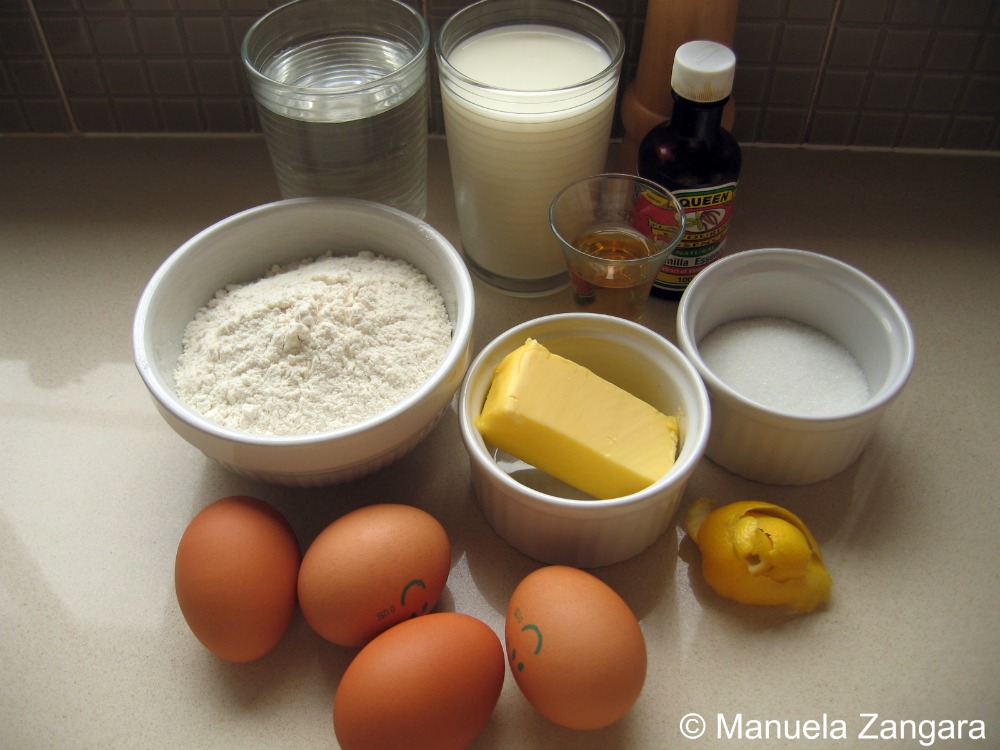 Put the milk, water, sugar, butter, salt and lemon zest in a pot (1) and bring to a boil (2).  When boiling, remove the lemon zest and pour in the flour.  Make sure to whisk continuously and very well so that you do not get any lumps (3).  NOTE: if you still get lumps, you can always use a hand mixer to dissolve them.  Cook on a low fire for 10 minutes, stirring continuously.  Then remove from the fire and let it cool down.  Transfer the mixture into the bowl of a mixer with a paddle attachment (4).  Put the mixer on and add the eggs one by one (make sure the egg is completely absorbed by the batter before adding the next one).  NOTE: you can also do this by just stirring with a wooden spoon.  At the end, add the vanilla extract and rum (5).  Mix well (6).
Cover the batter and let it rest for 1 or 2 hours.
Deep fry the tortelli by dropping spoonfuls of batter (the size of a walnut) in the warm vegetable oil.  NOTE: the temperature of the oil is very important.  It should remain constant at 170ºC – 340ºF.  If the temperature is higher, the tortelli will brown too quickly and will remain raw inside, if the temperature is lower, the tortelli will get soggy and oily.  I used a candy thermometer to measure the oil temperature and they came out perfect: soft and fluffy.  Keep in mind that they will take about 4 to 5 minutes to cook and the tortelli will puff twice: at the beginning and then again towards the end.
When ready, put them on a plate covered with kitchen paper to absorb the excess oil, and then roll them in sugar.
They are great warm or at room temperature.
They can be kept in an air tight container for 24 hours, but are best eaten the same day.
Buon Carnevale a tutti!  Happy Carnevale everyone!

Related Posts: