Couscous is one of those ingredients that I have always loved.  To tell you the truth I have discovered the pre-cooked version only in recent years.  My mom is from Trapani, a city in western Sicily that is renowned for the most delicious fish couscous on the planet.  I have grown up eating (and enjoying) only that and to me THAT was the only couscous.  Fish couscous cannot be made with pre-cooked couscous, which is a shame as it is so hard to find the coarse semolina you need to prepare it!  I will share the fish couscous recipe with you as soon as I can find some.  This is the recipe of my favourite couscous salad, for which pre-cooked couscous works perfectly fine.  It is a delicious side for barbecued or roasted meats (I love it with Lamb Cutlets) or a perfect main for a lunch or a picnic.  I usually make a little extra and eat it over 2 or 3 days.  The longer you keep it in the fridge, the better it tastes as the flavours of the different ingredients will permeate the couscous over time.  Enjoy at room temperature.
Sharing this recipe with Full Plate Thursday by Miz Helen and It's a Keeper Thursday by Christina.
Ingredients for 6-8 persons:
500 gms couscous
2 small red capsicums (or 1 big capsicum)
1 zucchini
1 medium eggplant
6 semi dried tomatoes, chopped
1/4 preserved lemon (skin only), very thinly chopped (optional)
2 lemons, juice
Extra virgin olive oil (same quantity as the lemon juice)
2 tbsp honey
Salt to taste
Pepper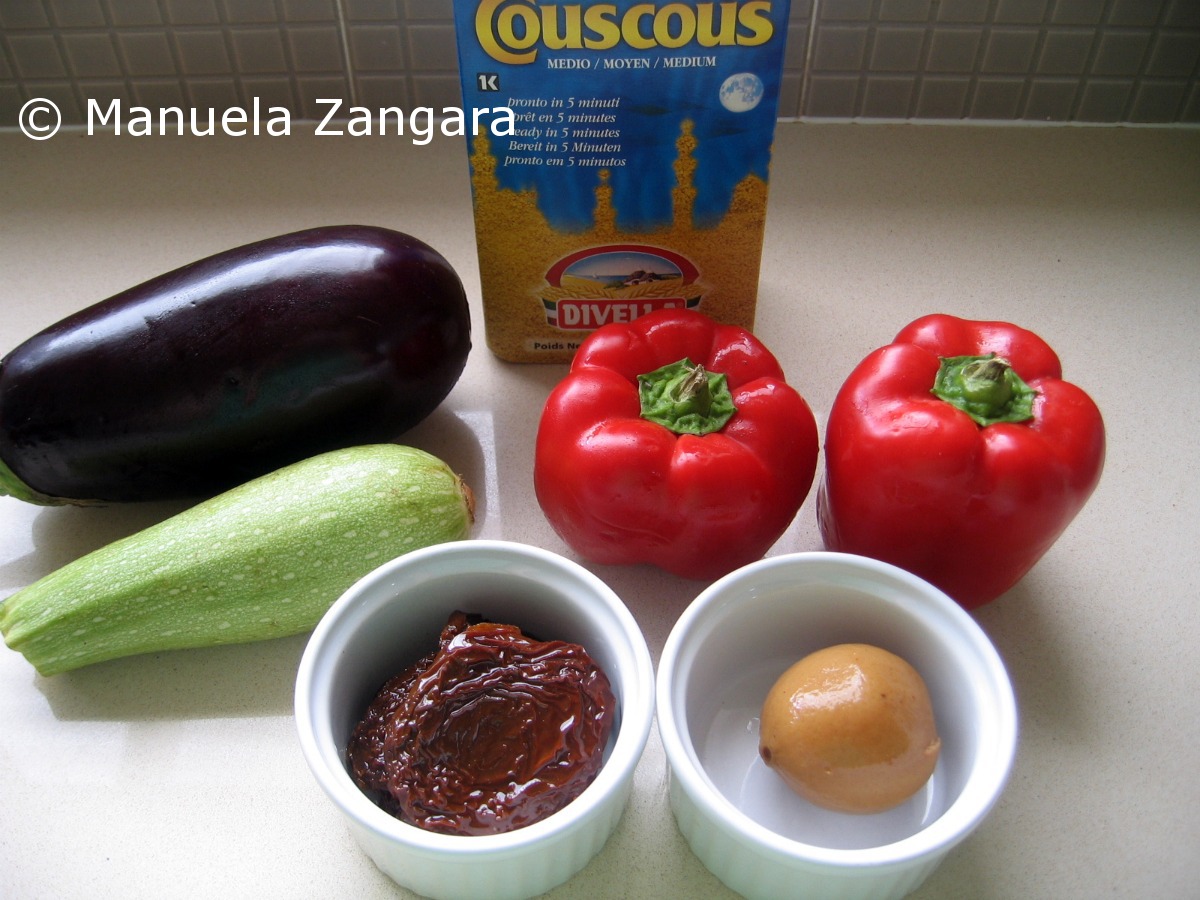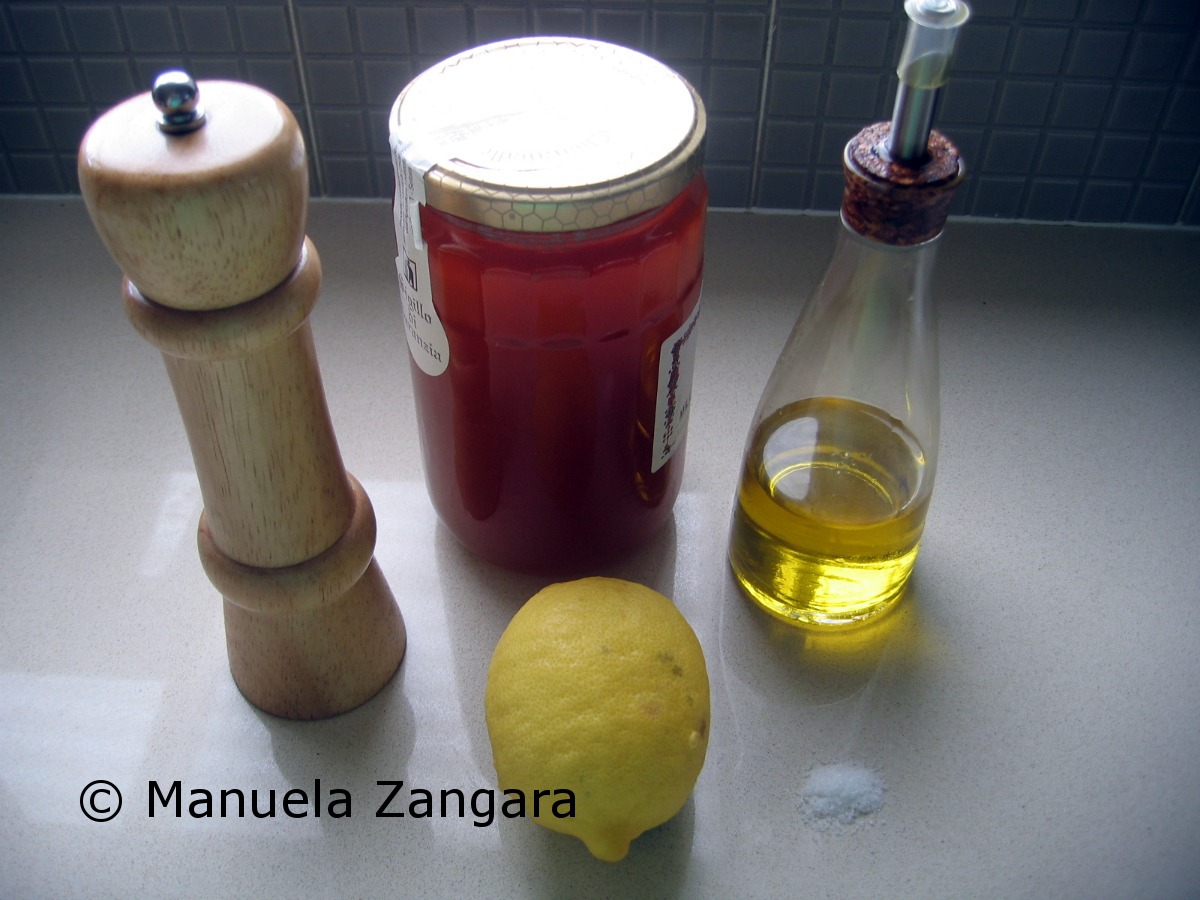 Take the capsicums, rub them with a little extra virgin olive oil and put them in an oven proof dish lined with baking paper.
Bake them in a preheated fan forced oven at 180°C for 30 minutes or until cooked through.  When soft, take them out of the oven and cover them with foil.  This will create steam and it will make it easier to peel the skin.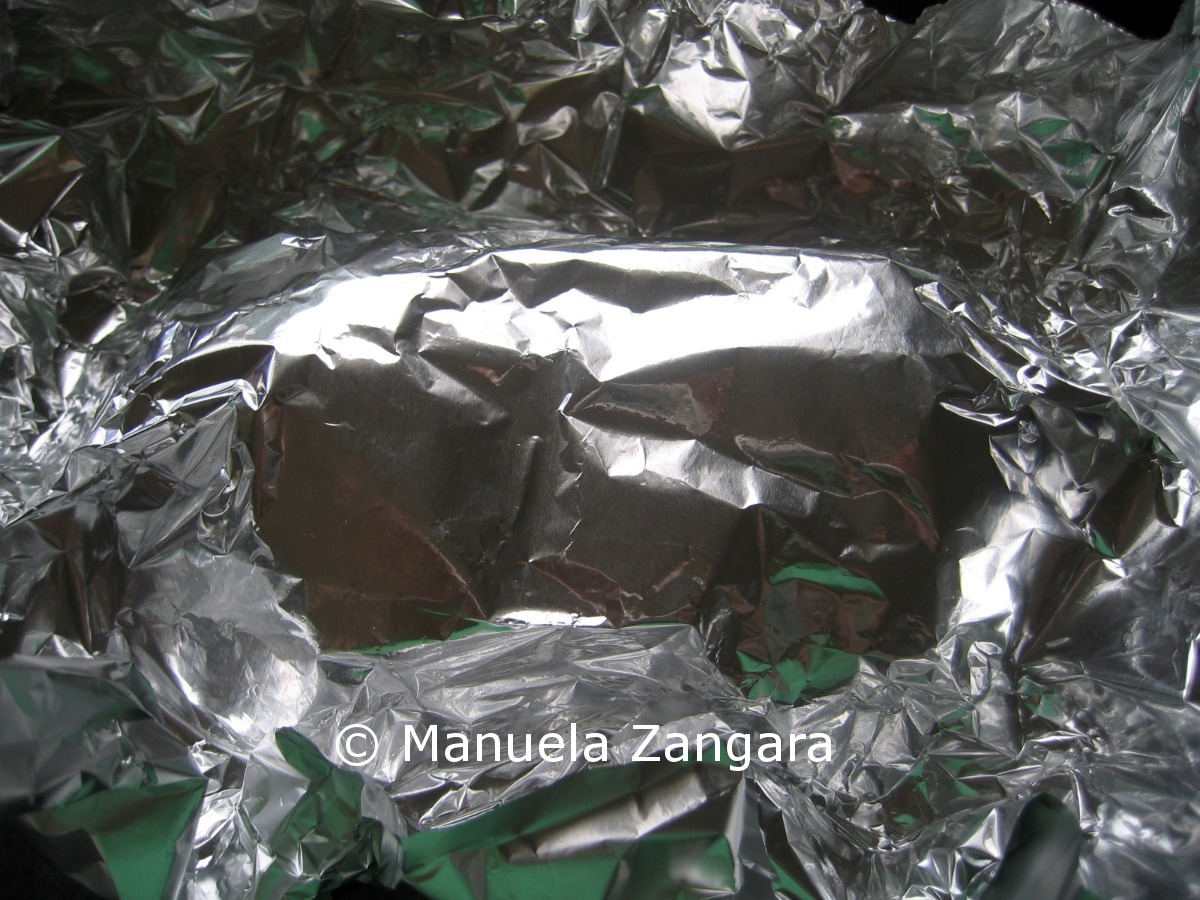 When they have cooled down enough so that it is safe to touch them (but they cannot be cold or it will be harder to remove the skin), peel them and remove the tops and seeds.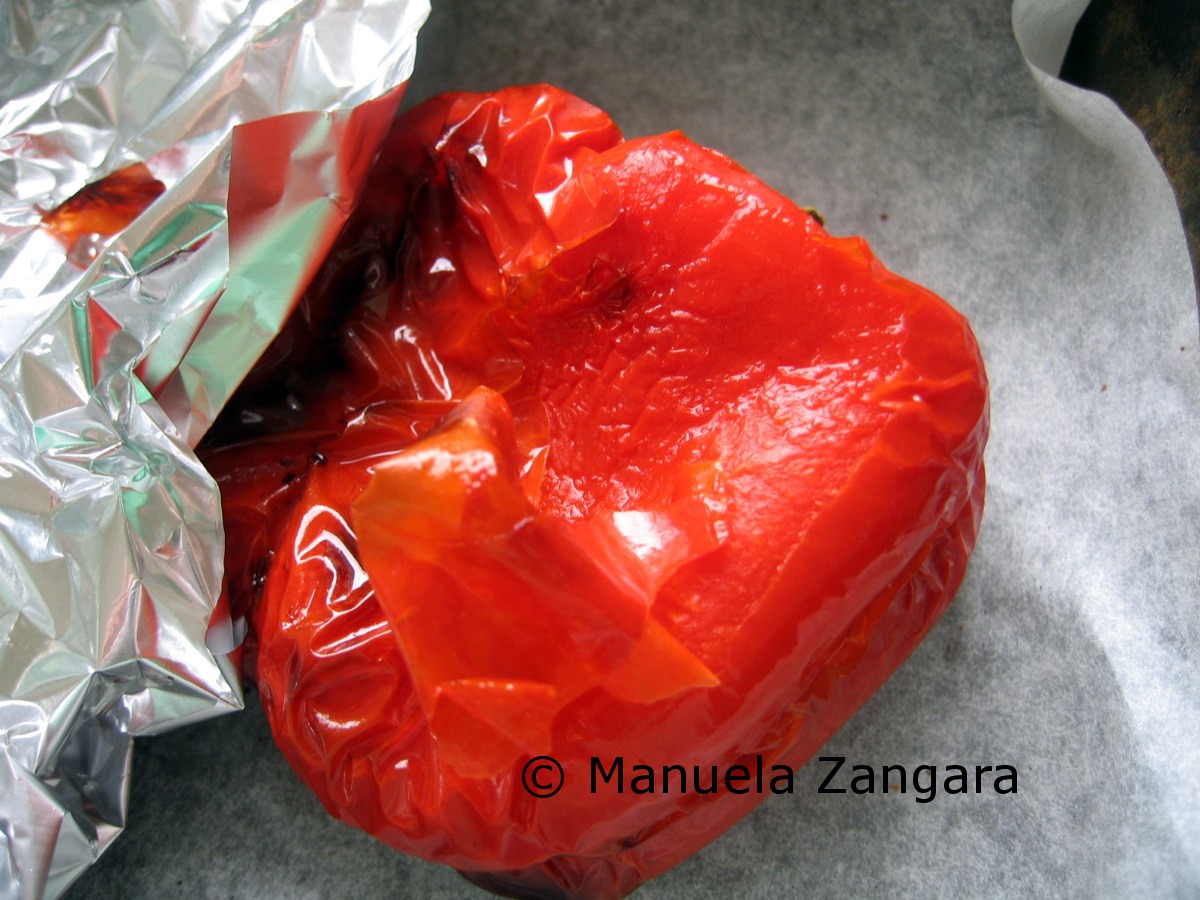 Cut the capsicums in small strips and put them in a little bowl with the cooking juices.  Keep aside.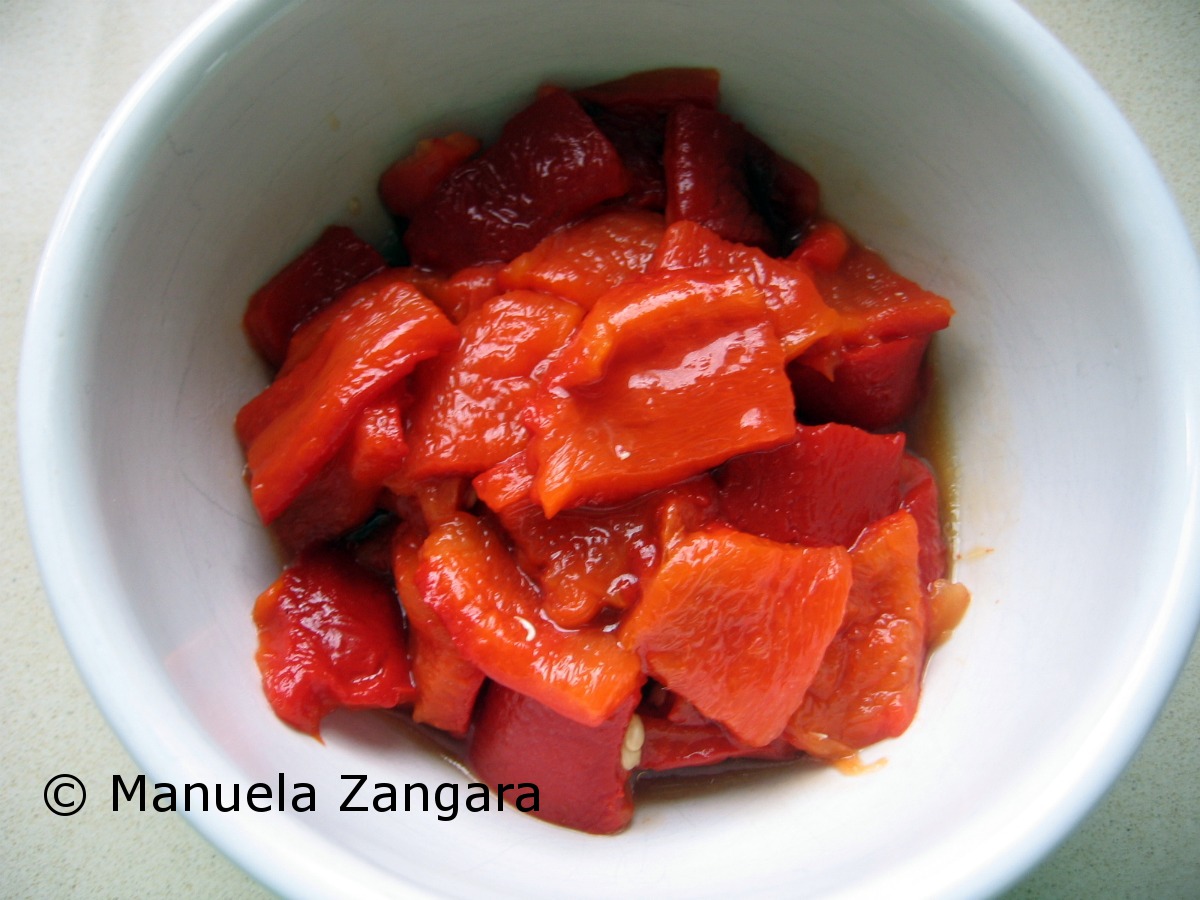 In the meantime, wash the eggplant and zucchini and cut them in 3×3 cm cubes.
Put the cubed eggplant in a bowl with cold salty water and let them rest for 30 minutes.  This will make them less bitter.
In the meantime, deep fry the zucchini in hot vegetable oil, put them in a bowl lined with absorbent kitchen paper and keep them aside.
Now, dry and fry the eggplant in the same oil where you have fried the zucchini.  Put them in a bowl lined with absorbent kitchen paper and keep them aside.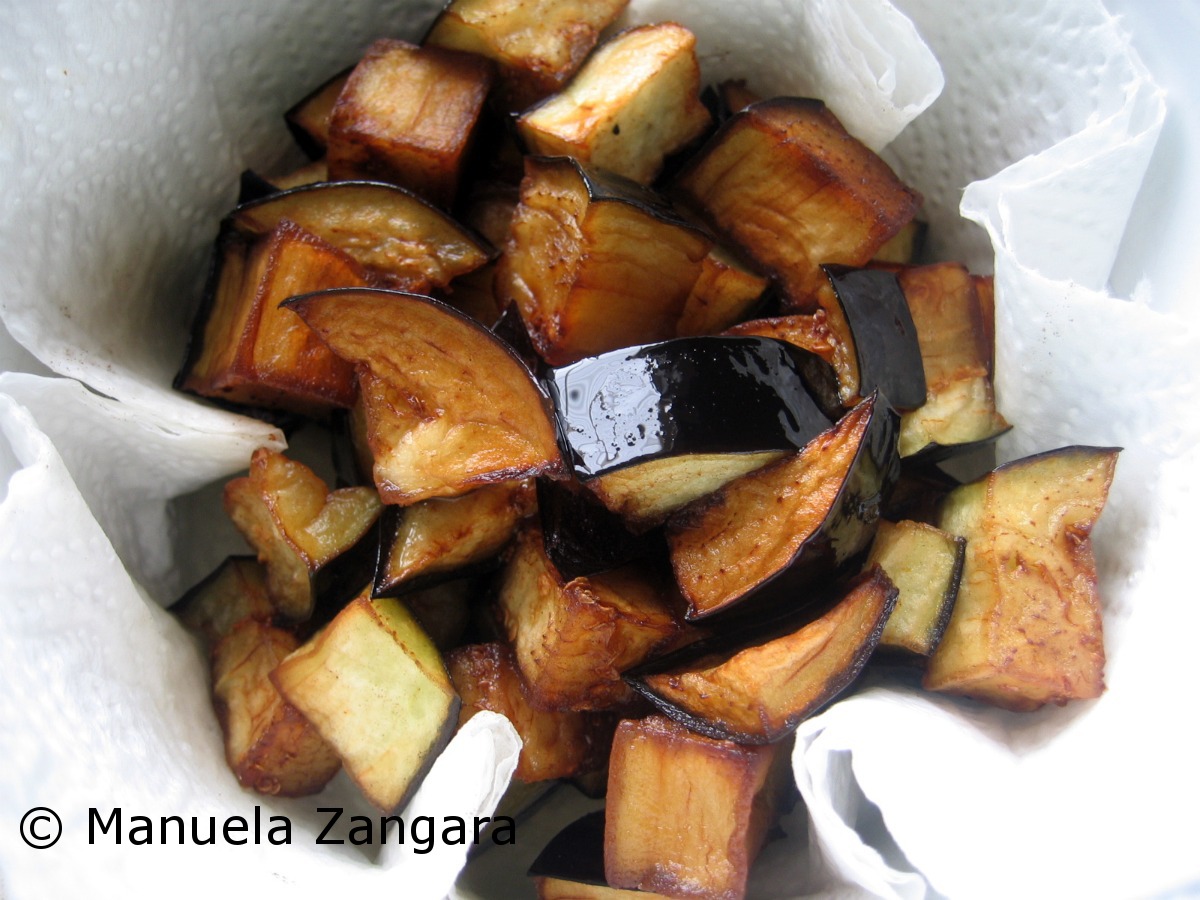 Chop the semi dried tomatoes and the preserved lemon and keep aside.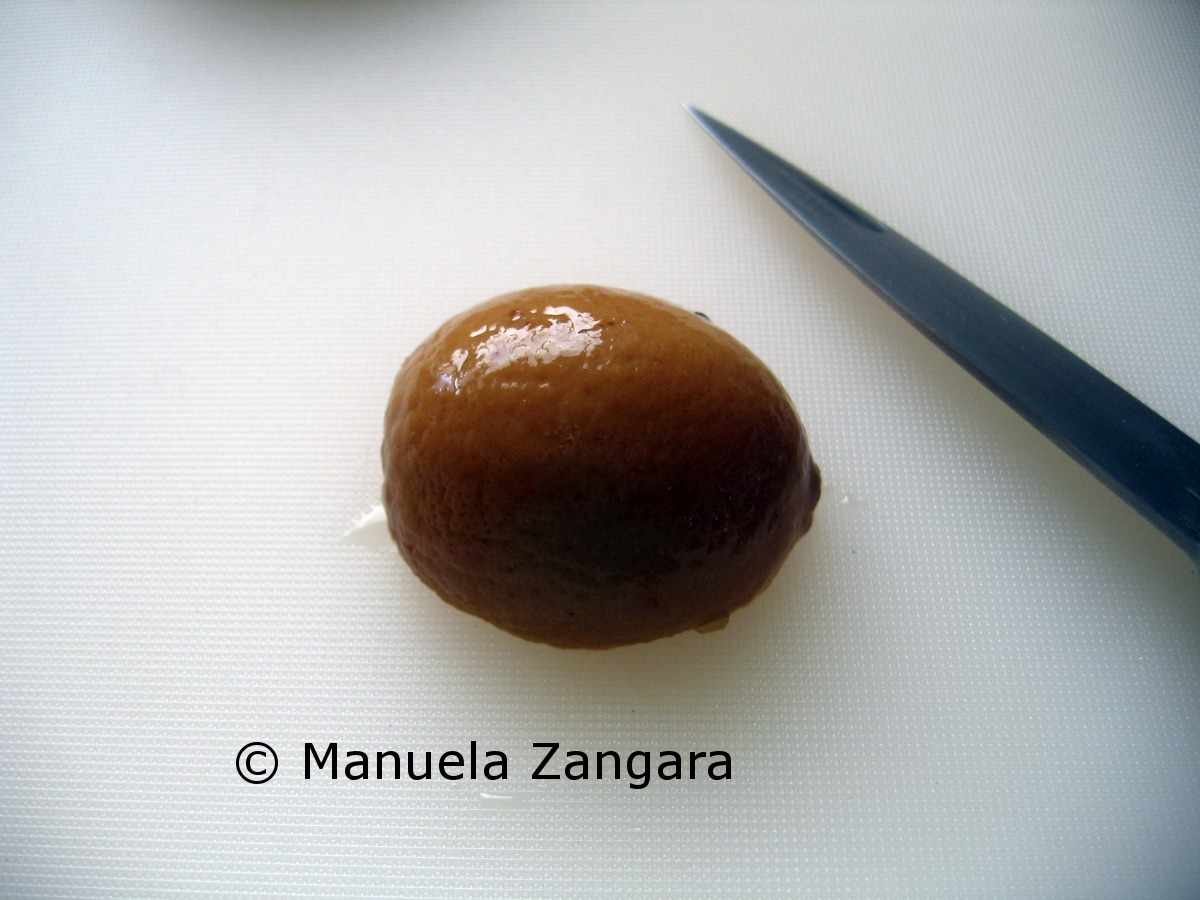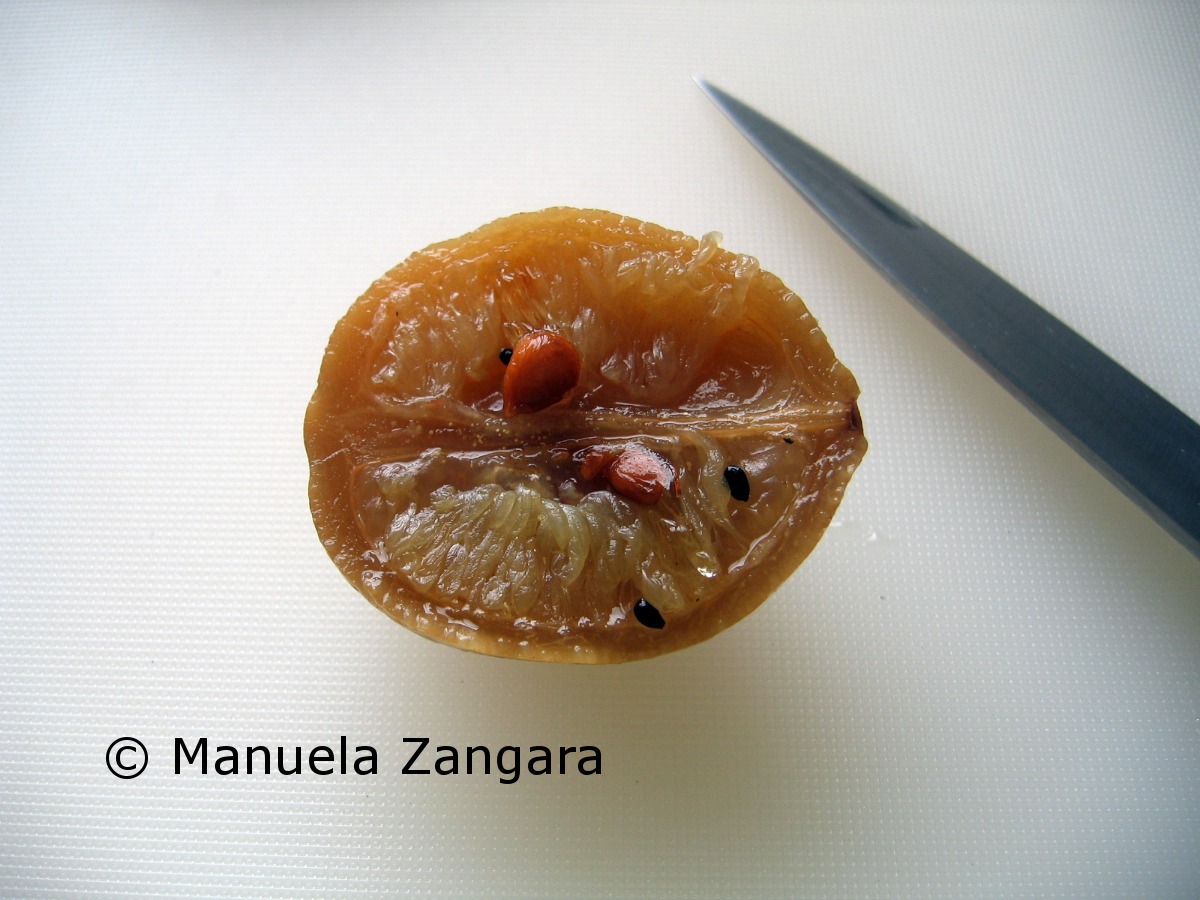 To prepare the vinaigrette, mix equal parts of lemon juice and extra virgin olive oil, add salt & pepper and dissolve 2 tbsp of honey in the mixture by whisking it through.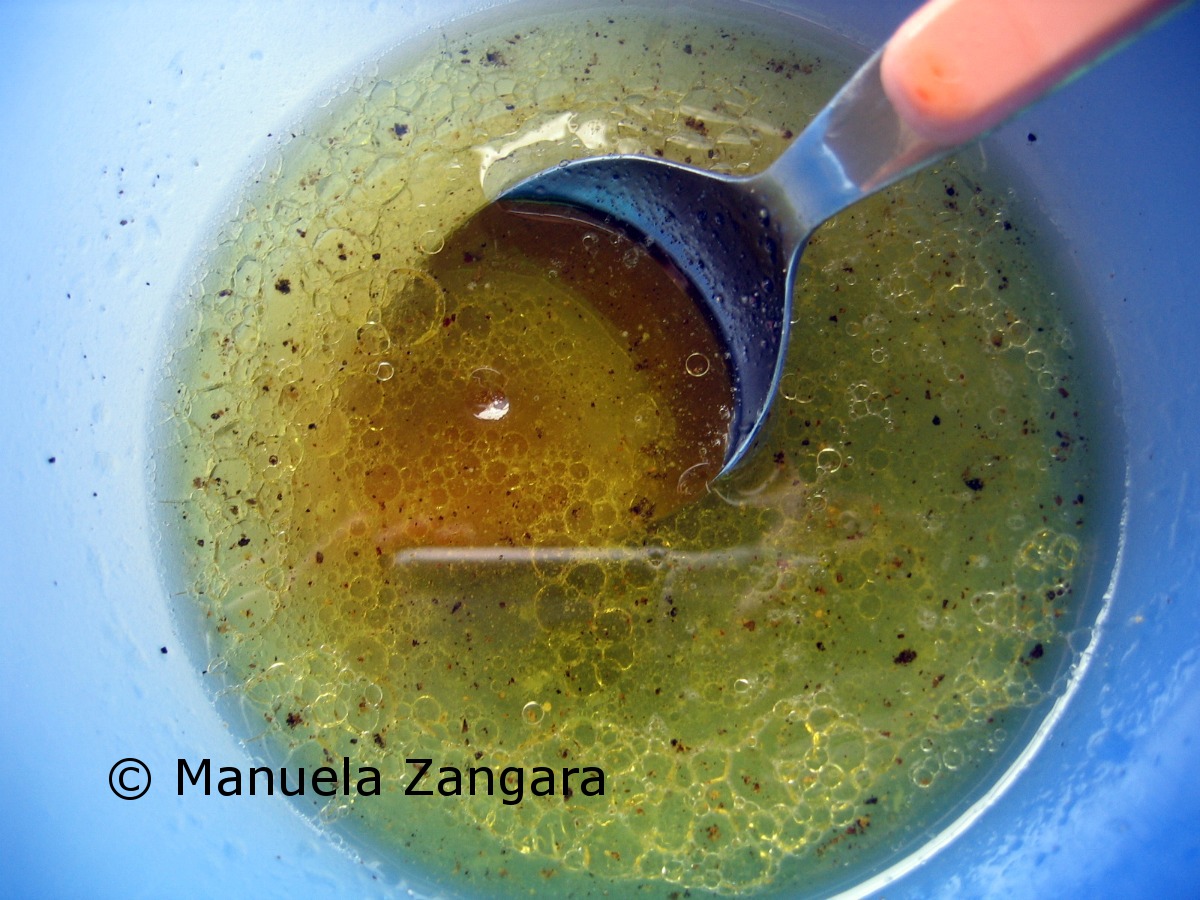 In the meantime, prepare the couscous by following the instructions on the box.
When ready, let it cool down for 5 minutes.  Now put all the prepared vegetables in a big bowl, add the couscous and vinaigrette and mix well.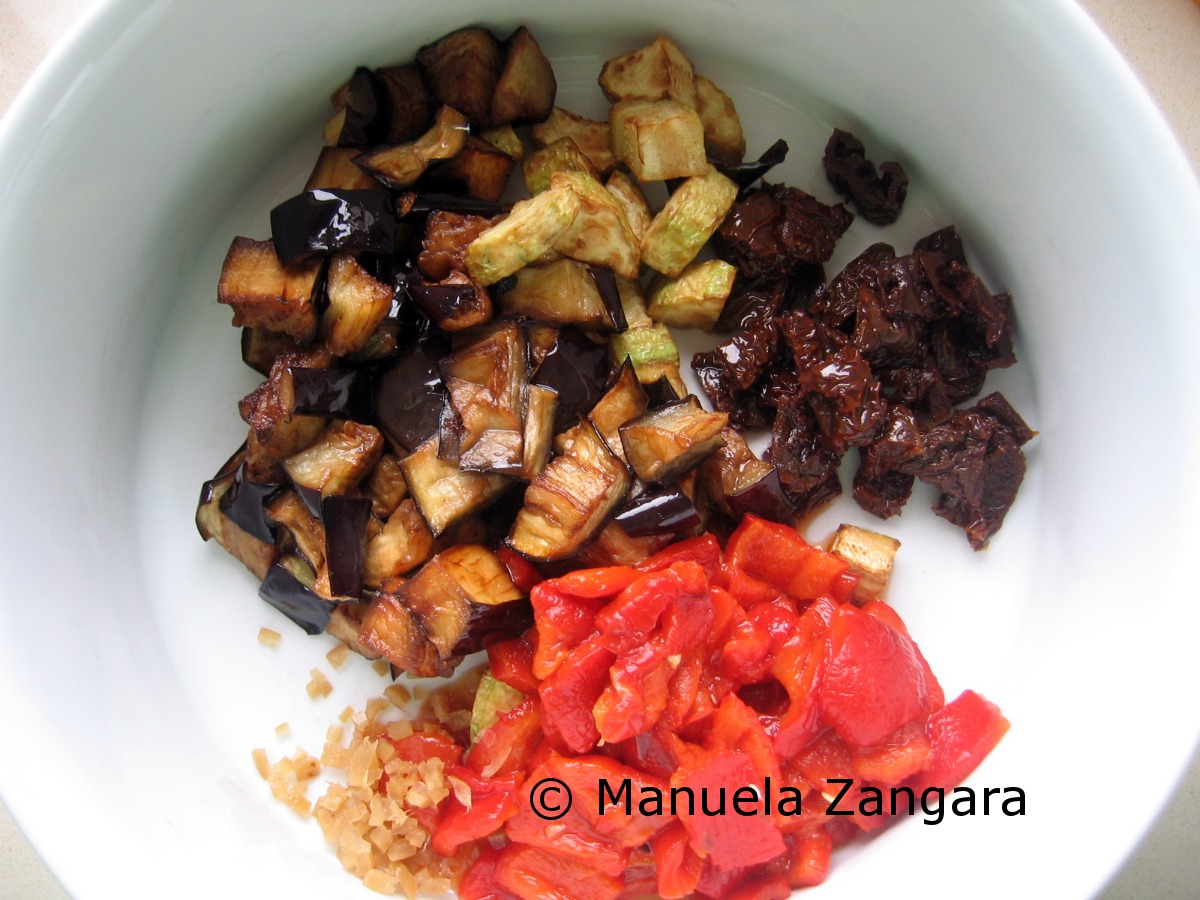 Let it stand for at least 2 hours before eating it.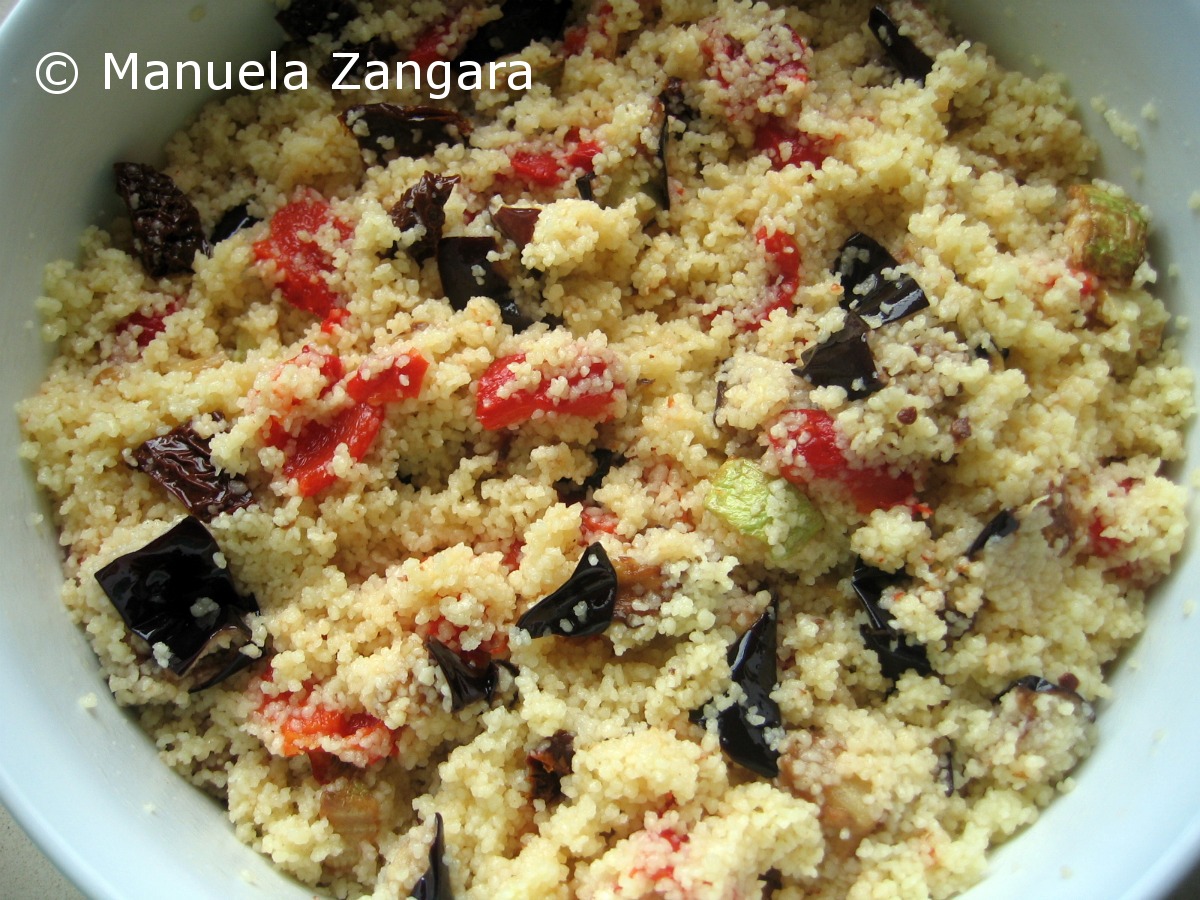 Decorate with basil leaves and serve at room temperature.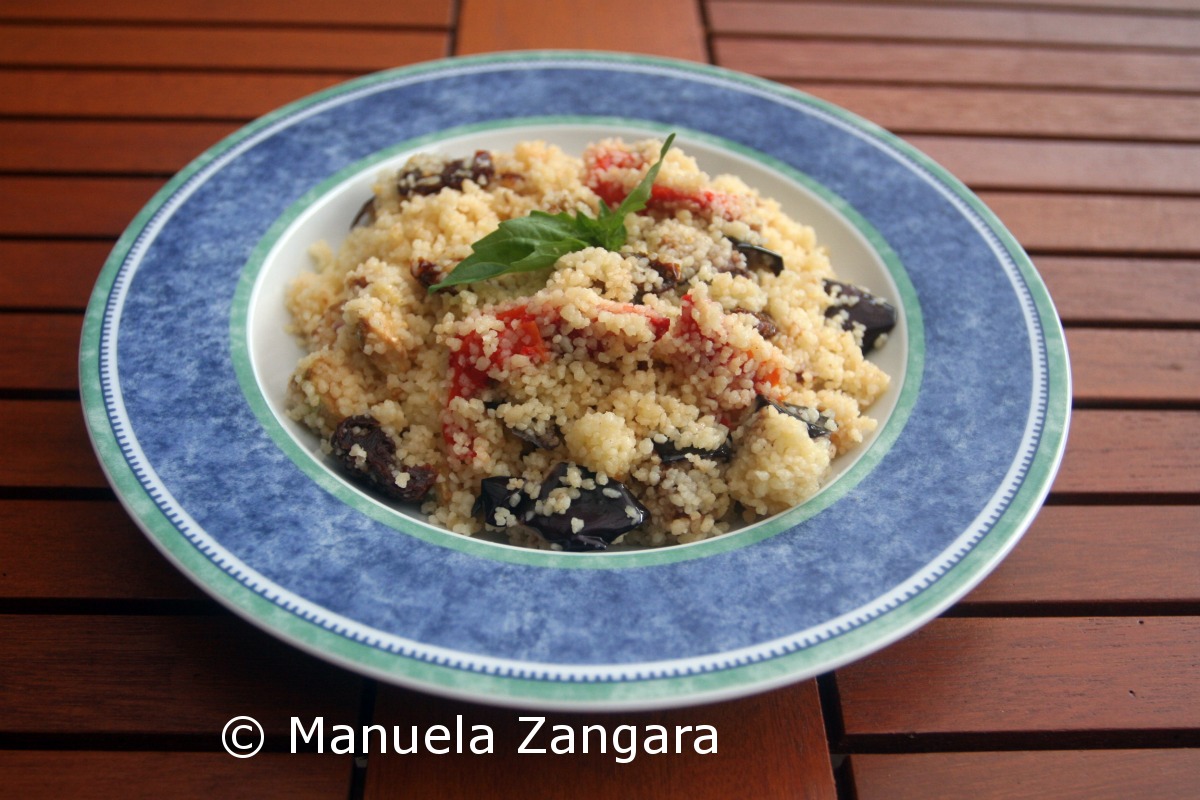 Related Posts: