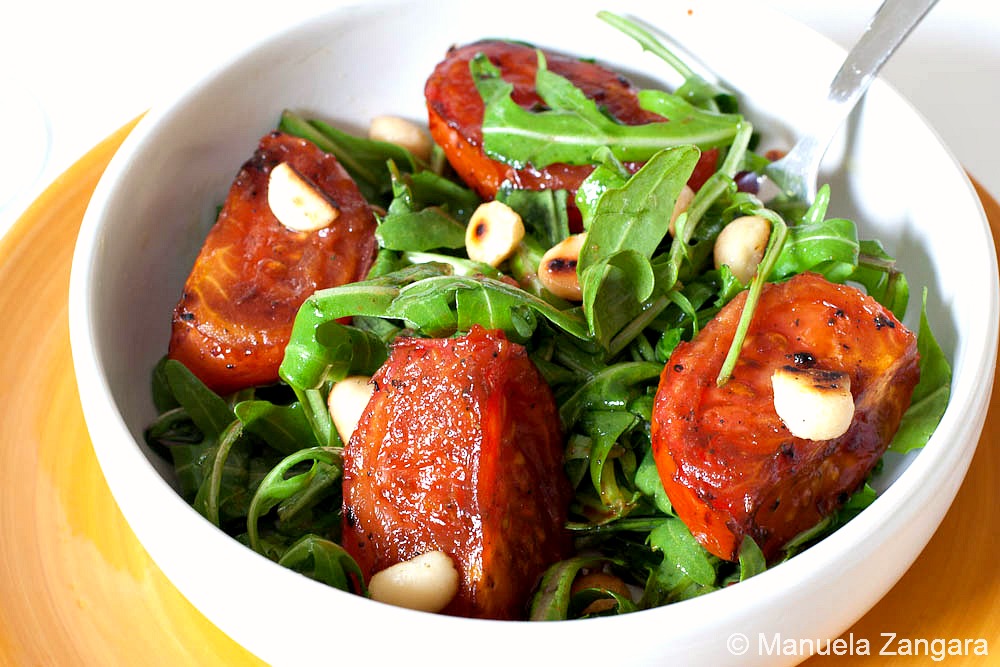 This is the salad I served as one of the sides for my "Come have some Aussie tucker, mate!" party for Foodbuzz 24×24.  It is one of those salads with fancy names that you could easily see on a café menu, yet it is very easy and quick to make at home.  These are the dishes I love the most: delicious, impressive, yet simple: perfect for a dinner party.  Try it and I am sure you will love it too.  Just make sure to use very good quality ingredients as like with all things simple, the ingredients are going to be the stars of the dish!  Enjoy!

Recipe adapted from Taste
Ingredients (for 4 to 6 people):
For the salad
3 ripe tomatoes
300 gms – 10.5 oz. rocket leaves
100 gms – 3.5 oz. macadamia nuts, halved and roasted
1 tsp sugar
For the vinaigrette
60 ml – 3 tbsp extra virgin olive oil
40 ml – 2 tbsp red wine vinegar
1 tsp Dijon mustard
2 tsp Australian honey
Salt & Pepper
Make the vinaigrette by putting the extra virgin olive oil, red wine vinegar, mustard, honey, salt and pepper in a small jar.  Close it and shake it until well combined.  Keep it aside.
Cut the tomatoes into quarters, add sugar, salt and pepper.  Heat a non-stick pan on high heat and fry the quartered tomatoes cut-side down until slightly charred.  Set them aside to cool.
Place the rocket, tomato and macadamias in a serving bowl.  Toss the dressing through the salad and serve.

Related Posts: