Sara from Ms. Adventures in Italy and Michelle from Bleeding Espresso have declared February 5th "World Nutella Day 2014″ – "a day to celebrate, to get creative with, and most importantly, to EAT Nutella".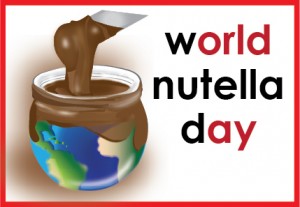 Raise your hand if you like Nutella!!!  If I had to ask this question in an Italian classroom… I would probably be surrounded by an army of raised hands and the occasional jump!  I get the same reaction when I ask my kids… luckily it's only the 2 of them, so I can easily handle their reaction!  Who can blame them though?  I am the one who introduced them to this heavenly spread.  I always have some in the pantry and I too love it.  I know I have said this before, but whenever I eat Nutella I find myself remembering my childhood, as this is a staple in every Italian child's life.  Even though I think that Nutella is best eaten on a slice of bread, I have been experimenting with it too.  This is the 3rd year I am participating in World Nutella Day and after making Nutella Pizza and Fried Nutella, this year I decided to try and make… liqueur.  I love creamy liqueurs and when I saw this recipe for Creamy Nutella Liqueur, I was immediately sold.  It is very (and I mean VERY) easy to make and it's ready in about 30 minutes (cooling time included).  Did I like it??  It tastes AMAZING… unfortunately my little ones cannot have any, but that makes mummy (and daddy) lucky…more for us!  hahahaha Cheers and happy World Nutella Day!
Creamy Nutella Liqueur #nutelladay
A very easy recipe for a delicious home-made liqueur: Creamy Nutella Liqueur for World Nutella Day!
Ingredients
210

gms

– ¾ cup Nutella

at room temperature

100

gms

- ½ cup sugar

290

gms

– 1 ¼ cup heavy whipping cream

500

ml

– 2+ cups Vodka
Instructions
In a medium pot, whisk together Nutella and sugar.

Cook over medium heat, slowly adding the cream. Gently whisk until everything has combined into a smooth mixture.

Continue heating, whisking frequently, until it starts to simmer. Remove from the heat, allow to cool down to room temperature.

Once the mixture has cooled, whisk in the vodka until well combined. Taste, add more vodka if you so desire.

Keep in the fridge for up to three weeks.

Related Posts: