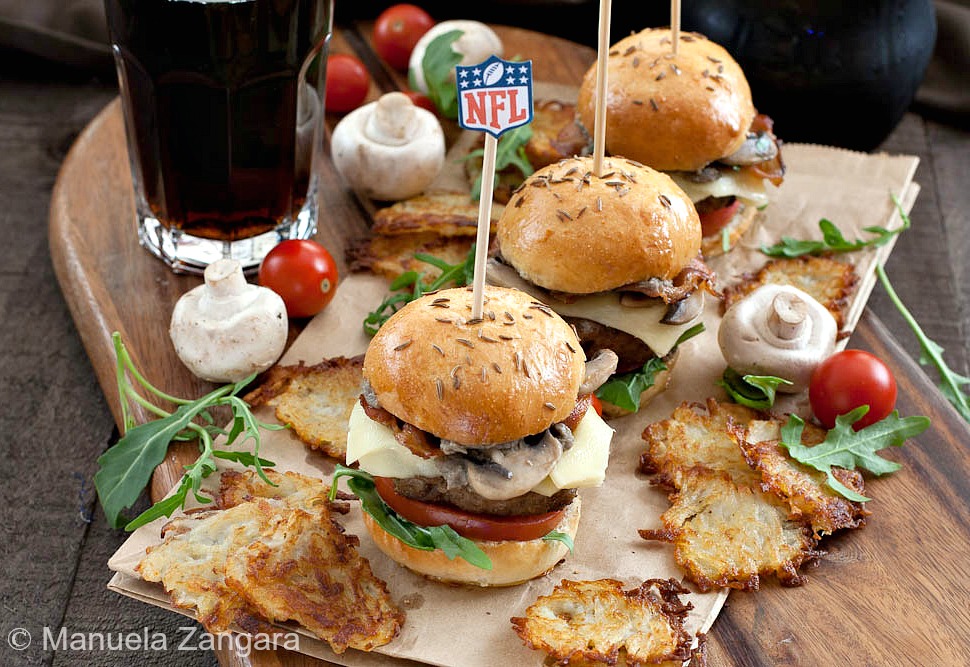 This week's Sunday Supper is all about Super Bowl food, as the event is called "Super Eats for Game Day", so if you are like me and LOVE the kind of food that is served for such occasions, you are in for a big treat!  In fact, I cannot wait to read all the amazing recipe ideas from my fellow bloggers!  As you know, I don't follow football and not living in the USA, also means no Super Bowl.  But that doesn't mean we don't have "party food".  Italians are crazy about soccer, so in a way I can relate to the "fever" that Super Bowl night brings to all football fans.  So, what could I contribute to this event??  I thought it should be something American… but I also wanted it to represent me.  So, I made sliders, but with an Italian twist.  If you follow MsM, you know that I strongly believe in the importance of Regional Italian food, so I thought I should go a step ahead and make something different to what a "stereotyped Italian slider" could be (aka green, white and red with tomato-basil-mozzarella as a filling).  I LOVE smoky flavours and I love food that comes from the Alps, so I created some "Alpine Sliders" instead.  What makes these sliders special??  Well, they are made with Italian style beef patties (there's Parmigiano Reggiano in the mix!), home-made brioche buns topped with carom seeds (which are used, together with cumin seeds, in some areas of South Tyrol), Italian speck (which is smoked prosciutto) from South Tyrol, Fontina cheese (typical of the Aosta Valley) and a mushroom sauce instead of ketchup.  All flavours that take you to the Alps bite after bite.  To serve them, I whipped up some mini potato roesti to honour the Swiss side of the mountains…  I must say these were a HUGE success.  My family devoured them, kids included.  The patties were moist and flavoursome, the bread soft and buttery and all the filling ingredients worked perfectly well together to deliver a slightly smoked and earthy flavour.  Plus, they are healthy as everything is home-made and there are some veggies in there too!  It is one of the creations I am most proud of and I highly recommend them for your Super Bowl party.
So, what are you cooking for Super Bowl night or what is your favourite party food?
Alpine Sliders #SundaySupper
Cuisine:
Italian, American
Serves:
makes 6 x 7.5 cm – 3 inches sliders
Ingredients
Mushroom Sauce
Buns
Beef Patties
To Assemble
Instructions
Mushroom Sauce
Put the garlic and extra virgin olive oil in a pan and sauté it for a minute.
Add the sliced mushrooms and mix.
Add the white wine and increase the flame to high. As soon as the alcohol evaporates, decrease the flame and let it cook for 5 to 10 minutes.
Add salt to taste and the chopped parsley. Mix well and put the fire off.
When cool, reserve 1 tablespoon of mushrooms and blend the rest into a paste.
Buns
Mix together the water, milk, yeast and sugar. Keep aside until it becomes frothy.
In the meantime, beat one of the eggs.
In the bowl of an electric mixer fitted with the paddle attachment, put flour, salt and butter and mix for 2 minutes.
Now add the yeast mixture and the beaten egg and knead until you get an elastic and smooth dough. It will take about 10 minutes. The dough will be a bit sticky, but the more flour you add, the tougher the buns will get.
Shape the dough into a ball, spray it with some oil and return it to the mixer bowl.
Cover the bowl with cling wrap and let the dough rise until it doubles in volume (at least one hour).
Divide the dough into equal parts and gently roll them into 5 cm – 2 inch balls. Put them on a tray lined with baking paper. Remember to keep them 5 to 7 cm (2 to 3 inches) apart as they will rise some more. Cover them loosely with some cling wrap lightly coated in oil and let the buns rise in a warm place for at least one hour. Beat the remaining egg with one tablespoon of water and use it to brush the top of buns. Sprinkle them with carom seeds.
Bake the buns in a preheated oven at 200°C – 400°F (with the rack in the center of the oven) for about 15 minutes, or until the tops are golden brown. Turn the tray around halfway through baking to ensure they cook evenly.
When ready, transfer them to a wire rack to cool completely.
Beef Patties
Put the mince, Parmigiano Reggiano, egg, breadcrumbs, grated nutmeg, salt and pepper in a bowl and mix all the ingredients very well using your hands.
To shape the patties, I used a 7.5 cm – 3 inch round cookie cutter. Make the patties about 2 cm – ¾ inch thick, press them well and keep them aside.
To Assemble
Put the sliced speck on an oven tray covered with baking paper and bake it until crunchy. Keep aside.
Cut open the buns and lightly toast them. Keep them aside.
Sauté the beef patties in a pan with butter and cook them until done the way you like. Then add the Fontina cheese slices. Remove the burgers, cover them loosely with some aluminium foil to keep them warm.
To assemble your sliders, start your layers with some rocket/arugula, then a slice of tomato, the burger with cheese, the slices of Italian speck and a few mushrooms. Spread some mushroom sauce on the other half of the burger bun and put it on the top of the slider.
Serve immediately with some mini potato roesti (click here for the recipe – just make them the size of a spoonful).
Notes
The above ingredients for the buns will make about 15 slider sized buns. You can easily freeze the extra buns by putting them into a Ziploc bag and have them ready for more sliders!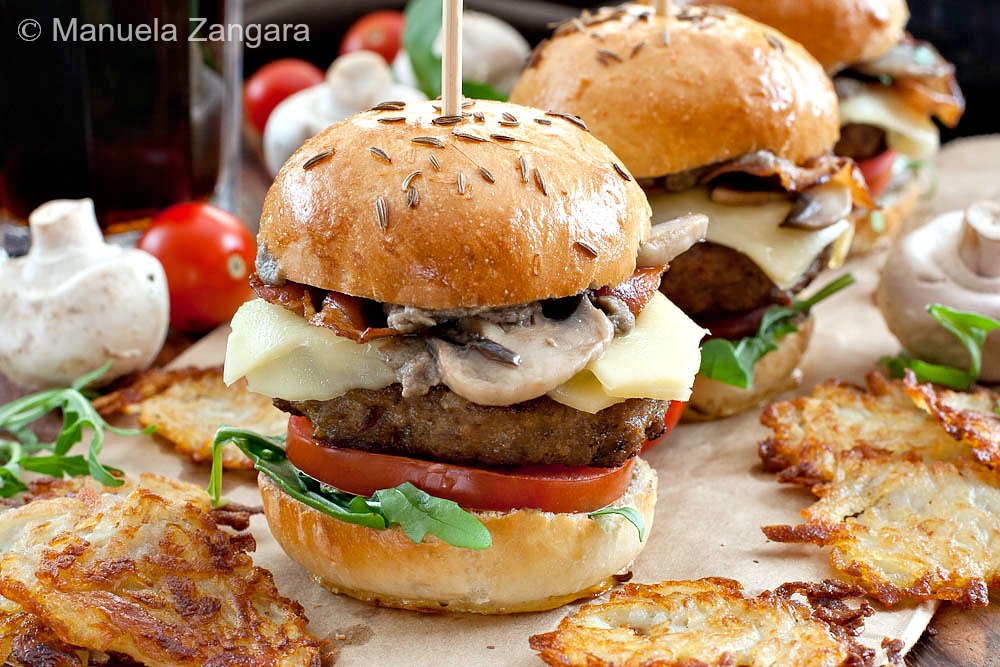 Make sure you check out all the Game Day deliciousness we are sharing this Sunday!
Game Day Appetizers:
Game Day Entrees:


Game Day Desserts:
Join the #SundaySupper conversation on twitter every Sunday!
We tweet throughout the day and share recipes from all over the world.
Our weekly chat starts at 7:00 pm ET. Follow the #SundaySupper hashtag
and remember to include it in your tweets to join in the chat.
Check out
our #SundaySupper Pinterest board for more fabulous recipes and food photos.
Would you like to join the Sunday Supper Movement? It's easy! You can sign up by clicking here: Sunday Supper Movement.
Pin It

Related Posts: