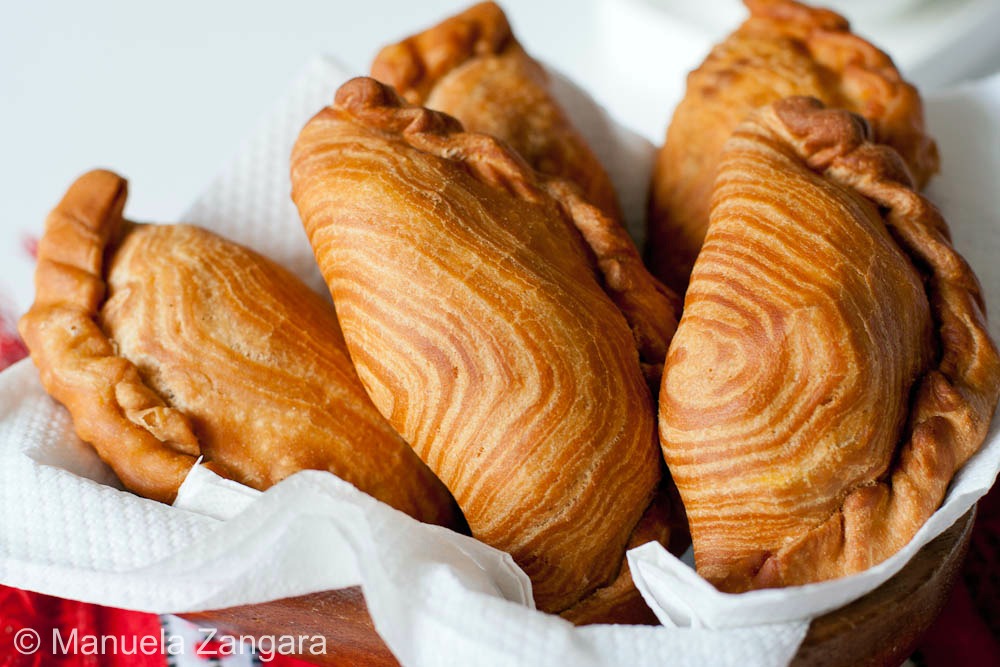 I love Thai food.  It is the first Asian cuisine I learnt to enjoy.  I love everything about it: textures, flavours, spices, smells… the full package.  Whenever we go out to eat Thai, curry puffs are always among the appetisers we order.  I love these crunchy little parcels of fried pastry filled with all kinds of goodies and spices.  My favourite ones are the potato filled curry puffs.  I like them so much that I started making them at home.  I came up with a filling recipe that everyone in the family likes and that is a mix of many recipes.  I really do not know how authentic this filling is, but it does taste pretty much the same as what we eat at Thai restaurants around here.  As for the pastry, I have been looking for a long time for a good recipe without finding one, so I used to make them with puff pastry.  Until a few days ago, when I came upon a very promising (and great looking) curry-puff pastry recipe at Tes at Home, a blog I LOVE.  Tes is originally from Thailand so I immediately knew I had to give this recipe a try!  And I am so glad I did: the curry puffs tasted delicious and the pastry was crunchy and light.  Besides, it looks great… it is actually a pastry made with 2 different doughs: a water based dough and a butter based dough.  They are then wrapped one inside the other and rolled out in a very clever way to get beautiful double coloured patterns after you fry them.  Don't they look gorgeous?
Ingredients:
For the filling
1 tbsp vegetable oil
1 onion, finely chopped
700 gms – 1.5 lbs potatoes, diced and boiled
1 carrot, grated
1 cup peas
1/4 cup soy sauce
½ tsp ground turmeric
½ tsp ground cumin
¼ tsp ground coriander
2 tsp fish sauce
½ a lemon's juice
2 tsp sugar
For the pastry – Recipe adapted from Tes at Home
Water based dough
2 ½ cup flour
1 tsp baking powder
2 tbsp vegetable oil
3/4 cup lukewarm water
Butter based dough
1 ½ cup flour
75 gms – 5 tbsp butter cut into small cubes
2 or 3 tbsp water
Vegetable oil, for deep-frying
Sweet chilli sauce, to serve
To prepare the filling
Heat some vegetable oil in a non-stick frying pan over medium heat. Add the chopped onion and cook for 3 to 4 minutes or until soft.
Add the boiled potato, grated carrots and peas and cook for 1 minute.
Combine the soy sauce, turmeric, cumin, coriander, fish sauce, lemon juice and sugar in a bowl.
Pour the sauce over the veggies.  Cook until dry.  Set aside to cool completely.
Now prepare the pastry.  Start by making the water based dough.  Put all the ingredients in a mixer with a dough hook and knead until you get a smooth dough.
Wrap it in cling-wrap and let it rest for 20 minutes.
In the meantime, proceed to make the butter based dough in the same way.
When both doughs are ready, take the water based one and roll it out into a sheet.  Then wrap it around the butter based dough.

Now roll out this ball into a long sheet and roll it back in tightly like a Swiss roll.
Roll out the dough again and roll it back in tightly like you did before.
Slice the dough into 3 mm thick circles and gently roll them out with the rolling pin.
Spoon 1 tablespoon of the potato mixture into the centre of each pastry round. Fold the pastry in half and fold the edges over to seal your curry puff.
Deep fry them in batches in vegetable oil over medium-high heat until golden brown.  Transfer them to a plate lined with kitchen paper to drain the excess oil.  Serve them hot with some sweet chilli sauce.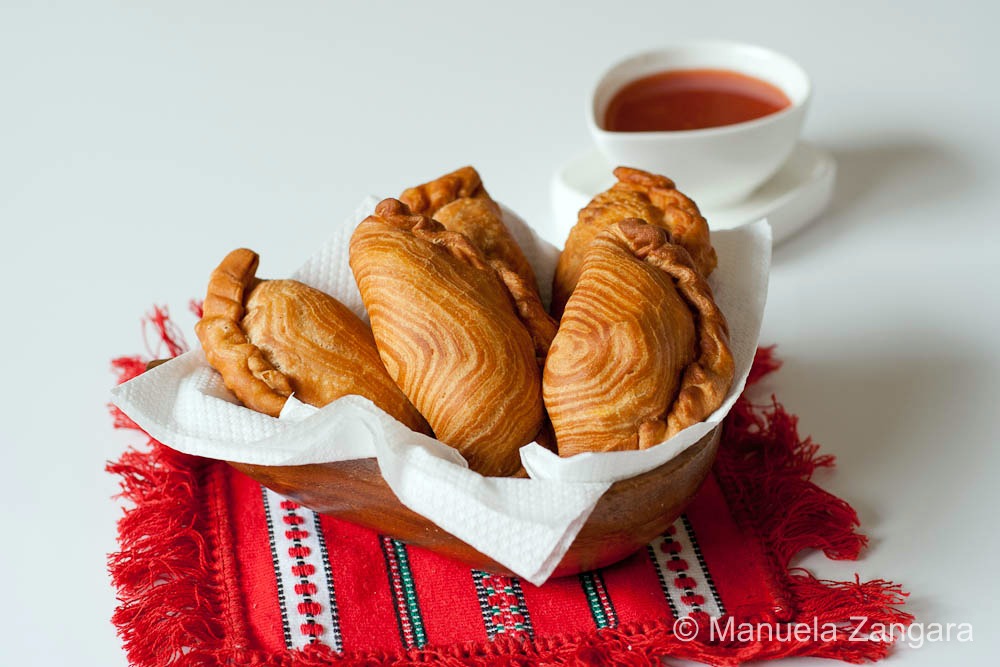 NOTE: You can also make these curry puffs using puff pastry.  And even though they won't be the traditional curry puffs, the result will still be delicious.
You can even bake the ones made with puff pastry instead of frying them.

Related Posts: