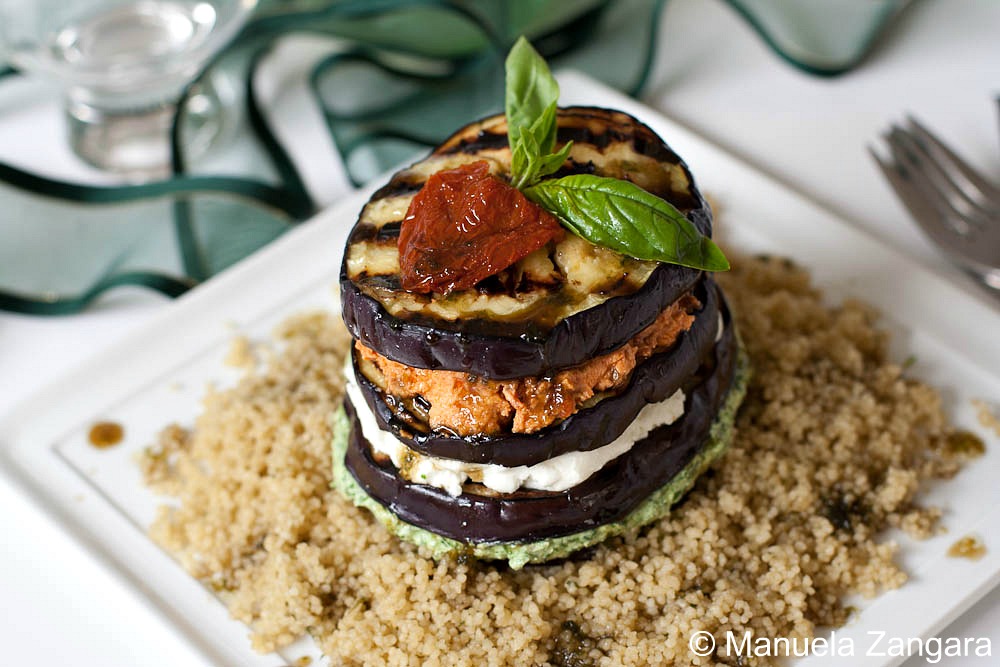 Our April 2012 Daring Cooks hosts were David & Karen from Twenty-Fingered Cooking. They presented us with a very daring and unique challenge of forming our own recipes by using a set list of ingredients!
Sounds easy, uh?  Well… sort of… at least until I read the lists!  Here they go:
List 1: Parsnips, Eggplant (aubergine), Cauliflower
List 2: Balsamic Vinegar, Goat Cheese, Chipotle peppers
List 3: Maple Syrup, Instant Coffee, Bananas
And we had to use at least 1 ingredient from each list to create an original recipe. 1 from EACH list.  I read and re read the lists over and over again and started panicking!  Being Italian, maple syrup & chipotle (and parsnips) are almost unknown ingredients.  Surprisingly enough, even instant coffee… I usually drink espresso!  And how do I cook bananas in a savoury dish??  Panic!  But I love a good challenge, so I concentrated on the single tastes and thought about what I already had in my fridge and pantry and started excluding a few ingredients and pairing others.  In the end, I came up with 2 "international" dishes with Italian influences! And the whole family loved them!
Today I am going to share one of them with you.  It is a vegetarian dish, perfect to share with your loved ones and great as a starter or a complete meal.  It is an eggplant mille-feuille made up of grilled eggplant slices and 3 types of goat cheese spread: "normal", basil and sun-dried tomato.  To get back to my origin I chose the 3 colours of the Italian flag.  I served it on a couscous salad dressed with a vinaigrette made with maple syrup, balsamic vinegar and basil.  It was a great combination of flavours and I ended up using 4 ingredients instead of 3 (eggplant from List 1, balsamic vinegar and goat cheese from List 2 and maple syrup from List 3).  I hope you enjoy it as much as we did!  Thank you so much David & Karen for such a fantastic challenge!
Make sure to come back in a couple of days for the next original recipe!
Ingredients (for 2 persons, if you want you can make 2 separate mille-feuilles by using smaller eggplants):
For the eggplant
4 slices eggplant
2 tbsp extra virgin olive oil (plus more to spray/brush)
½ clove garlic
1 pinch salt
For the tri-colour goat cheese
100 gms – 3.5 oz. goat cheese, divided in 3
8 sun-dried tomatoes
15 basil leaves
For the couscous and maple balsamic vinaigrette
80 gms – 2.8 oz. couscous, cooked per package directions and cooled
1 tbsp balsamic vinegar
1 tbsp maple syrup
1 tbsp extra virgin olive oil
1 pinch salt
6 big basil leaves
Start by grilling the eggplant.  Cut 4×1.5 cm (0.6 inches) slices out of an eggplant, making sure to cut them from the larger part of the eggplant.  Also, keep in mind that the final dish will look better if the slices are all more or less the same size.  Put the slices in salty water and keep them aside for 30 minutes (this will make them less bitter).  Heat a griddle pan.  Make sure it is very hot.  Then spray or brush the slices on both sides with some extra virgin olive oil and and cook them on the griddle for a couple of minutes per side.  Make sure NOT to move them around the griddle, so you get nice and clear marks on them.  When they are ready, keep them aside to cool down.
In the meantime, put the ½ clove of garlic, 2 tbsp of extra virgin olive oil and salt in a plate/container and keep it aside so the flavours combine.
Prepare the couscous following the package instructions and keep it aside to cool down.
Divide the goat cheese in 3 equal parts.  Keep 1/3 aside, but do soften it up a bit with a fork.  Put 1/3 in a mixer with the sun-dried tomatoes and blend until combined.  Keep it aside.  Put the remaining 1/3 in a mixer with the basil leaves and blend until combined.  Keep it aside too.
Now prepare the vinaigrette.  Put the maple syrup, extra virgin olive oil, balsamic vinegar and salt in a small maison jar.  Grind the basil leaves with a mortar and pestle and add them to the mixture.  Close the maison jar tightly with the lid and shake until well combined.  NOTE: you can also put all the vinaigrette ingredients in a mixer and blend them together.
Dress the cooled couscous with the vinaigrette, but keep some aside to drizzle on the eggplant mille-feuille.  Put the couscous on a plate.
Take the grilled eggplant slices, quickly dip them in the garlic oil and start building the mille-feuille.  Put one slice on in the centre of the plated couscous, spread the green goat cheese on it, cover with another eggplant slice, spread the white goat cheese on it, cover with another eggplant slice, spread the red goat cheese on it and finish the mille-feuille with a slice of eggplant.
Top it with some basil and a piece of sun-dried tomato.
Drizzle the final dish with some more vinaigrette and serve it at room temperature.
On another note, Manu's Menu has been nominated for the Best Australian Blogs 2012 Competition organised by the Sydney Writers' Centre.  You can vote for Manu's Menu in the People's Choice category by clicking on the badge below!  Just follow the instructions, it won't take long, promise!  THANK YOU ALL sooooo MUCH!!!!!!!!
I am on page 3, but make sure you click "next" even after you have voted for me… you have to get till the end for your vote to be registered (I know… tricky).  Voting will close Wednesday 9 May at 5.00 pm, so please… spread the word!!! THANKS! <3

Related Posts: