I grew up in a family of artichoke lovers.  Every week, in winter, my parents would buy plenty of artichokes at the local market and we would eat them in all sorts of ways.  I have already shared a few recipes and ideas on what to do with this delicious vegetable, and today I am back with the simplest recipe of all: Carciofi in Pinzimonio.  Carciofi means artichokes in Italian, while Pinzimonio is the dipping sauce, which in this specific case is made with extra virgin olive oil, red wine vinegar and salt.  We have all over indulged in the last few days (I know I have!), so this simple and healthy meal idea comes perfectly in handy… enjoy!
Carciofi in Pinzimonio
Carciofi in Pinzimonio - a classic Italian recipe for an easy and healthy way to enjoy artichokes.
Ingredients
Pinzimonio Vinaigrette
4

tbsp

extra virgin olive oil

4

tbsp

red wine vinegar

Salt to taste
Instructions
Rinse the artichokes and slice the harder part of the stem off.

Put them in a large pot and add water to cover the artichokes half way through.

Cover, bring to a boil and reduce the heat to simmer. Cook for 25 to 45 minutes or until the outer leaves can easily be pulled off.

Make the pinzimonio vinaigrette by mixing the extra virgin olive oil, red wine vinegar and salt in a bowl.

Serve as a dip for the artichokes.
Recipe Notes
Artichokes can also be cooked in a pressure cooker (about 15-20 minutes cooking time). The cooking time depends on how large the artichoke is, the larger it is, the longer it takes to cook.
I also like to dip boiled artichokes in Mayo!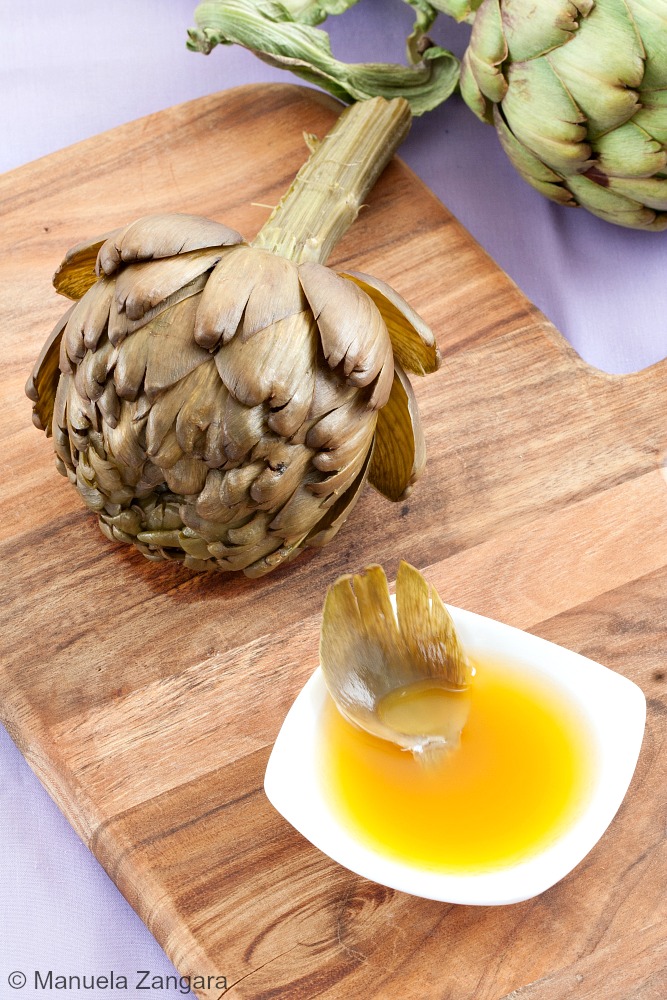 Related Posts: