This month, the Daring Cooks challenged us to think inside the box – the icebox, that is! Audax taught us some really cool tips and tricks for stocking our freezers with prepare-ahead meals that can keep our taste buds satisfied even during the busiest of times.
It is back to school time for many families in the Northern hemisphere and for many others that time will come soon.  As for us down here, we are still in the thick of it with Term 3 well on its way.  So, recipes for made-ahead meals are always welcome.  I often stock up on goodies whenever I have some extra time in the kitchen.  Weekends and school holidays are the time during which I do some extra cooking.  Whenever I make something for lunch/dinner that requires a little more time and effort, I make a little more and freeze it for later.  I freeze so many things: gnocchi (both potato and ricotta ones), lasagne (both assembled or just the pasta sheets), ravioli, tortellini, gyoza or momos, sofficini, fish couscous, soups, involtini… you name it.  That's how we get to have a good dinner every day, even during busy school days.  Today, I will share with you the recipe for another one of our favourite freezer friendly meals: Gnocchi alla Romana.  These are not your everyday gnocchi.  They are made with semolina and milk, cut in rounds and then baked with Parmigiano Reggiano and butter until golden brown.  They are some of the best comfort food Italy has to offer.  It is a traditional recipe from Rome, as the name suggests and they are apparently the first kind of gnocchi ever made, as they date back (in a very similar form) to the Roman Empire!  They are really easy to make and they freeze beautifully, so I always make extra.  Enjoy and don't forget to check out all my Regional Italian recipes!
Gnocchi alla Romana
Gnocchi alla Romana - semolina based gnocchi Roman style, topped with butter and Parmigiano Reggiano and baked until golden brown.
Ingredients
Gnocchi
250

gms

– 1 ½ cups semolina

1

lt – 4 cups milk

60

gms

– ¼ cup butter

3

egg yolks

60

gms

– 2/3 cup Parmigiano Reggiano

finely grated

¼

tsp

Nutmeg

grated

Salt to taste
Assembling
40

gms

– 3 tbsp butter

chopped in small cubes

60

gms

– 2/3 cup Parmigiano Reggiano

finely grated
Instructions
Put the milk, 60 gms – ¼ cup of butter, nutmeg and salt to taste in a big pot.  Bring to a boil.

Add the semolina and keep stirring.  Cook, always stirring, for about 10 minutes or until it thickens.

Remove from the fire and add the egg yolks one by one, stirring until well combined.

Pour the mixture onto a tray covered with baking paper and spread it into a 1.5 cm – ½ inch thick sheet.  Let it cool down so it firms up.

Cut out rounds of 5 cm – 2 inches in diameter.  Put them in a baking dish, making sure to slightly overlap them.

Sprinkle with the remaining 60 gms – 2/3 cup of finely grated Parmigiano Reggiano and top with the small cubes of butter. At this point, if you want, you can freeze them.

Bake in a pre heated oven at 200°C – 395°F for 20 minutes or until golden brown.

Serve warm.
Recipe Notes
To freeze Gnocchi alla Romana, simply cover the baking dish with foil and freeze them.  To cook them, just bake them from frozen.  They may require a couple of extra minutes in the oven to brown.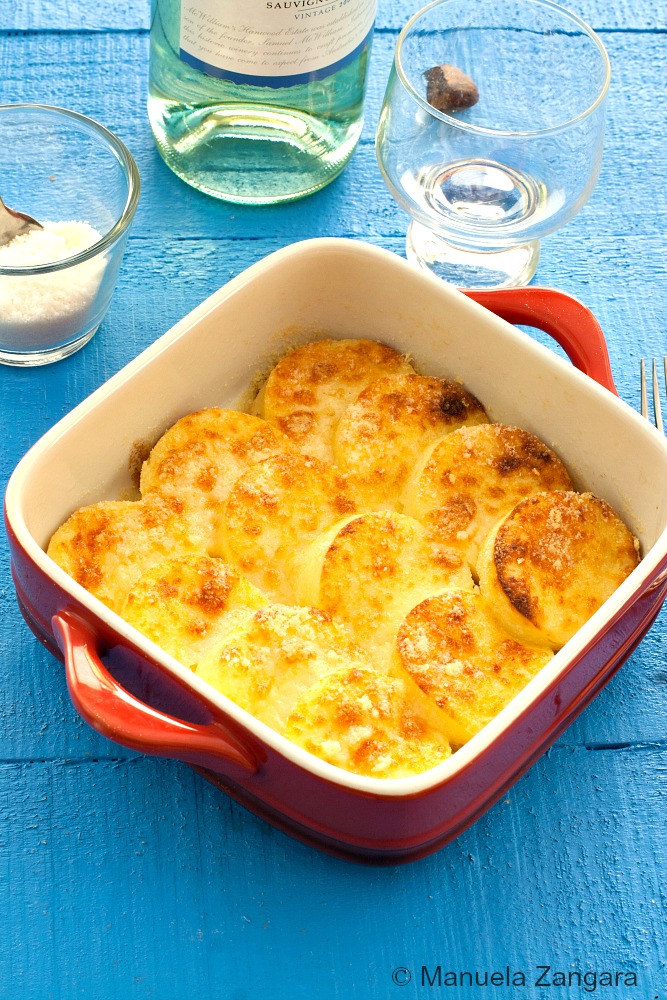 Related Posts: