Today I want to share with you my review of the hotel we stayed in in Bora Bora during our recent holiday in French Polynesia.
If you have read my travel diary, you will know that visiting Bora Bora had been a dream of mine for a long time, so I immediately knew it HAD to be included in this holiday.  The island itself is very small (much smaller than Moorea) and we did not visit it in depth.  As we only had 5 days on the island, we decided to dedicate our time to its world-renowned lagoon.  It is an amazing sight.  If you are lucky enough to sit on the left-hand side of the plane that takes you there, you can get to enjoy fantastic island views.
The airport itself is on a small motu (a little island) in front of the main land.  I must confess that I did not expect it to be in such a beautiful place.  The colour of the lagoon as soon as you exit the airport is breathtaking and you immediately begin to think that you have landed in paradise.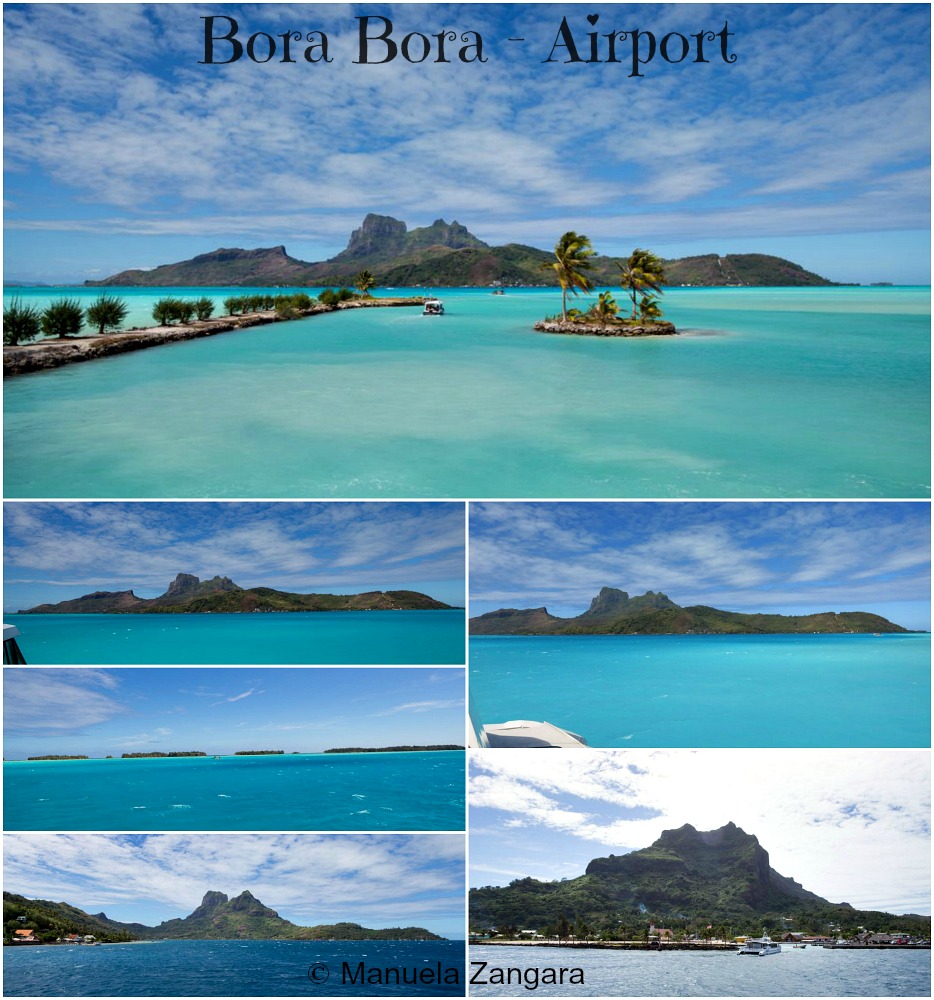 As we had booked the Hilton in Moorea, we decided to stick to it and book the Hilton in Bora Bora as well.  I must confess that it wasn't my first choice.  I had always wanted to go to Le Meridien, as it is in what I consider the best position in the lagoon.  BUT, after our experience at Le Meridien in Ile des Pins, I was quite worried about having my dream ruined by average service.  Snorkelling was also another important factor in our choice.  We wanted to stay on a motu and not on the main island as we wanted a bit more privacy and the possibility to enjoy the view of Mount Otemanu (the symbol of Bora Bora).  In the end we went for the Hilton, as it seemed to satisfy all our requirements: it is on a motu, it has a view of Mount Otemanu (from some areas of the resort), it has good snorkelling and being the Hilton we did expect to have great service.  Last but not least, my husband is a Hilton Honors gold member, which gave us a few perks like free breakfast and Internet (in our room), free late check outs and free upgrades upon availability (on arrival).
When we decided on the hotel, we started the usual reservation process.  We had a very good experience with the main Hilton office in Papeete that handled the reservations.  When it came to upgrades and asking specific information directly to the hotel, things were quite different.  If you have read my review of the Hilton in Moorea, you will know that we had booked their most basic accommodation and then managed to buy an "advanced upgrade" to an Overwater Bungalow for 8,000 xpf per night.  We were expecting to be able to do the same here.  Well.  No.  The only "advanced upgrade" in Bora Bora is to a Deluxe Overwater Bungalow and you need to pay 22,000 xpf per night to secure it!!  And that's on TOP of the room rate you are already paying.  We tried to negotiate.  We told them about our experience with the Hilton in Moorea.  Nothing.  We did not want a Deluxe Overwater and we did not want to book the basic room, get there and hope in an upgrade (it was high season).  After many emails, we gave up and decided to book the "normal" Overwater Bungalow from the beginning and hope, eventually, in a free upgrade to a deluxe on arrival.  All this process was quite unnerving.  Actually, it was really frustrating.  I still cannot understand why 2 Hilton hotels in the same country have such a tremendous difference in pricing and upgrade policies.
The hotel was also very slow at replying to our emails, especially when we wrote to them to ask information on transfers and activities, it took almost 2 weeks (and several emails) to get an answer (we left for Tahiti a couple of days after their reply)!
All this really worried us about their level of customer service and I was not sure of what to expect during our stay… such a different feeling from the Hilton Moorea!
In the end we decided not to get the hotel transfer, which costs 4,950 xpf per person per way.  There is a much cheaper option, which worked perfectly for us.  You can get the free Air Tahiti shuttle from the airport to Vaitape and then from Vaitape catch the Hilton shuttle that will take you to the hotel for 750 xpf per person round trip!  We were not pressed with time, besides we waited all of 10 minutes in Vaitape for the shuttle… so we saved quite a bit of money and were not inconvenienced.  The Hilton representative at the airport was very helpful and we were able to send our luggage straight to the hotel.
Checking into the hotel was a very confusing experience.  There was no "express" or priority check in for Hilton Honors Members and we were left waiting for half an hour at the reception before someone came to get our passports and give us a form to fill in.
When our turn came, we were told that they were "almost" full in the overwater category and that they could not (would not?) upgrade us to a deluxe.  Mmmmm, if you are "almost" full, it means you have some rooms… so why can't you upgrade us???  Never mind.  By then, we were too tired of their inconsistent answers to even bother.
We had requested room #110 and we were informed that we had been assigned room #112, which is right next door.  So that was fine.
We arrived at the hotel at about 11:30 AM and we were told that our room would not be ready before 2 PM.  By then, the kids were already cranky, so we were not very happy about it.  Anyhow, we went to have lunch and then, at 2PM we finally got our room.
There are 122 rooms divided in Garden & Lagoon View Suites, Garden Villas, Panoramic Hillside Villas, Overwater Villas, Deluxe Overwater Villas, Royal Overwater Villas and Presidential Overwater Villas.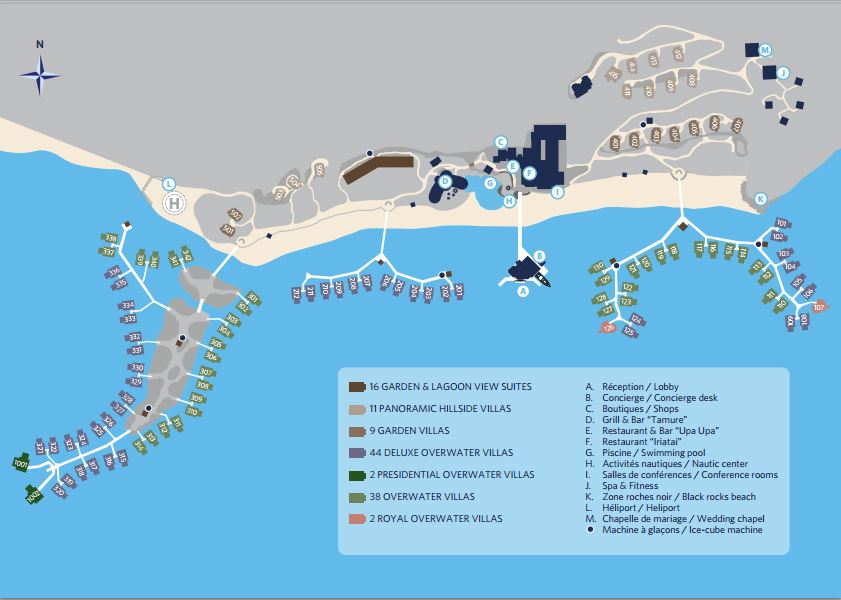 Garden & Lagoon View Suites – these are the most basic rooms and they are actually "real rooms" and not bungalows (sorry I have no picture of these).
Garden Villas – bungalows close to the beach
Panoramic Hillside Villas – bungalows on the hill, many of which have amazing views of the lagoon (these have the same price as the Garden Villas)
Overwater Villas – bungalows over the water
Deluxe Overwater Villas – the same as the Overwater bungalows, but in more "panoramic areas"
Royal Overwater Villas – big Overwater bungalows
Presidential Overwater Villas – HUGE overwater bungalows (2 storey!)
I am not sure about the rest of the bungalows, but the Overwater and the Deluxe Overwater Bungalows are the same, what changes is their position.  The Bungalows toward the end of the pontoons (which tend to be more private), or the ones with sunset or sunrise views are "deluxe" and cost more.  In my modest opinion, they are not worth the extra money as we got to enjoy both sunrise and sunset from the beach or the pontoons (which have some "public" areas for people to enjoy the views)… for free.
Besides, do keep in mind that it can get quite windy and the bungalows at the end of the pontoons are more exposed… so the sea (which is also deeper) can get quite rough / choppy.
The area where your Overwater bungalow is situated is more important than anything else.  They are all good, but they are indeed different.
100's – This is the area where our bungalow was and it was perfect for us.  It was a 5 minute walk from the reception/pool/restaurants (which was great, considering it was very windy and we had 2 small kids), yet they are very private and quite.  They also have good snorkelling.  Among these rooms, #127, #128, #129 and #130 are right in front of the reception and the route that boats take when going in and out of the hotel, so I would not have wanted to stay there…   Rooms #103, #104, #105, #106 (all deluxe) and #107 (Royal) have views of Mount Otemanu and a less deep and less choppy sea.  All these bungalows are clearly visible from the top of the hill (from the 1 million dollar view spot… read on!).  I was quite happy with room #112: the bungalows are well spaced and not crowded, so the decks are quite private (more than Moorea's) and the view of the horizon is still impressive.
200's – These were the least attractive to me.  They are very close to all the amenities, especially to the pool and restaurants, so they looked a bit less "private".  They are all deluxe though, as they have a great view of the horizon.
300's – These are really nice as they are in an area full of palms, vegetation and little bridges.  But in my opinion only the Deluxe bungalows between #321 and #336 are better than the 100's.  Apparently the rooms in the #320's have very good snorkelling, while the #330's have the best Sunset views.  In fact, we watched sunset from the pontoon near room #333 and it was perfect!  On a clear day, you could even see the island of Maupiti from there.  The only big set back is that these rooms are quite far from the common areas, which means you need to walk anywhere between 10 to 15 minutes to get to the pool/restaurants, which can be a problem with small kids.
I really liked the Hillside Villas as some of them enjoy amazing views of the lagoon!  But they can be tricky to get to with kids (some are quite "high up" and you need to climb a fair amount of stairs!).  But they are a valid (and cheaper) alternative to the Overwater bungalows.
All things considered, I do not think that there is any "bad" room here.  It is all a matter of small details and preferences.
Our room was beautiful and HUGE.  The bathroom itself was very spacious!  It had both a shower, a bathtub, a double sink, a toilet and a bidet.
There was a bedroom with a 4 poster king bed and a little living area with what is usually a sofa.  As we had our little ones with us, they had made the sofa into a bed and also provided an extra roll away bed for our second child, which was quite nice.  There were also glass tables from which to see the marine life under the bungalow!
The best part though was the deck!  It was huge!  Like in Moorea, it was actually a "double deck".  On the higher part there was a table with chairs and a glass floor, and then you would go down and have another deck where you could sunbathe.  Unlike Moorea's though, the steps to go down into the sea are very slippery and getting into the sea (and back up!) to snorkel from there wasn't very easy, especially since it was windy and the sea was a bit rough.  Also, there was NO outside shower to get rid of salty water before getting back into the room (unlike in Moorea) and that's a shame.
We would snorkel from the beach in the 100's area.  There was some good coral and the visibility is really good, especially when the sun is out.  We saw many colourful fish without having to go far.  We also saw an octopus while walking on the pontoon.
For our Anniversary, the hotel sent some bottled water, a bottle of Chardonnay and some sweets (many macarons!).  That was a nice touch and helped to ease our initial frustration.
The hotel is located in a good spot.  It is on Motu Toopua, one of the little islands that surround Bora Bora main land, but it does not face the island, that is why you don't get the "famous" view of Mount Otemanu.  What you get are great views of the lagoon, with at least 3 shades of blue and turquoise: impressive.  What surprised me was the strength of the wind, but we were told it is normal.
The highlight of this place in my opinion is what is known as the "1 million dollar view" spot.  It is at the Spa (and near the hotel's Chapel), right on top of the hill and the view that you get from it is absolutely worthy of its name!
On one side you can see the island of Bora Bora (with Mount Otemanu), Matira Point and Matira Beach and on a clear day, even the islands of Raiatea and Taha'a!!
On the other side, you can see the whole resort and the amazing colours of the lagoon!  I went there 4 times during our 5 day stay and I could not get enough of that view.  It was truly amazing.  As you can see from the pictures, you can, if you want to, choose to have your massage in this spot… but it was way too windy when we were there!  This is the true gem of the Hilton in Bora Bora!
The hotel also has a nice little infinity pool that we did try out when it was too windy for the little ones to get into the sea.
The beach was good too, with enough pool chairs for everyone and the kids had a blast making sand castles.
We had also inquired about baby sitting and the hotel had promptly replied via email: baby sitting has to be arranged 24 hours before (as the baby sitters come from outside the hotel), but always conveniently omitted the price.  We naively assumed it would be more or less like in Moorea (1,000 xpf per hour/per child) to be paid in cash directly to the baby sitter.  So we were shocked to learn that baby sitting costs in fact 3,500 xpf per hour (not per child)!!  That's almost double the price of what you would pay in Australia!  We got quite upset when we found this out as we would have planned our holiday differently had we known this in advance.  We could have arranged for more baby sitting time in Moorea, or even gone to a more "child friendly" hotel, so that we could spend more "alone time".  Luckily, we spoke to the General Manager (Ms Karine Peyras) and she was very helpful.  She said she would try and arrange for someone from the staff to baby sit the girls and we arranged 4 hours (over 2 days) at 2,000 xpf per hour.  The lovely Yulia from reception came to look after the girls (THANKS Yulia!!) while dad and mum snorkelled together and went for a couple massage!
The Spa was very good and we chose to try their 80 minute couple massage for 31,500 xpf.  As the Spa is at the top of the hill, they came to pick us up with a buggy.  When we arrived we were seated to enjoy a glass of ginger ice tea.  We filled a standard form and chose the oil to be used during the massage: I chose tiaré, while my husband chose vanilla.  We were then taken to a massage bungalow where we could change and then lie on the massage beds.  Unlike Moorea's Spa, this lacked a bit in ambience.  The lights were not dimmed!!!  However, the therapists that massaged us did an amazing job (thanks Coraline!) and we came out of the massage room very relaxed!  Recommended!  We also bought some Monoi oil (vanilla and tiaré) before returning to our room.
The Ta Ie Ie Bar is good, but there is no happy hour.  Now… this must be one of the last places on earth with no happy hour!!!!!  Anyhow, they do have a "cocktail of the day" for 1,000 xpf… you just have to like it, or be ready to pay full price for your cocktail of choice.  A bit disappointing with all the money the hotel charges already.  What I did like was their "cocktail class", as we were taught how to make their signature drink: the Maitai.  It is delicious and get ready as I will be sharing the recipe with all of you in my next post!!!  To be fair, I must add that you do get a free Maitai with your, free, class.
They also had a cooking class (they show you how to make Poisson Cru – raw fish in coconut milk), but I was having a massage at the same time, so I had to give it a miss.
Also this hotel, like the Hilton in Moorea, does not have any water fountain to clean your feet from the sand before getting back into your room.  🙁
We also had somewhat of a scary experience.  The first night we spent there, the lights went off.  I mean ALL lights went off, everywhere in the resort.  It was about midnight and we had no emergency light/torch or candles in the room.  We could not see anything.  It was really windy, so we could not go to the reception in the absolute dark.  We obviously woke up and put the girls in bed with us (they were quite scared)… needless to say, my husband and I did not sleep.  The lights came back at 3 AM for about half an hour and then went off again.  In the morning we went to ask what had happened and the front office manager told us that they were doing maintenance and when they put the lights back on (at 3) something broke (!!!!).  What??  They are fully BOOKED and they do maintenance??  He also said they had sent out letters to everyone to inform them.  Mmmmmm, we did not get any letter.  No one told us anything.  He said he would go and get the letter to show it to us, but when he came back he said he could not find it (?).  We spoke to a few other people who were there that night and no one had been informed.  Weird.  I spent the whole morning wanting to go to another hotel as I did not want to spend another night like the previous one and I was worried about food safety (no electricity also meant no refrigerators on!) .  The electricity came back at 11:30 AM.  Almost 12 hours later!!!  We obviously complained with the General Manager, especially since we thought the issue had not been handled properly, with people not giving us any explanations.  She said that there had been a problem on the main island of Bora Bora and that it did not depend on the resort.  She also said that other hotels/areas of the island had had the same problem.  We will never know what really happened.  Anyhow, we were disappointed once again by the way things were handled.  We felt they should have been straight forward and instead they left us for the whole morning without any information.   As we had not slept at all that night, we asked to be reimbursed for the full night.  I must say that Ms. Karine Peyras was very kind and agreed to credit us for the full night's amount.  Though let me tell you that I did not expect something like this to happen in a 5 star hotel.  The least they could do is have a backup generator and/or some candles or a torch in the rooms… just in case.
The hotel has a long list of activities and excursions that you can purchase through their concierge.  We had contacted a local tour operator before leaving for Bora Bora as we had heard that it would be cheaper to organise the excursions on our own rather than through the hotel.  We had read on Tripadvisor that once you checked into the hotel, the local tour operators will not sell you any excursions.  So if you want to book by yourself, you will need to do so before getting onto the island.  As this was a lagoon excursion, weather was a very important factor and I was not inclined to book an excursion so much ahead of time, without even knowing if the day would be sunny or rainy!  We decided to wait and see.  When we got to Bora Bora we realised that the excursion we wanted to do (1/2 day lagoon tour and lagoonarium) was cheaper if booked through the hotel (9,200 xpf per person and 4,600 xpf for our 6 year old – free for the 3 year old) than the price the tour operator had quoted us!  Go figure.  Needless to say, we booked it through the hotel.  For a little review of the excursion itself, check out my travel diary.
During the excursion, we got to see the whole lagoon and where all the other hotels are.  From what we saw, position wise, only Le Meridien (and maybe the Intercontinental) have a picture perfect view of Bora Bora and are where the lagoon is turquoise (see my pictures of the lagoonarium).  The down side to these hotels is that they are all very close one to the other… so they do feel quite crowded.  If I ever went back to Bora Bora, I would probably give Le Meridien a try and hope for a better experience than the one we had in Ile des Pins.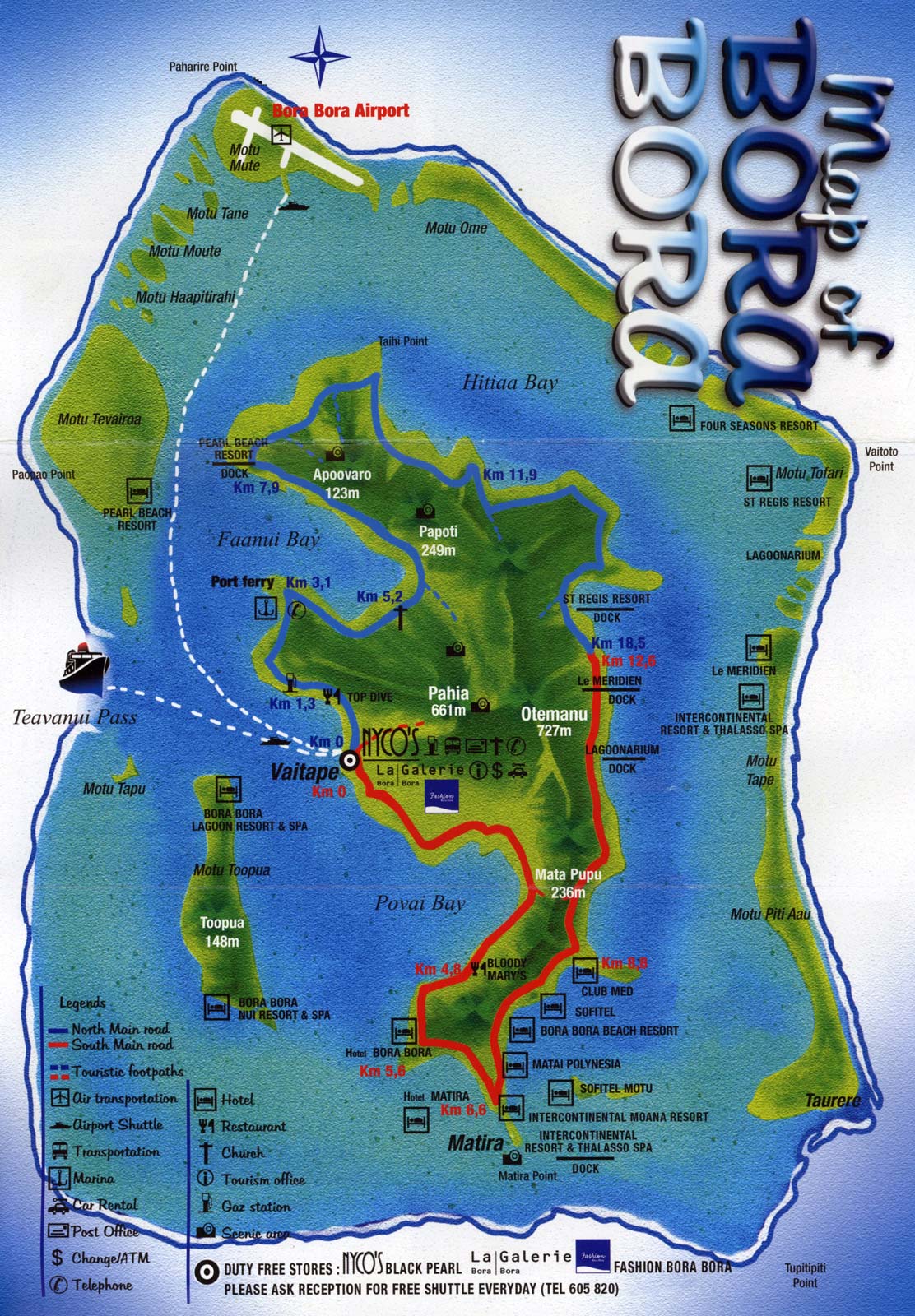 Unfortunately, we did not get a late check out, despite having requested one at the beginning of our stay.  That was very annoying as we had to leave our room at 11 AM and had to wait till 4 PM for our shuttle to get back to the airport.  This meant, no swimming the last day and basically hang around the reception all day long.  It was a pain with the 2 little ones getting tired and bored.  We had also asked to be assigned another room (any room, really) in case they could not leave us in our Overwater bungalow.  Nothing.  They did offer a room for 30 minutes (!!!) to change our clothes if we wanted to.  We needed it more for the kids to rest than to change our clothes and 30 minutes would not have been enough.  Yet another disappointment, as I do not believe they did not have even 1 spare room to give us for a few hours!!
Altogether, we had a good stay at the Hilton Bora Bora Nui, though there were a few hiccups.  When you compare this hotel to its sister hotel in Moorea you cannot help but wonder why you are paying so much more to get a less than perfect customer service.  I thought it was over priced (like everything in Bora Bora) and I was expecting more for the money we spent.  I got the impression that they rely a lot on Bora Bora as a "name" (that's what you were basically paying for) and that they don't care as much about making people happy with their stay (since most are unlikely to go back)!  That said, we were pleased with how the General Manager stepped in and helped us to still make the most of our time at the hotel.
As I said before, if I ever went back to Bora Bora, I may try Le Meridien… mostly for its position in the lagoon… picture perfect.
DINING
When we booked the hotel, we also booked a meal plan as we knew we were not going to eat out with 2 small children.  By dinner time, the girls would already be so tired that the youngest would not always make it through dessert and would just fall asleep.  There are many good restaurants in Bora Bora and you can get to the main land with the Hilton shuttle boat (though be advised that in the evening its price doubles…).  As we already had continental breakfast included for free, we opted for the dinner supplement.  We did not feel we needed to include lunch as well as we wanted a bit more "freedom" and we also wanted to stay light, so we could swim more in the afternoon.  Also, do keep in mind that even when you are on a meal plan, some dishes have an extra supplement to pay (they vary dish per dish and they are all clearly marked on the menus).  Kids eat free from the kids menu at all restaurants (the menu is always the same, no matter where you eat) and they can choose 1 entre, 1 main dish and 1 dessert.  The have pizza, spaghetti, fish and chips etc… but no burger (!).  For dessert they have fruits, chocolate mousse and ice cream.  If kids order from the grown up menu, they pay half price.  The portions on the kids menu are large and our little girls (6 and 3) do not eat as much so they often just shared one dish.  Kids are also entitled to free American breakfast in the morning and can order whatever they like.
The Hilton Bora Bora Nui has a few dining options:
Tamure Grill 
This is the only place where you can have breakfast, lunch and dinner.  We never had dinner here but only had breakfast and lunch here everyday.  The menu is varied and the portions are quite big.  It is also slightly cheaper than the French restaurant.  We would have probably eaten here more often for dinner if we had not had the meal plan.  This is also the restaurant where the buffet dinner with the Polynesian show is served on Tuesdays.  We were not there, so we did not try it.
My husband and I would usually share a main dish for lunch, as we wanted to stay light.  We often had their Fish of the Day with Rice and Vanilla Sauce (2,900 xpf) or their Hilton Burger with cheese and bacon (without any greens… as my husband does not like salad!) (2,100 xpf), which were quite good.
Breakfast was buffet style.  We had Continental breakfast included as part of my husband's Hilton Honors membership and we did not feel the need to upgrade it to American breakfast (we could have done that for an extra 1,000 xpf per person per day) as we don't usually eat a very heavy breakfast.
In the cooked section, they have all the "usual" items like bacon, sausages, scrambled eggs, hash browns etc.  They also make eggs, omelette, French toasts and crepes etc. to order, which I thought was nice.
As part of the Continental breakfast, we could eat all kinds of breads, danishes (they had good Pains au Chocolat, but their Pains aux Raisins where not as good as Moorea's), muffins, pancakes, cakes, cheese, cold meats, yogurt, fruits, juices, tea/coffee/hot chocolate etc.
My favourite item was definitely their Firi Firi (doughnuts made with coconut milk), though they were not as good as the ones we had in Moorea.  I enjoyed them with local jams of which the hotel has a very good selection.  I especially liked their pineapple jam and their papaya jam.  They also had some verrines made with jam and yogurt and these would be different everyday.
Upa Upa Restaurant and Bar
This is the Polynesian Restaurant and it is open for dinner only.   The menu is a bit limited, but the food is good.  Also, if you are not on a meal plan, keep in mind that it is a bit cheaper than the Iriatai and the portions are fairly generous.  We dined here only once and we experienced a very slow service, especially when compared to the fast and professional service we had at the French restaurant.  As we tried this place only once, I cannot say whether we were just "unlucky" or it is a normal trend.
Anyhow, the food was delicious.
As appetisers, we had:
Yumm!!! Though I did not expect the raw onion in it, it was delicious!
Doesn't that Tuna sashimi look amazing?  It was so soft and it literally melted in the mouth.
Our mains were:
Very hearty and simple dish.
I LOVED this.  Especially that Vanilla Sauce!  Something I will definitely try to make at home!!!  Also the banana and taro were delicious.
Our desserts were probably the least appealing part of our dinner, but they were ok:
Nice, but not exceptional.
Just ice cream, chocolate sauce and cookie… nice, but nothing to write home about.
Iriatai Restaurant
This was the French restaurant and we had dinner here 4 times out of 5.  We had 3 a la carte dinners and 1 buffet dinner here.  This place is amazing.  We loved everything about it and I must confess that this restaurant was the highlight of our stay at the Hilton Bora Bora Nui!  The service is really good, friendly yet very professional and we never had to wait too long for our food.  The portions are quite small… like in all up-scale restaurants, but all dishes are very satisfying and after having an appetiser, a main and a dessert, we were always pleasantly full.  That said, it is more expensive than the other restaurants and the size of the portions has to be kept in mind to avoid disappointment if you are not on a meal plan.
Something quite interesting happened to us while dining here: the manager of the restaurant is the same person who used to manage the restaurant of Le Meridien in Ile des Pins!!!  We immediately recognised him and we were very happy to see that he is doing an amazing job at the Hilton in Bora Bora.  We did not have a single problem, unlike our previous experience in Ile des Pins (not his fault).  He was very nice and always came to our table to say hi and get the girls crayons and paper to draw on.   The world is really small!!!
The a la carte menu is French inspired with local twists and touches.
As appetisers, we tried:
This was AMAZING.  My husband tried it the first night and then ordered it every night.  It was so good.
This was nice and quite a generous portion!
This was probably the least impressive for me taste-wise, though it looked really pretty.  The mousse was a bit "gluey" and the dish not very tasty all together.
As mains, we tried different dishes:
My husband loved this and had it twice.  It looks really small… but it tasted great.
This was very tasty!!!  Crunchy on the outside and melt-in-the-mouth soft on the inside.  Loved every bite of it!
I must confess I am not a "lobster lover", but I did order this… especially for the Vanilla Sauce.  I LOVED the taro underneath the lobster and all that Vanilla Sauce!   Delicious!
A very good steak… with a really impressive potato mash.  So smooth and silky!!!!!  To try!
For dessert, we had: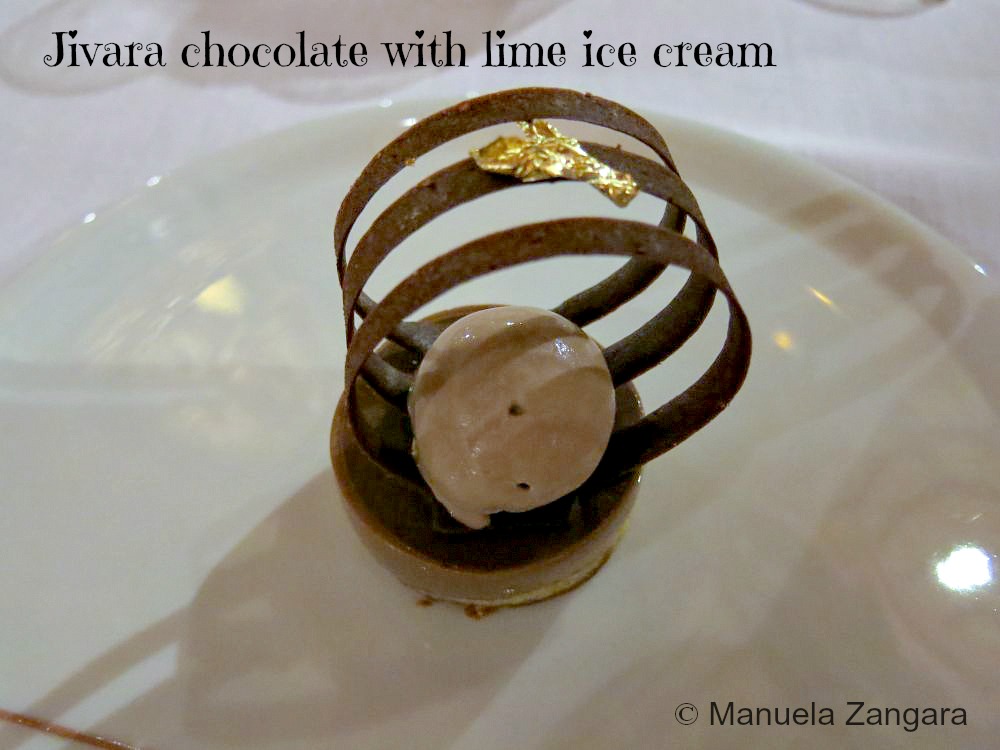 This was good.  Enough said.
The cake was really sinful!!!  Though my ice cream was coconut with lime granita… 😉
My husband loved this and had it twice!
This was, for me, the BEST dessert they had.  It was crunchy yet soft and silky, sweet yet sightly bitter… and I am a coffee addict!!! 😉  To have time and time again!
Their bread was also amazing… no picture, sorry!  It never lasted long enough!
We were very lucky to also experience one of the buffet dinners.  I usually like buffet dinners because you get to try many different dishes and can chose how much (or little) to take of anything you fancy.  Besides, there is no waiting to be served, which is always a plus when you have little ones.
It was manly French/Mediterranean food, with amazing appetisers and desserts!
There was even a chef cooking churros to order, which made the kids' night!
All together, we had a great dining experience at the Hilton Bora Bora Nui's restaurants.  We were very happy with the variety of food and we never got tired of it.  We never even felt the need to go and eat out.  The staff were very attentive and very nice, especially with the little girls.
Mauruuru Hilton Bora Bora!
CONTACT INFO
HILTON BORA BORA NUI RESORT & SPA
BP 502 Vaitape, Bora Bora,
98730, French Polynesia
Ph: 689-60-3300
Fax: 689-60-3301
Email: [email protected]
http://www3.hilton.com/en/hotels/french-polynesia/hilton-bora-bora-nui-resort-and-spa-PPTBNHI/dining/index.html

Related Posts: