If you follow Manu's Menu, you already know that my family and I have recently returned from a holiday in French Polynesia (Tahiti).  Both in my travel diary and in my review of Hilton Moorea, I have told you about the amazing jam we tasted while we were there.  Moorea actually has some of the best tropical fruit jams I have ever had.  While staying at the Hilton, we were able to enjoy them everyday for breakfast and my favourite jams were the ones made with pineapple.  Moorea is actually quite famous for its pineapples, as they are said to be among the sweetest in the world.  You can buy these jams at the local Opunohu Agricultural School, but they do not always have everything in stock.  In fact, I really wanted to buy their Pineapple and Passion fruit jam… but they did not have it.  So, as soon as I got back home and saw both pineapple and passion fruit arranged one next to the other at the grocery store, I took it as a sign that I had to try and make it at home!  I am very happy with this recipe as it tastes exactly like the jam we had on holiday!  Now, whenever I have some of it on my morning toast, I can pretend to still be on holiday… at least for a couple of minutes!!!  Enjoy!
Update! This recipe was featured on Better Homes and Gardens! Take a look at the article: 15 Ways to Enjoy Tropical Recipes at Home.
Pineapple & Passion fruit Jam
A delicious way to start your day: Pineapple & Passion fruit Jam!
Ingredients
620

gms

– 1 1/3 lbs. pinapple

cubed

330

ml

– 11 oz. water

450

gms

– 16 oz. sugar

¼

cup

passion fruit pulp
Instructions
Put the pineapple and water in a pot and cook over medium heat, uncovered, for about 20 minutes or until the pineapple has softened and the water has almost evaporated.

Blend it with a hand mixer.

Transfer into sterilised jars.
Recipe Notes
To check whether the jam is ready or not, put a little plate in the freezer. Turn the fire off, put a small amount of jam on the frozen plate and return it to the freezer for a few minutes. If it wrinkles when you nudge it, it's ready. If not, cook it some more and test it again.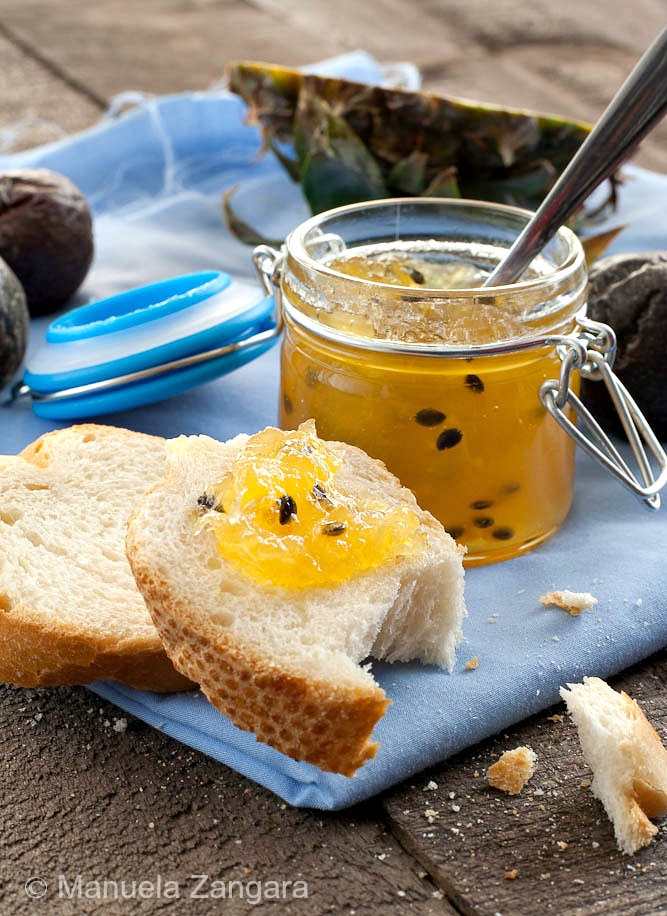 Related Posts: