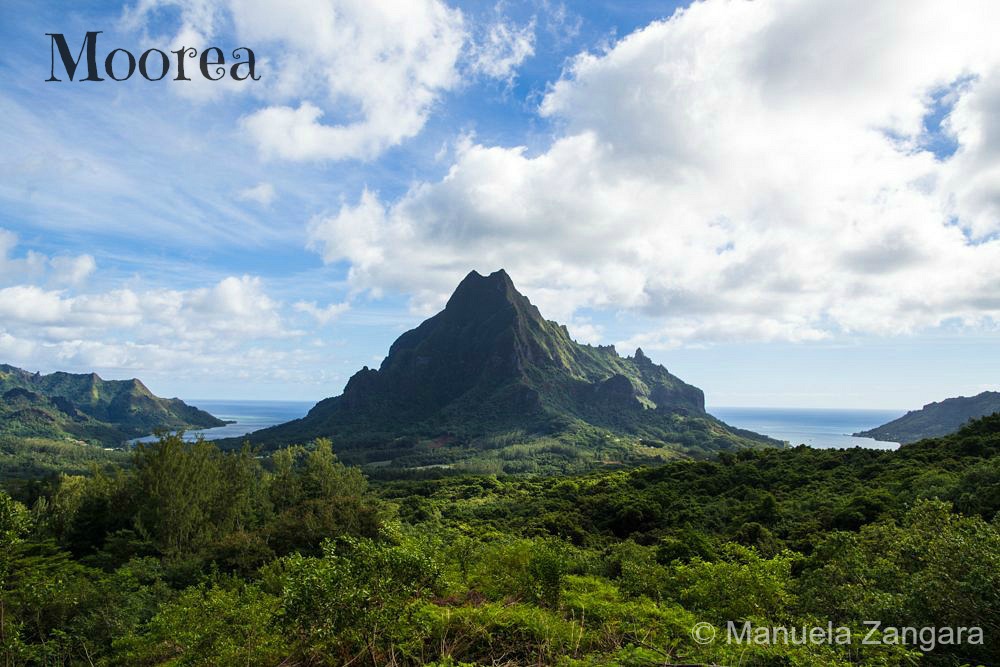 Today I want to share with you my review of the hotel we stayed in in Moorea during our recent holiday in French Polynesia.  If you have read my travel diary, you will know that we LOVED Moorea.  The island is beautiful and it has much more than just the amazing sea to offer.  The island itself, with its bays and emerald green mountains, is a gem that deserves to be discovered.
I must confess that while planning this holiday, Moorea was not on the top of my "must visit" list.  I thought that its being so close to Tahiti would make it over touristic and crowded and not that attractive.  In fact, I paired it with Bora Bora only because we were travelling with young children and I did not want to spend the whole holiday on remote islands.  If we had chosen French Polynesia as our honeymoon destination, we would have probably skipped Moorea and chosen Taha'a or the Tuamotu Islands… and that would have been such a pity!  Moorea was the true surprise of this trip for me.  I literally fell in love with it.  It is small, but never crowded and nature is the main attraction.  The sea is great and the lagoon has amazing colours, but what really blew me away were the mountains and bay.  If you are going to do both Moorea and Bora Bora and are undecided about what excursions to go for, my suggestion would be to do land based excursions in Moorea and lagoon excursions in Bora Bora.
HOTEL REVIEW
What made our stay in Moorea unforgettable was also the fact that we loved our accommodation.  We had done a great deal of research about hotels and resorts and in the end we chose to stay at the Hilton Moorea Lagoon Resort & Spa.  My husband and I love snorkelling and all the info we got online said that the Hilton Moorea had the best snorkelling in Moorea.  Besides, my husband is a Hilton Honors gold member, which gave us a few perks like free breakfast and Internet (in our room) and free upgrades upon availability (on arrival).
As for the upgrades, we booked a Garden Room with pool (the most "basic" accommodation at the resort) and received an email from the hotel offering us an upgrade to an Overwater Bungalow for 8,000 xpf per night (or 17,000 xpf for a Panoramic Overwater Bungalow).  As we were travelling in high season, we decided to upgrade before arriving there and paid the extra 8,000 xpf per night, which was still 18,550 xpf less than the price of the Overwater Bungalow!  After going there, I am very happy we went for the advance upgrade as the resort seemed quite full to me and I doubt we would have got a free upgrade.  As this was our 10th Wedding Anniversary and we did have an Overwater Bungalow during our honeymoon in the Maldives, we really wanted the Overwater!  We were also in contact with the hotel and my husband requested a specific room (#98).  The reservation was made through the main Hilton office in Papeete (they handle bookings for both Moorea and Bora Bora), while the upgrades were handled by the hotels themselves.  All the process was very smooth and left us with the expectation of great customer service.
I am very happy to say that the Hilton Moorea did not disappoint us.  From the moment we arrived, we felt at home.  As Hilton Honors member, we had an express check in, which meant being immediately helped out by a lovely lady at the concierge who gave us all the information we needed about the hotel.  We were greeted with a welcome cocktail while everything was smoothly taken care of for us.  It was the best ever check in experience, and so different to the Bora Bora experience (see my review).  What stood out was that all guests are informed that the staff is there to ensure they have a happy holiday and that we should not hesitate to ask for anything that we need.
During our check in we were informed that they could not give us the room we had requested (#98), but that we were assigned the one next door (#96), which was not a problem at all, as they were just a couple of metres apart.
There are 104 rooms divided in: Garden Bungalows with Pool (at the back), Garden Pool suites (which are bigger), Deluxe Garden Bungalows with Pool (closer to the beach), Lagoon Bungalows, Overwater Bungalows and Panoramic Overwater Bungalows.
All Overwater Bungalows are the same, what changes is their position.  The Bungalows toward the end of the pontoons (which tend to be more private), or the ones with sunset or sunrise views are called Panoramic and cost more.  In my modest opinion, they are not worth the extra money as we got to enjoy both sunrise and sunset from the beach or the end of the pontoons (which have some "public" areas for people to enjoy the views)… for free.
Also, even though the bungalows 102, 104, 106 and 108 have better corals just in front of their decks, it is an easy swim from the rest of the rooms.  The Panoramic Overwater Bungalows between 97 and 109 face the island and the resort beach, so even though they have a "sunset view", they do not enjoy the lagoon as much as the rooms facing north.  All together I think that rooms 96 and 98 are the best in the Overwater category, as even though they do not have a sunset or sunrise view, they have amazing views of the lagoon and no other room directly in front of them to block the views!  So, keep in mind what is more important to you when you choose your room: the ones facing left on the map have sunset views (some on the island, some on the horizon), the ones facing right have sunrise views and the ones facing north have lagoon views.  Probably the worst off bungalows for me are the ones facing the island and the ones around the Toatea Bar as it can be a little noisy at dinner.  But then again, it is all a matter of personal taste.
I would not have chosen one of the lagoon bungalows.  They are overwater indeed, but the water is very shallow and sometimes, due to the wind and currents, the sea that surrounds them is full of sea plants and rubbish.  The people at the Hilton do their best to clean it up, but still… if you are paying all that money, it's not something you would like to have in front of your deck.
I did not have a chance to see the interior of the Garden bungalows, but they look really nice from the outside.  Do keep in mind that there are a few roosters around the resort, and I have heard people saying that they would wake up early because of that.  I could not hear them from the Overwater bungalows.  All things considered, I do not think that there is any "bad" room here.  It is all a matter of small details and preferences.
Our room was nice and cozy.  There was a bathroom with both a shower and bathtub and a room with a king bed and what is usually a sofa.  As we had our little ones with us, they had made the sofa into a bed and also provided an extra roll away bed for our second child, which was quite nice.  The girls loved the flowers on the bed!!!  There was also a glass table from which to see the marine life under the bungalow!
The best part though was the deck!  It was actually a "double deck".  On the higher part there was a table with chairs and then you would go down and have another deck where you could sunbathe.  The steps to go down into the sea are very easy and getting into the sea to snorkel from there was a breeze.  There was also an outside shower to get rid of salty water before getting back into the room.
As I mentioned, the best coral is around rooms 102, 104, 106 and 108 and the visibility is quite good, especially on a sunny day.  We saw many colourful fish without having to go far.  We also saw a starfish, an octopus and sharks while walking on the pontoon.  There are always sharks at dinner-time under the Toatea Bar.
For our Anniversary, the hotel sent some Champagne (and juice for the little ones) and it was a great way to start our stay!
The hotel is located in a great spot.  It is on the north side of the island, between the 2 beautiful Opunohu and Cook's Bays with the emerald Mount Rotui at its back.  What a view!  I could not get bored of looking at the sea and the mountain.  Such amazing colours!  Also, the water is not as choppy as in other parts of the island (like at the Sofitel for example), because this area is more protected from the wind.
The hotel also has a nice little pool that we did not try out… the sea was too good to miss.
The beach was good too, with enough pool chairs and umbrellas for everyone and the kids had a blast making sand castles.
In fact, I was worried that they would be the only kids there, but there were many others.  Some only a few months old.  So, if you are wondering whether it is worth going with kids, the answer is "yes" (though it always depends on the kids and how "well-travelled" they are).  We had also inquired about baby sitting and the hotel had promptly replied via email: baby sitting has to be arranged 24 hours before (as the baby sitters come from outside the hotel) and it costs 1,000 xpf per hour/per child to be paid in cash directly to the baby sitter.  We were having such a good time that we almost forgot about it and thought of leaving the kids with a baby sitter more often in Bora Bora.  We did however call a baby sitter for a couple of hours the last day we were there, so that we could go have a couple massage at the hotel Spa.  The girls' baby sitter, Nadia, was actually the sister of one of the dancers that performs at the hotel.  She was lovely and the little ones had the best time building an amazing looking sandcastle!
The Spa was an amazing experience in itself.  We chose to try their "special" which was a 50 minute couple massage followed by a vanilla body wrap for 29,000 xpf.  From the moment we entered, we were welcomed with big smiles and we were immediately seated to enjoy a glass of ginger ice tea.  We filled a standard form and chose the oil to be used during the massage: we both chose tiaré.  We were then taken to a room where we could change and then led into the massage room, which had 2 beds lined up one facing the other.  What l liked the most was that the lights were dimmed and the music was very relaxing.  The therapist that massaged me did an amazing job (thanks Jessica!) and I came out of the massage room ever so relaxed!  Highly recommended!
The bar was another highlight of the hotel.  I do not drink much (I don't usually even have wine during my meals!), but love a cocktail or two during a tropical holiday!  The Eimeo bar serves a good selection of cocktails and Lis makes the best cocktails ever!
They have a Happy Hour between 4 PM to 7 PM during which you can get 2 rum based cocktails for the price of 1 (so that makes 1,500 xpf for 2 drinks) and that was perfect for me, as rum based cocktails are the ones I like the most.  I tried a few different drinks during our stay (you know, just for the sake of this review… ;-P).  I liked their Maitai and their Mango Daiquiri… very tropical!
But my absolute favourite was the Royal Tahiti, made with white rum, banana juice, coconut ice cream and strawberry syrup.  Delicious!
My husband's favourite was the Vahine Symphony, made with white rum, red Martini, white Martini, Grand Marnier and an amazing local vanilla liquor (this can be bought at Moorea's Fruit Juice Company and it is much cheaper than anywhere else!).  Yummy (and much stronger than the others!).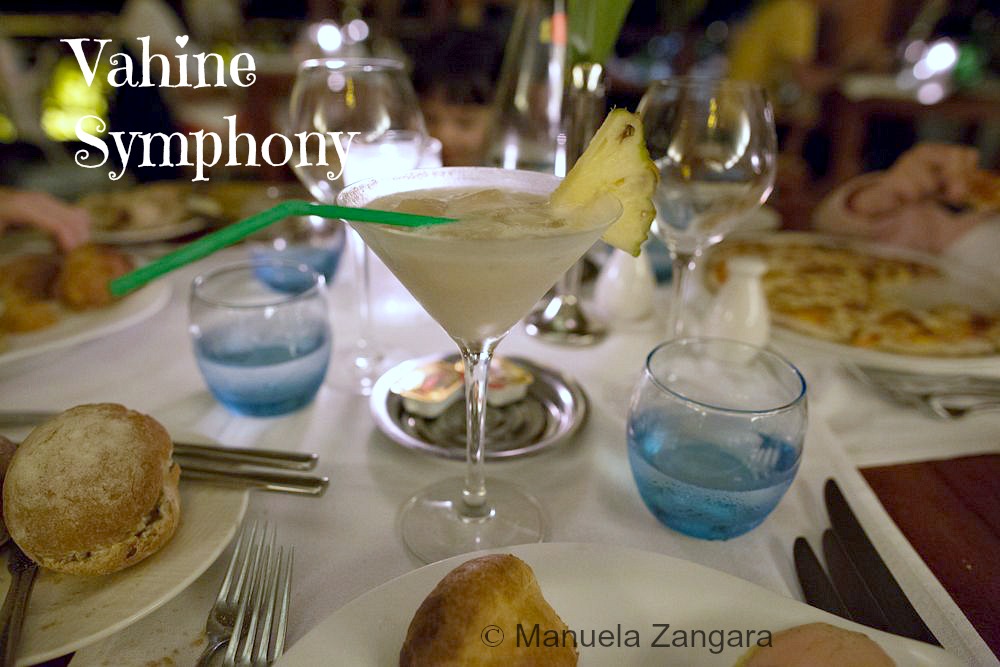 The drinks would also come with olives and, for our daughter's delight, with breadfruit chips!  They were really good!
We were also lucky enough to be able to see 2 of the Polynesian shows that the hotel organises.  The first night, the show was held indoors as it was a very windy evening, while the second time the show was held outside and the dancers had more room to perform.  After having a delicious buffet dinner with Polynesian food (you can read more about it in my restaurant review, just a few lines below) the dancers came in with beautiful costumes and started dancing.  The show is quite long (about 1 hour), but never boring.
The dancers change costumes and perform various traditional dances with live music.  They also do a fire dance (which really impressed the little ones!) and there is a guy who also peels the coconut husk with his teeth (it is apparently one of Tahiti's traditional sports) and proceeds to break the coconut with his bear hands!
We loved every single bit of the shows and the girls were called on stage to perform with the dancers the second night.  The lovely waitresses (thanks!) had arranged this for them as they knew they loved to dance!  So we had been "warned" in advance and the little ones were excited all day long about it!  They were quite good too I must say! 🙂
The hotel also has kayaks, boards and paddle boats that you can use for free and we did take the paddle boat one morning.  It was lots of fun and a great way to see the resort, the lagoon and the mountain from a different perspective.
The only small thing that I would recommend the resort to add would be some small water fountains to clean your feet from the sand before going back into the rooms.  Just a few in strategic points would do and it would be such a great touch.  We had these in the Maldives and it was good not to carry sand back into the room.
All together we had an amazing stay and there is nothing I would change about it… well, maybe I would have stayed longer!!!  Moorea is a place I would go back to tomorrow if I could and I would definitely stay at the Hilton again!  Beautiful place, great hotel, amazing service and delicious food!  Highly recommended.
DINING REVIEW
When we booked the hotel, we also booked a meal plan as we knew we were not going to eat out with 2 small children.  By dinner time, the girls would already be so tired that the youngest would not always make it through dessert and would just fall asleep.  There are many good restaurants in Moorea and I know that many of them will even come to pick you up at the hotel for free, so do keep this in mind when deciding whether the meal plan is the right choice for you.  As we already had continental breakfast included, we opted for the dinner supplement.  We did not feel we needed to include lunch as well as we wanted a bit more "freedom" and we also wanted to stay light, so we could swim more in the afternoon.  Also, do keep in mind that even when you are on a meal plan, some dishes have an extra 1,000 xpf supplement to pay (they are all clearly marked on the menus).  Kids eat free from the kids menu at all restaurants (the menu is always the same, no matter where you eat) and they can choose 1 main dish and 1 dessert.  The have pizza, spaghetti, burger, fish and chips etc.  For dessert they have fruits, chocolate mousse and ice cream.  If kids order from the grown up menu, they pay half price.  The portions on the kids menu are large and our little girls (6 and 3) do not eat as much so they often just shared one dish.  Kids are also entitled to free American breakfasts in the morning and can order whatever they like.
The Hilton Moorea has a few dining options:
Toatea Bar
This is the only alternative to the main restaurant for dinner.  Unfortunately it is not open for lunch.  It serves mostly crepes (sweet and savoury).  It is a good option for a quicker and cheaper dinner, especially if you don't have the meal plan.  We did not try it though.
Rotui Bar and Grill
This is the only place open for lunch.  The menu is good and there is a chef's special that changes daily, so you can always have something different.
My husband and I would usually share a main dish for lunch, as we wanted to stay light.  We often had their Pepperoni Pizza (2,390 xpf) or their Panino Italiano (2,400 xpf), which was quite good.
I also tried their Tuna Tartare (2,090 xpf) with tropical fruits and basil oil, which was delicious (even though a little too heavy on the oil).
And a Banana Split (1,090 xpf), which was ok, but there was too much cream and too little banana for my liking.
I love the view from this place.  You sit in the shade looking out onto the lagoon, the beach and the bungalows.  It doesn't make it easy to get up and go on with your day! 😉
Arii Vahine
This was the main restaurant, open for breakfast (buffet) and dinner.
We had Continental breakfast included as part of my husband's Hilton Honors membership and we did not feel the need to upgrade it to American breakfast (we could have done that for an extra 1,000 xpf per person per day) as we don't usually eat a very heavy breakfast.
In the cooked section, they have all the "usual" items like bacon, sausages, pancakes, eggs, hash browns etc.  They also have an area for omelettes and crepes, which I thought was nice.
As part of the Continental breakfast, we could eat all kinds of breads, danishes (they had the BEST Pains aux Raisins I have ever eaten –  better than those I have eaten in Paris!!!), cheese, cold meats, yogurt, fruits (the pineapple is amazing… Moorea's pineapple is quite famous), juices, tea/coffee/hot chocolate etc.
My favourite item though (besides the above-mentioned Pains aux Raisins) was definitely their Firi Firi (doughnuts made with coconut milk), the best we had during our Tahitian holiday.
I enjoyed them with local jams of which the hotel has a very good selection.  I especially liked pineapple & vanilla and pineapple & passion fruit jams.  They all come from the nearby Opunohu Agricultural School that we visited during our day out around Moorea.
Dinner was the culinary highlight here.  We dined at Arii Vahine 6 nights out of 6 and we had 4 a la carte dinners and 2 buffet dinners (that include the shows).  Their buffet dinner costs 7,900 xpf per person or there is a 2,280 xpf per person if you are on a meal plan.  Totally worth it!
The a la carte menu is French inspired with local twists and touches.
As appetiser, both my husband and I always had the same thing.  I know we do sound boring, but it is a dish that I miss tremendously since moving to Australia, so when I saw it on the menu… I had to go for it:
Needless to say, it was very good and I loved the pineapple chutney and Hawaiian lava salt that came with it!  Very exotic touches.
As mains, we tried different dishes:
The lamb was amazingly soft and would just melt in the mouth and the sauce was hearty and went very well both with the lamb and with the veggies.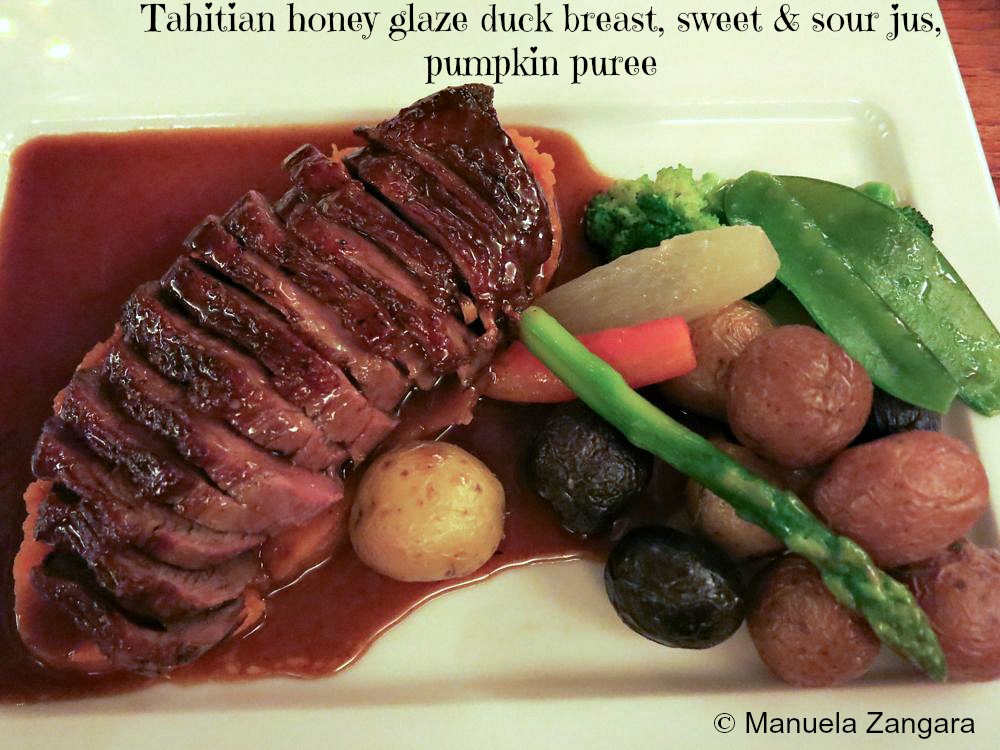 I love duck when it is cooked properly and boy it was!  We had it twice and both times it was just perfect: pink in the middle and delicious.  I also loved the sweet and sour sauce that came with it and the sweet pumpkin puree under it.  Yum!
Filet Mignon is always my choice of steak, whenever it is on the menu.  My husband had his with a Cognac and Peppercorn sauce (very good), while I had mine (twice!) with a Passion fruit Béarnaise sauce that was A M A Z I N G!!!!!!!!  Something I would love to recreate!  Very clever idea and it went very well with the steak.
For dessert, we had:
White chocolate parfait, local pineapple carpaccio, passion fruit sorbet – Sorry, I forgot to take a picture!  It was good, but not the dessert we liked the most.
This banana dessert was nice, but yet again… I was expecting more bananas and less custard in it.  The ice cream was amazing though!
I had to try these… The crème brûlées were Vanilla (from Taha'a), Coconut and Pineapple.  Delicious.  All of them!
This little Tarte Tatin was amazingly delicious.  It came warm with a DELICIOUS salted caramel ice cream in the top.  Sinful and recommended!
We were very lucky to also experience 2 buffet dinners.  I usually like buffet dinners because you get to try many different dishes and can chose how much (or little) to take of anything you fancy.  Besides, there is no waiting to be served, which is always a plus when you have little ones.
The first buffet dinner was Polynesian food.  Here is a copy of what we ate:
I loved the uncovering of the Ahima'a (the Earth Oven in which the food was cooked).  The food tasted great, even better than what we had tried in New Zealand.  We went to see it in a corner of the beach and we were offered a complimentary Maitai while the staff opened the earth oven.
There were mixed local veggies, a whole piglet, goat curry, pearl oyster stew and what turned out to be our favourite dish of the night: Chicken with Taro leaves – delicious!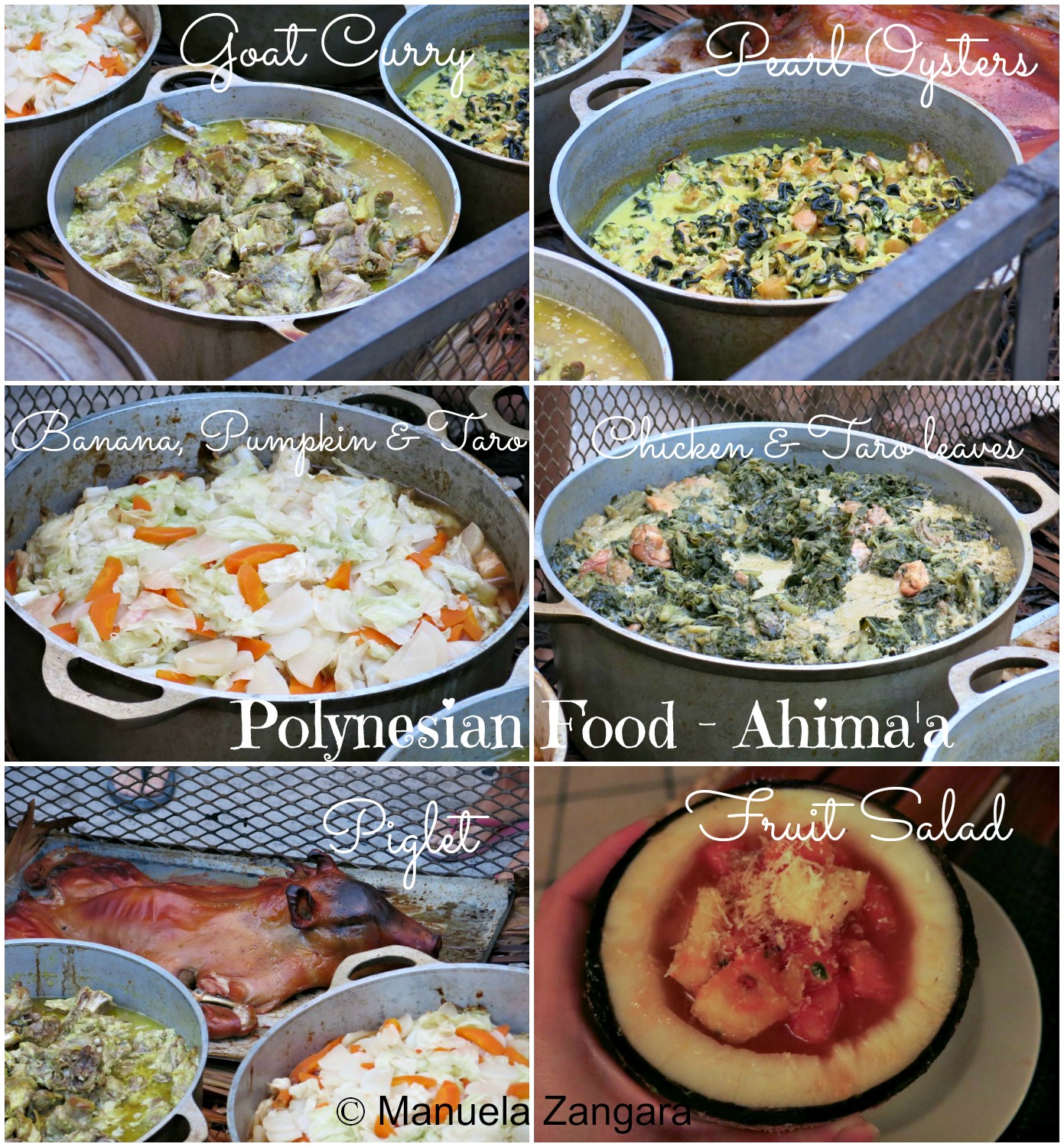 After seeing the uncovering of the Ahima'a, we watched another glorious sunset and then went for the Polynesian Buffet dinner. There was a LOT of food and it was a really interesting and yummy experience.
The second buffet dinner was more an "International food" dinner, with Asian and French influences.

The dessert selection was impressive!!!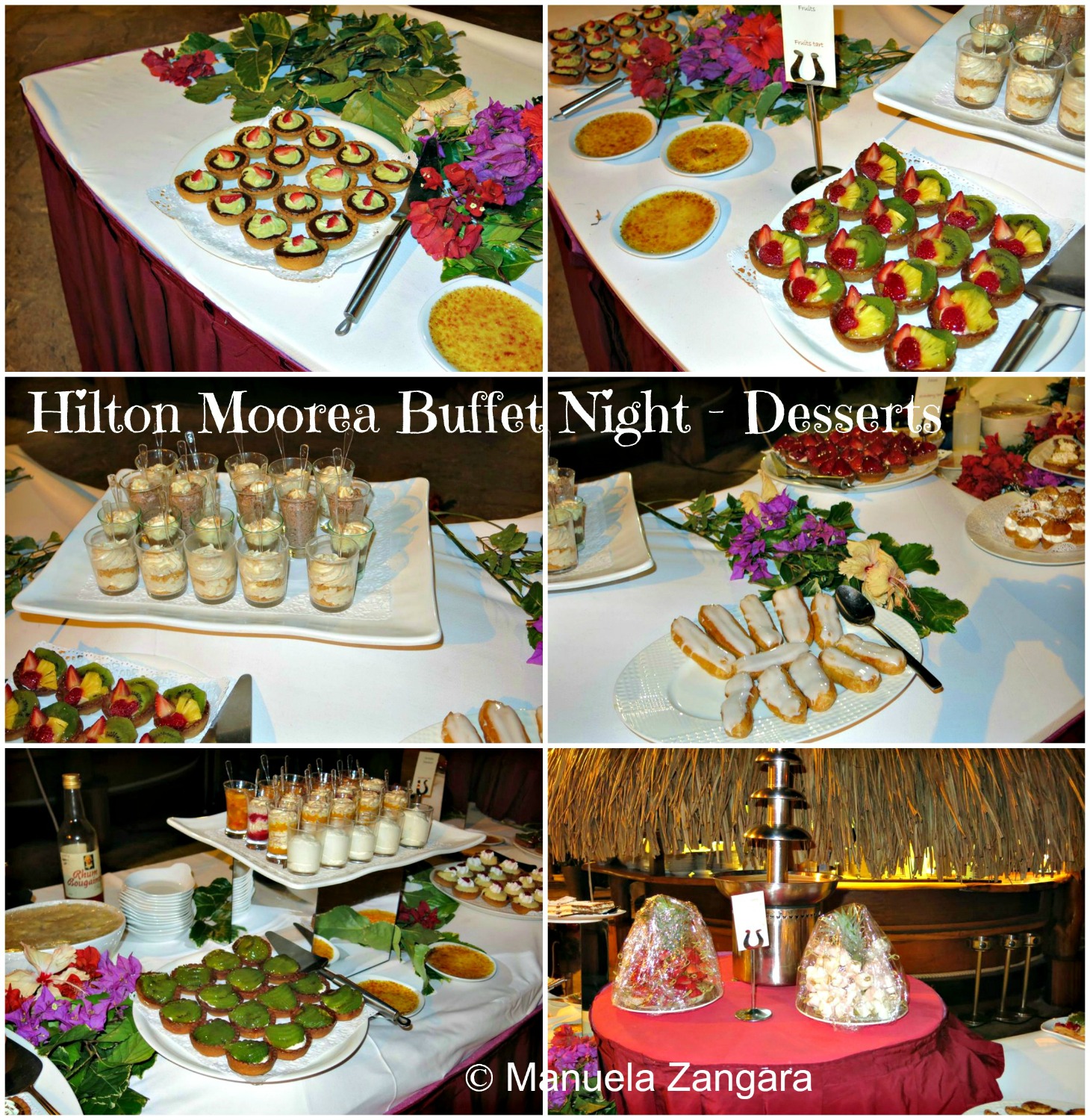 All together, we had a fantastic dining experience at the Hilton Moorea's restaurants.  We were very happy with the variety of food and we never got tired of it.  We never even felt the need to go and eat out.  The staff were very attentive and very nice, especially with the little girls.
Mauruuru Roa Hilton Moorea!
CONTACT INFO
HILTON MOOREA LAGOON RESORT AND SPA
BP 1005, Papetoai,
98728, French Polynesia
Ph: 689-55-1111
FAX: 689-551155
Email: [email protected]
http://www3.hilton.com/en/hotels/french-polynesia/hilton-moorea-lagoon-resort-and-spa-PPTMLHI/index.html

Related Posts: