As you know, I like to try my hands at making things at home that you can get in the stores. I know it sounds a bit crazy… why on earth would I want to waste my time to make something I can easily get at the supermarket? Well, for one, you can control what goes into it and then, not everyone can easily get certain ingredients at the local store, so it's always good to have an option!  Besides, the satisfaction that you get when you manage to replicate an ingredient and it tastes even better than what you are used to, is amazing!
So, after sharing with you the recipe for home-made Condensed Milk, here goes a tutorial on how to make Ghee at home!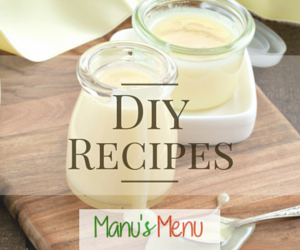 Check out my collection of DIY recipes,
you won't believe how EASY they are! Click on the image.

Making your own ghee is really easy, and guess what? You only need 1 ingredient!  Butter!  Just make sure you use unsalted butter, or your ghee will be too salty… and in no time, you will have beautiful and delicious ghee that looks like melted gold!
Use it for all your Indian dishes… click here for some inspiration and have fun!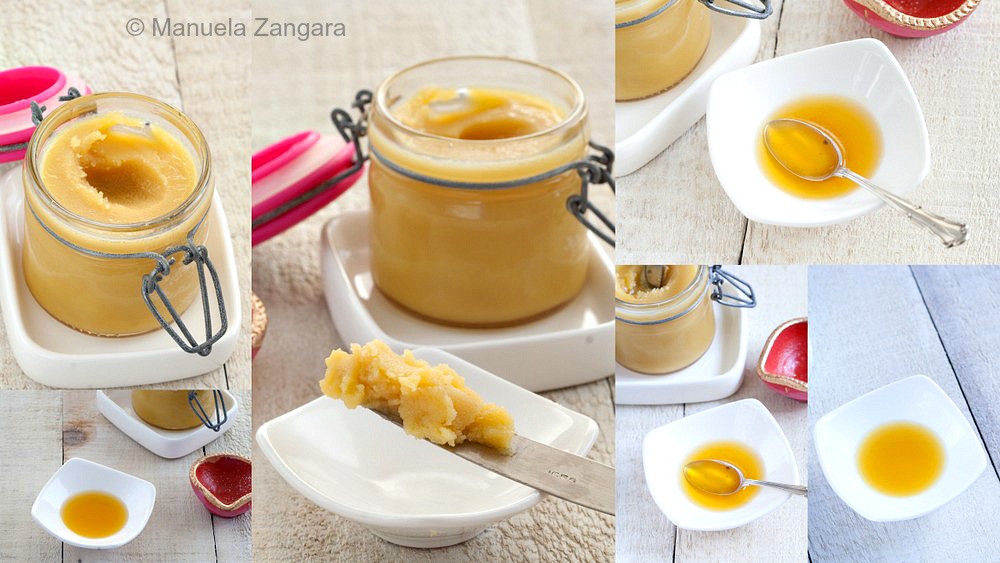 Home-made Ghee
How to make ghee at home with just one ingredient!
Ingredients
450

gms

– 1 lb. of good quality UNSALTED butter
Instructions
Put your butter to melt over medium heat, stirring it gently from time to time.

Soon, you'll see a thick, white foam start to form on the surface.

Keep stirring until your butter starts to simmer.  Now turn the heat down to medium-low.

For the next 5 minutes just let the butter simmer and watch the bubbles emerge from that thick foam, increasing in size and number.

As the bubbling increases, the foam will become thinner and the bubbles will become bigger and clearer.

Soon, the milk solids will start to curdle and attach to the sides of the pan. Just scrape the sides of the pan from time to time to help the milk solids sink to the bottom.

As the milk solids sink to the bottom, you will notice that your butter is beginning to clear up.

It will get more and more translucent, the bubbles will get larger and the foam will eventually completely disappear.

Keep a close eye on your butter and keep stirring, so the milk solids don't attach to the pan and burn.

As soon as the butter starts foaming for the second time, your ghee is ready to be strained.

Take it off the heat and let the foam settle for a few seconds.

Line a sieve with several layers of cheesecloth and put it over a large bowl or measuring jug and pour your ghee in it!

Discard the burnt milk solids and transfer the filtered ghee into a glass jar.

It may be stored at room temperature, but I prefer to keep it in the fridge.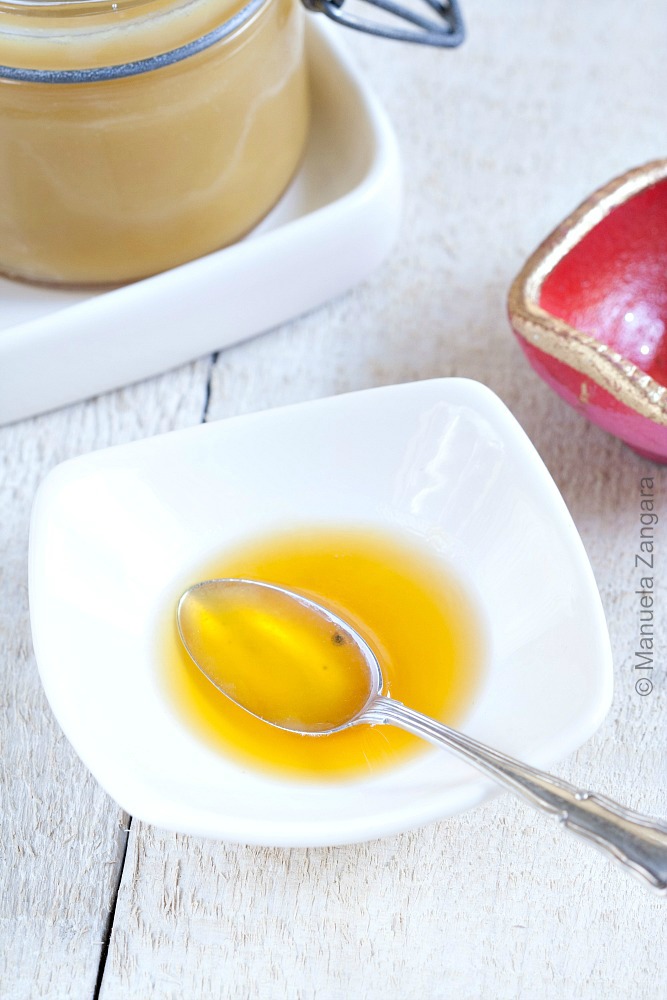 Related Posts: