I must admit I had never attempted to make macarons before!  Yes… you got that right!  I have always been intimidated by how "precise" you need to be.  Besides, I am not a "baker".  Mind you, I do bake occasionally (and I am doing more so lately), but I tend to use the stove more than the oven.  Since I started blogging though, I have seen so many posts of beautiful and mouth watering macarons that I decided to give it a go.  I found this recipe for the shells over at Joshua's Just Eat and thought it sounded "easy enough" for me to try.  I must admit I had a few problems with my oven, but in the end I think I got them right… thanks to my friend Jill's tips!  You absolutely must visit her site: Mad About Macarons, just thinking of it makes my mouth water!  So, here you have my first (well… second to be honest ;-P) attempt at making macarons.
Sharing this recipe with Full Plate Thursday by Miz Helen and It's a Keeper Thursday by Christina.
Ingredients – Adapted from Just Eat's Le Macaron Royal recipe
For the shells:
95 gms ground almonds or almond meal, sifted
75 gms egg whites (aged) and brought back at room temperature
155 gms pure icing sugar, sifted
45 grams sugar
20 gms cocoa powder, sifted
Black or brown food coloring (powder or paste) – optional
For the white chocolate and mint ganache:
100 gms white chocolate
50 gms thickened cream
2 tbsp mint syrup
1 egg yolk
Green food coloring (liquid) – optional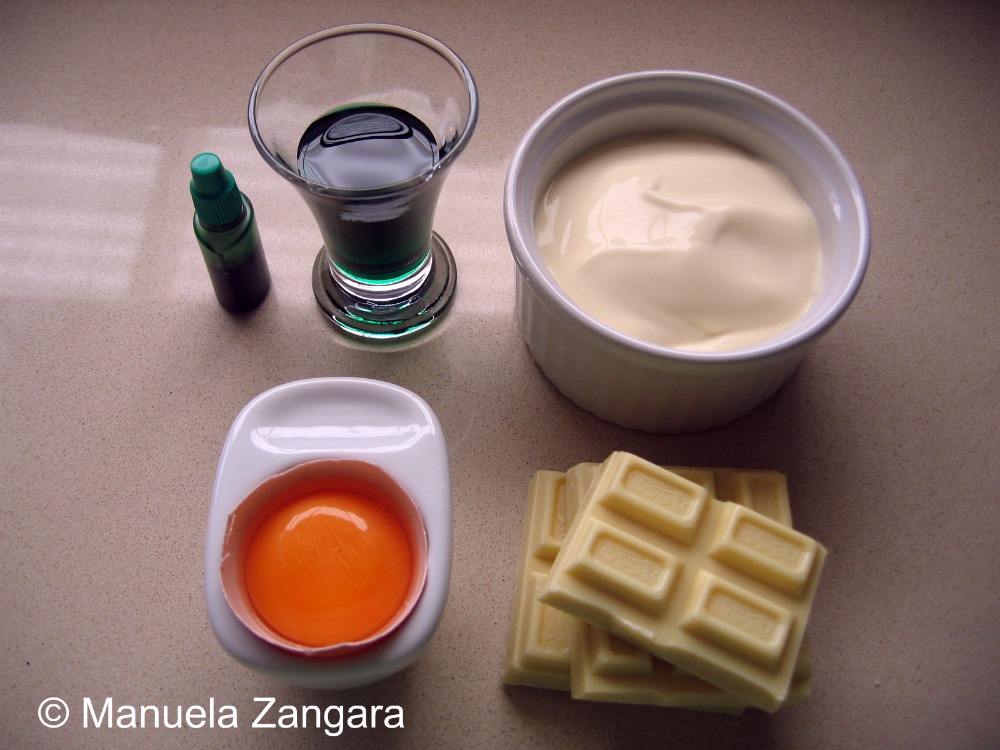 To make the shells:
The first thing to do is to "age" your egg whites.  You can either leave them in the fridge for 4 days or keep them out on your kitchen's bench top for a couple of days.  I covered mine with a sieve, to prevent small particles to get into it.  Remember to bring them back at room temperature BEFORE whisking them.  You can use your egg yolks in many other recipes… you could make a yummy Carbonara or some Genovesi Ericine for example.  You can also visit Jill's blog for many other creative ideas: she's hosting a very interesting series of guest posts on how to use up your left over yolks!
On the day you want to bake your macarons, make sure you have everything ready, BEFORE you start making your shells.  Prepare the piping bag with the right nozzle (a normal circular nozzle of about 1 cm in diameter) and line your oven trays with baking paper or with a silicone cookie mat.  I have used cookie sheets and I have lined one with baking paper and the other with the silicone mat and either way is fine.  Also, ensure that the bowl where you will be whisking the egg whites is perfectly clean and dry or you will not be able to get the meringue right.
Now you are all set to start making your macarons.  Sift the almond meal, the pure icing sugar and cocoa powder and mix them together in a large bowl.
The next step is to make the meringue.  Put the egg whites in a bowl and start whisking them with an electric mixer.  Add the sugar (and the food colouring – optional) little by little and keep whisking until you get very stiff peaks.  The meringue has to look translucent.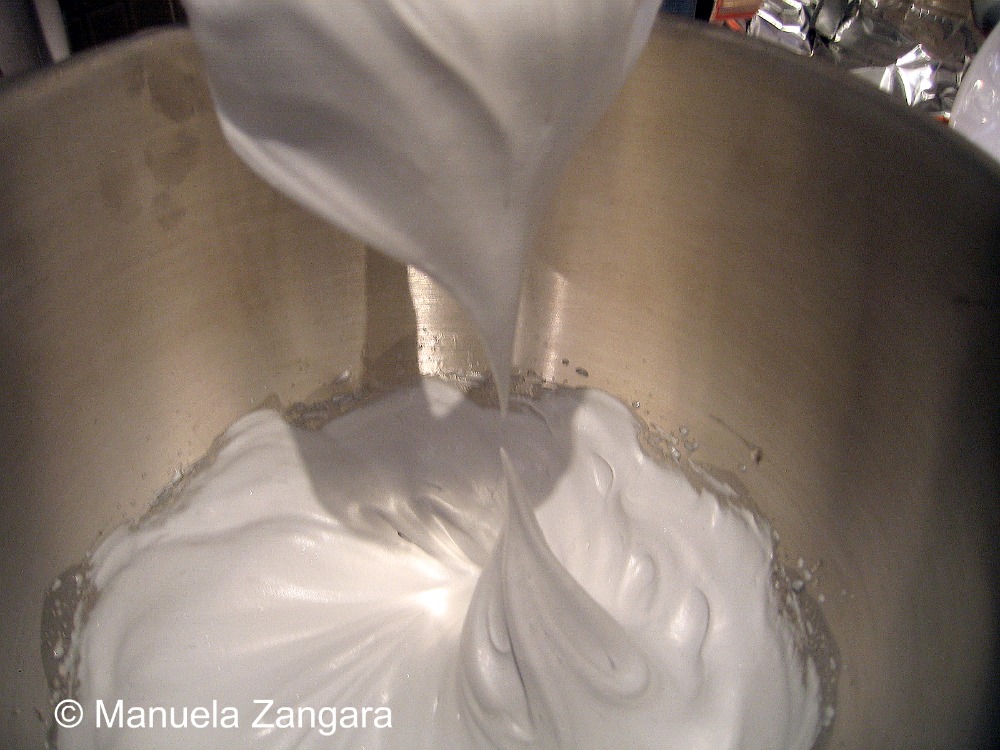 Add the meringue to the almond meal and icing sugar mix and stir well using a spatula.
When all the meringue has been incorporated, you need to do what is known as the "macaronnage".  Using a pastry scraper (or the same spatula that you were using to mix), scrape the batter back and forth against the bowl to remove air bubbles, until your batter ribbons off the scraper (or "flows like magma").
Now you are ready to pipe it!  Fill your piping bag and pipe out circles of batter on the lined baking tray/cookie sheet by squeezing the bag while keeping it in one spot.  Let the macarons rest between 30 to 60 minutes or until they harden a bit.
Baking is actually what I had the most problems with.  I baked one batch of green shells at what I thought was 160°C for about 12 minutes and while they had nice feet and were cooked nicely, they slightly browned on the top (so they did not look as "green" as I had expected).  I asked Jill and she suggested to check my oven's "actual" temperature with an oven thermometer… and guess what?  While I had set it to bake at 160°C, it was actually heating up to 180°C!!!  I also noticed that sometimes the temperature would drop and go back up again… Not very good when you have to bake macarons!
So I decided to bake this chocolate batch at 150°C (fan forced) for about 15-17 minutes.  I kept a thermometer in all the time and kept checking that the temperature would not rise too much… I also kept them on the lowest shelf of the oven, just to be extra safe… and it worked!  I totally quote Jill who suggests "experimenting with your oven, checking its real temperature and seeing what works best for you".
When ready, take them out of the oven and let them cool down BEFORE attempting to detach them from the baking paper/silicone mat… if you try to detach them before, they may break and you will ruin those nice feet on the macaron!  So be patient.  If you still cannot detach them easily, you can also put them in the freezer for a couple of minutes… they will come off easily then.
Once cool, put them in an air tight container and keep them in the fridge till you are ready to assemble them.
To make the white chocolate and mint ganache:
Put the cream in a pot and heat until almost boiling.  Add the white chocolate and stir until melted and smooth.  Add the mint syrup (and food colouring – optional).  Let it cool slightly.
Now whisk the egg yolk into the chocolate.  Refrigerate until it hardens and is ready to be piped onto the macarons' shells.
Pipe the white chocolate and mint ganache on half of the shells and put the remaining shells on the top, like a sandwich.  Tip: if the ganache is still a bit too fluid, put the shells with the piped ganache back in the freezer for a couple of minutes before attaching the other shells on top.
Put the ready macarons back in the fridge so the ganache hardens a little more.  They are best eaten the day after… if you can resist.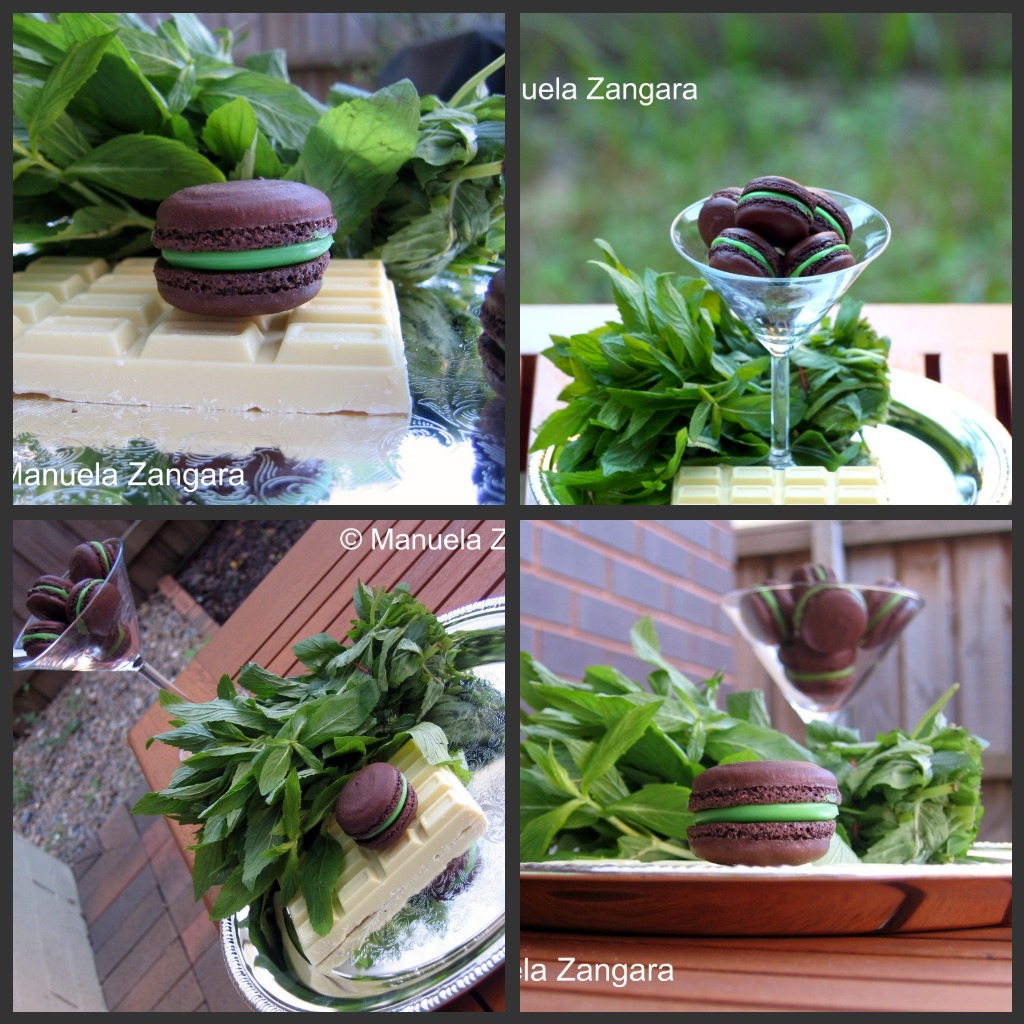 A BIG thank you to Jill of Mad About Macarons for all her great tips and encouragement!  I would have never tried again without her help!!! <3  And if you haven't done it yet, please visit her site, it is full of fantastic tips and mouth watering pictures on macarons and more!  Also, thanks a lot to Joshua from Just Eat, where I got the basic macaron shells recipe from!  He too has a fantastic website, you should really check it out!
Enjoy… maybe with a pot of mint tea!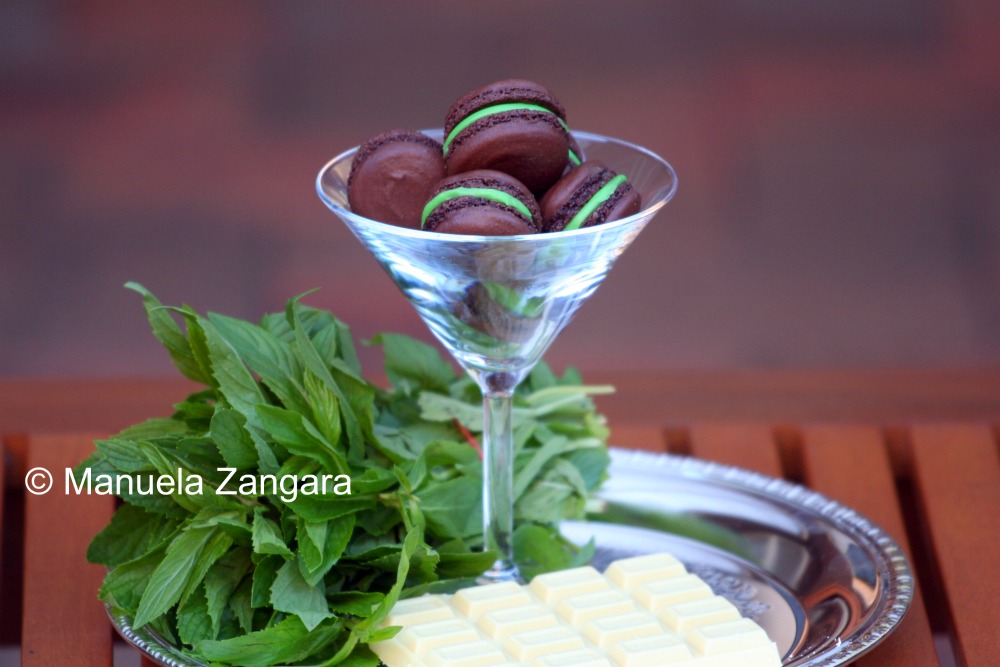 NOTE: If you liked this recipe, you can vote for it over at Foodfrenzy for the monthly challenge.  This month's ingredient is mint!  UPDATE – This recipe WON the May challenge!!!!  YEAHHHHH!  Thank you all very much for your votes!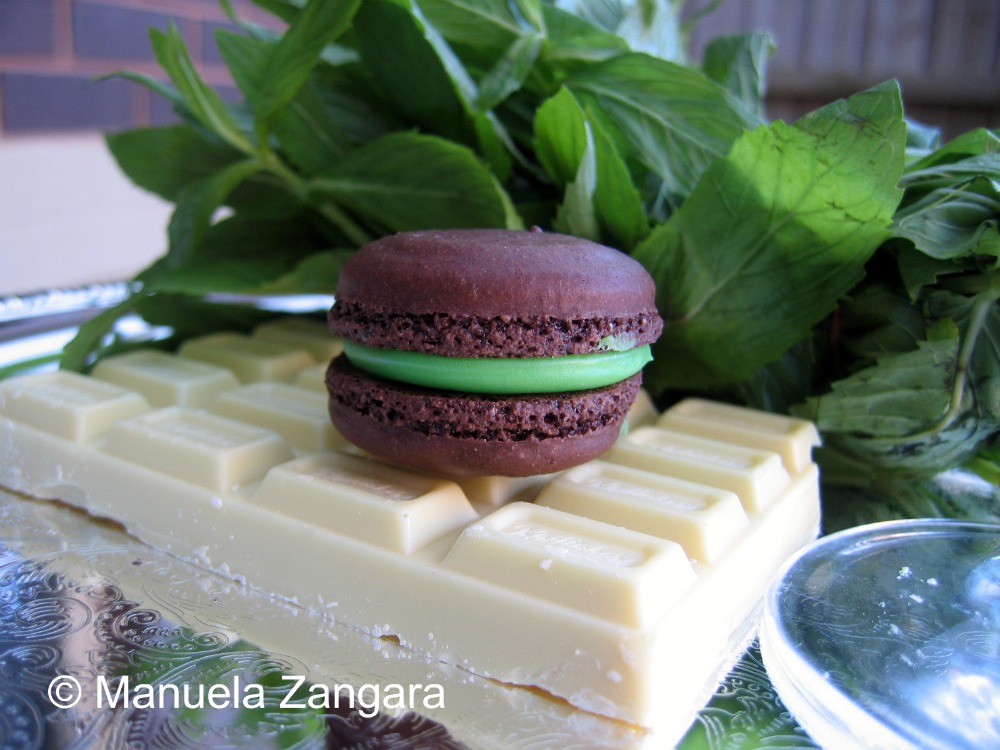 On another note… I was honoured with the Versatile Blogger Award by 2 of the bloggers I enjoy reading the most: Tina from Pinay Cooking Corner and Mindy from Whiski Business!  Thank you so much ladies!  I do feel fluttered and so happy.  It really means a lot to me that the people I admire like what I do!!! 🙂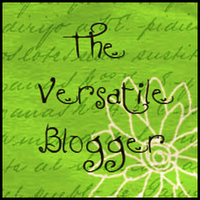 So… time to pass this award to some other bloggers I love.  As I have passed on many awards only a couple of days ago, this time I will award different blogs:
Cooking Italian in the Midwest
And then I ate it
So there you have it… have fun browsing the above fantastic blogs!!!  And thank you once again Tina from Pinay Cooking Corner and Mindy from Whiski Business: you made my day! 🙂

Related Posts: