This is going to be the 3rd recipe of macarons that I am sharing on my blog.  I like all of them: the ones with a White Chocolate and Mint ganache and the ones with Quince Jelly… they are all delicious, but today's macarons are my all time favourite macarons.  I LOVE salted caramel anything and I must admit that there is nothing better than to have it in a macaron.  When you take a bite of the light, crunchy yet chewy shell and encounter the salted and sweet caramel filling… it is an explosion of flavours in your mouth.  I must warn you though, these are addictive.  When you start eating them, it is very hard to stop.  I think everyone should try and make macarons!  They are not that hard to make: the key is to be precise in measuring the ingredients.  This is why I suggest you use a scale to weigh your ingredients.  Other than that, they are just so much fun to make… you can make any flavour-colour combination and that is what makes them great fun!
Ingredients (makes about 20 macarons)
For the shells – recipe adapted from Just Eat's Le Macaron Royal recipe
63 gms – 2.2 oz. ground almonds or almond meal, sifted
50 gms – 1.76 oz. egg whites (aged) and brought back at room temperature
103 gms – 3.63 oz. pure icing sugar, sifted
30 gms – 1.05 oz. sugar
Pink and/or orange (or any colour you like) food coloring (powder or paste)
For the salted caramel & buttercream – recipe adapted from The Boy who Bakes:
180 gms – 6.35 oz. sugar
300 gms – 10.6 oz. whipping cream
27 gms – 0.95 oz. salted butter
125 gms – 4.4 oz. softened butter
NOTE: this recipe will give you more buttercream than you require for the macarons.  You can make half dose or you can store the remaining buttercream in an air tight container and keep it in the fridge for up to 10 days or in the freezer for up to a few months.  Just let it thaw/bring back at room temperature and re whip it on low before using it.  You can also use the remaining salted caramel and buttercream to make these delicious Triple Salted Caramel Cupcakes.
For the shells:
The first thing to do is to "age" your egg whites.  You can either leave them in the fridge for 4 days or keep them out on your kitchen's bench top for a couple of days.  I covered mine with a sieve, to prevent small particles to get into it.  Remember to take bring them back at room temperature BEFORE whisking them.  You can use your egg yolks in many other recipes… you could make a yummy Carbonara or some Genovesi Ericine for example.
On the day you want to bake your macarons, make sure you have everything ready, BEFORE you start making your shells.  Prepare the piping bag with the right nozzle (a normal circular nozzle of about 1 cm in diameter) and line your oven trays with baking paper or with a silicone cookie mat.
Now you are all set to start making your macarons.  Sift the almond meal and the pure icing sugar and mix them together in a large bowl.
The next step is to make the meringue.  Put the egg whites in a bowl and start whisking them with an electric mixer.  Add the sugar and the food colouring little by little and keep whisking until you get very stiff peaks.  The meringue has to look translucent and pearl like.
Add the meringue to the almond meal and icing sugar mix and stir well using a spatula.  When all the meringue has been incorporated, you need to do what is known as the "macaronnage".  Using a pastry scraper (or the same spatula that you were using to mix), scrape the batter back and forth against the bowl to remove air bubbles, until your batter ribbons off the scraper (or "flows like magma").
Now you are ready to pipe it!  Fill your piping bag and pipe out circles of batter on the lined baking tray/cookie sheet by squeezing the bag while keeping it in one spot.  Let the macarons rest between 30 to 60 minutes or until they harden a bit.
If you have read my post on Macarons with White Chocolate and Mint Ganache and my post on Quince Jelly Macarons , you already know that baking the shells is actually what gives me the most problems.  I am still experimenting with my oven as I find that when I bake light coloured shells at 150°C – 302°F (fan forced) instead of 160°C – 320°F they still tend to slightly change colour!  Anyhow… in this case I did not mind as they paired well with my salted caramel buttercream!  So, depending on your oven, you can bake them either at 160°C – 320°F for about 12 minutes, or at 150°C – 302°F for 15-17 minutes… it is all about experimenting and getting to know your oven.  I also suggest that you buy a small oven thermometer if you have problems, to check the actual themperature of your oven (mine for example heats up to 20°C – 68°F more than what I set it to)!
When ready, take the shells out of the oven and let them cool down BEFORE attempting to detach them from the baking paper/silicone mat… if you try to detach them before, they may break and you will ruin those nice feet on the macaron!  So be patient.  If you still cannot detach them easily, you can also put them in the freezer for a couple of minutes… they will come off easily then.
Once cool, put them in an air tight container and keep them in the fridge till you are ready to assemble them.
For the salted caramel:
Put 1/3 of the sugar in a pan and let it melt on a medium fire.  When melted, add another 1/3 of sugar and let this melt too.  Do the same for the remaining 1/3.  When all the sugar has melted, let it caramelise until it becomes a very dark amber colour.
Remove from the fire and add the 27 gms – 0.95 oz. of salted butter. Stir well.  Add the cream and stir (do not worry if the caramel hardens at this point, it will still melt during the next stage).  Put the pan back on the fore and cook until the caramel reaches 108°C – 226°F on a candy thermometer (I have done this even without a thermometer… keep in mind that it will boil at 100°C – 212°F, so keep boiling it for a few minutes… it will have to become like in the pictures).
Now put the fire off and cover the caramel with plastic wrap (the wrap has to touch the caramel) to prevent a skin fronm forming.
Let it cool down COMPLETELY before the next stage.  I actually make the caramel the day before making the buttercream, just to be safe.  If the caramel is too warm, it will melt the butter and the buttercream will not come out as expected.
For the salted caramel buttercream:
Beat the 125 gms – 4.4 oz. of butter for a few minutes and then incorporate the salted caramel to it.  Mix well.
To assemble the macarons: 
Put the buttercream in a piping bag, pipe it on half of the shells and put the remaining shells on the top, like a sandwich.
Store the assembled macarons in an air tight container in the fridge for 24 hours and remove them 2 hours before serving them.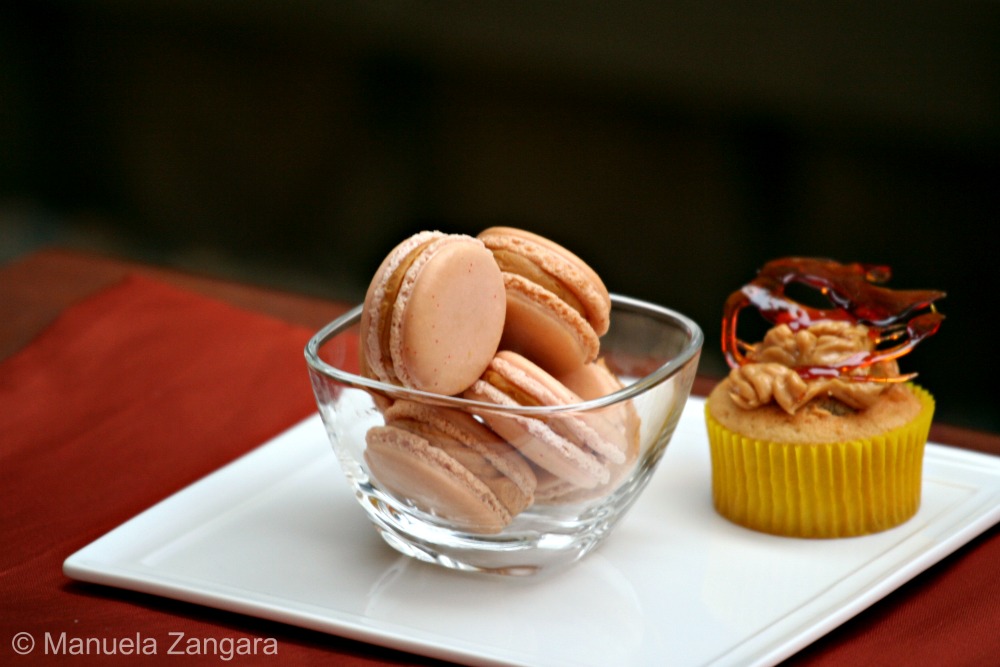 On a completely different note, I want to THANK Asiya from Chocolate & Chillies for awarding MsM with the following awards:
Asiya has a beautiful site, full of yummy treats that I warmly recommend you check out! <3  THANKS for thinking of MsM, Asiya!!
And now it is my turn to pass the awards on to 5 bloggers!  Aaawww it is so hard to choose only 5… so I have decided to pass it on to some of my "Italian" blogging friends!!!   Here they go to:
Giulia from Alter Kitchen
Paola from An Italian Cooking in the Midwest
Frank from Memorie di Angelina
Fiona from Nuts About Food
Paolo from Quatro Fromaggio
Enjoy everyone!!!!

Related Posts: