I am so excited about today's recipe: Malbec Ice Cream. Malbec is a red wine quality, typical from the north of Argentina. So, yes… it's red wine ice cream everyone! And it tastes amazing!
I tried it for the first time at the hotel where we were staying at in Cafayate during our recent trip to Chile and Argentina, and I immediately fell in love with it. After the first bite, I knew I had to try and make it at home. I was lucky enough, as the chef disclosed the ingredients to me, so it wasn't too difficult to reproduce. The final result tasted amazing.
The wine I used though was slightly different so the ice cream taste was slightly different too. I was only able to find a Malbec from the Mendoza area of Argentina, but if you can find it, do use one from the Cafayate/Valles Calchaquies area… they are probably not as "famous" outside of Argentina, but I really like their taste more. Also, make sure to use a good quality wine or you will taste it in the final ice cream.
The Valles Calchaquies area is one of the most breathtaking places I have ever seen, with beautiful canyons, desert-like areas alternating with rivers and fertile land, tiny colonial villages, and wineries everywhere.
I will be posting a guide on the area soon, so make sure to check back in a few days time.
This Malbec ice cream is very creamy, as it is a "real" ice cream, made with a dairy base, and not a sorbet. You won't taste the alcohol, as the wine is reduced into a syrup and the alcohol evaporates while cooking. The final result is a beautiful purple coloured creamy ice cream with a deep, fruity and slightly spiced flavour. Serve it with walnuts and/or crumbled meringues for some crunch.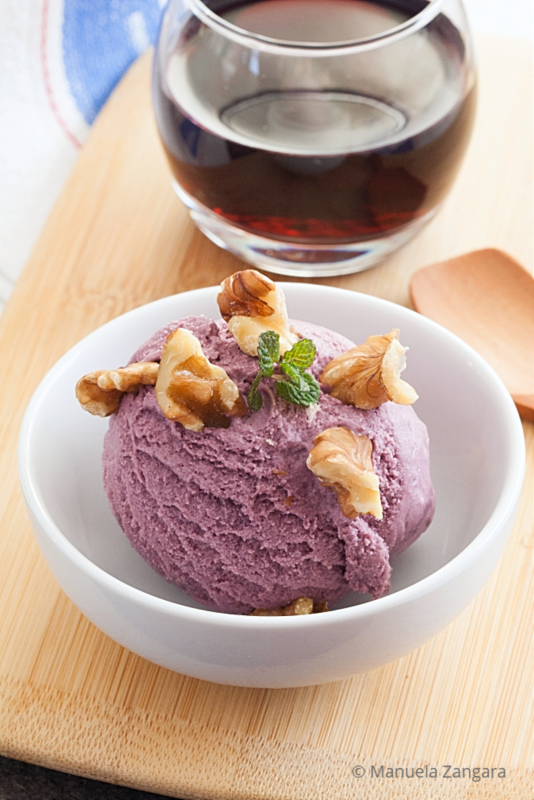 Don't forget to check out my video recipe and to leave a comment to let me know how you like it!
Malbec Ice Cream
Malbec Ice Cream – a silky, creamy, delicious and somewhat uncommon ice cream made with red wine, typical of the North West of Argentina.
Chilling and Freezing
5
hours
Ingredients
750

ml

– 25 oz. Malbec red wine

see notes

250

ml

– 1 cup milk

I used lactose-free milk

300

ml

– 1 ¼ cup heavy cream

I used lactose-free heavy cream

150

gms

– ¾ cup granulated sugar

4

egg yolks

1

cinnamon stick
Instructions
In a shallow pot, heat up the Malbec wine with the cinnamon stick. Bring to a boil, then simmer until it reduces to 150 ml – 2/3 cup. Discard the cinnamon stick, transfer to a jug/glass and let it cool down, then refrigerate until completely chilled.

In another pot, heat up the milk and heavy cream. Do not boil.

In the meantime, beat the egg yolks with the sugar until white and creamy. While still beating, slowly add the warm milk/cream mixture.

Transfer this mixture to a pot and cook until it slightly thickens (the cream has to coat the spoon). Let it cool down, then refrigerate until completely chilled.

When both the cream and wine syrup are cold, mix them together.

Churn this mixture in your ice cream maker according to the manufacturer's instructions.

Put it in the freezer for at least 3 hours before serving.

Serve with walnuts for an extra crunch.
Recipe Notes
Make sure to use a good Malbec for this ice cream. If you use a cheap one, your ice cream will not taste as good. If you are lucky enough to find it, use a Malbec from the Cafayate/Valles Calchaquies area. I could only find one from Mendoza.
I made this ice cream using lactose-free milk and cream, so I was able to enjoy it too, but you can use regular dairy.

Related Posts: