During our trip to Chile and Argentina, we travelled from Salta to Cafayate by car, stopping along the way in Cachi and Molinos. Cafayate is the unofficial capital of the Calchaquíes Valley. The town is also at the heart of a large wine-producing region, which comes second only to Mendoza.
Even though the road is in very bad shape, the drive is
beautiful
and you pass through little dusty villages out of a western movie and huge
canyons
with breathtaking rock formations.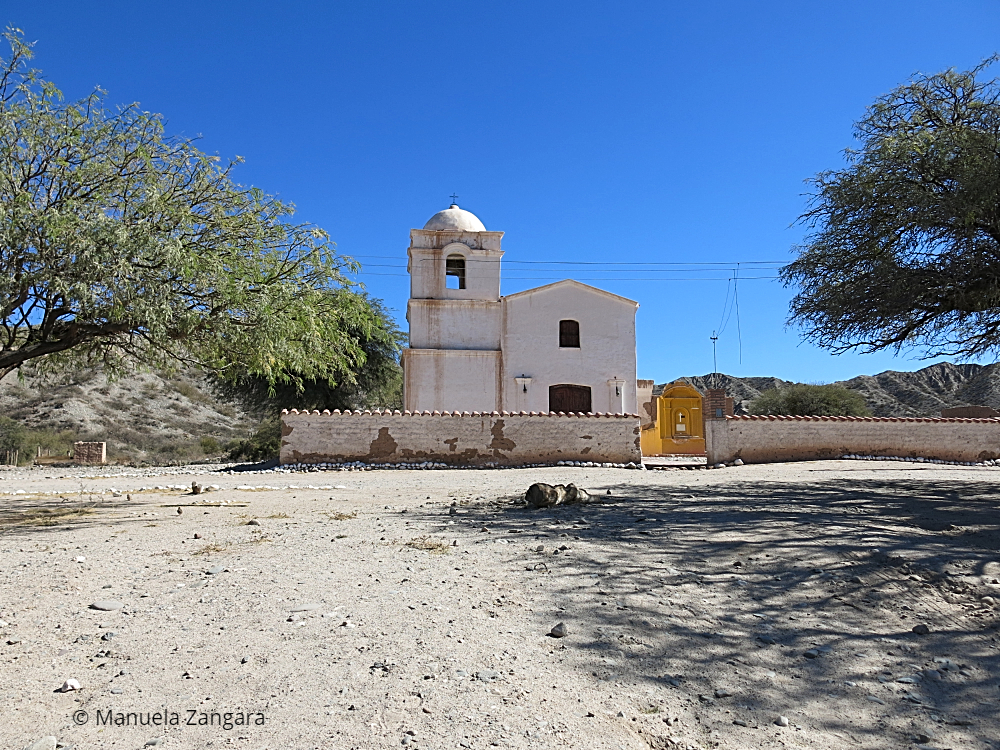 This was yet another one of my favourite parts of the trip.
WHEN TO GO
The region is great to visit at any time of the year. If there was an ideal time to come, then it would be in spring and the beginning of summer (September to December). During this period, daytime temperatures fluctuate between 23°C and 30°C (74°F and 84°F), with lows rarely falling below 10°C (50°F). Spring is also the dry season.
At the height of summer temperatures can hit the 40°C (104°F) mark and flash thunderstorms occur. Autumn is another great time to visit as the summer rain gives life to the mountainous landscape and creates a sweeping panorama of greenery.
We visited in June, which is just the beginning of winter. It was starting to get cold (freezing at night!), but we had amazing blue skies and it was sunny every day, apart from one day, when it was rather cloudy. All things considered, it was still a great time to visit.
The best part about travelling in winter is the lack of crowds. In fact, that was probably what I loved the most: being able to wander around almost alone.
SIGHTSEEING
The best way to experience this region is to rent a car and enjoy the breathtaking views. Unfortunately, RN40 between Molinos and San Carlos, near Cafayate, is in terrible shape. The road is gravel and full of potholes. It's also very narrow at times and you will need to drive carefully and slowly! However, the landscape around you is amazing and it will be an adventure you will never forget!
After 2 days of gravel road, we finally saw a paved road in San Carlos!
QUEBRADA DE LAS FLECHAS
Just after the town of Angastaco, RN40 enters Quebrada de las Flechas, a canyon with a lunar landscape, located in the central part of the Valles Calchaquíes.
Here you can find stunning natural formations: eroded cliffs in tones of white, grey and beige that jut out in steep angles from the ground in overlapping layers that resemble gigantic arrowheads (flechas).
The colour of the sandstone ranges from pale ash colour to reddish ochre. The canyon is protected as the Monumento Natural Angastaco, a provincial park, and a natural monument.
The road here is very bumpy and dusty, but you can't help stopping every 5 minutes to take some photos! This place is surreal!
CAFAYATE
Almost 200 kilometers (125 miles) south of Salta is the town of Cafayate. Encompassed by mountains, the town is in the centre of a large wine-producing region, second only to Mendoza. This wine region is famous for growing the Torrontés grape, used for white wines.
Cafayate is a peaceful destination centered around a beautiful main square.
There are a handful of attractions but what draws visitors are the welcoming guesthouses, excellent restaurants and opportunities to visit the wineries.
History enthusiasts might want to stop by the Rodolfo Bravo Regional and Archaeological Museum (cnr Calchaquí and Colón). It contains displays of artefacts relating to the life of the Diaguita-Calchaquí people and other indigenous groups that inhabited the region.
Wine lovers will enjoy the Museo de la Vid y el Vino (cnr Chacabuco and Gral. Güemes Sur), a museum with exhibits explaining Cafayate's wine-producing history.
We just loved to stroll around its quiet streets and explore the little shops.
Wineries
Cafayate's wineries are within easy reach of the town, with many clustered around the junction of Ruta 40 and Ruta 68. The easiest way to get to them is by car, but many are also reachable on foot. Alternatively, you can rent a bike and spend the day taking different tours and exploring the area's countryside. Note that wine tasting is not free (unlike here in Australia).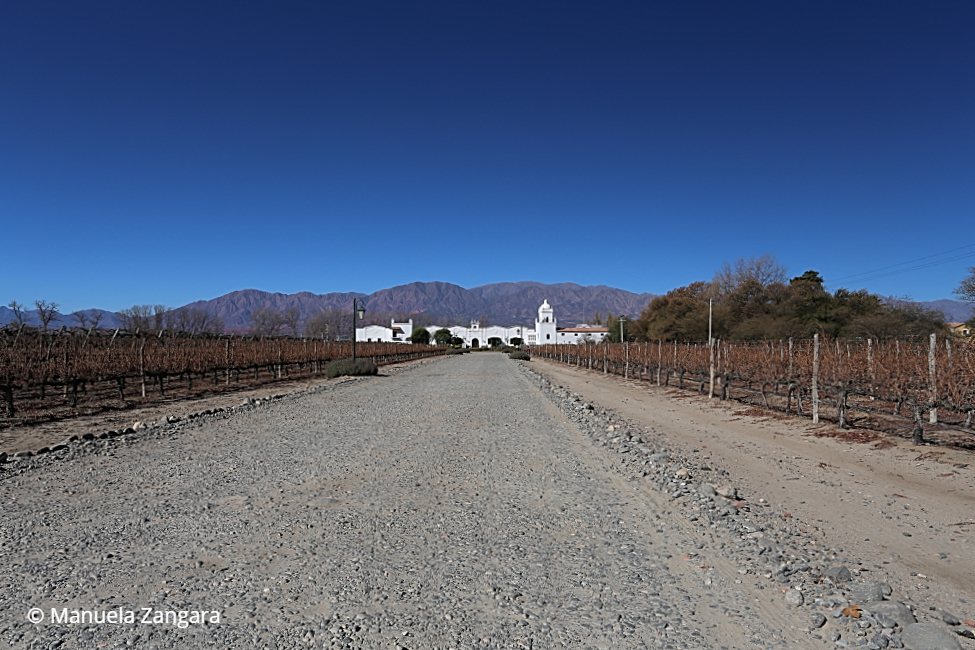 We visited only one winery, as we also wanted to go to Quilmes, so we chose the "main" one: Bodega El Esteco. Besides, we were staying right there.
Bodega El Esteco (Ruta 40 and Ruta 68). Just north of the entrance to Cafayate, is one of the most popular bodegas in the region. Its Elementos brand is a mid-priced wine seen all over the country. Informative tours explain the process involved in winemaking (very interesting) then finish with tastings in a bar-cum-shop. After a tour, you can enjoy open views of the mountains and vineyards. The colonial style white-washed building is also a 32-room boutique hotel (see below for my review). The bodega is a 25-minute walk from Cafayate's main square. Tour + tasting of 3 wines was 160 pesos per person.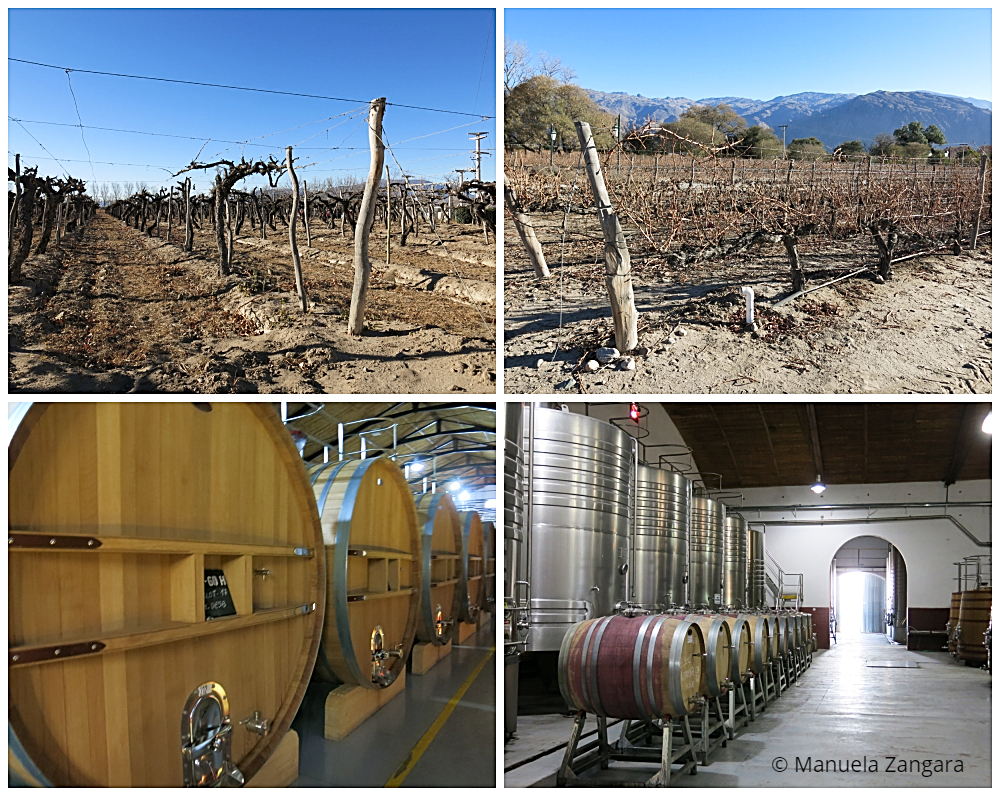 Bodegas Etchart (Ruta 40, Km 4338). Founded in 1850, this is one of the oldest wineries in the region. The vines grow at a height of 1,750 metres (5,740 feet) above sea level, thus making it part of one of the world's highest vinicultures. The bodega runs standard tours that include a visit to the vineyards and factory followed by tastings.
Vasija Secreta (Ruta 40). At the entrance to Cafayate, this bodega is also within walking distance of the town centre. In addition to a tour of the bodega, you can visit the Wine Museum, which has displays of historic wine machinery and barrels. The bodega has its restaurant where wine experts will help you choose the correct wine to enjoy with your meal.
Bodega Nanni (Silverio Chavarría 151). Just one block from the town's main square, this bodega is ideal if you are just passing through Cafayate and want a quick peek into the world of winemaking. It specializes in the production of organic wines and is managed by the fourth generation of an Italian family.
RUINS OF QUILMES
The Ruins of Quilmes (70 pesos per person, including a guide and the museum) are an archaeological site in the Calchaquí Valleys, in the Tucumán Province. From Cafayate, you need to drive further south on RN40 for 50 kilometres of paved road surrounded by vineyards.
Quilmes is the largest pre-Columbian settlement in Argentina, occupying about 30 hectares. The area dates back to 850 AD and was inhabited by the Quilmes people until 1666, when it was conquered by the Spanish. It is believed that about 5,000 people lived here during its heights. The place is huge.
The site is also known as Argentina's Machu Picchu. In fact, the big mountain you first see when you arrive is a stone fortress and it was the place chosen by the locals to set their defense against the enemy.
The Quilmes people fought really hard against the Spaniards and they were defeated after many years because the Spanish people, who could not defeat them militarily, poisoned their water and burnt their crops. The few survivors were taken on foot to a place near Buenos Aires that is now known as Quilmes, in honour of these brave warriors.
The saddest part is that they would not write. All their culture was passed down generation to generation orally. The Spaniards prohibited them to speak their native language and would cut out their tongues if they disobeyed. That means that there is not much left of their culture.
The local museum tells their story and there is a small collection of artefacts on display. I really liked the museum. It is indeed very small, but it's well maintained and the people who work there are very knowledgeable and keen to tell the story of their ancestors.
Highly recommended.
QUEBRADA DE LAS CONCHAS
Quebrada de las Conchas (or Canyon of the Shells) is part of the Calchaquí Valley, which is the region surrounding Cafayate and it is about an hour and a half south of Salta.
These 50 kilometres of Ruta 68, just outside of Cafayate, are one of the most iconic drives in Argentina. Wind, water and tectonic activity have transformed this landscape into unique geographical forms.
There are a number of natural landmarks to see throughout the Quebrada.
Los Colorados – The Colourful
This was our first stop! Such a beautiful place.
Las Ventanas – The Windows
This was probably my most favourite place! These rock formations are just breathtaking.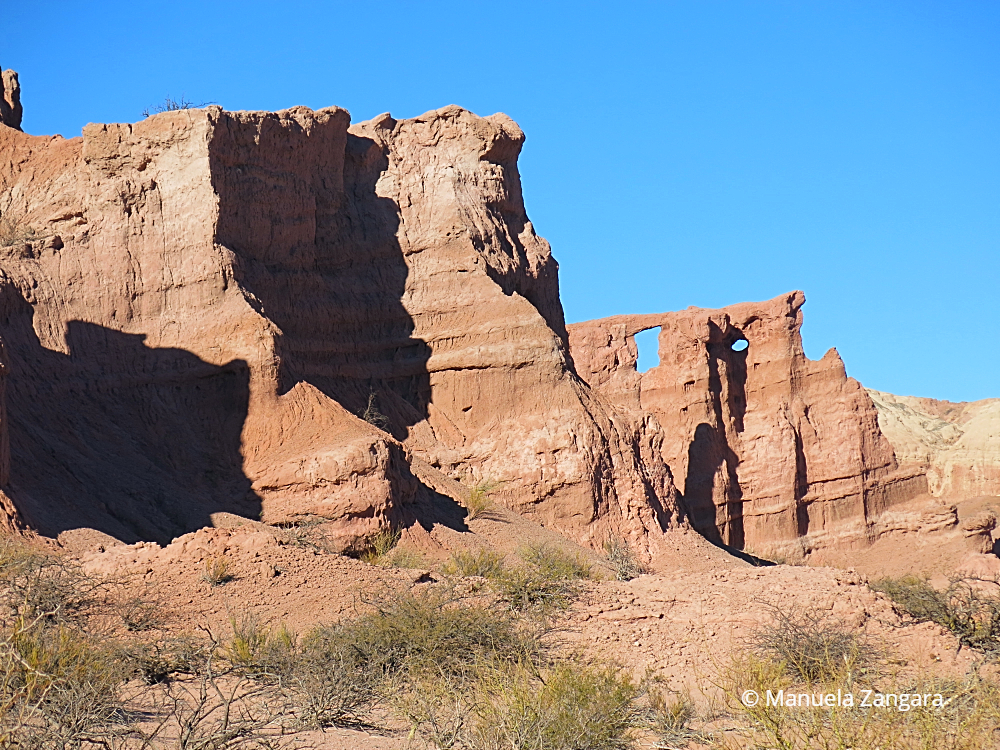 Los Castillos – The Castles
Unfortunately, we were facing the sun, so the photos are not too clear. However, this is one of the most famous rock formations of the canyon.
El Obelisco – The Obelisk
This obelisk is a little underwhelming compared to the original in Buenos Aires. Nevertheless, we stopped for the obligatory photo.
El Sapo – The Toad
This formation is so cute! It is like an enormous toad!
Mirador Las Tres Cruces
This viewpoint was spectacular. Look at those colours!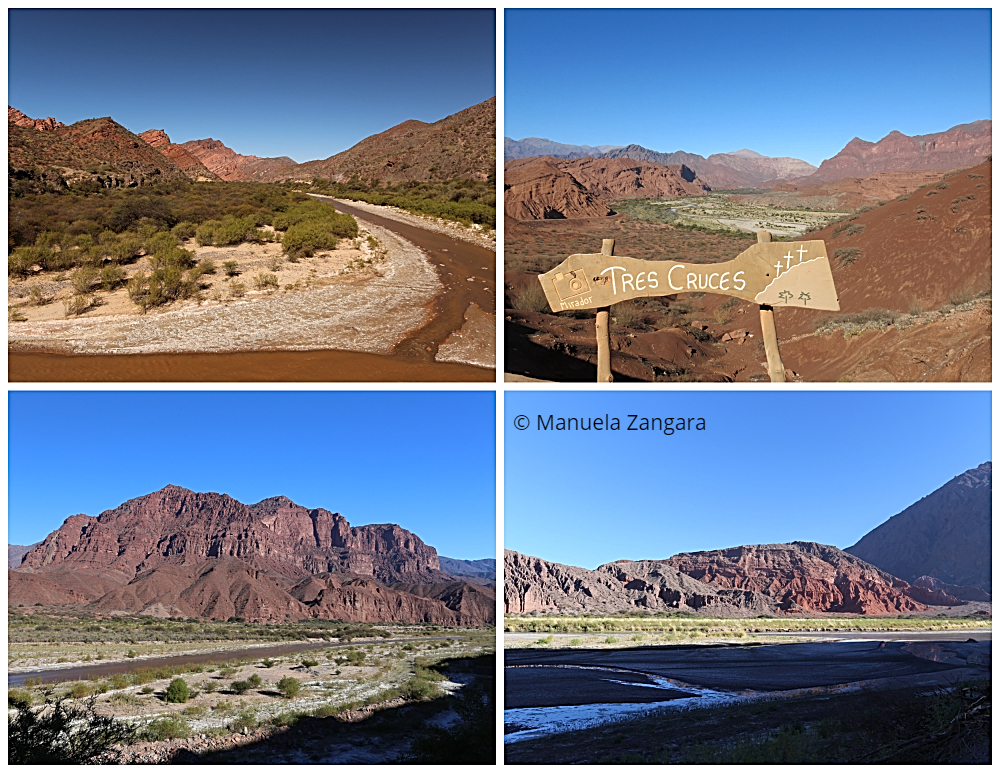 El Anfiteatro – Amphitheatre
The amphitheatre is very appropriately named. The acoustics are magnificent, and there are usually musicians inside playing local folkloric music.
Garganta del Diablo – Devil's Throat
Just like the Amphitheatre, this formation was formed by a waterfall slowly eroding the rock. This was the last place we stopped at before returning to Salta.
FOOD
The cuisine of this area of Argentina is very different from the rest of the country. Be sure to try the empanadas. Other local fare includes locro, a thick stew of corn, beans and potato; tamales, corn flour wraps filled with meat and/or potatoes and steamed in a leaf wrapper; and humitas, steamed corn husks filled with mashed corn and cheese.
However, the real star here is wine. The area around Cafayate is particularly renowned for its Malbec (red wine) and Torrontes (white wine).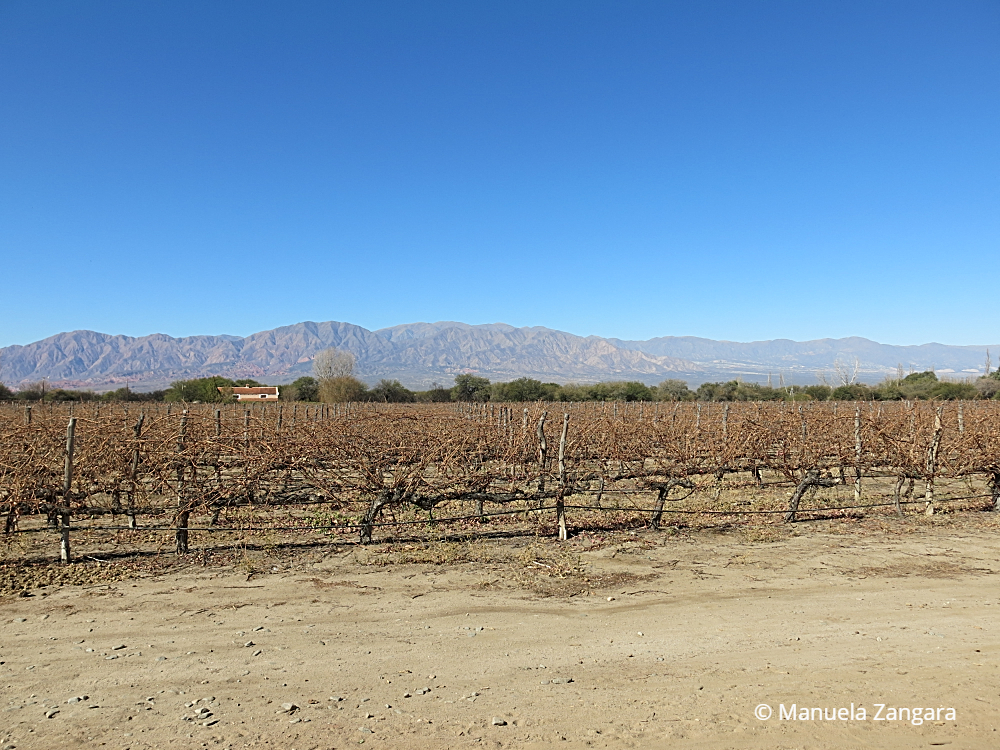 As we were staying at Patios de Cafayate, we had dinner in its restaurant La Rosa.
Let me say I was absolutely blown away by how professional the staff was. I had emailed the hotel to let them know I had some food intolerances. Well… the moment we entered the restaurant, the waiter came up to me and told me straight not to worry and that I had been taken care of by the chef. To make things easier, I had just requested something simple, so I guess it was easy for them to make me a steak with safe mash. However, what I really loved (I was almost moved!!) was that I didn't have to explain and sort of "justify" myself when ordering. They made me feel like I was welcome and not a problem and they also modified other dishes to fit my requirements. I wish all restaurants were like that!
The food was fantastic! We started with Llama Carpaccio. Soooo good!
Then my husband had a delicious Slow Cooked Pork Shoulder.
And I had a juicy and perfectly cooked steak with safe (dairy free) mash. Yum.
The kids had chicken schnitzel with chips.
And ice cream.
For dessert, my husband had a Torrontes Poached Pear with Cinnamon and Lavender Ice Cream – he said it was to die for.
I had 3 different ice cream flavours. Yes! I had lactase pills, so I went ahead and had dairy. However, I asked for the ingredients (to make sure I could eat them) and I was told exactly what went in the ice creams. That's how I managed to make them at home. 😉 These were Malbec (red wine), Cayote (a kind of local pumpkin) and Torrontes (white wine), which was my absolute favourite. Click here for my Malbec Ice Cream recipe and make sure to come back in the next few days for the recipe of Torrontes Ice Cream.
The second night, I had exactly the same things (too yummy!), while my husband also tried the Steak with Herbed Butter, aioli and chimichurri and Chips. He said it was amazing (it does look great).
We also had a bottle of Torrontes from the adjacent Bodega El Esteco to drink.
Highly recommended, even if you don't stay at the hotel.
ACCOMMODATION
In Cafayate, we stayed at Patios de Cafayate. This is a 32-room boutique hotel set amidst the vineyards of the winery El Esteco and with breathtaking views of the Calchaquí Valleys.
The original house was founded in 1892 and it is so beautiful!
There are many patios with rustic furnishings and antiques everywhere.
There is even a small private Chapel!!
I loved the reception area with the fireplace that was perfect in the evenings as it was pretty cold.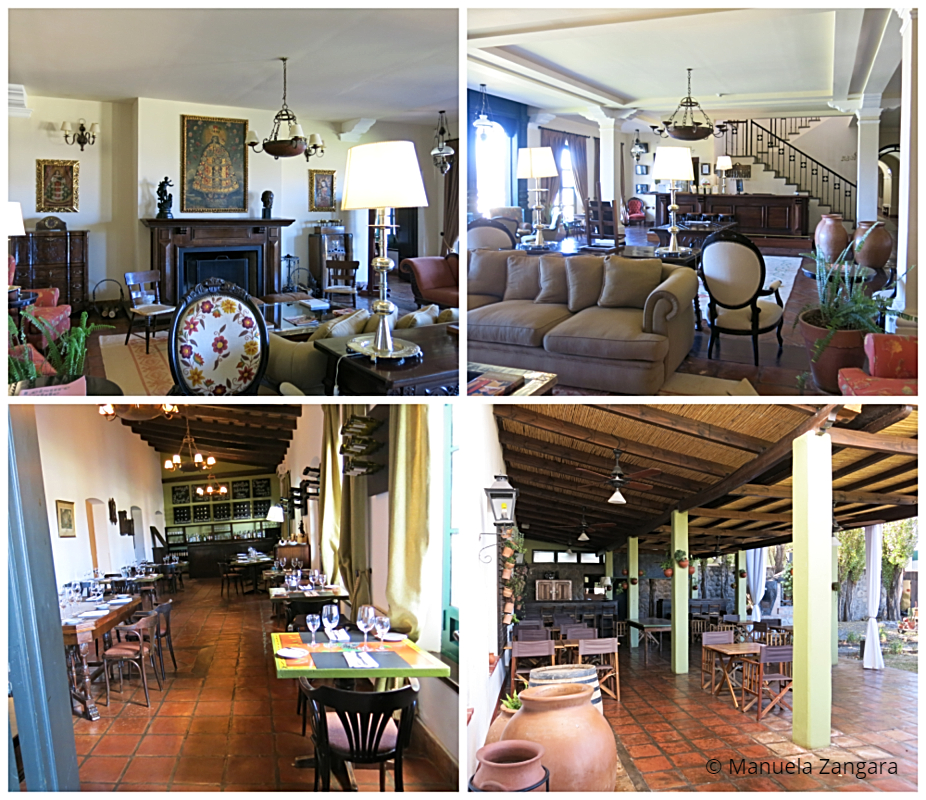 There is also a lovely swimming pool that I am sure would be amazing in summer.
In the garden, there are horses and llamas too.
I really loved this place. It was so peaceful.
We had room 23 and it was huge. The furniture was fantastic and so warm.
The beds were really comfortable and the bathroom was huge as well.
Every night, at 7 PM, they also offer complimentary sparkling wine in the lobby. Nice touch!
Breakfast was nice too, and even with all my dietary problems, I always had scrambled eggs made especially for me and some other treats (yummy brownies and dulce de leche, thanks to the lactase pills).
Otherwise, there were all the usual treats: jams, dulce de leche, bread, pastries, juice, fruits, ham, cheese, etc.
There is also free parking available.
I highly recommend Patios de Cafayate for its historical charm and for the delicious food. Besides, you are right next door to the best winery in town: El Esteco!
HOW TO GET AROUND IN THE AREA
Car Rental
I highly recommend you rent a car when in Salta and drive to Cafayate. Major rental companies have offices at the airport and in Salta, such as Hertz (Caseros 374) and Europcar (Córdoba 20).
We rented a car for a week to have the freedom to travel around at our own pace. My husband does not drive a manual car, so we were restricted in our choice of rental company and type of car, but if you drive a manual car, then you can have your pick. We went with Localiza, which was the only company we knew had automatic vehicles available.
The car we rented was a Chevrolet Prisma sedan. It was comfortable enough for the four of us and all our luggage (3 medium trolleys and a small one). Having said that, after finding out the condition of some of the roads we drove on, we wished we could have rented a pick-up or an SUV… anything with bigger wheels! The risk of a flat tyre is very high, so be prepared to know how to change a tyre.
Luckily, it did not happen to us, but I think that was pure luck and the fact that the people at Localiza had already given us the car with a hole in one of the tyres. Yep, you read that right. We had noticed that one of the tyres was not as full as the others, but we were told that the car had been thoroughly checked and that it was best to have lower pressure on the gravel roads we were going to drive on. Well, the next morning, just before leaving Salta to start our road trip, the tyre was completely flat! We had to find a gomeria (mark this term which means tyre workshop, in case you need it!) to have the tyre fixed. Luckily I speak Spanish, so we had no problems and 30 minutes later (and 150 ARS lighter), we were on our way.
The car cost 11,000 ARS for 7 days, including the extra driver, and the insurance was another 160 ARS per day with the lowest excess/deductable possible. Gas was about 30 ARS per litre.
All things considered, if I could choose another rental, I would. But finding an automatic car is really hard, so I am not sure that would be an option.
HOW TO GET TO CAFAYATE
To get to Cafayate from Molinos, you have to drive on RN40 through Quebrada de las Flechas. The road up until San Carlos is really bad. It's gravel, narrow at times, and full of potholes. Drive carefully and slowly.
RN40 is an iconic road. It is the longest route in Argentina linking the northern town of La Quiaca (at the border with Bolivia) to Patagonia, and one of the longest in the world alongside such routes as US Route 66. It's more than 5,000 kilometres (3,100 mi) long! RN40's highest point is 5,000m (16,404 ft) in Abra del Acay in the Salta Province.
If you are driving from (or to) Salta, you have to drive on RN68 through El Carrill and Quebrada de las Conchas. This road is in very good conditions and it's all paved.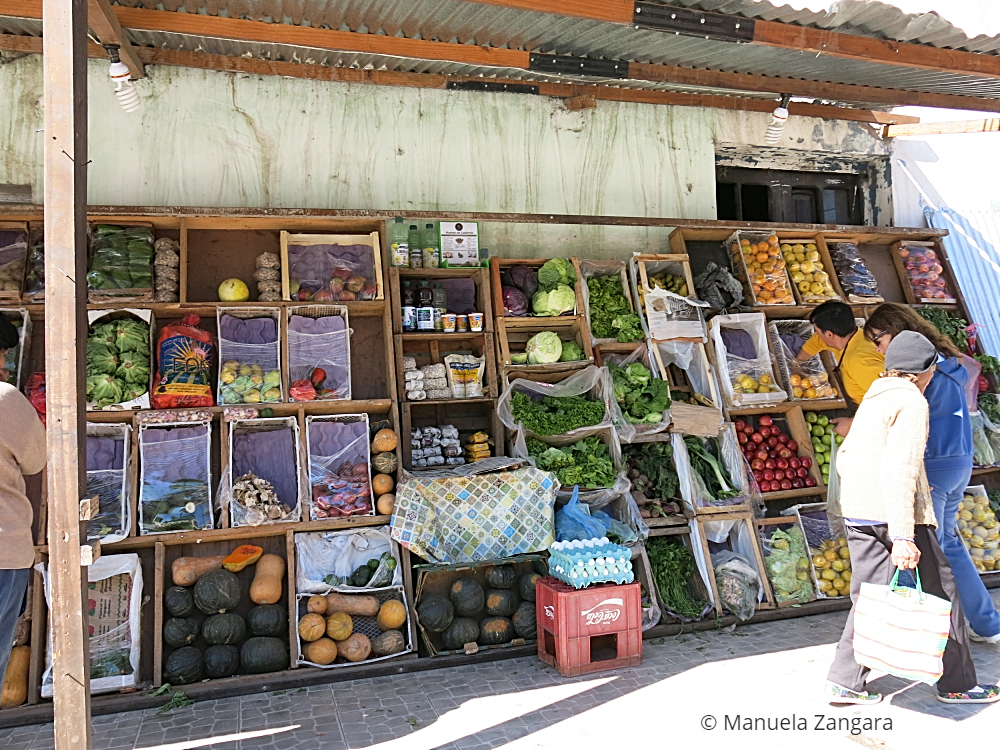 CONCLUSION
The area around Cafayate is AMAZING. If you like nature, you are in for a treat. The rock formations in the quebradas have incredible colours and they are so beautiful! The vineyards and the colonial style bodegas are very picturesque as well.
If you like history and ancient cultures, this is also the place for you and a visit to the ruins of Quilmes is a must.
And if you are a foodie… well, then what are you waiting for? Book a ticket and go!
MAP
RESOURCES ON MSM
RECIPES:
Sopaipillas con Pebre y Pasadas
TRAVEL IN SOUTH AMERICA:
Santiago de Chile Guide – Chile
Iguazu Falls Guide – Argentina and Brazil
Quebrada de Humahuaca Guide – Argentina
Cachi and Molinos Guide – Argentina

Related Posts: