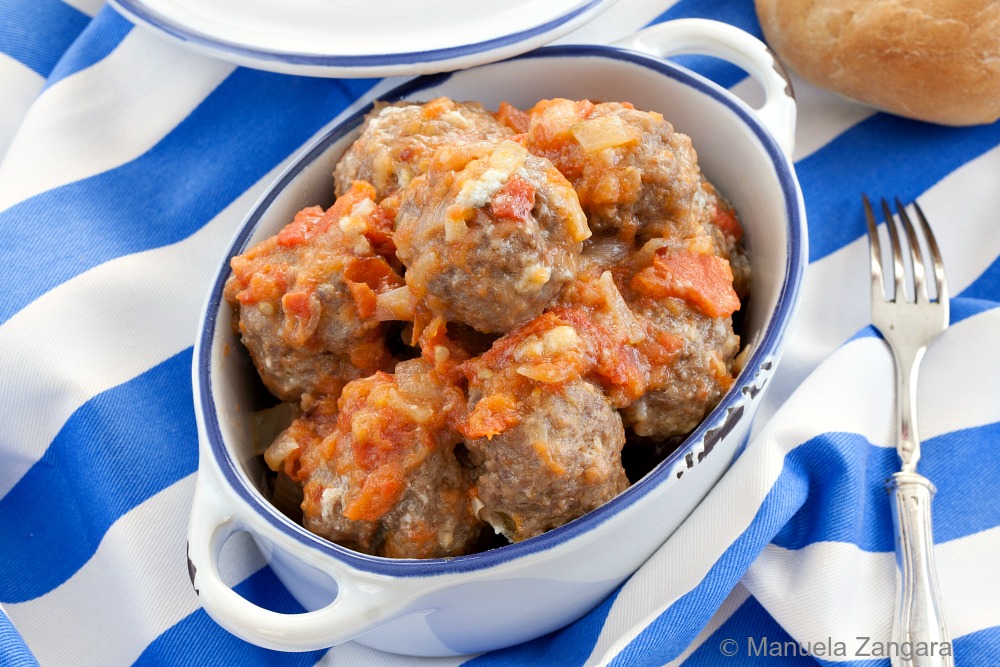 A few days ago, I reviewed an amazing kitchen appliance: the Toollio, a unique multi-function food processor that grinds and tenderises meat, grates cheese and bread, slices and chops vegetables and mozzarella, makes tomato purée… A true gem. As I promised, I am going to publish a few recipes that can give you a better idea of what you can actually do with the Toollio and how versatile and convenient it really is.  Today's recipe is all about meatballs, a classic of Italian cuisine to celebrate the fact that both the Toollio and myself are… Italian.  As you may already know, I like to make my own mince, so that I know exacty what I am feeding my family and so that I can tailor it to the dish's requirements.  Some dishes taste better if the mince is lean, others come out better if using a little more fat.  Polpette, aka meatballs, require a little fat, so that they remain moist and soft after cooking.  So, I used the Toollio to mince some chuck steak.  I also used it to grate the 2 cheeses required in this recipe: Parmigiano Reggiano for the meatballs, and Pecorino Romano for the sauce.  I also made my own breadcrumbs to finish off a piece of stale bread and I finely diced some fresh tomatoes for the sauce, as fresh produce always tastes better than the canned stuff.  So there you have it!  This recipe is quick to make and it tastes delicious, it's the perfect weekday dinner, one of those dishes that makes the whole family happy!  Enjoy and stay tuned for more recipes made using the Toollio!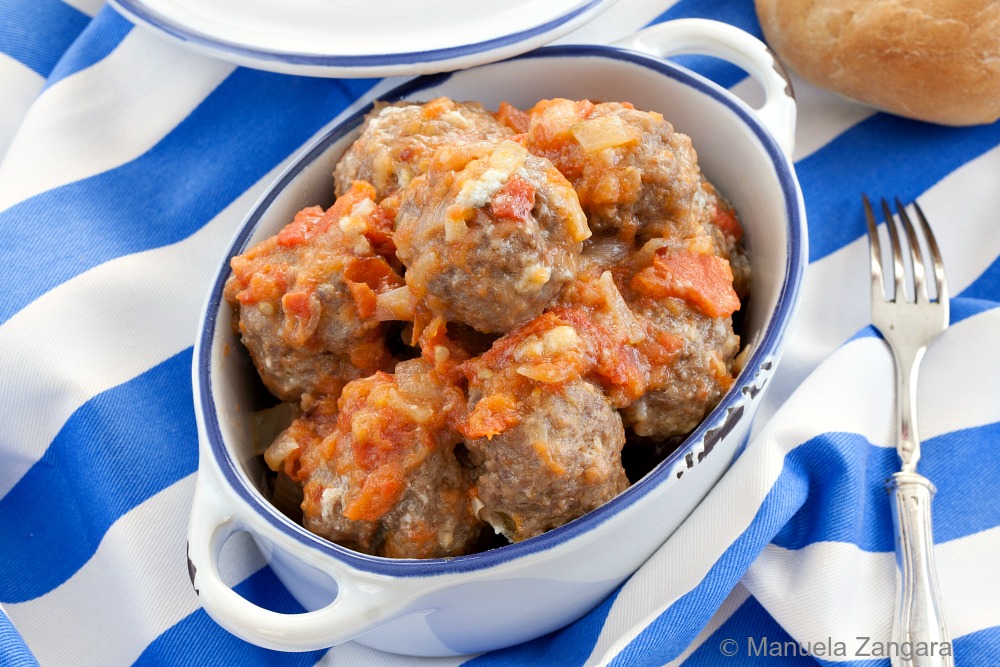 Meatballs in Tomato and Pecorino Romano Sauce
Meatballs in Tomato and Pecorino Romano Sauce, a delicious weekday dinner idea.
Ingredients
Meatballs
450

gms

– 1 lb. beef chuck steak

or beef mince

50

gms

– 1.75 oz. Parmigiano Reggiano

finely grated

100

gms

– 3.5 oz. breadcrumbs

1

egg

1

tbsp

parsley

chopped

1

pinch

grated nutmeg

1

tsp

salt

1

pinch

pepper
Tomato and Pecorino Romano Sauce
2

tbsp

extra virgin olive oil

1

tsp

chlli flakes

½

small onion

finely chopped

250

gms

– 1 cup finely diced tomatoes

30

ml

– 1/8 cup white wine

30

ml

– 1/8 cup water

Salt to taste

4

tbsp

Pecorino Romano

finely grated
Instructions
Meatballs
If you are grinding your own beef, make your mince first by cutting the chuck steak and passing it through the Toollio meat grinder.

Grate your Parmigiano Reggiano, Pecorino Romano and stale bread using the Toollio cheese grater attachment.
Tomato and Pecorino Romano Sauce
Chop the onion and put it in a sauce pan together with the chilli flakes and extra virgin olive oil. Sauté it on a medium flame for a minute or two, then add the tomatoes and a pinch of salt.

Cook for 5 minutes on low, then add the meatballs. Gently, turn them around until browned on all sides.

Add the white wine and once the alcohol has burnt off, add the water. Cover and cook, on a low flame, for 20 minutes. Make sure to check them every now and then, and add a little extra water if required.

When the meatballs are cooked, top them with the finely grated Pecorino Romano and put the fire off.

Serve warm with some bread on the side.
This is a sponsored post, but the opinions and recipe in this post are my own.

Related Posts: